Smart Investment Properties
Posted by Boulder Home Source on Tuesday, June 23, 2015 at 1:47 PM
By Boulder Home Source / June 23, 2015
Comment
We all know someone who sold their house and made a bundle. Was it luck? Maybe, but you can certainly stack the deck.
Buying Boulder area real estate, such as homes for sale in Erie and Louisville, can be one of the most important investments you ever make. With a strong market, high influx of population and limited land to develop, homes for sale in Boulder could earn you a nice return. Here are 6 types of homes to consider when buying a house in Boulder County.
1) Starter Home
This is a great buy if it's your first home or you're looking to invest in a rental. Starter homes are often condos or townhomes. An ideal investment strategy is to star by buying something below what you can afford monthly. Pay your mortgage and squirrel away savings for a downpayment on your next home. When you are ready to move up, keep your starter home as a rental. Not only can you recoup your monthly mortgage via rental payments, you gain the increase in value for as many years as you own the home.
2) Worst House in the Best Neighborhood
Looking to buy in an exclusive zip code? Do yourself a favor and look for a home with a larger lot that needs updating. Let's say you've picked the neighborhood of Waneka Lake because the community fit your lifestyle and it's close to your work. An unkempt lawn, 70s kitchen, unfinished basement, none of that should scare you, love it! It may not look like it, but it could be your dream home. As long as you are aware of any potential major repairs, like foundation, roofing, etc. and negotiate those into the price you could make a substantial profit down the road. Lower priced homes in great neighborhoods allow homeowners to recoup larger percentages of home improvement projects. Think long-term flip.
3) Home with Good Bones
Maybe the kitchen is too small, or the master bedroom doesn't have the en suite you've always wanted, but if there is space to rework the layout or add-on this could be a great investment for your future. Homes that lack highly desirable features like master baths, walk-in closets and eat in kitchens can often be acquired at lower prices than comparable homes in the same neighborhood. If you have the vision (or hire someone who does) you may turn a home with good bones into a great home increasing its value and desirability. You may even find yourself in a multiple offer situation when it's time to sell. Cha-ching!
4) Location, Location, Location
This certainly is no real estate secret. Homes in great locations tend to sell fast. Especially in Boulder, Colorado where new building is limited, a home within walking distance to the University of Colorado, Pearl Street, Boulder Community Hospital and great elementary schools are highly desired. Since there is little new building in these areas and demand continues to grow the growth of these homes' values tend to outpace surrounding areas. It may seem like a high price to buy in, but it's very likely your investment will pay off well.
5) In the Path of Growth
Since building in certain areas like Boulder is very limited, population growth has spread to the surrounding areas. Much like what has already happened in Louisville, neighboring areas with downtowns, public transportation and trails tend to attract those that want to be near, but not in the more popular areas. Now that Louisville is filling up, Lafayette is likely to be the next hot spot which makes it a great place to look at investing. Other up and coming areas to consider, Berthoud, Golden, and Brighton.
6) Significant Architecture
This one requires an artist's eye to the future, but if you make the right choice, you are likely to see high returns. Imagine you purchased a Frank Lloyd Wright Home. What would it be worth? Very likely its value is more than the neighbor's house. It may be more of a gamble, but buying a home that is an art piece not only provides the joys of living in something special, it will likely see greater home value growth than homes with similar square footage in the same neighborhood.
If you are looking to make a smart investment in real estate let our experts give you a tour of homes for sale in Boulder and the surrounding areas.
---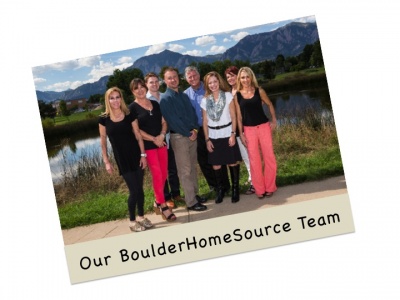 Looking for a great location in Boulder County to invest? Find out where our experts say is the next hottest place is to invest.
www.boulderhomesource.com
- Boulder Home Source: It's a Lifestyle!
---