Baked in Boulder
Posted by Boulder Home Source on Saturday, March 15, 2014 at 6:25 AM
By Boulder Home Source / March 15, 2014
Comment
While exploring all that Boulder has to offer, you are bound to get hungry. I don't know about you, but if I'm hungry a bakery sign will always lure me in. Not sure where to go? I have done the dirty work for you, and I have narrowed it down to five must-see bakeries that are baking up unbeatable treats.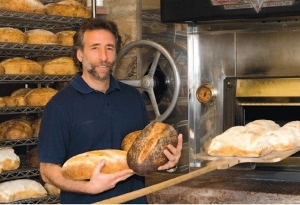 A cold morning may send you running into Breadworks, located at 2644 Broadway. With the brick oven sending warmth throughout this large bakery you won't have the chills for long. The only problem you'll have here is deciding what to order. Will it be a pear tart, a chocolate croissant, a carrot cake bar, or maybe a bread pudding muffin? (Better hurry, these sell out fast!)  Are you a bargain hunter? Be sure to pick up a bag of yesterday's bread for a fraction of the cost, and all the homemade goodness. Might as well bring home some fresh soft pretzels for later, because… well, why not?
If you want to head out for a treat but are hesitant to leave the comforts of home, head to Erhard's European Café and Bakery at 4800 Baseline Road. You'll be welcomed as soon as you enter this quaint German bakery, and you'll be served a warm pastry on one of your grandma's plates. So why do the locals keep coming back? They come for the honest food baked in the back daily. Be sure to try a raspberry hamentaschen, that's German for butter cookie, or maybe it means delicious. Be sure to pick up a Florentine for later, that's almonds cooked in honey and butter, left to harden, and then brushed with chocolate. You can't go wrong with one of those! Make sure to bring your cash though, because this local gem doesn't accept anything else.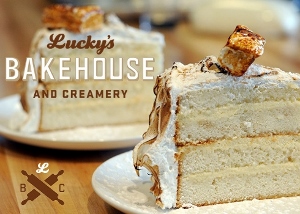 Feeling the need to go green while in Boulder? Easy. Walk over to Lucky's Bakehouse and Creamery at 3990 Broadway. This bakery uses local and organic ingredients to create a very impressive spread. Once you walk past the cherry galette (I didn't like cherries until trying one of these), the pecan sticky buns, and beyond the perfect cakes and pies, you are still in for more. Hello homemade gelato!! And you have to at least sample the blueberry lavender before you leave. With sleek subway tile and a strong sense of community, this bakery is sure to win you over. Why not take home the Chocolate Stout Cupcake with Salted Caramel Whiskey icing, just so you get to say it! This bakery also offers the widest variety of gluten free treats I've ever seen. They have all the bakery bases covered.
While searching for the best bakeries in town I knew I was bound to find many "pretenders". These places order out for their goodies. So where are they getting the goods? Well I found out. Spruce Confections at 767 Pearl Street is not only cranking out the goods for bakery wannabes around town, they are also a favorite stop for the locals. So stop by for an amazing mocha made by a beautiful barista. They even make their own hot chocolate mix! Grab a cookie that was baked fresh at 4 am (yes, 4am, I know this because I used to be the crazy cookie scooper who was there in the dark). My personal favorite would be the Old B, the cookie to trump all cookies, which is also the cookie that started it all. You may have to wait in a pretty decent line, but trust the ex-cookie scooper, you will not be disappointed.
I know what you must be thinking. What about my four legged friend? Well, fear not, I didn't forget your pooch. I had the pleasure of meeting Clancy the Pit Bull, Johnny the German Shepherd, and Cupcake the Corgi on my visit to PC's Pantry for Dogs at 2828 30th Street. What were these pups in line for? Baked goods of course! This pet store features an in-store bakery, for your dog! With all natural, human grade ingredients this bakery cranks out plenty of Fido's favorites every day. How about some Snicker Doggies, or maybe a People Cracker; might as well grab a Pupkin Cookie for a midnight snack. Does someone have a birthday coming up? Well PC's will be happy to make your furry family friend their own cake (hmmm… is puppy party planning in their future?) And really, what's a family day in Boulder without some puppy love?
So hurry up, come get your cake on in Boulder!