Best 4th of July Events in and Around Boulder, CO [2022]
Posted by Greg Smith on Friday, June 10, 2022 at 10:12 AM
By Greg Smith / June 10, 2022
Comment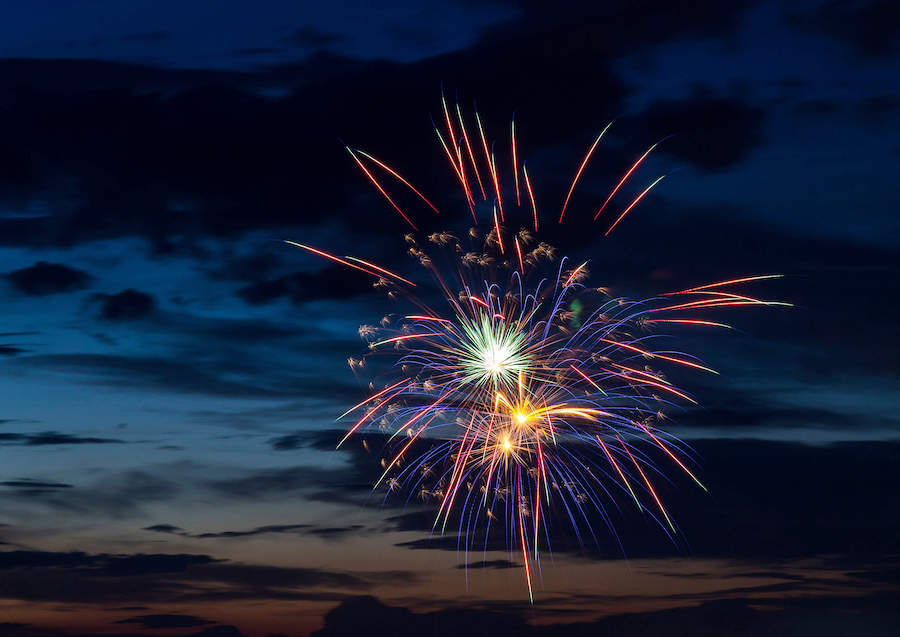 The city of Boulder is a vibrant place. This famous town is alive with activities during winter and summer, but no celebrations are quite as popular as the Fourth of July festivities across town. Keep reading to discover some top ways to celebrate Independence Day 2022 in Boulder, Colorado.
Fourth of July Events Near Boulder
While fireworks are a highlight, there are plenty of other ways to be entertained on July 4 in Boulder, Colorado. Parades, water activities, fun runs, and food are just a few alternatives for locals and visitors to consider.
Park Hill Fourth of July Parade
Ready to take in the holiday at the largest Independence Day march in the Denver area? Head to the Park Hill Fourth of July Parade to get a good viewing spot for the show that starts at 1:30 p.m. There will be a fun run through the city's oldest neighborhoods before the parade. Floats, performers, and marching bands are slated to walk the streets downtown to celebrate freedom.
Join the Independence Day Bash at Boulder Reservoir
The stunning Boulder Reservoir invites people to come and hang out along the shoreline and in the blue waters at the reservoir this July 3rd and 4th for an independence weekend celebration. Guests can enjoy a nice picnic and cool off in the water, which will be a nice respite after participating in the Star Spangled Splash 5K or 10K run. The event is free to attend, but visitors cannot bring alcohol onto the festival site. However, there will be a well-stocked beer garden available.
Town of Superior 4th of July Festivities
Celebrate "Superior Spirit" this Fourth of July in the lovely community of Superior, Colorado. The Superior Fourth of July festivities for the day launch at 7 a.m. with the thrilling Superior Mile Downhill Race, followed by the Community Parade.
After the last marcher clears the streets, get some food at the Return of the Pancakes festival, where entertainment, vendors, and live music by The School of Rock will keep attendees in the red, white, and blue spirit.
The Superior Community Kick Ball Championship Tournament at Community Park kicks off at 11 a.m. and is a free event for all. At noon, attendees can head over to the Superior Community Center for a barbecue and more live music!
Address: Community Park, 350 Coalton Road, Superior, Colorado 80027
Date: July 4, 2022
Time: 7 a.m.–Noon
Let Freedom Run 5K / 10K
Get Independence Day off to a running start by participating or cheering others on at the Let Freedom Run 5K /10K in downtown Louisville, CO. The races start and finish at the Louisville Recreation Center, and participants receive a goodie bag, free finish line photos, food, and an event T-shirt.
This event encourages runners and festivalgoers to come dressed as their favorite heroes. Whether as a parent, a comic book character, or a famous person, dress up to make the occasion memorable while running for freedom. Vendors and expo shopping will be on site, as well as live music for post-race celebrations.
July 4th Great American Picnic & Bicycle Parade
The Annual Great American Picnic & Bicycle Parade is a great way to spend the Fourth of July with groups. The party starts at 5 p.m. at Broomfield County Commons Park in the Broomfield community, where several events and activities will take place.
A highlight is the ultra-hip Bike Parade at 5:30 p.m, where entrants decorate their wagons, scooters, bikes, and trikes before rolling down the street to show off unique creations. Kids and adults of all ages can ride in the parade, but youths must wear helmets. There will be a softball game, NurfTerf games, inflatables, face painting, and balloon twisting to keep the action moving during the day.
Music from Spinphony and several giveaways start around 6 p.m., and the festivities end after the 9:30 fireworks show. Of course, a dozen or more food vendors will be at the picnic to feed attendees, while the beer garden will serve brews to those 21+.
Address: Broomfield County Commons Park, 13200 Sheridan Blvd., Broomfield, CO 80020
Date: July 4, 2022
Time: 5–10 p.m.
Broomfield 4th of July Carnival 2022
Did we fail to mention the Broomfield 4th of July Carnival as a part of the day's picnic and bike parade? Well, this is a great way to get a few heart-thumping adrenaline pulses to rev up for the fireworks after dark. Individual tickets are available, and unlimited use of $25 wristbands will be valid for rides on certain days and times. The carnival spans over two weeks and ends on July 4.
Anyone looking for some good times this Fourth of July near Boulder will find these activities suitable for celebrants of all ages. Some of these events span multiple days, so there's a good chance to hit up more than one festivity.
Places to Watch Fireworks Around Boulder, CO
Moving on to the delights after dark: the fireworks! It's hard to beat the thrill of hearing the booms, whistles, and crackling while colorful bursts in various patterns set the sky ablaze. As of this posting, the following locations will be hosting July 4th fireworks in Boulder, CO.
Fireworks at Coors Field
While fireworks are not unusual after certain games at Coors Field, the park will host three unforgettable nights of brilliant shows over Independence Day weekend. Catch a game, support the Rockies, and honor those who serve our nation with a night at the old ball game!
Have a Wild 4th at Waneka Lake
The Independence Day Fun & Fireworks at Waneka Lake in the Lafayette community is a nice throwback to the good old days when people gathered around a community lake to commune over food, drinks, and fireworks. Kid activities will include a bounce house, face painting, and a bungee trampoline.
Music by Chris Daniels and the Kings will have festivalgoers ready to dance the night away. Food will be available from numerous vendors, and there will be an incredible beer, wine, and cider garden with offerings from regional Colorado breweries. The fireworks will become the event's focus at dusk, as they sparkle high above Waneka Lake.
No pets other than service animals are permitted. No glass containers or bottles, grills, outside fireworks, or alcohol are allowed at the event, which will go on rain or shine.
Location: Waneka Lake, 1600 Caria Drive, Lafayette, CO 80026
Date: July 2, 2022
Time: 4–10 p.m.
Independence Eve at Civic Center Park
The Independence Eve festivities at Civic Center Park will feature a free concert, a light show, and a stunning fireworks finale. Bring a lawn chair or blanket to partake in a picnic or fare from the food trucks while sitting in the grass, soaking in the sounds of artists that include the Colorado Symphony. Fireworks will begin just after 9 p.m. and conclude the evening's events.
Address: Civic Center Park, 101 14th Ave, Denver, CO 80204
Date: July 3, 2022
Hours: Gates open at 4 p.m. / Music starts at 6 p.m. / Fireworks at 9:15 p.m.
Four Mile Historic Park
Locals always get excited about the arrival of the annual Four Mile Historic Park's Independence Day Celebration. Throughout the afternoon, there will be plenty of crafts, games, and activities for the youths and adults. Live music from the Denver Concert Band will have two shows, perfect additions to some of the hottest food trucks in the state! Fireworks commence at dusk.
Address: 715 S Forest St, Denver, CO 80246
Phone: 720-865-0800
Date: July 4, 2022
Cost: $10 for adults, $8 for youths and military, ages six and under FREE
Coal Creek Golf Course
There will be limited tee times on July 4, 2022, at Coal Creek Golf Course. After all, there must be time to set up for fun, which starts around 6 p.m. Residents of the Louisville community can come out and listen to patriotic music, get their faces painted, and partake in free American-style hot dogs. No pets are allowed because the fireworks show begins around 9:45 p.m.
Address: 585 West Dillon Road, Louisville, CO 80027
Phone: 303-666-7888
Date: July 4, 2022
Time: 6–10 p.m.
While some fireworks shows may still be tentative, many are likely to go on. For the latest updates, check the links for each event to get the scoop on each fireworks spectacular.
Get Out & About to Celebrate Independence Day!
With so many great local and nearby activities around Boulder, there are plenty of ways to have a blast on July 4th. Wherever you live, there might be something within walking or biking distance to bypass parking and driving on this busy holiday. Check local calendars to see what events you should add to your day.