The Best Bike Rides in Boulder, CO
Posted by Boulder Home Source on Monday, February 4, 2019 at 9:39 AM
By Boulder Home Source / February 4, 2019
1 Comment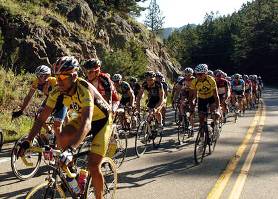 Boulder is a mountain biker and cyclist's paradise, no doubt about it! From climbing a mountain, to cruising down some wicked hills, biking in Boulder offers adventure, sightseeing, fitness and fun! No matter where you go in Boulder or what time of year it is, you are almost guaranteed to see people out and about on their bikes. It never ceases to amaze me, the heights people will go to on two wheels in the Rockies! Here is our list of the best bike rides the Boulder area has to offer.
Boulder to Jamestown or Ward Bike Route
There is no place more favored by cyclists than Left Hand Canyon Road right off Highway 36 in North Boulder. This road offers 8 miles of moderate incline and has a wide shoulder, which makes passing simple and safe. Starting at the historic Greenbriar Inn, most people choose to park at the base of the hill. If you are feeling more adventurous than this medium to difficult route has to offer, you can shake things up a bit by taking the left at the fork in the road. This will extend the journey another 10 miles around to Ward. Note: the journey to Ward is steep and will test your strength and endurance. Otherwise, Jamestown is located 3 miles ahead when you turn right at the fork and is a great historic place to stop for a rest and some lunch. Because of this route's popularity and in an effort to keep both cyclists and drivers safe, the City of Jamestown is known to hand out tickets to cyclists who do not obey traffic rules.
NCAR Bike Route
This ride which is popular more with beginner cyclists is also perfect with people looking for quick 30 minute cruise. Starting at Baseline Road this 2.5 mile climb up Table Mesa Road offers beautiful scenery, ease and speed. A great place to fall in love with cycling and Boulder, the NCAR ride is short, simple and cannot be beat!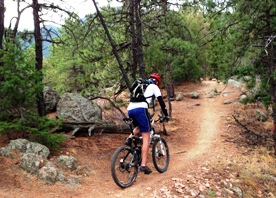 Betasso Bike Route
This mountain biking trail starts at Eben G. Fine Park and continues up the Canyon Link Trail. Just head west along the trail and about a mile into it, it will turn to packed dirt. After the trail dead ends, you will follow the road until the car tunnel. Turn right before the tunnel onto Canyon Link Trail. There are spots where the dirt is very loose and rocky, so you might even have to hop off your bike at times. You will eventually cross over another road and continue onto Canyon Loop. This section of the trail is pretty easy, but you will want to be certain to follow the signs as you go.
Flagstaff Bike Route
This here is a classic for tourists and locals! Beginning right at the base of Historic Chautauqua Park, this climb was once part of the Coors Classic. A popular spot for people to clock their times, this course really kicks it up once you have crossed over the stone bridge. The initial climb is very difficult, but the next section is moderately easy. For those who are really looking for a challenge, you can go even further to the top, where if you make it without stopping, you will surely have bragging rights as an expert cyclist!
Carter Lake Bike Route
For a truly challenging, yet rewarding biking experience, you can take a long ride around Carter Lake. You begin this trip on the Nelson Loop, which runs along the US 36 at its start. Instead of turning down, Nelson Road, however, you ride north toward the Carter Lake Reservoir. The route will take you down meandering country roads and past a beach along the lakeside. You can stop at the beach to take a breather or even a swim if the weather is in your favor.
The Carter Lake tour will have you pedaling at least 60 miles from beginning to end. You can extend your ride to 75 miles with a trip through Apple Valley. For a 100 mile ride, consider going all the way to Horsetooth Reservoir before returning to US 36 to complete your trip. Whether you go 60 miles or 100, this route will treat you to gorgeous views all along the way.