Boulder, Colorado's Top 5 Dog Parks
Posted by Greg Smith on Tuesday, September 14, 2021 at 12:00 PM
By Greg Smith / September 14, 2021
Comment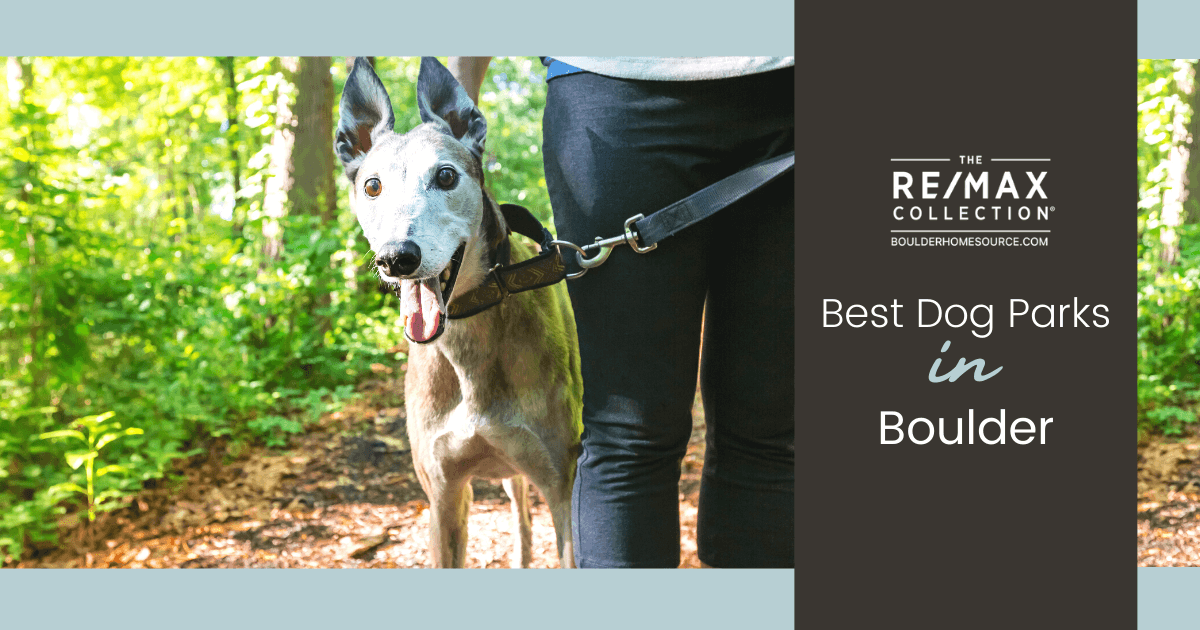 Regardless of how comfortable locals are in their homes in the Boulder community, getting outdoors is a must for most who live here. Many of the residents in town are dog owners, and Fido wants to get out and about, too. Fortunately, there are many dog-friendly parks and dedicated dog parks throughout the Boulder community. Read on to discover some of the most popular dog parks in Boulder, Colorado.
East Boulder Dog Park
Inside of Boulder's Community Park is the large, off-leash East Boulder Dog Park. The area for large dogs is 1.5 acres of fenced-in space. A separate area for smaller dogs is a half-acre and is also fenced in. Dogs will have access to the lake, but drinking the water isn't recommended during summer when algae can form on the top. Owners should take their pups to one of the watering holes or bring their own.
There are bag stations and waste receptacles throughout the park. Bench seating is available, but there aren't many trees for shade along the dog run zone. Owners should be aware that some larger dogs can easily hop across the concrete barrier within the fenced-in areas. Restrooms are near the park's entrance for human companions.
Valmont Dog Park
The largest and most popular canine hot spot is at Valmont Dog Park. This L-shaped area features an impressive 3 acres of open ground bordered by fencing made up of chain links and tree trunks. Dogs can run off-leash or leashed in the large staging area at the entrance and exit of the park. A quarter of an acre zone is designated for small dogs only. There is a good bit of shade here, so the park is a treat for visitors, even on hot days.
Overall, Valmont has sand, grass, and cement surfaces, so there are plenty of choices to meet pets' preferences. Water hoses and fountains are installed in the park, and there are benches and picnic tables. There are also two all-weather shelters for owners. The presence of huge boulders serves as decoration, and many owners sit upon them, as well. A fire hydrant is in the common area for communal scent-marking, and poop bags are onsite.
Howard Heuston Off-Leash Dog Park
The Howard Heuston Off-Leash Dog Area in Boulder is easily accessible and has ample street parking in the neighborhoods around it, such as the nearby Noble Park neighborhood. The dog area is nestled inside Howard Heuston Park. The off-leash zone is 1.25 acres in size and is completely unfenced, meaning owners must be able to control their pets by voice and keep sight of them at all times. Owners are only allowed to have two dogs off-leash simultaneously.
It should be noted that as an unfenced park, there is no designated area specifically for small dogs. The dog area is on a gently sloping hill and is covered in grass that's cool to pets' paws. Pets must always be leashed in the areas for public use on the south side of the park.
It's important to note that dogs must have participated in the Boulder Voice and Sight Tag program to be permitted in the off-leash dog park. Certification and vaccinations must be ready to show if asked by staff. No poop bags or water are available, nor are there amenities for owners, so come prepared with a chair, water, and bowl when coming for the day.
Chautauqua Dog Park
Chautauqua Park is one of the prettier parks in Boulder, and there are numerous trails that welcome dogs on leashes with owners. Water fountains are plentiful, and there are bathrooms for human visitors. The dog zones are off-leash, but there are no distinct areas for small and large canines. Owners must possess off-leash tags to come out and set their dogs free from restraints.
The park itself is 26 acres and is lush with gardens and playgrounds, making it perfect for people and pets looking for a nice way to spend the day in the heart of Boulder amid nature. The only places pets aren't allowed at Chautauqua are inside the park buildings and the McClintock Trail's upper section.
Foothills Community Dog Park
There are two acres of open space at Foothills Community Dog Park, divided into two sections. One space is 1.5 acres dedicated to large breed dogs, and another 0.5 acres is for smaller canines only. The fencing is high-waisted, but some larger dogs have been known to make a jump for it, so keep a close watch on dogs that are agility ready. The park is in the open countryside with scenic views near the Wonderland Lake neighborhood, but there isn't much shade inside the park itself.
There are both dirt and grass surfaces, so pets can have their traction of choice underfoot. A cemented section is near the entrance by the picnic tables, benches, and covered gazebo. There are doggie-ready water fountains in both fenced areas of the park, which is refreshing after a play session or a hike on the nearby trails.
Some important things to note are that there are no poop bags supplied. A maximum of four pets may be exercised at any given time with one handler. Several types of wildlife frequent the brush here, such as bears, elk, and other potentially dangerous critters, so be watchful.
Love Dogs? So Does the Community of Boulder, CO!
There's nothing quite like coming home to a loving four-legged canine companion, and when they need a good run or a place to let off some pent-up energy, Boulder has options. Dog parks and dog-friendly parks are scattered throughout Boulder's best neighborhoods. Dog-friendly activities don't stop there, either: there are plenty of dog-friendly shops and restaurants in Boulder, as well as other things owners can do with their dogs. There's entertainment for all here in Boulder—even for Fido and friends!