Best Neighborhoods in Boulder
Posted by Boulder Home Source on Friday, April 9, 2021 at 6:58 AM
By Boulder Home Source / April 9, 2021
Comment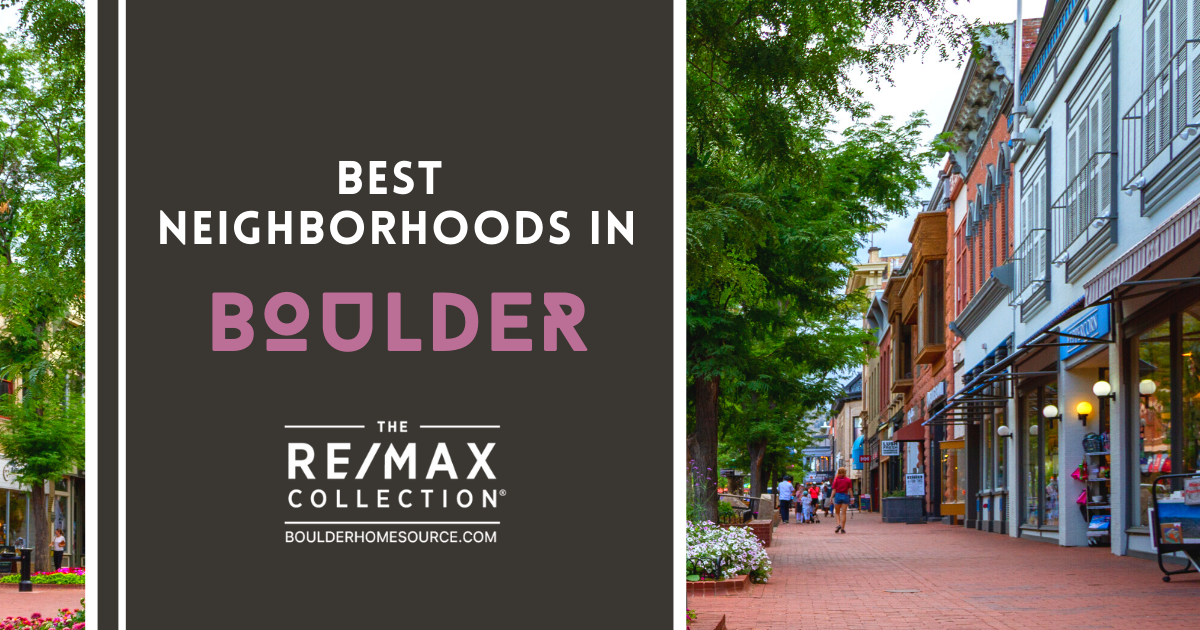 Anyone looking to move to Boulder from another state or move into a new neighborhood in the city can end their search here. Boulder has a home for everyone and a community for every lifestyle, from condos in the mid-$200,000s to $2 million+ luxury homes. Here are the best neighborhoods in Boulder to consider calling home.
Mapleton Hill
Mapleton Hill Amenities
Proximity to downtown Boulder
Museum of Boulder
Low traffic
High walkability
Mapleton Hill has been an established neighborhood in Boulder since 1895. Most homes were constructed from 1895 to 1910, which means homeowners get to own a slice of Boulder's history. Mapleton Hill is a registered historic district. It may be one of Boulder's most expensive neighborhoods, but it earns every penny.
Most of the homes are single-family homes featuring Victorian and Queen Anne architectural styles. Because many of the homes have been carefully restored and remodeled over the years, the median home value is impressively high. However, homes in this neighborhood are move-in ready. Few, if any, additional renovations will be required.
There isn't much commerce in the neighborhood, but residents are never more than a few minutes from Pearl Street and downtown Boulder. Mapleton Hill is one of the most walkable neighborhoods on this list.
Table Mesa
Table Mesa Amenities
Famous for being a setting in The Shining
Proximity to shopping and restaurants
Move-in ready homes
Hiking trails
Table Mesa is located in the southern region of Boulder. Most of the neighborhood is surrounded by hiking trails, which is perfect for outdoor enthusiasts.
Table Mesa has a median home value of $440,000. Homes are typically single-family homes with three or four bedrooms, many built in the mid-1960s.
One fun fact about Table Mesa is related to Stephen King. The king of horror novels used the Table Mesa Shopping Center as a setting in The Shining. When Mr. King lived near the area in the 1970s, he thought it would be the perfect setting for his book.
Wonderland Hills
Wonderland Hills Amenities
Wonderland Lake
Walking and biking trails
Scenic mountain views
Large lots are standard on all properties
Wonderland Hills was constructed in the 1970s as a high-end development. The selling point was the ability to obtain mountain living without additional driving. Ideally situated between the foothills and downtown Boulder, the neighborhood has continued to remain incredibly popular over the years. With wide bike lanes throughout the area, residents can easily get wherever they desire without using their vehicle.
Homes in Wonderland Hills range from condos to single-family detached dwellings. Homes range from the $400,000s to $1 million+ and come with large lots that allow people to enjoy plenty of time in their private backyards. Surrounded by an extensive trail system for hiking and mountain biking, Wonderland Lake is one of the neighborhood's best features.
Wonderland Hills Hotspots
Wonderland Hills Shopping
Wonderland Hills Cafés
Wonderland Hills Restaurants
Chautauqua
Chautauqua was constructed in 1898 as a summer enrichment program for school teachers from Texas. Since then, the neighborhood has expanded to feature dozens of streets with single-family homes. Most of the houses are Victorian style, but some new constructions have more modern features. Most homes share lots, but all lots have mature trees.
The neighborhood features an auditorium, dining hall, rental cabins, and a park with many trails. Many film screenings and concerts take place in the auditorium throughout the year.
Homes in the neighborhood range from $1 million to $4 million, though some condos and townhouses exist. The roads are curvy, and many of them lead to dead-ends. However, these dead-ends are the start of some quiet trails.
Chautauqua Hotspots
Chautauqua Nightlife
Chautauqua Restaurants
Whittier
Whittier Amenities
Enforced parking rules
Neighborhood activities
Moments away from Pearl Street and downtown Boulder
Whittier is just a few minutes from Pearl Street and downtown Boulder and is considered one of Boulder's most walkable neighborhoods. Those who want downtown amenities without the hustle and bustle that comes with living downtown will find Whittier to be the perfect solution. The close distance to Boulder's most sought-after entertainment has raised prices over the years. Starting prices for most homes exceed $1 million.
Many of the homes in Whittier are incredibly artistic. Curved windows, slanted roofs, and stone facades are the norm. Some homes feature bright colors, and many residents have opted to add fun sculptures to their yards.
Every Thursday night, the Mork & Mindy house hosts its weekly parade of bicycles and costumes, where residents can enjoy seeing the creative and artistic minds of their neighbors.
Whittier Hotspots
Whittier Shopping
Whittier Cafés
Whittier Restaurants
Martin Acres
Martin Acres Amenities
Quick access to Route 36 and major RTD bus routes
New homes are move-in ready
Quiet streets lined with trees
Martin Acres has been a suburb in Boulder since the 1950s. After the completion of the Denver-Boulder Turnpike, this quaint suburb quickly exploded with residents. Many of the homes are single-family homes.
Most of the homes are 1950s ranch-style or the 1960s tri-level style. Homes in Martin Acres are some of the most affordable in Boulder, with a median price in the mid $300,000s.
Currently, many residents in 1950s ranch-style homes are "popping the tops"—code for adding a second story to their home. Fortunately, construction for this process is not as long as one might think, so the noise disturbance is minimal if new homeowners plan to work from home.
Gunbarrel
Gunbarrel Amenities
Affordable homes
New restaurants, shopping centers, and more under construction
Fast access to roadways 119, 52, and 287
Gunbarrel exists because of IBM. When the company built its Boulder plant in 1965, they needed a place for their employees to live. Rather than having their employees commute, IBM created the Gunbarrel community right across the street.
Because Gunbarrel is about 20 minutes from downtown Boulder, prices are more affordable, with homes listing around $350,000. Most of the houses in this community were built between 1965 and 1975.
Come Home to Boulder
The best neighborhoods in Boulder truly have it all. Some are tucked away in a quiet oasis, while others are just a hop, skip, and a jump from downtown. Those who love the outdoors are sure to find their little slice of mountain living that fits their lifestyle and budget.