12 Best Neighborhoods in Erie CO: Best Places to Live in Erie
Posted by Greg Smith on Tuesday, November 7, 2023 at 12:19:34 PM
By Greg Smith / November 7, 2023
Comment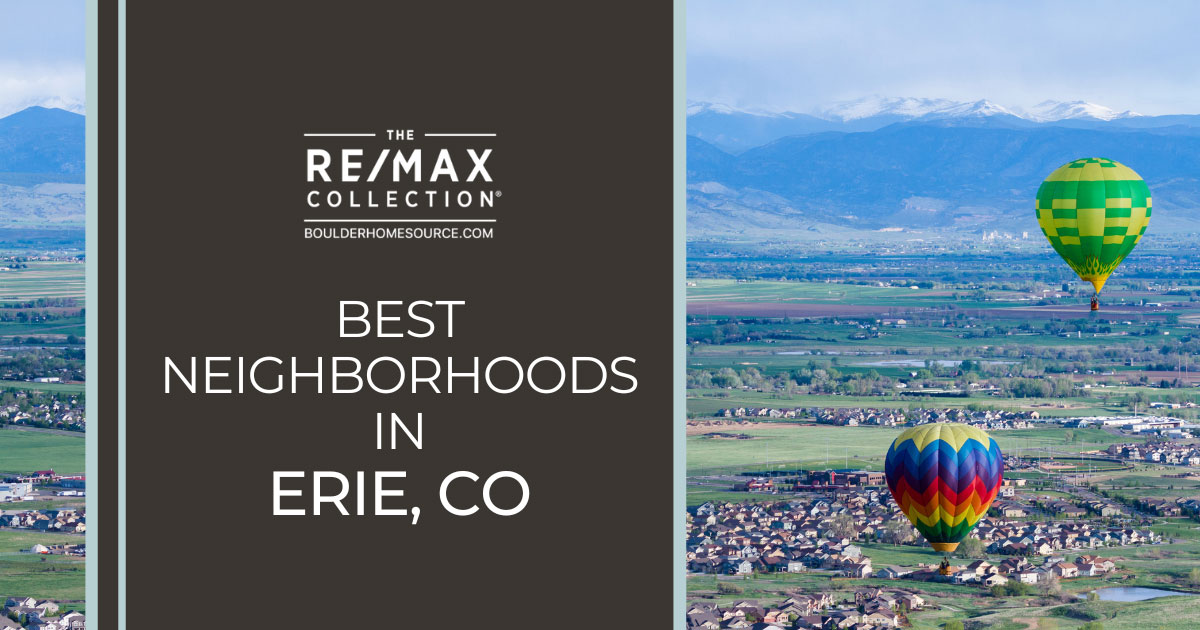 The neighborhoods in the Town of Erie, Colorado, present a blend of luxury and affordability, each with its own character. Erie's scenic views and local amenities contribute to the real estate value, varying from one neighborhood to another. For those considering moving to Erie, finding a place that fits their budget and lifestyle preferences is key. Find your ideal spot in Erie by exploring the wide range of neighborhoods and what makes each one stand out.
Best Neighborhoods in Erie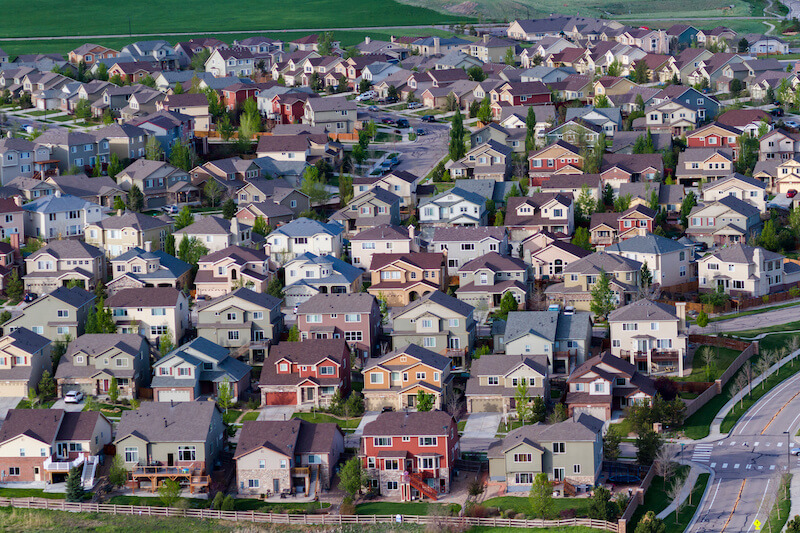 Vista Ridge
Vista Ridge is a large master-planned community in Erie, containing several smaller neighborhoods. It's primarily single-family homes, but there's also a mix of condominiums and apartments. The community is just north of Erie Airpark and adjacent to Vista Pointe, and many locals consider Vista Pointe and Vista Ridge to be one neighborhood.
Both homes and lots in Vista Ridge are on the larger side, with most available homes having over 3,000 square feet and three to five bedrooms. It's common to see lot sizes around one-quarter acre, and there are opportunities to buy up to five undeveloped acres to build a custom home. Homes in Vista Ridge list from the upper $500s to $2.5 million. Condo prices start at around $340,000.
This Erie neighborhood has numerous parks and paths for walking and biking, a large community center, and several community pools. The Vista Ridge Community Center is the neighborhood hub with pools, a fitness center, volleyball and tennis courts, outdoor pavilions and BBQs, and rooms available to rent. It also hosts community events year-round, from exercise classes to puppy play groups.
Colorado National Golf Club is also in Vista Ridge. It's considered among the best golf courses near Longmont; the acclaimed course offers lessons, indoor and outdoor practice facilities, and an award-winning clubhouse and restaurant.
Vista Ridge Amenities
Several parks, including an off-leash dog park
Home of Colorado National Golf Club
Less than five minutes from popular restaurants
Less than 10 minutes from Larkridge Shopping Center
Erie Highlands
Perched on the edge of town in the southern portion of Erie, Erie Highlands is just far enough off the main road to feel like a small town, but it's close enough that all the essentials are within a five-minute drive. The neighborhood has several open green spaces and trails, and its share of mountain-view homes is spectacular.
Homes in Erie Highlands are modern carriage house-style, offering residents a choice of five different floor plans. These include two bedrooms and two bathrooms, two bedrooms with 2.5 baths, and three bedrooms with 2.5 baths. Square footage ranges from just over 1,300 to more than 4,500 square feet, and pricing starts in the upper $400s. You'll also find a handful of custom homes in the neighborhood, which are typically larger and priced from the $700s to $1.3 million.
The 4,000-square-foot Highlands clubhouse serves as a community gathering place, and it features a lap pool and a children's splash pad, outdoor fire pits and seating, a gym, a full kitchen, and indoor seating areas. Also within the neighborhood is the Erie Singletrack Trails, a popular mountain biking destination. This area features 3.15 miles of trails, and there are options for all skill levels.
Erie Highlands Amenities
Large clubhouse and pool
Fiber optic connectivity
Trails connecting parks and playgrounds
Highlands Elementary School is in the community
Colliers Hill
Colliers Hill is both one of the newest neighborhoods in Erie and one of the closest to downtown. In fact, its share of new construction homes is within walking distance of downtown! Despite that, the community retains a charming rural feel, with parks, a natural riparian space, and an impressive 15 miles of trails, both hard-packed and soft surfaces.
The master-planned community has almost 3,000 single-family homes, with the majority of them being low-maintenance, ranch-style homes. Homes for sale in Colliers Hill list from $600,000 to about $1.4 million. Several home builders offer houses in Colliers Hill, so home sizes and floor plans vary greatly. Expect to find everything from three-bedroom, 1.5-bath homes with 1,676 square feet to seven-bedroom, six-bathroom homes with over 5,700 square feet.
Like several other Erie neighborhoods, one of the local Colliers Hill hot spots is in the community itself: the Overlook Clubhouse. This enormous space includes a great room centered around a large fireplace with multiple seating areas and a demonstration kitchen. There's also a state-of-the-art gym, a strategically placed deck that takes full advantage of the mountain views, a pool, an event lawn, and playing fields. Outside the community, The Old Mine—a cidery and pizzeria—is a local favorite.
Colliers Hill Amenities
Walking distance to downtown and Erie High School
6,500-square foot clubhouse
Erie Commons with a Circle K, Ziggi's Coffee, and a bank
15 miles of multi-use trails
Convenient to the main Erie Parkway
Parkland Estates Airpark
North of Colliers Hill in a more rural part of Erie, you'll find Parkland Estates Airpark. As its name implies, this Erie neighborhood appeals primarily to pilots and other aviation enthusiasts wanting to take advantage of the region's 300+ days of excellent flying conditions. The community was established in 1978 by such individuals with the goal of creating a neighborhood with fly-in homes and direct runway access.
Today, Parkland Estates Airpark has come to fruition. The lots are large, most at least a couple of acres, and residents enjoy direct taxi access to a lit 4,200-foot runway. Properties rarely become available in this neighborhood as there are only 91 lots. The homes are primarily custom, so there is truly no average style, size, or price. Parkland Estates' share of the luxury homes in Erie has historically sold from the high $600s to more than $1.3 million.
Rather than visit local hotspots, Parkland residents typically fly somewhere in their spare time. However, the neighborhood is very close to Old Town Erie, and residents look forward to community events throughout the year, including the fall Chili Cook-off and Fly-in.
Parkland Estates Airpark Amenities
Direct taxi access to the private airpark
Large lots
Custom homes
Hangars & large garages
Small, close-knit community close to downtown Erie
Erie Airpark
The Erie Airpark neighborhood is another highly sought-after "aviation community." Most homes have a private airplane hangar with enough storage for more than one plane, along with direct runway access. The homes that don't have their own hangars typically have the option to lease a hangar owned by the airpark.
Like the Parkland Airpark, Erie Airpark was built in 1978, and it was originally intended as a private airport only. Eventually, about 120 homes were built just adjacent to it, and the airpark opened to the public. Today, the airport is called the Erie Municipal Airport, and notably, it's the closest fly-in community to the city of Denver.
Aside from airport hangars and interesting views of planes frequently taking off and landing, Erie Airpark homes are packed with amenities. They're quite large, averaging around 6,700 square feet, with at least six bedrooms and bathrooms. Lots are also large, often around three acres. Primarily because it's a niche community, homes in Erie Airpark rarely go up for sale. When they do, expect to pay between $2 to $3 million. Homeowner's association dues for this neighborhood are just $25 annually.
Erie Airpark Amenities
Private airport hangars and direct runway access
Low homeowner's association fees
Lots of garage storage space
CrossFit Mafia gym
Flatiron Meadows
Adjacent to the Arapahoe Ridge neighborhood, Flatiron Meadows offers both a quiet residential community and convenience to several popular restaurants and shops. The neighborhood has several parks and open green spaces, and it is oriented so that you can enjoy views of the iconic Flatirons in Boulder from almost anywhere.
Homes in Flatiron Meadows are single-family, multi-story Craftsman houses with 3,700 to 5,900 square feet and four to six bedrooms and bathrooms. Three builders offer homes here, including Toll Brothers, Lennar, and Village Homes, and prices range from $799,000 to $1.5 million. Many homes here have solar power systems.
The popular Erie Community Center is just a five-minute drive, offering 63,000 square feet of year-round recreation opportunities. Swim or enjoy the indoor lazy river, exercise in the gym, take classes, get involved in a team sport, or play tennis or racquetball. The Flatiron Crossing Mall in the city of Broomfield is another popular spot, and it's just a short 15-minute drive away. It has over 200 specialty shops, dozens of restaurants, and a movie theater.
Flatiron Meadows Amenities
Meadowlark School
Finished walk-out basements
Views of the Flatirons
Large lots
HOA-maintained parks and multi-use trails
Most Expensive Neighborhoods in Erie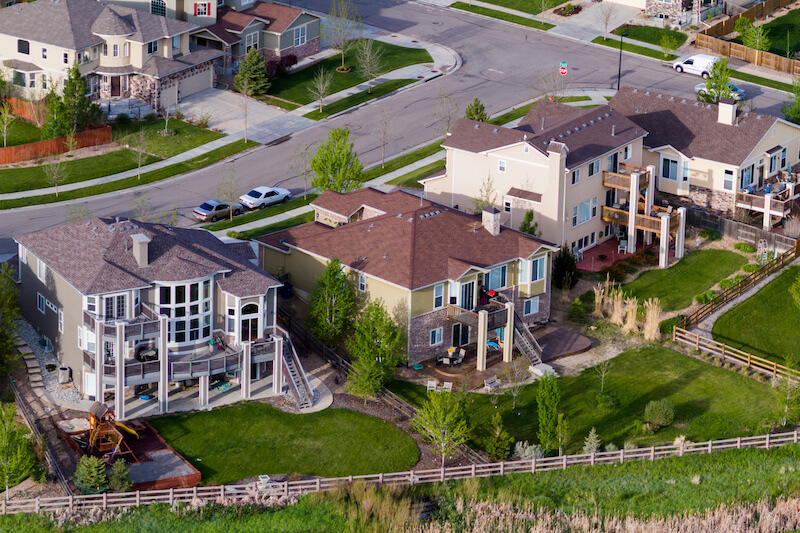 Candlelight Estates
On Erie's far west side, Candlelight Estates is a new-construction neighborhood of large, upscale homes. Billing itself as "a luxury community," it has just 30 lots, each one the site of a custom home. Whereas many homeowners' associations have restrictions on exterior paint colors and the types of plants in your yard, in Candlelight Estates, the rule is that homes must have a minimum of 2,150 square feet of true living space. For multi-story homes, this minimum is 2,950 square feet.
It's rare for Candlelight Estates homes to go on the market, but in recent years, homes have sold for anywhere between $860,000 and $3.9 million. Lot sizes average about 0.7 acres, and homes generally have a minimum of four bedrooms. Since they're custom homes, you'll come across a tremendous range of unique features in them, such as indoor rock climbing walls and putting greens.
Longs Peak Park is a popular neighborhood gathering place, and it has a playground, sports fields, a basketball court, walking paths, and picnic shelters with BBQs. The neighborhood is very close to the Erie Community Center, and so Candlelight Estates residents also frequently participate in activities there.
Candlelight Estates Amenities
Small community with only 30 custom home lots
One mile from the Erie Community Center
Boulder Valley School District
Energy-efficient home builds
Candlelight Ridge
Like Candlelight Estates, this upscale Erie neighborhood is made up of custom luxury homes. It's also on the smaller side, with just 94 lots. Homes here are nicely spaced out and oriented so that everyone enjoys both mountain views and privacy. Most houses also have floor-to-ceiling windows to perfectly frame the view.
Homes in Candlelight Ridge generally have plenty of extra space for entertaining and enjoying indoor-outdoor living. Many have multiple patios or decks, fireplaces, wet bars, media rooms, and built-in fire pits. Layouts typically include at least five bedrooms and five bathrooms as well as at least 5,200 square feet. Similar to Candlelight Estates, homes don't hit the market often in Candlelight Ridge. When they do, expect prices ranging from $1–$2.5 million.
A major draw to living in Candlelight Ridge is its proximity to downtown Erie, so many locals enjoy going there to shop and eat. Locally and family-owned Fox•Dog Coffee is a particular favorite. It's located in the heart of Old Town and offers delicious coffee and a small but excellent selection of food. Nearby parks are some other local go-tos, especially Longs Peak Park and Country Fields Park.
Candlelight Ridge Amenities
Smaller community of custom homes
Mountain views
Six to seven minutes to Old Town Erie
Most homes back up to open green space
Highview Ranch
Highview Ranch is a very small community in far northern Erie, just north of Parkland Estates Airpark and the Parkland Airport. Residents are drawn to this area for the spread-out, rural feel, with just nine large lots and beautiful mountain views. In particular, the homes here have excellent, unobstructed views of the iconic Longs Peak and great vantage points from which to take in the Erie Balloon Festival.
Properties in Highview Ranch are all custom homes, and the lots vary in size, although all have at least a couple of acres. The vacant lots here sold in 2015, so the homes are newer construction with tons of modern features. Many houses have barns or horse stalls, pastures, or arenas. Like other smaller Erie neighborhoods, Highview Ranch homes are highly coveted and don't come around often. Recently, sales ranged from $525,000 to $2.2 million.
Residents enjoy spending time outdoors, so the Bulrush Open Space is a well-loved destination. It's just three minutes away across the interstate, and the wetland preserve serves as a plant and bird sanctuary and has trails and pavilions. Sports enthusiasts will enjoy having LGC Athletics right in the community, offering league sports, training, practice facilities, and event rental space.
Highview Ranch Amenities
Spread-out, rural community with large lots
Horses and farm animals are permitted
Very close to State Highway 52
Relaxed HOA guidelines
Erie Airpark
As mentioned previously, Erie Airpark is a highly sought-after aviation community featuring homes with private airplane hangars and direct runway access. It's the closest fly-in community to Denver, offering spacious homes averaging 6,700 square feet, large lots, and rare availability in the $2 to $3 million range, with just $25 in annual HOA dues.
Most Affordable Neighborhoods in Erie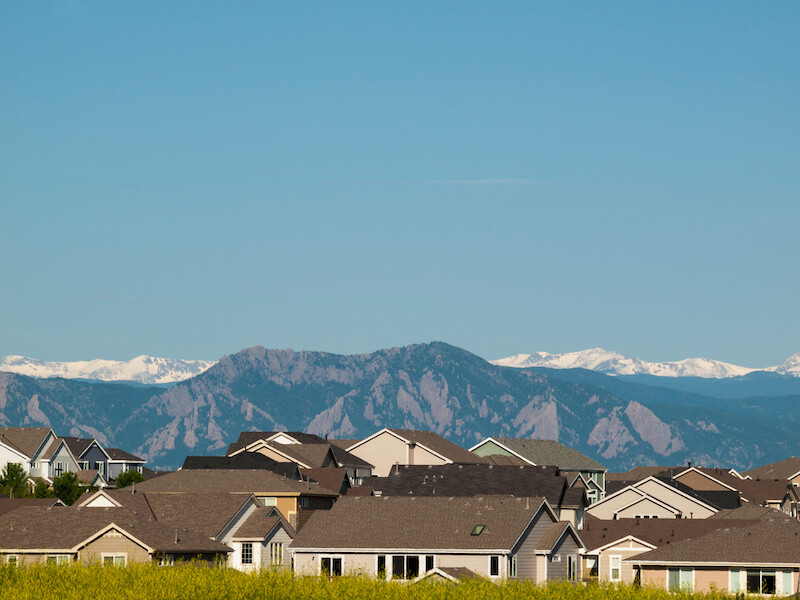 Sunwest
Tucked into a dense residential area in south Erie, Sunwest is a popular neighborhood convenient to just about everything. From here, the Erie Community Center, Walgreens, gas stations, and other essentials at Erie Commons are a two to three-minute drive, and downtown Erie is just five minutes away.
The single-family homes in Sunwest offer two to five bedrooms and anywhere from 1,782 to 4,584 square feet. Many have lofts and either two or three-car garages; home prices range from the $400s to the mid-$600s. Quarterly HOA dues are $170, and the association is very active and hands-on. They take care of things like landscaping and snow removal in the neighborhood, and they host community events.
Sunwest residents enjoy being close to everything and often frequent the Starbucks just across County Line Road at Erie Parkway. Taking classes or working out at the Erie Community Center is a popular pastime, and many people in Sunwest also become members at Fitness 1440, which is within walking distance.
Sunwest Amenities
Convenient to central Erie and the community's main roads
Walkable neighborhood
Several parks
Walking distance to Red Hawk Elementary School
HOA handles snow removal
Old Town Erie
The hub of town, Old Town Erie has something for everyone. The downtown core is a thriving district with restaurants, coffee shops, breweries, boutiques, and more, and many homes in this area are within walking distance. The Erie Urban Renewal Authority has been revitalizing the area and focusing on everything from adding more parking to making downtown more accessible.
Real estate in Old Town is quite diverse, ranging from Erie bungalows and cottages to new construction Craftsman homes, along with condos and apartments. Older homes are often smaller (averaging two to three bedrooms and 800 to 1,200 square feet), but they offer excellent entry prices and the opportunity to renovate a home in this exciting area. Two-bedroom homes in Old Town start at $480,000.
Being downtown, there are countless hotspots. However, one standout is Birdhouse, a low-key spot with a great covered patio and serving a casual menu of tacos, ramen, and innovative cocktails. Charmed 33 Boutique is also popular, and it's a "one-stop shop" selling clothing, gifts, souvenirs, and more.
Old Town Erie Amenities
Walkable to dozens of restaurants and shops
Historic homes & new construction options
Most homes have rare off-street parking
Mixed-use zoning downtown
Vista Ridge
As mentioned previously, Vista Ridge is a large, popular, master-planned community offering a diverse mix of single-family homes, condominiums, and apartments. The community has several parks and walking paths, a fantastic community center, multiple pools, and the Colorado National Golf Club. It's one of Erie's most affordable neighborhoods, with condos starting in the $340s and patio homes in the upper $500s.
Grandview
Grandview is situated between Erie Highlands and Erie Commons, and it's close to the center of town and right next to the Erie Community Center. The neighborhood also has several greenbelts, creating a peaceful park-like feel. In fact, many people's favorite feature about Grandview is its impressive neighborhood parks. There's the Ninja Park with unique obstacles, the Dinosaur Park, and the Coal Creek Disc Golf Course.
You'll find both single-family homes and a share of Erie's townhomes in Grandview, making it one of the most affordable points of entry into the community. Three-bedroom, two-bath condo-style townhomes with 1,400 square feet and garages start in the high $300s. Single-family homes in Grandview typically list from the high $400s to the high $700s.
Cristos Coffee Boutique is a popular spot with locals. The cafe roasts its coffee in-house and calls itself a "community living room," hosting live music, book clubs, and other events. Also close by, The Rusty Melon is a modern but casual spot serving pub fare and local beers.
Grandview Amenities
Convenient to stores, coffee shops, and restaurants
Multiple greenbelts
Adjacent to Coal Creek Trail
Community elementary school
Coming Home to Erie's Best Neighborhoods
After journeying through the array of neighborhoods in Erie—one of the best places to live near Boulder—the contrasts in real estate prices stand clear, framed by the perks each area offers. From scenic luxury locales to cozy, cost-effective corners, Erie accommodates a variety of living preferences and budgets. Identifying the right neighborhood requires balancing cost against amenities and lifestyle offerings, paving the way for a satisfying home environment.