8 Best Longmont Neighborhoods: Find Out Where You Should Live in Longmont
Posted by Greg Smith on Thursday, May 25, 2023 at 9:24:02 AM
By Greg Smith / May 25, 2023
Comment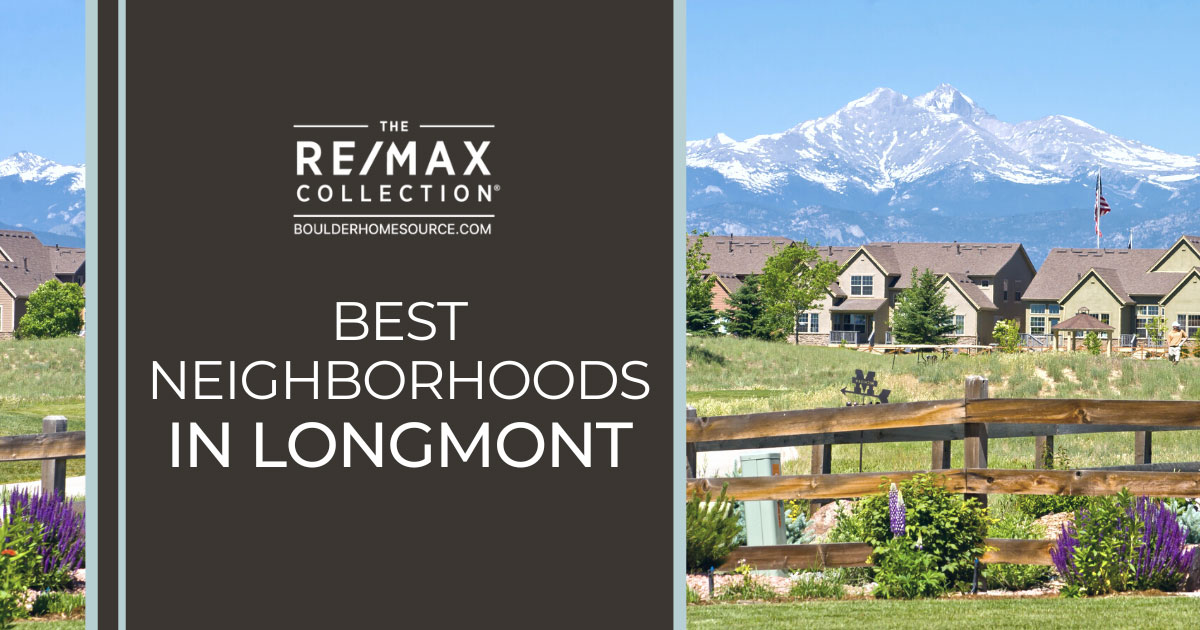 The charming city of Longmont, CO, is nestled at the foothills of the Rocky Mountains. With a vibrant downtown area, picturesque parks, and a thriving art scene, Longmont is a great place to call home. However, with so many neighborhoods to choose from, it can be overwhelming for newcomers to decide where to settle when moving to Longmont. This article will highlight some of the best neighborhoods in Longmont and what makes them unique.
Prospect New Town
Nearly 2.5 miles directly south of Longmont's town center sits the Prospect New Town neighborhood. Situated in a rural southwestern part of town, this community seamlessly blends traditional and modern planning approaches, embracing the new "urbanist" concept of a walkable neighborhood close to shopping and businesses. The Prospect New Town area, often shortened to "Prospect," is best characterized as a slice of the city in a rural setting.
Prospect residents can anticipate walkable streets lined with mature trees, providing direct access to several parks, retail, and other local amenities. The 80-acre neighborhood will feature nearly 600 housing units distributed among 340 lots. Homes in Prospect New Town are quite varied in architectural style and colors, and within a five-minute walk, there's a community swimming pool surrounded by restaurants and shopping.
Thanks to its innovative layout, Prospect New Town has several local hotspots. Big Daddy Bagels on Ionosphere Street brings East Coast-style bagels to the Rocky Mountains. Their menu includes various bagel flavors, traditional shmears, and fresh dishes featuring bagels, including sandwiches and pizzas.
Dan's Place Barbershop, formerly called Coal Creek Barbers, is at the heart of Prospect. Like barbershops in many urban areas, Dan's Place is much more than the place to go when you need a haircut or shave. This local business is a social hub where everyone's welcomed in like old friends.
Prospect New Town Amenities
Kanemoto Park
Left Hand Creek Park
Longpoint Museum
Babettes Bakery
Somerset Meadows
The community of Somerset Meadows is about 5.5 miles southwest of downtown Longmont. This neighborhood is just one mile from State Highway 119, also known as Diagonal Highway or "The Diagonal," for quick access to nearby Boulder.
Homes in Somerset Meadows, many of which are new construction, are priced from the mid-$800s to $2.3 million. Most properties here have three to six bedrooms and three to six bathrooms, and floor plans range from 2,200–5,600 square feet.
Nearby Longmont schools include Blue Mountain Elementary, Altona Middle, and Silver Creek High, all within the St. Vrain Valley School District.
One of the things Somerset Meadows residents love about the neighborhood is its excellent restaurants and breweries. The family-owned and operated Blue Agave restaurant is one of the most popular, bringing south-of-the-border flavors to locals. Specializing in dishes originating in Jalisco, Mexico, the restaurant also has a bar featuring margaritas and other classic cocktails to whet your whistle.
Another popular local haunt is Oskar Blues Home Made Liquids & Solids. This wildly popular watering hole is a go-to for craft beers, classic American fare, live music, and a kids' menu.
Somerset Meadows Amenities
Dry Creek Community Park
Willow Farm Park
Yellow Park
Cornerstone Farm Riding School
McIntosh Lake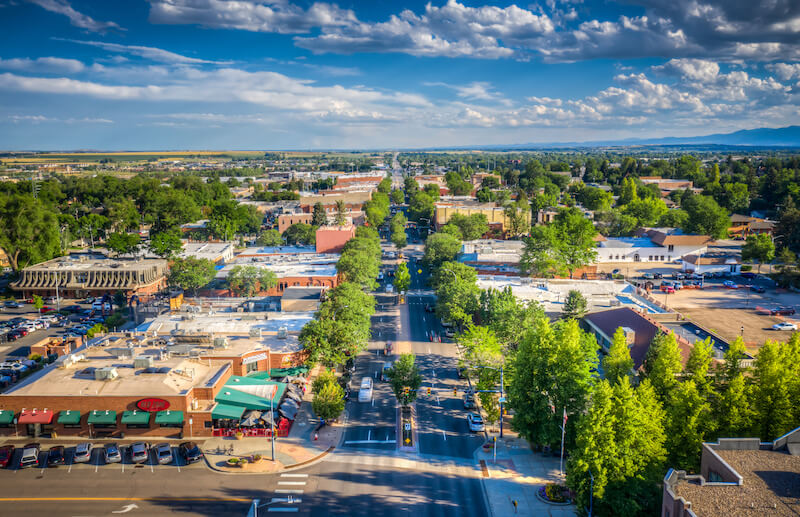 Named for the popular nearby reservoir, McIntosh Lake is a community of several neighborhoods approximately four miles northwest of downtown Longmont. This area is a dream for anyone looking for waterfront homes and folks who enjoy outdoor activities such as fishing, hiking, and paddling out on the lake.
McIntosh Lake is also an excellent place for observing various types of wildlife, including eagles, pelicans, and prairie dogs. The lake includes nearly 3.5 miles of easy walking trails, offering beautiful views of the mountains, including Longs Peak.
Available properties near McIntosh Lake, particularly waterfront properties, are predominantly single-family homes that range from $610,000 to just under $1.7 million. For these homes—some of which are Longmont luxury homes—buyers can expect large lots and three- to four-bedroom residences with two- four bathrooms.
Boulder County's Agricultural Heritage Center is in this neighborhood, where people can learn more about the agricultural history in the area. The center focuses on the first quarter of the 1900s.
Open on weekends in the fall, the Rocky Mountain Pumpkin Ranch is a popular place to get into the festive spirit for the fall and winter holiday season. Pick your own pumpkins, take a hay ride, and enjoy other classic fall activities.
McIntosh Lake Amenities
Centura Longmont United Hospital
Network of walking trails in the neighborhood
City of Longmont Garden Acres Park
City of Longmont Twin Peaks Golf Course
The UPS Store
Rainbow Ridge
Rainbow Ridge residents enjoy the convenience of being close to the center of Longmont and near Diagonal Highway for quick access to the city of Boulder. The well-established community, which features several large, mature trees and was built in the 1990s, is about three miles due south of downtown. It comprises spacious single-family homes close to nearby parks and less than ten minutes from several shopping and entertainment hubs.
Homeowners in Rainbow Ridge can expect to find houses that are between 4,400-5,100 square feet and have five to six bedrooms. Homes for sale in Rainbow Ridge list from $965,000 to over $1.3 million.
Whole Foods Market's S. Hover Street location is convenient to Rainbow Ridge residents, offering grocery staples and specialty foods. This location also has a full-service coffee bar, an Asian grill and sushi bar, a bakery, and an Amazon Hub for receiving packages and sending returns when necessary.
The Longmont Museum is also nearby, a history and art museum featuring exhibits and programs highlighting local artists. Open daily year-round, the museum features events for visitors of all ages, including concerts, film presentations, and holiday-related activities.
Rainbow Ridge Amenities
Dickens Farm Nature Area
Kanemoto Park
Left Hand Creek Park
Little Gaynor Lake
Old Mill Park
Lake Valley Estates
Noted for its abundance of open space, Lake Vally Estates is about 15 miles southwest of downtown Longmont. Residents of the community's 300 homes enjoy a rural feel while simultaneously being minutes away from Longmont and Boulder.
Available homes in Lake Valley Estates are priced between $995,000 and $1.6 million, offering floor plans with four to five bedrooms and four to five bathrooms.
One of the main places of interest in Lake Valley Estates is the Lake Valley Golf Club. This private golf course is unique among many traditional country clubs and offers memberships to the public, not just residents. It aims to attract members passionate about playing golf, regardless of where they call home. The club also houses Persimmon Grill, which is open to the public and has head-on views of Boulder's iconic Flatirons.
Lake Valley Estates is also close to the Left Hand Trail, a popular spot for hiking, biking, and horseback riding. The trail has restrooms and picnic areas that can be reserved through the Boulder County Parks and Open Spaces Department. During your visit, check out the nearby Boulder Valley Ranch or enjoy views around the Left Hand Valley Reservoir.
Lake Valley Estates Amenities
Lake Valley Golf Club
Boulder Flower Farm
Boulder Rifle Club Shooting Range
Buckingham Picnic Area
Gateway Park Fun Center
Harvest Junction
Harvest Junction is a neighborhood about two miles south of downtown Longmont. It's not just the name of this residential area but also the name of the 360,000-plus-square-foot shopping center that's a major destination and amenity for the area. This shopping center includes local and national retailers, including Lowe's, Marshall's, Best Buy, DSW, Petco, and more.
Residents of the Harvest Junction neighborhood are within a short walk of the shopping center, earning it high scores for walkability. Homes in Harvest Junction are primarily two-story with floor plans between 3,000–4,500 square feet and are priced from the $700s to the $900s. Home lots feature generous yards in both the front and back.
The Longmont Recreation Center is another convenient amenity near Harvest Junction. This local complex contains three indoor facilities where locals can stay active, with options including multiple swimming pools, an indoor track, weight rooms with cardio machines, a climbing wall, classrooms for aerobics and group exercises, locker rooms, event rooms, a steam room, and a dry sauna.
When you want to wind down for the day, head to Wibby Brewing to enjoy local craft beers. Patrons can enjoy live music and food from local food trucks.
Harvest Junction Amenities
Longmont Recreation Center
Dickens Farm Nature Area
Get Air Trampoline Park
Kanemoto Park
Old Mill Park
Mill Village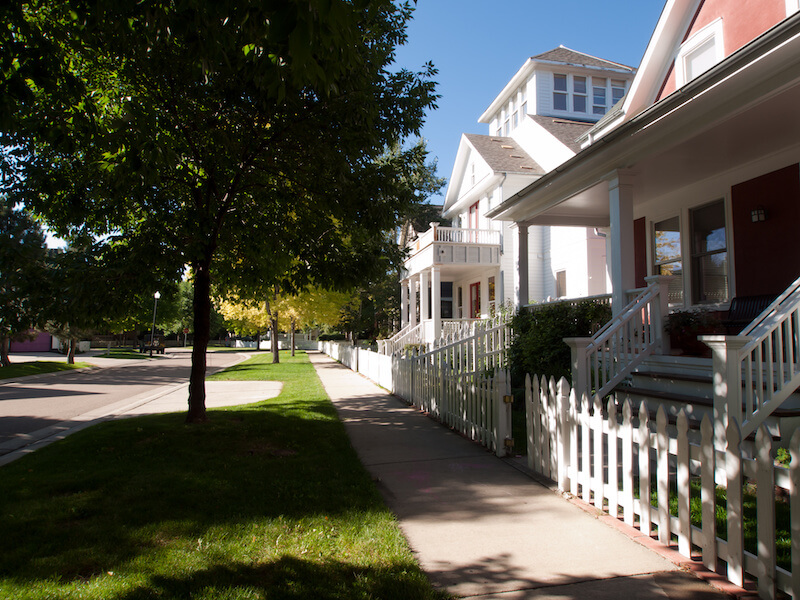 Three miles southeast of downtown Longmont, Mill Village is a residential neighborhood with several housing options, including Longmont townhomes and single-family residences. It's one of the easternmost Longmont communities and offers a classic suburban feel with quick access to amenities.
Generously-sized porches and alley-style driveways are common in this neighborhood, and many of the homes in Mill Village are in the $300,000–$700,000 price range.
Mill Village residents can take a short drive along State Highway 119 East and then go south on I-25 to quickly reach the city of Denver. Going west on 119 gets drivers to Boulder very quickly, so Mill Village is a fantastic option for residents who commute or may need to travel regularly to two of Colorado's largest cities.
Residents can enjoy The Great Outdoors at St. Vrain State Park without ever leaving town. Less than five miles away, this park is ideal for wildlife watching, camping, and fishing at this state park.
For pet owners in Mill Village who may need to leave their pup behind from time to time, there's Happy Hounds Dog Day Care Center. This doggie daycare also offers boarding and grooming services for four-legged fur babies, although the facility is closed on Sundays. Boarding is available seven days a week, but drop-off and pick-up hours vary.
Mill Village Amenities
Fox Hill Club
Sandstone Ranch Baseball Complex
UC Health Long Peaks Hospital
Walmart Supercenter
Old Town
Old Town, as its name suggests, is the historic section of Longmont. Centered around Main Street, this area is home to many of the oldest buildings in Longmont, including several residences and businesses on the National Register of Historic Places. Old Town provides its residents a sense of the old and new, being close to downtown and featuring sites that date back to Longmont's earliest days.
Because of the combination of old and new houses in Old Town, there's a wide range of floor plans, building sizes, and lot sizes. Some properties are around 1,200 square feet with three bedrooms and one bath, while others are over 5,000 square feet with four to five bedrooms. Homes for sale in Old Town range from just over $640,000 to almost $1.9 million.
Living in Old Town provides quick access to Old Town Marketplace on Main Street, an indoor shopping mall specializing in small businesses. If you're a cider fan, you'll love St. Vrain Cidery, a local haunt that offers a wide range of styles and flavors of cider. It even boasts the largest hard cider taproom in the state!
Old Town Amenities
Dickens Opera House
Roosevelt Park
St. Stephen's Church
Thompson Park
Come Explore Longmont's Best Neighborhoods
Longmont offers diverse neighborhoods to suit all lifestyles and budgets. From the historic community of Old Town to the trendy Prospect New Town, there is something for everyone. You can find the perfect neighborhood that meets your needs by considering factors such as amenities, location, and access to work opportunities in Longmont. With the city's natural beauty and friendly community, residents of any of these neighborhoods can enjoy an excellent quality of life.