Rocky Mountain Fun: 5 Outdoor Activities in Broomfield CO
Posted by Greg Smith on Friday, January 21, 2022 at 7:50 AM
By Greg Smith / January 21, 2022
Comment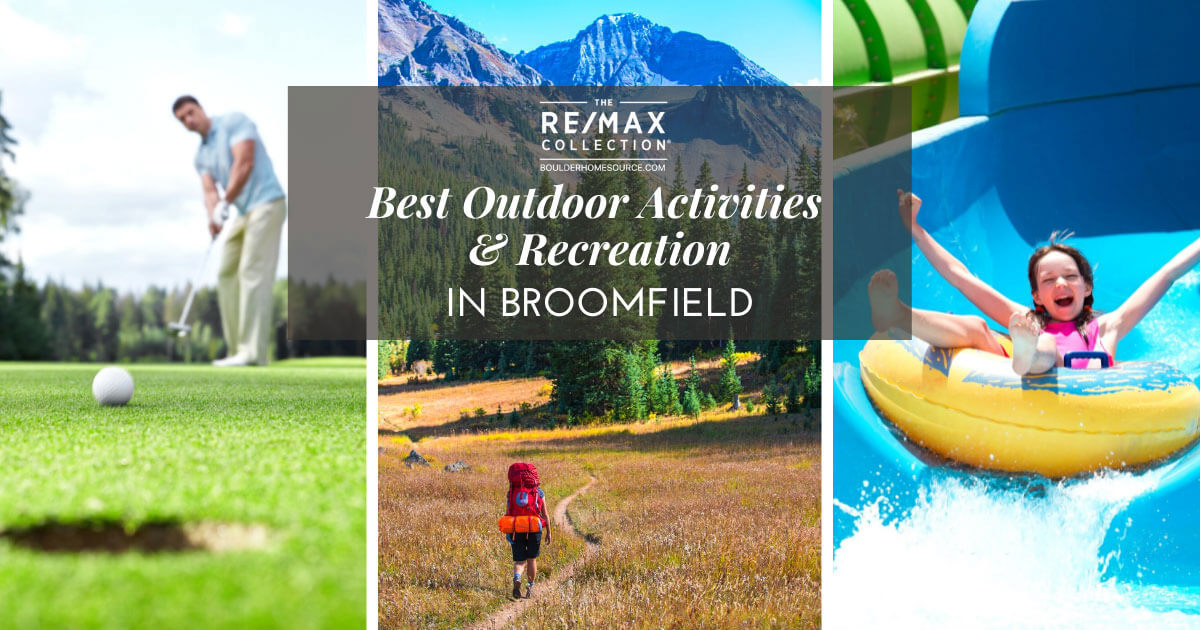 Broomfield, Colorado, is a community where many residents enjoy getting outdoors and staying active — even during the months when there is snow on the ground. The private businesses cater to outdoorsy types by providing a wide range of recreational opportunities. From hiking or biking on the local trails, going for a swim, and hitting the links at several of the golf courses, there are a lot of outdoor activities to explore. Keep reading to discover some of the best outdoor activities in the Broomfield community.
Water Recreation in Broomfield
The Bay Aquatic Park on Spader Way is a popular destination for cooling off and enjoying fun during summer. It has multiple body slides and a water play structure, plus a toddler pool and splash area. Visitors are welcome to bring a picnic lunch to the grassy areas at the park. Other amenities here include restrooms and a concession stand.
The Great Outdoors Waterpark is a similar experience located just north of Broomfield in the Lafayette community. This large park has several fun slides and water features. Float down the "Lazy River" in an inner tube, or take the plunge on the 21-foot-high Big Slide. A separate lap pool is available for those who want to get in an excellent swimming workout. Sun umbrellas and lounge chairs are available on a first-come, first-serve basis. ADA pool entry lifts are available in several areas for those who need assistance getting in or out of the water.
Broomfield is also home to one of Colorado's most highly respected scuba diving schools. The Flatirons Scuba & Travel offers scuba diving lessons for beginners and advanced divers. Students can earn their PADI Open Water Diver certification or become a licensed Rescue Diver through the school's more advanced courses. If someone simply wants to learn to scuba dive as a hobby, they can do that at Flatirons as well.
Broomfield Hiking & Biking Trails
Hikers and bikers have significant options for local trails in Broomfield. It's important to note that coyotes are prevalent in this part of Colorado. The city recommends low-intensity hazing — making lots of noise — to scare the animals off if one comes too close. Hikers should bring along a coyote whistle or other noisemakers when venturing outdoors.
There are several easy to moderate biking trails in and around Broomfield. The Big Dry Creek Trail is an easy 11.9-mile ride on a paved trail running from Standley Lake to I-25. The trail takes riders past a beautiful lake. Additionally, the Standley Lake North Trail is a moderate 4.9-mile ride. The main trail is paved, although some areas can get muddy. The Lake-Link Trail is another moderate ride due to some elevation gains and the fact that it's a dirt trail. It's an 11.9-mile trail that is most accessible during summer.
For hikers, the McKay Lake Trail is an easy 1.6-mile loop through a wooded area. Leashed dogs are welcome on this partially paved trail. The Big Loop trail is part of the Broomfield Community Park. It's an easy-rated 2.2-mile trail that passes a lake and provides plenty of wildlife viewing opportunities. The Stearns Lake and Rock Creek Farm trail is an easy loop through a beautiful area in Broomfield. It's a 2.3-mile trail that is open year-round, although spring and summer are best for those wanting to view the native wildflowers in the area.
Broomfield Parks
More than 700 acres of land have been developed into parks in Broomfield, and the city maintains 45 public playgrounds. All the parks are open from 5 a.m. to 11 p.m. daily. Leashed dogs are welcome in all of the city's parks, but note that leash laws are strictly enforced! The town maintains a complete list of parks and their amenities, but a few local favorites are worth noting:
Anthem Community Park in north Broomfield has many outdoor activities to enjoy. It has a pump track for intense cyclists who want to test their skills. There are many hiking trails through the park and wide-open grassy areas for playtime. Picnic pavilions allow residents to enjoy some shade during a long afternoon at the park. The Siena Reservoir is located at this park and has a catch-and-release fishing dock.
Pet owners enjoy flocking to the Broomfield Commons Dog Park, located off Sheridan Boulevard. This off-leash dog park features plenty of open space for dogs to run and play, as well as agility obstacles and drinking fountains.
Big Dry Creek Park is just east of the Broomfield city limits in Westminster. In addition to a playground, the park features chess tables and a natural stone amphitheater. It has plenty of hiking trails and native plants and grasses to enjoy.
Golf Courses in Broomfield
Broomfield golfers have three great public courses to choose from: Greenway Park, Eagle Trace, and The Broadlands.
Lovely golf course homes surround the 9-hole Greenway Park Golf Course, open daily from May through September. If the course is clear of snow between October and April, the links are also open. Renting a pull cart and playing nine holes of golf costs $17, although there are some discounts for seniors and military members. The course hosts league play and tournaments during the summer.
The Eagle Trace Golf Club is an 18-hole public course with serious water hazards and plenty of trees to avoid. Reserve tee times in advance, and no walk-ins are allowed. Course rates are $33 on weekdays and $43 on weekends and holidays for 18 holes. Discount rates are available for seniors and juniors. League play and tournaments are open during the summer months at Eagle Trace.
Located in north Broomfield, The Broadlands Golf Course is an upscale golfing experience, especially for a public course. It has 18 well-maintained holes for a challenging experience. The Broadlands also has a chipping green, putting greens, a driving range, and a pro shop. The course itself has many water hazards and bunkers to navigate. Broomfield residents can play 18 holes for $45 on the weekdays and $55 on the weekends. Cart rentals are available for an additional $20 fee.
Other Broomfield Outdoor Activities
The outdoor fun in Colorado doesn't stop just because of a bit of snow on the ground. Here are a couple of fun outdoor activities in the area during the winter months.
Echo Mountain is the closest ski area near the Denver/Broomfield area. The resort is located 42 miles southwest of Broomfield and directly west of Denver. Skiing, snowboarding, and tubing are available for anyone who wants to get out and play in the snow. The ski mountain is open seven days a week during the ski season, including on holidays. Full-day lift tickets are $57 for adults (16 & up) and $35 for kids aged 6 to 15. Lift tickets have to be purchased by 10 p.m. the night before arriving at the mountain.
WinterSkate is a family-friendly event in Louisville, the next town up the highway between Broomfield and Boulder community. The outdoor ice skating rink is open seven days a week, and people can enjoy ice skating, holiday music, and horse-drawn carriage rides through the snow. It costs just $10 per person to skate, and the price includes a pair of rental skates.
Enjoy Outdoor Activities Year-Round in Broomfield
No matter what time of year it is, there are always many outdoor activities available in Broomfield. Residents can always leave their Broomfield townhomes and enjoy an excursion in local parks, head out on the trails, or enjoy some wintertime skiing. During the summer months, there are plenty of aquatic activities to enjoy, as well as first-rate golf courses. Make the most of living in this active community by exploring all the outdoor activities that Broomfield offers.