Best Places to Live Near Boulder, CO
Posted by Boulder Home Source on Wednesday, February 10, 2021 at 6:51 AM
By Boulder Home Source / February 10, 2021
Comment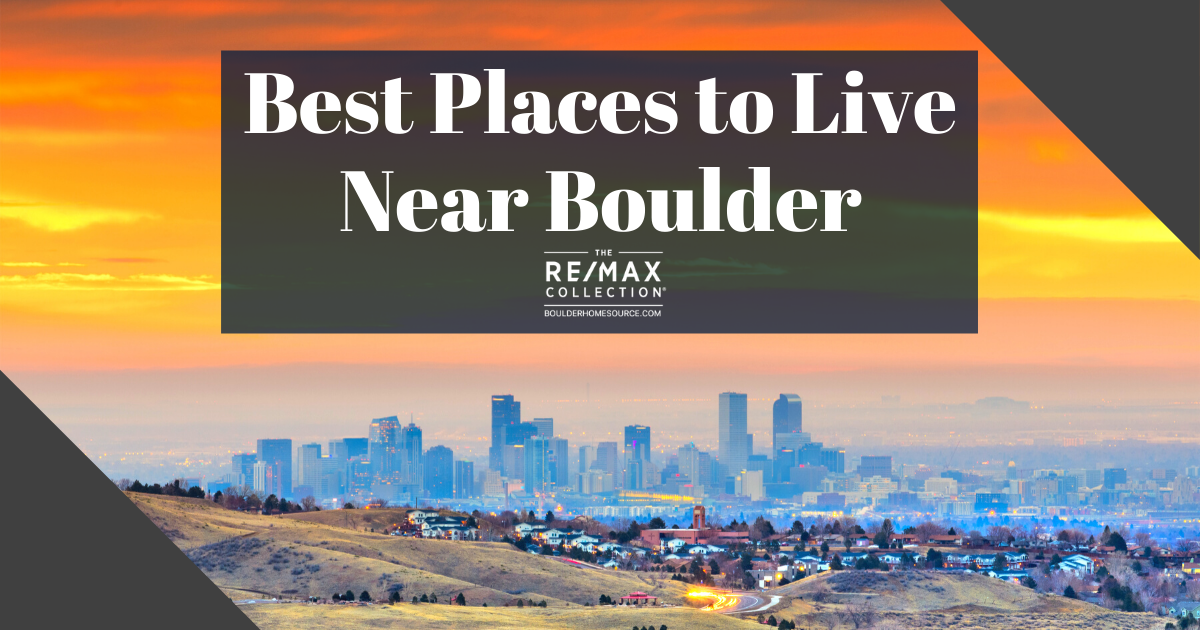 Boulder, Colorado, is located on the foothills of the Rocky Mountains, about 25 miles northwest of Denver. It has a population of about 105,003, making it Colorado's twelfth-largest city. Boulder is the county seat of Boulder County and the principal city within the Boulder metro area. The city is known for its arts community and is also home to the main campus of the University of Colorado.
Boulder frequently gets high rankings for its promotion of a healthy lifestyle and high quality of life. Throughout its history, the city has adopted several growth management policies and ordinances designed to preserve the surrounding mountain backdrop from development.
Those interested in moving to the area should consider this list of the best places to live near Boulder.
Superior
Superior Amenities
Parks
Trails
Sports complex
Golf
Shopping
Superior is located in Boulder County, about eight miles southeast of Boulder. The community has a population of about 12,921 residents.
Superior was built on the coal mining industry, dating back to the late 19th century when coal was discovered on a local farm. The town reportedly got its name from the superior quality of coal. Mining remained a major economic force until 1945, when the industrial mine closed. The town reverted to a small ranching and farming community, with a population hovering around only 250, until the late 1990s when subdivisions began to sprout up and the population grew by the thousands.
Superior offers residents about 27 miles of trails and nearly 600 acres of parks and green space, making up over 23 percent of the town's land area. The town also operates two swimming pools, as well a tennis court. Superior has also begun putting a focus on the arts.
Louisville
Louisville Amenities
Parks
Golf
Museums
Shopping
Trails
Louisville has a population of about 20,148 residents and is located less than 10 miles southeast of Boulder. The city got its start in 1877 as a rough mining community, transitioning to a suburban residential community when the mines closed in the 1950s. The city has been recognized as one of the top 100 best places to live in the U.S. for multiple years between 2007 and 2017.
Louisville is the home of several high-tech companies. Its historic downtown includes a pavilion used as a concert venue. The pavilion is also the location for the community's weekly street fair in the summer and an ice rink in the winter.
In addition to the street fair, the community holds several other festivals each year. Residents can also enjoy the city's weekly farmer's market held downtown during warm weather months. Louisville also features 32 miles of recreational trails and several parks.
Pine Brook Hills
Pine Brook Hills Amenities
Parks
Lakes
Trails
Fishing
Pine Brook Hills is an unincorporated residential community of about 400 homes in Boulder County. It is located in the hills on the northwest edge of Boulder, overlooking the larger metro area. About 1,070 residents live in the community.
Pine Brook Hills offers easy access to a number of recreational areas. The 1.7-mile Anne U. White Trail of moderate difficulty is located just north of the community. It follows the Fourmile Canyon Creek, crossing it a number of times. The trail is open to foot traffic only; horses and bicycles are not allowed.
Residents can enjoy Maxwell Lake and Wonderland Lake. Adjacent to Wonderland Lake is Wonderland Lake Park with a scenic loop trail.
Anglers can also enjoy fishing at nearby Four Mile Canyon Creek. It is best known for its largemouth bass and brown trout.
Pine Brook Hills Hotspots
Gunbarrel
Gunbarrel Amenities
Parks
Walking trails
Bicycle paths
Country club
Golf
Lakes
Airport nearby
Gunbarrel is an unincorporated community about eight miles northeast of Boulder. This Colorado community has a population of about 10,202 residents. It is separated from the city of Boulder by farm land and publicly owned open space.
Gunbarrel appeals to residents in large part due to its expansive bike paths, softly rolling hills, and affordable housing. It got its unique name after a historic local stagecoach route of the same name. The community was developed after IBM moved its plant there in 1965 and required housing for its employees and executives. Gunbarrel has continued to grow, with a number of retail shops, cafés, and restaurants, as well as a major hotel, now located there.
Surrounded by open spaces and offering plenty of opportunities for outdoor activities, the nearby Boulder Reservoir is home to a number of events and festivals. Bicycle trails run from Gunbarrel to Boulder or Longmont. Residents can also golf and visit the Twin Lakes Open Space recreational area.
Lafayette
Lafayette Amenities
Parks
Trails
Lakes
Museum
Shopping
Lafayette is located about 11 miles east of Boulder. It has a population of 28,742 residents.
The community was founded in 1888 by Mary E. Miller, who designated 37 acres of farm land for the town of Lafayette, named after her late husband. Lafayette soon became part of the coal-mining boom in eastern Boulder County.
The City of Lafayette operates 20 parks and manages 20 miles of trails. It also oversees a recreation center and 506 acres of open space. The city's most popular recreation destination is the city-owned Waneka Lake, an artificial reservoir in Waneka Lake Park. The park features playground equipment, picnic shelters, fishing, and a multi-use 1.2-mile trail.
Indian Peaks Golf Course opened in Lafayette in 1993, featuring 18 holes of Championship golf and spectacular views.
Lafayette hosts a number of community-wide events and festivals each year. The city features Festival Plaza, a gathering place located in historic Old Town Lafayette.
Longmont
Longmont Amenities
Lakes
Golf
Parks
Museum
Fishing
Trails
Arts district
Swimming pools
Longmont is located about 15 miles northeast of Boulder and has a population of about 98,711. It is named after nearby Longs Peak. Founded in 1871, it flourished as an agricultural community with the arrival of the railroad in 1877. Today, the economy is bolstered increasingly by high-tech companies.
Longmont has 41 parks and green spaces, covering 2,240 acres. There are a number of lakes. The 736-acre Union Reservoir, combined with Golden Ponds and the St. Vrain Greenway, attracts anglers.
Additionally, Longmont is home to three golf courses, four public pools, and nearly 100 miles of multi-use trails.
Many businesses cater to tourists visiting nearby Rocky Mountain National Park. In addition to recreational activities, downtown Longmont serves as the city's arts and entertainment district, and Longmont has a thriving craft brewing industry.
The city has a public art program and also holds art walks. Longmont is also home to a museum and cultural center, an award-winning symphony orchestra, a dance theater, and the Longmont Chorale.
Discover Boulder's Best Places to Live
Boulder has been recognized as the number one city for outdoor sports, with some of the world's top runners, mountain bikers, rock climbers, and cyclists making their homes there. Downhill skiing enthusiasts will find ski resorts a mere 30-minute drive away from Boulder's townhomes and high-end housing.
In addition to its emphasis on outdoor living, Boulder is a city with plenty of arts and culture. The city is home to the Boulder Philharmonic Orchestra, as well as multiple dance companies. The historic Boulder Theater offers a stage for music and film. Additionally, the brick-paved Pearl Street offers a popular pedestrian mall for access to historic shops, galleries, cafés, and pubs.