Best Places to Sled In Boulder
Posted by Boulder Home Source on Friday, April 5, 2019 at 11:03 PM
By Boulder Home Source / April 5, 2019
Comment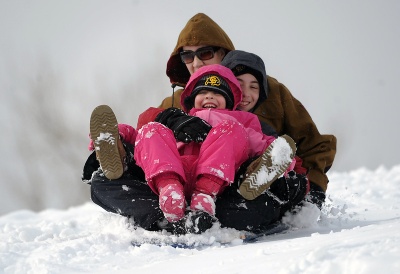 Well, we finally got some of the much needed snow we have all been craving this weekend, thank you Mother Nature! It just doesn't feel like home in Boulder, CO without snowcapped peaks and bundled up folks walking about. Happy to have white on the ground, Boulder residents can expect to get between 7-10 inches of snow today. Yay! So how are you planning to spend this snowy Sunday? If you are like most active snowbirds in Boulder you are more than likely going to get into your ski and snowboarding gear and head out for a day of sledding and adventure. Here is our list of the best place to sled in Boulder.
Sledding at Chautauqua Park
By far the most popular and well known sledding hills are those of Chautauqua Park. Located at 900 Baseline Rd, you can expect the main hill to be teaming with Chautauqua neighborhood families and outdoor winter adventurers today. Parking will probably be very difficult here so it might be a good idea to hike in and leave your automobiles homes. This is also a great spot for snowshoeing and cross county skiing.
Sledding at Tantra Park
Tantra Park in South Boulder is considered the best and most dependable sledding hill according to Boulder locals. Located off Brookfield near the playgrounds this hill is longer than a football field. Here you will find families of all kinds sledding, tobogganing, and even skiing and snowboarding in the powder. You can accumulate quiet a bit of speed down this hill so a helmet is recommended. There is also a pretty cool jump which is very popular with older kids and snowboarders.
Sledding at Casey Middle School
Casey Middle School has a great hill located right above the football fields on the corner of 13th and North. This hill is the steepest sledding hill in Boulder and is the hot spot for local snowboarders. You will find several jumps on the west side of the hill which have been built up by thrill seekers. Please note that this hill can be a bit dangerous and you need to keep an eye out for the goal posts which is why it is not recommended for small kids. Helmets are a must on this hill!
Sledding at Scott Carpenter Park
Scott Carpenter Park off 30th and Arapahoe features a designated sledding hill. This hill is more popular with families with small children as is not as steep as the above mentioned. Because of the direction this hill faces it usually melts pretty fast, but getting out there on a day like today will ensure some awesome snow coverage!
Sledding at Foothills Community Park
Foothills Community Park in North Boulder has a great sledding hill located near 6th and Locust. This hill is actually a bowl and is loved by snowboarders and thrill seeking sledders because of the ramps and jumps you will find here.
Harlow Platts Community Park
While Harlow Platts Community Park doesn't offer the steepest sledding hills in Boulder, CO, it certainly features some of the most striking panoramic views of the Flatirons, Viele Lake and the surrounding scenery. Due to its moderate slope and generous slip length at the bottom of the hill, Harlow Platts is considered one of the top parks in town to introduce the little ones to the thrills of snow sledding.
Beyond sledding, this expansive park features an array of activities for the family to enjoy throughout the year. Visitors have access to the adjacent recreation center that is replete with an outdoor pool, tennis courts and sand volleyball courts. There is also access to frisbee disc golf, a small on-leash dog park, a fishing area and lovely landscaped pathways laden with native and migrating water fowl. Harlow Platts Community Park is conveniently located between the South Boulder Rect Center and Fairview High School at 1360 Gillaspie Drive.
While spending the day enjoying everything that is wonderful about Boulder covered in snow, don't forget to drink your water and remember that injuries do happen just like at the ski resorts so be smart, cautious, and conscious of the people around you!