Best Trails in Broomfield CO: Coal Creek Trail, Carolyn Holmberg Preserve & More
Posted by Greg Smith on Monday, October 24, 2022 at 12:36:36 PM
By Greg Smith / October 24, 2022
Comment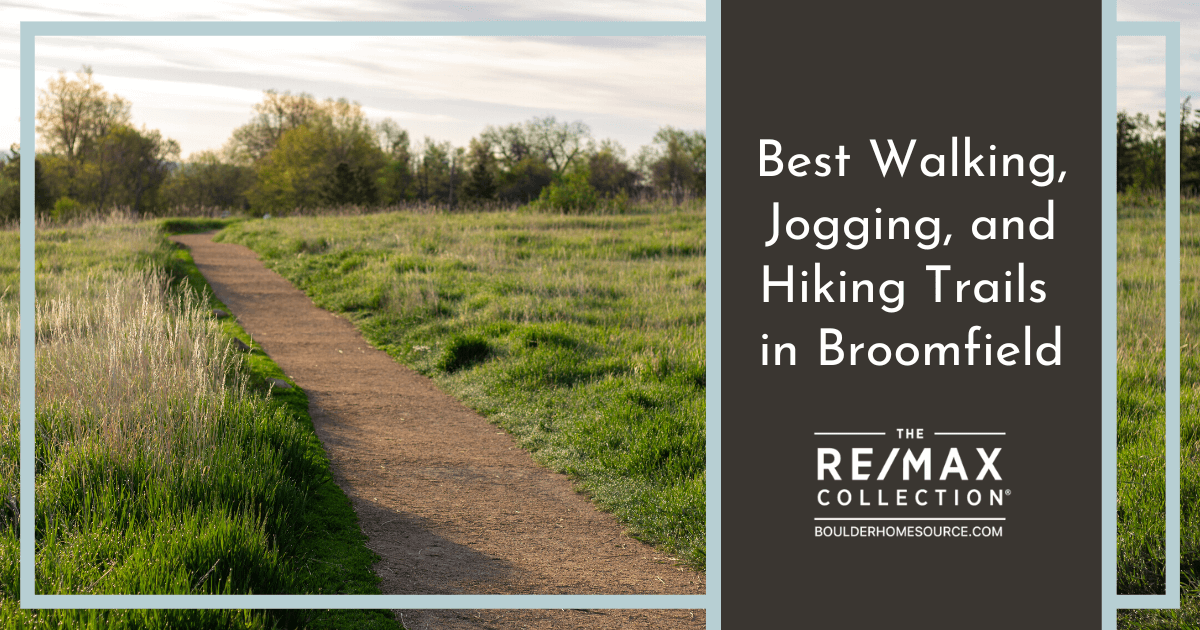 The city of Broomfield, Colorado, offers the best of both worlds: big-city amenities and fantastic access to the outdoors. Conveniently located between Denver and the city of Boulder, Broomfield is well known for its scenic parks and abundant open natural spaces and trails.
Parks in Broomfield and other open spaces in the area have various trails to explore, children's play equipment, fishing ponds and docks, and even outdoor art installations. Here's a closer look at some of the best trails in and around Broomfield.
Coal Creek Trail
The 14-mile, multi-purpose Coal Creek Trail is particularly scenic, with colorful wildflowers along the creek during summer and prairie dogs and abundant birds in other seasons. The trail is soft-surface (a combination of gravel and concrete), ideal for walking, trail running, bicycling, or exercising a pet. Due to local city regulations, horses are not permitted on the trail.
Coal Creek Trail starts at 66th Street in Superior and runs parallel to Coal Creek, with several smaller sections on the trail, including the Aquarius Trail and Flagg Park Trail. Parking is available at both of these trailheads, plus a few others. There's also a large group picnic shelter at the Aquarius Trailhead, while the Flagg Park trailhead has restrooms.
The Coal Creek path is also an excellent spot for a picnic because a handful of shaded picnic tables are along it. However, these tables make great wildlife-watching spots even if you don't pack a picnic. Coyotes, skunks, various frogs, and bull snakes all frequent the area, congregating near the water.
Coal Creek is also a busy summer swimming spot, serving as a refreshing way to cool off on hot days. The trail is especially popular with locals from the city of Louisville and the city of Lafayette, as both are just a short drive away.
Carolyn Holmberg Preserve at Rock Creek Farm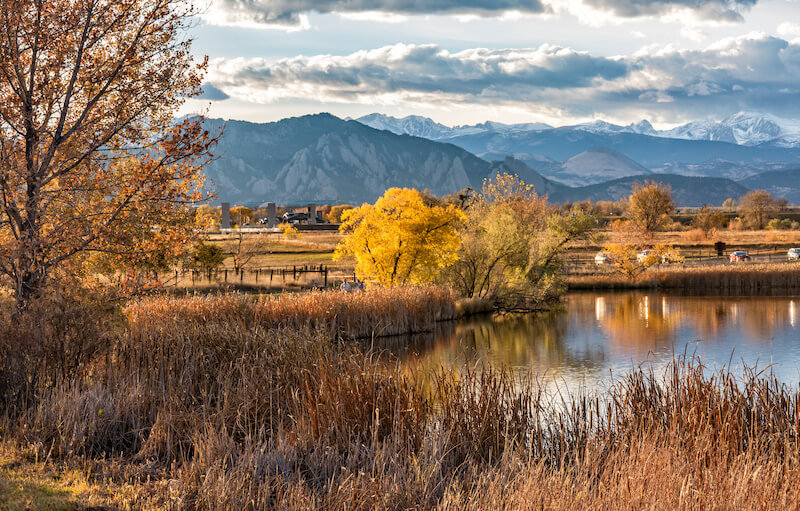 The Carolyn Holmberg Preserve at Rock Creek Farm is best described as a tranquil urban oasis. It's a short drive from the bustling Broomfield neighborhood of Interlocken and the town of Superior and is a fantastic spot for a walk, jog, or bike ride. There are four easygoing, multi-use trails at the preserve, all of which welcome people on foot, bicycles, and horseback.
Cradleboard Trail: 1.3 miles
Lac Amora Link: 0.3 miles
Mary Miller Trail: 1.5 miles
Ruth Roberts Connector Trail: 0.9 miles
Cradleboard Trail is home to many bald eagles. Part of the trail closes for breeding season in mid-October every year, and a detour is put in place to protect the nesting eagles. This multi-purpose trail also passes by Stearns Lake, a popular fishing spot where boats aren't permitted. Anglers can catch bluegill, channel catfish, tiger muskie, and largemouth bass. Several times throughout the summer, the preserve hosts Summer Catfish Nights.
The preserve also connects with the easy-rated, 12-mile-long Rock Creek Trail. Leashed dogs are permitted within the preserve, and there are restroom facilities near the main trailhead and a large group picnic shelter for up to 25 people.
Lake Link Trail
As neighborhood trails go, Lake Link Trail is particularly extensive. This 8.8-mile trail system is rated as intermediate overall, although some may consider some uphill sections difficult. The vistas along this route are spectacular, with the Front and Back Ranges, the Continental Divide, and the dramatic Indian Peaks visible from several points throughout the hike.
This pathway connects the county's eastern trails and open spaces to those on the western side, including Rock Creek Trail, which continues into Boulder County. It's a well-maintained concrete and gravel track, making it an excellent choice for joggers and those on bikes. Dogs are permitted on Lake Link Trail but must be leashed at all times.
Lake Link Trail is especially popular with locals from the nearby communities of Interlocken and Louisville. Interlocken is a seven-minute drive from the trailhead, while Louisville is just a bit further at 13 minutes.
Rocky Mountain Greenway Trail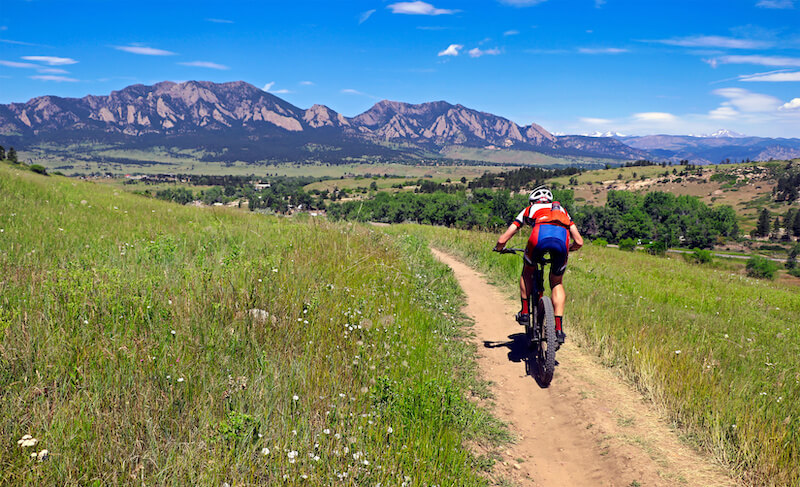 The seven-mile Rocky Mountain Greenway Trail starts from the Westminster Hills Open Space and follows around Standley Lake, offering breathtaking views of the Rockies. The path contains paved and crushed stone sections, popular with those on foot and bicycles.
Rocky Mountain Greenway Trail connects to the Two Ponds National Wildlife Refuge. It is part of an extensive community project that will encompass 25 miles of interconnected trails and link two additional wildlife refuges, Broomfield, the city of Arvada, and the Westminster community. The trail system is the first in Colorado, directly connecting residential areas with community parks, open spaces, and national wildlife refuges.
Rocky Mountain Greenway Trail is about 15 minutes from Westminster. Parking is available at the Westminster Hills Off-Leash Dog Park on Simms Street and 105th Drive and Two Ponds National Wildlife Refuge in Arvada.
Broomfield Trail
The 12-mile-long Broomfield Trail is a sectioned trail connecting the Great Western Reservoir Open Space in Broomfield's southwest corner to Baseline Road in the northeast part of town. Each section of the trail network is unique, matching the diversity of the Front Range. Some areas pass through low-lying grasslands; some have unobstructed views of the Rockies; some go straight through parks in the heart of the city. Still, others cross railroad tracks. There's also a brand-new pedestrian and bicycle bridge along the path.
One short section of the trail starts at 136th Avenue and Aspen Street, providing access to Country Estates Park, where there's an inline skating rink, picnic facilities, a playground, and more. Another section of the Broomfield Trail passes Anthem Community Park, a popular spot for mountain bikers who come here to develop and test their skills at the pump track. All of these amenities make it one of the best places for outdoor activities in Broomfield.
The entire Broomfield Trail has several spots with restrooms, picnic tables, and playgrounds or athletic facilities like tennis and basketball courts. Plenty of parking is available at the Great Western Reservoir Open Space, the origin of two short pathways.
The closest neighborhoods to the Broomfield Trail are Interlocken (a six-minute drive from the main trailhead), Westminster (16 minutes away), and the Walnut Grove community (also a six-minute drive).
There's a Trail for Everyone in Broomfield
If you enjoy getting some exercise in The Great Outdoors, Broomfield may be the ideal community for you. With an abundance of parks, open green spaces, and several extensive trail networks, there's no shortage of ways to get active in nature. With every imaginable in-city amenity and quick access to Denver and Boulder, these trails are just the beginning of the many things to do in Broomfield.