6 Best Walking, Hiking, & Biking Trails Near Longmont, CO
Posted by Greg Smith on Thursday, August 31, 2023 at 10:58:28 AM
By Greg Smith / August 31, 2023
Comment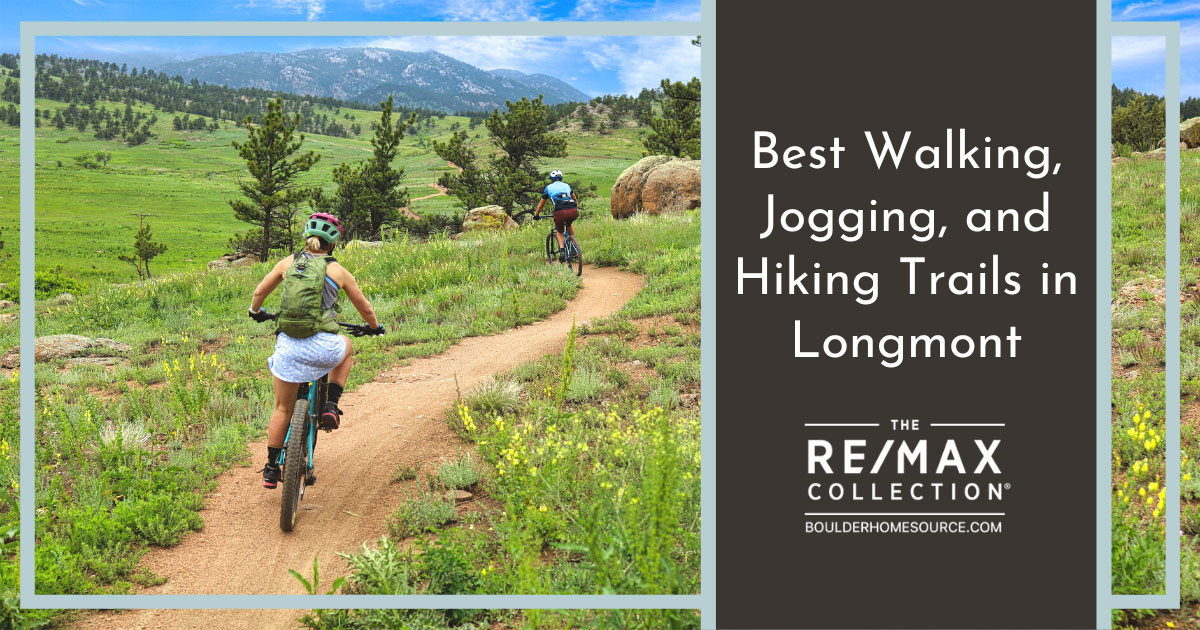 Are you looking for an outdoor adventure near Longmont, Colorado? With dozens of miles of trails, you won't have to look far. From the Antelope & Bitterbrush Trails to the Sleepy Lion Trail, the city of Longmont offers plenty of places to explore nature.
Whether you're a current resident, visiting, or thinking of moving to Longmont, get ready to lace up your hiking boots and hit the trails—adventure awaits.
Antelope & Bitterbrush Trails
The Antelope & Bitterbrush Trails offer a 9.4-mile loop of rolling hills and elevated meadows, perfect for spotting wildlife like coyotes, badgers, rabbits, and foxes. The trailhead provides updates on conditions so you can check before setting off.
Start with a gentle walk through open grassland, then ascend steeply via rugged switchbacks. Level out on a high ridge where you'll find prairie dogs and incredible views of the meadow below. Descend sharply to the Antelope Trail split and continue rolling until you reach the Nelson Loop Trail junction.
From there, you'll embark on an enchanting 2.3-mile journey through pine forests and rocky formations. Midway along this loop is its highest elevation point, offering panoramas of Mount Meeker and Longs Peak in all directions.
So, no matter which way round you go—clockwise or counter-clockwise—it's sure to be an unforgettable experience.
St. Vrain Greenway Trail
St. Vrain Greenway Trail, the city's 'crown jewel' of trails, offers eight miles of bike paths, walking paths, and nature trails connecting several of the schools in Longmont, city parks, and commercial zones. You can explore Golden Ponds Nature Area at Third Avenue West of Hover Street to Sandstone Ranch Nature Area. It's part of the Front Range Trail plan to extend from Wyoming to New Mexico.
Enjoy the scenery of the different nature areas like Roger's Grove, Izaak Walton Pond, and Dickens Farm east of Main Street. Locate various convenient trailheads at Golden Ponds, Izaak Walton Pond, South Pratt Parkway, and Sandstone Ranch.
Dogs are not allowed between County Line Road and Sandstone Ranch (roughly a mile) to protect wildlife habitats as directed by the City Council. With all these features, St. Vrain Greenway Trail promises an unforgettable experience.
Lichen Loop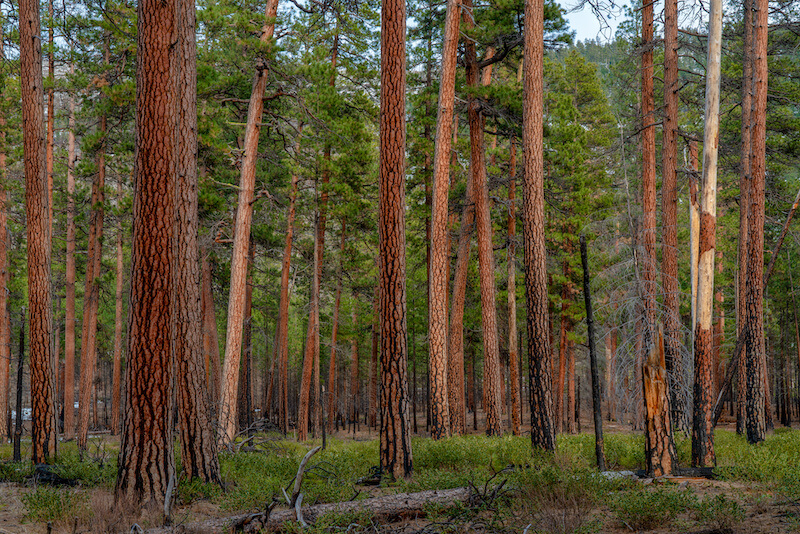 For a peaceful outdoor experience, the Lichen Loop at Heil Valley Ranch offers an easy walk through a picturesque meadow and shaded ponderosa pine forest.
Start your journey from the parking lot, and traverse the creek via charming bridges as you make your way to the three-way junction that marks the start of the loop. Follow it eastward through a meadow alive with wildflowers before veering northward past boulders adorned with lichen.
As you enter a denser forest populated with ponderosa pines, informative panels will chronicle the area's history, flora, and geology. After descending on its gradual curves, take a brief detour onto the Lime Kiln Spur for glimpses of an old sandstone rock structure used by homesteaders in transforming limestone into lime. Finally, complete your loop to return to where you started.
Eagle Wind Trail
Be sure to take the time for an adventure to explore the Eagle Wind Trail which, while located in Longmont, is closest to the town of Lyons. The Eagle Wind Trail offers some of the most stunning views in Longmont, including views of the Front Range, Continental Divide, and Eastern Plains.
Begin your journey by heading northeast from the parking area along a steep trail that spans half a mile. Take a right turn at the split for the Little Thompson Overlook Trail, crossing the Indian Mesa Trail, and continue along the Eagle Wind Trail.
Climb for a half mile before reaching its looped summit. Here you'll be treated to breathtaking vistas of Meeker, Longs, and Twin Sisters Mountains as well as vibrant wildflowers in the meadows below. Look out for mule deer and coyotes while admiring prickly poppies, locoweed, sagebrush, asters, larkspur, and more native plants.
Conveniently placed benches offer rest stops while interpretive signs provide insight into local flora and fauna plus historical context. Enjoy nature's beauty among majestic mountain peaks with this unforgettable experience.
Sleepy Lion Trail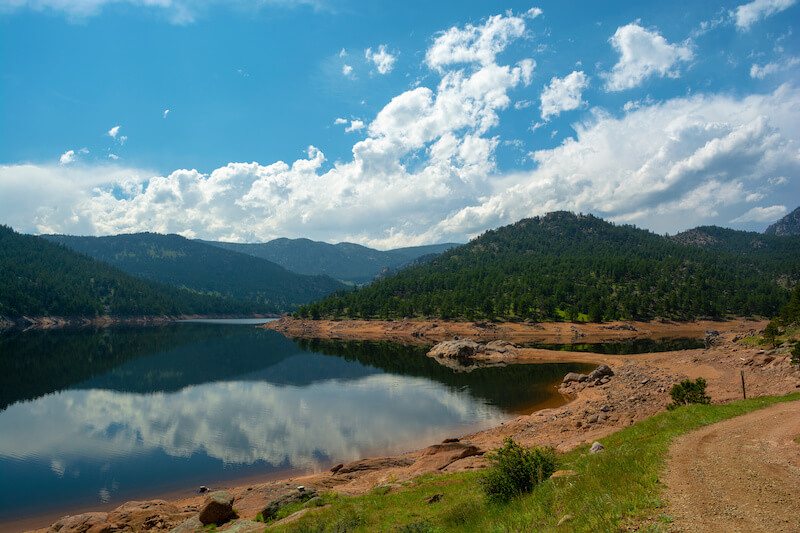 The Sleepy Lion Trail offers a unique outdoor experience with captivating meadow views and rocky terrain.
Take a left turn off the dirt road to begin your journey, quickly ascending through Deadman Gulch. You'll soon reach an open meadow with views of Boulder County and even the expansive Rocky Mountain National Park. The trail then continues to climb and descend, eventually leading you to the Ralph Price Reservoir and Button Rock Dam. As you get closer, you can appreciate the powerful water spray from the dam up close.
Along your journey, you should watch for wild raspberries, wax currant shrubs, wild roses, and wildflowers in bloom. Yucca and prickly pear cacti are also scattered sporadically along protected sections of the trail. For your return trip, opt for a loop by heading northeast on Button Rock Dam Access Road and Longmont Dam Road.
Golden Ponds Nature Area
Golden Ponds Nature Area, donated by the V.V. Golden Foundation in 1990, offers 88 acres of land for visitors to enjoy fishing, leisurely walks, and nature's beauty. The area includes four ponds with a 56-acre water surface, trails totaling 2.6 miles, and a stunning view of Longs Peak and the Front Range.
There is also a fishing pier, designed to accommodate those with mobility issues, two restroom facilities, and nine picnic shelters. Wildlife, such as great blue herons and cormorants, often grace the park.
Catch the St. Vrain Greenway trailhead here, too—perfect for hikers looking for an outdoor adventure. With a harmonious blend of natural beauty and human stewardship, Golden Ponds Nature Area remains an amazing destination everyone can appreciate.
Enjoy the Beauty of Longmont's Trails
From the Antelope and Bitterbrush Trails to the Eagle Wind Trail, you shouldn't miss out on the opportunity to experience all the breathtaking trails spread around the best neighborhoods in Longmont. Golden Ponds Nature Area and Lichen Loop are perfect for a leisurely stroll, while Sleepy Lion Trail offers a chance for some adventure. With so much beauty around every corner, you'll be in awe of the natural wonders that await you—so don't wait any longer and explore today.