Boulder County Real Estate Market Update [New: September 2023]
Posted by Greg Smith on Wednesday, September 13, 2023 at 8:00 AM
By Greg Smith / September 13, 2023
Comment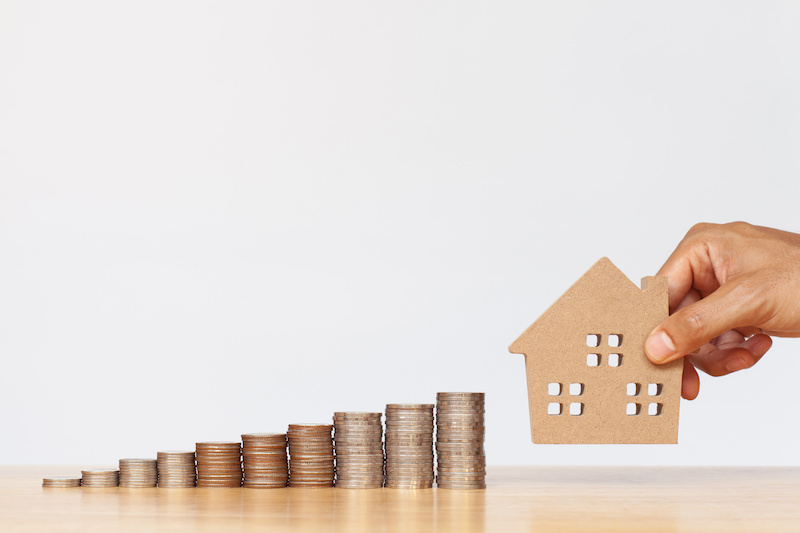 Are you thinking about buying or selling a home in Boulder County? If so, you need to know what the market has been up to in the past month. The real estate market is always changing, and you owe it to yourself to be aware of its current state so you can better prepare yourself for buying or selling. Here is everything you need to know about the Boulder County real estate market in the past month.
For informational purposes only. Always consult with a licensed real estate professional before proceeding with any real estate transaction.
Boulder County Real Estate Insights | September 2023
This week, we experienced a jump in listing activity in Boulder County, with 127 single-family homes entering the market. As you can see, this is an increase of nearly 50% from our previous weekly average. This is not uncommon for this time of year as students return to school and people squeeze out those remaining vacations. We can also see a jump in price reduction for the week to 85 compared to 63 the previous week. Sellers get much more motivated this time of year as we head into winter.
Percent Under Contract
This week did show a glimmer of a trend that we used to see quite often in the Boulder County upper end. Fall, surprisingly historically, has been a perfect time for the luxury market, and with three over $5,000,000 going under contract, we may just be experiencing a resurgence of this trend. We are also experiencing a strengthening in the $2,000,000 to $3,000,000 market, with 28% currently under contract. This market has consistently increased from the 14% to 16% we saw earlier in the year.
The $2,000,000 and below market continues to slow, which is seasonally the norm and in line with the interest impact this portion of the market is experiencing. That said, with 38% of the under-million market being under contract, it is still a seller market. The million to $2,000,000 is a balanced market currently.
Average Days on the Market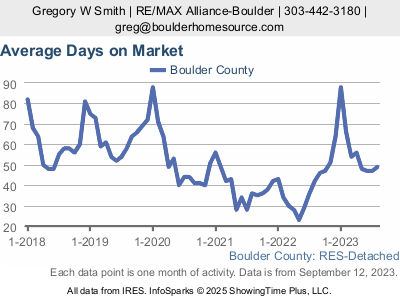 Average days on the market are still staying fairly low at 49 days. This equates to most homes going under contract within three weeks of being listed. This is for the Boulder County market. It is certainly different for different price ranges and areas. Historically 49 days is relatively low, as you can see by the chart.
Average Sales Price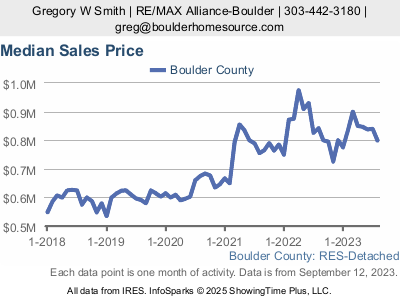 The average sales price trended down slightly from last August, but at a much lower extent than many experts anticipated with higher interest rates. Much of this can be attributed to our local lack of inventory that is also mirrored in many markets across the country.
Average List Price to Sales Price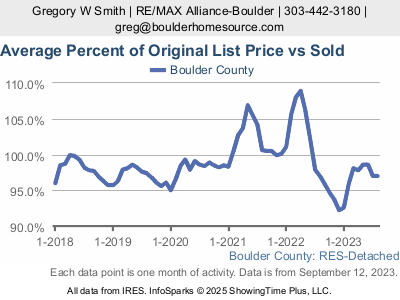 The list price to sales has started to come down slightly, and expect this to continue to be the case for October, November, and December. Historically we have found that these months tend to be when buyers historically have negotiated the best price per square foot.
As always, we have the local knowledge and intel, so be sure to call any of our Boulder Home Source Consultants to make sure you have the facts when buying or selling your next home.
Contact Boulder Home Source Today!
---
Boulder County Real Estate Insights | August 2023
It certainly felt like we're jumping into an early fall with a brief period of lower temperatures and the real estate market cooling off, but factors like back-to-school and last-minute vacations often make time feel like it's standing still for the last several weeks of summer. If you are thinking of moving, now may be the time.
If you're feeling uncertain due to interest rates or economic conditions, don't hesitate any longer—now is the opportune moment. Let me explain why:
As we reflect on July 2023, it appears the Colorado Front Range market has had its fair share of ups and downs, but things are finally starting to settle down after the pandemic turmoil.
The real estate market, like others, is guided by the fundamental principle of Supply & Demand. At present, we're experiencing an unprecedented scarcity in available properties. This scarcity is primarily a result of two key factors. Firstly, new housing construction has been lagging for years. Secondly, homeowners are opting to retain their exceptionally low mortgage rates, creating what's known as the mortgage rate lock-in effect. This supply shortage is estimated to be trailing demand by a staggering 1.6 million units (700k for sale, 900k for rent), as indicated by Moody's Analytics. This scarcity is why prices remain resilient despite growing affordability challenges.
However, this scenario is on the brink of change. The Federal Reserve's ongoing battle against inflation is poised for success, as history attests. Each time interest rates have been raised by the Fed, the subsequent correction has led to rate decreases. Visualize it as steering an immense oil tanker with a modest 2-horsepower engine—it takes time to shift a market as colossal as the US economy. When the Fed deems the inflation issue under control, rate hikes will cease, and reductions will follow. With falling interest rates, more sellers will emerge, builders and developers will intensify new construction projects, and the inventory will rise—alongside prices.
"But why would prices rise then?" you might ask. It's due to unwavering demand. The most substantial demographic group in the US consists of individuals aged 24 to 36—the prime years for first-time homebuyers. Every day, millions of these potential buyers enter the market, showing no signs of slowing down. Their only constraints are limited inventory and affordability.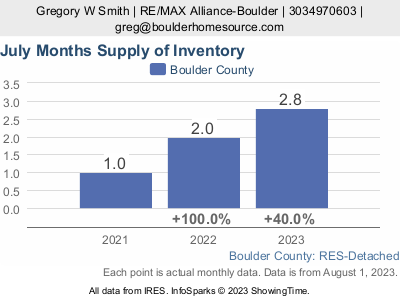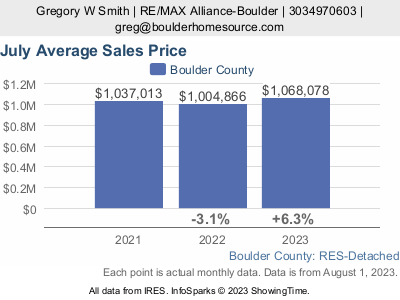 The sudden increase in rates by the Fed caused a whiplash effect, but now that we've reached the peak of the Fed's intervention and the economy is on track for a soft landing, we're seeing most markets along the Front Range returning to historically average appreciation rates. Although the market is still tight, we're seeing inventory moving toward a more balanced market for both buyers and sellers. It's worth noting the entry-level market is still highly competitive, while luxury real estate slowed down considerably unless you have an exceptional home or location.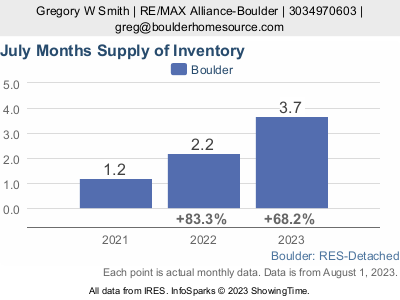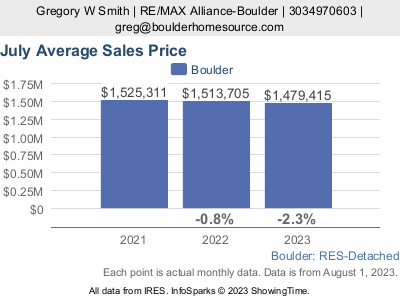 Now, you might be wondering, "How does this concern me? Shouldn't I wait for more properties and better rates before buying, or for higher prices if I'm selling?"
Under different circumstances, your logic would be sound. However, it all hinges on your individual situation.
As my grandfather used to say, "People will always need a place to live." Housing is a fundamental necessity, and people move not merely due to rates or prices, but because of their life circumstances—a new job, a growing or shrinking family, and other life changes. Although people might delay their moves temporarily, movement remains constant.
As we look ahead, the market is expected to maintain its course, making it an excellent time for buyers to enter while they have more choices. If payments are challenging, it's a good idea to speak with your broker about utilizing tools like a 2-1 buydown.
For buyers awaiting the opportune time, delaying could mean missing out on a unique chance for favorable prices and terms. If inventory constraints are holding you back, consider widening your search or partnering with an experienced agent who can help you find the inventory you require.
For sellers considering the right time to sell, capitalizing on the current good prices might be wise. You could potentially secure even better terms on the buying side. Keep in mind that if you're selling, you're likely in the market as a buyer as well. Waiting for a higher price could entail competing with other buyers.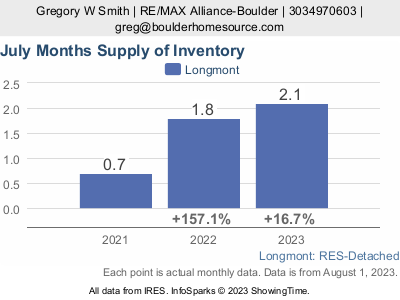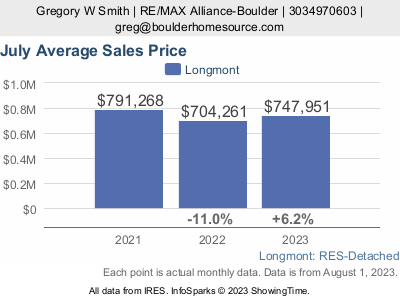 Most experts predict rates will decrease in 2024, which could lead to an appreciating market if inventory remains similar to what it is today. This encapsulates why the time to act is now.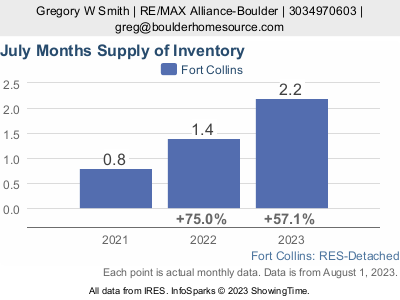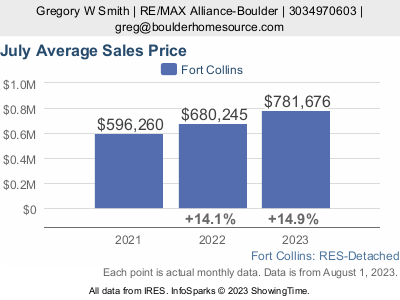 Now, let's delve into the specific figures for Boulder County.
New Listings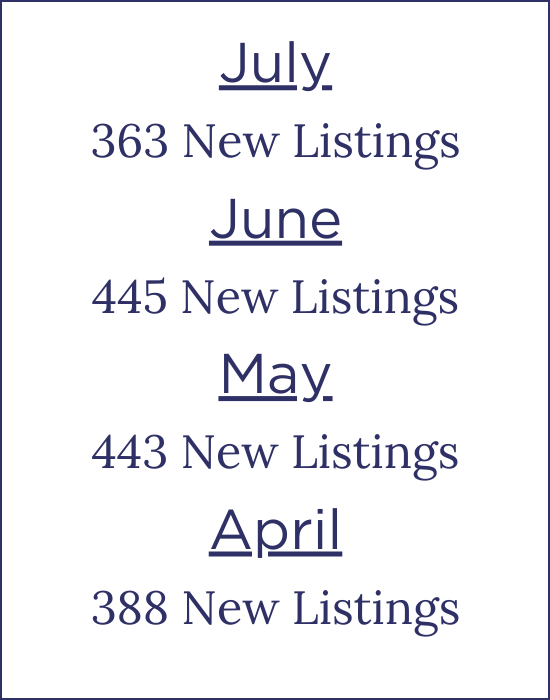 We saw a dip in Boulder County single-family homes for sale in July, which, again, was expected as back-to-school preparations commenced and last-minute summer trips were completed.
Average Sales Price and Percent of Sales Price When Sold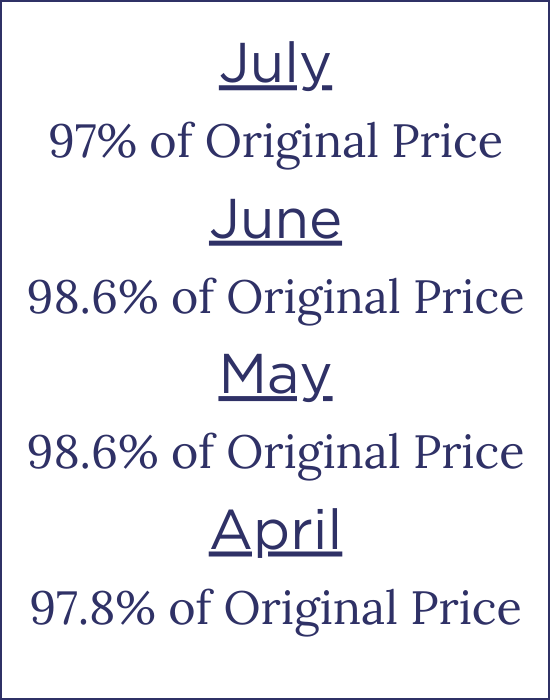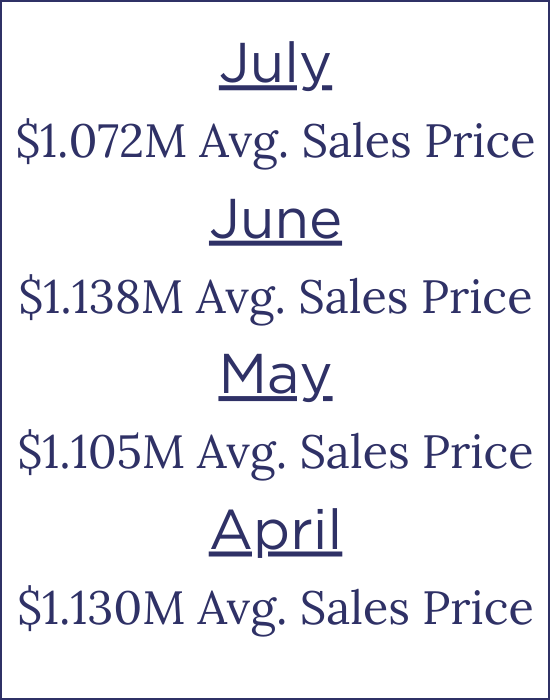 Like other reports from July, the average percent of original list price when sold also saw a decline. Listings that are on the market are still selling at, or close to, their original list prices, which means that expectations are being met for sellers, while buyers are able to negotiate their wants and needs much easier than when bidding wars were happening.
It's currently sitting at 97%, which is still an acceptable number for buyers and sellers and shows that our market really has cooled off and balanced since our peak of 109% in the spring of last year. For sellers, this, of course, means they may not be walking away with quite as much cash, but there is still equity to cash in on.
Average Showings to Pending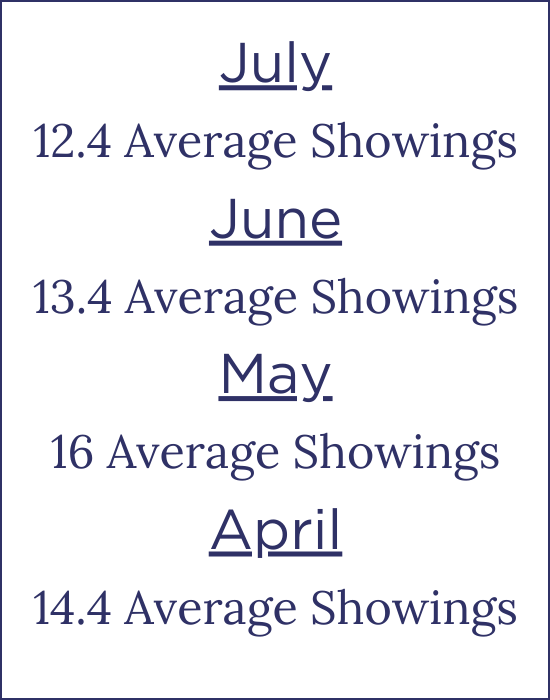 July reports an average of 12.4 showings until an offer was accepted. This is surprisingly the lowest number we've seen since June of 2020. In 2021 and 2022, we know that buyer demand was incredibly high, so by default, more showings per listing was natural.
Now, buyers are still able to write strong, competitive offers, but sellers are more willing to accept offers closer to their original list price because they know they most likely won't receive an offer for $50k+ higher, like they may have a couple years ago.
Thinking About Selling Your Home in Boulder County?
The hesitation to buy or sell is understandable, especially with current news headlines. The internet can give you just enough information to become interested and enticed, but you need the experience and education to cross the finish line. Don't hesitate to reach out if you're on the fence, or if you just have questions. That's what we're here for!
We're here to assist you with all your home buying and selling needs, including keeping you up-to-date with the latest real estate information so you can make informed choices. Feel free to use the contact form below or call us at (303) 543-5720 to connect with an experienced local agent and ask questions, get advice, and start your home-selling journey.
---
Boulder County Real Estate Insights | July 2023
Boulder County and the Front Range are still experiencing low inventory. Still, we did have a nice leading indicator this month for future activity, with single-family detached properties increasing by 1% for June. It has been over a year since we saw an increase in under-contract activity.
We have also seen an increase in price per square foot from 339 to 353, just over 4.2 percent. This is probably the better indicator to watch currently since the market is not consistent across all price ranges, with the market below $2 million having 40% of the inventory under contract compared to 13% or less for the market above $2 million. That said, some areas are performing better than others, such as Mapleton Hill and Downtown Boulder.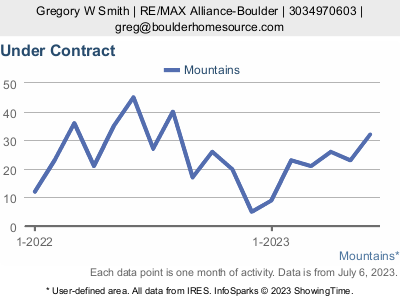 One area that has been a little slower to rebound from the interest rate hit is the close in mountain properties, but we did see a nice jump in June, with 32 homes going under contract compared to 23 in May. We can also see by the trend of this chart that the mountains are picking up speed as we head into summer.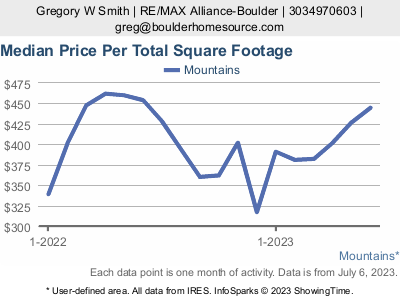 Price per square foot for the close in mountain homes is down slightly at -2% as compared to the rest of Boulder County, being up for 4.2%. Overall, with the interest rate environment being what it is, I am happy to see how resilient the market is as a whole, but having the proper intel certainly matters.
Boulder County Real Estate Insights | June 2023
Although inventory is still tight in June, there are signs of improvement in Boulder and the surrounding areas as inventory has increased. Specifically, there has been an increase in inventory above the $2 million mark in Boulder County. However, the market below $2 million remains quite tight with almost 50% of inventory already under contract.
In other news, our leaders have finally resolved the Debt Ceiling issue, which has brought rates down to the low 6s from the previously inflated 7s. This resolution comes after a long-standing tradition of dancing around this issue every two years.
Moving forward into 2023, we can still expect tight inventory, but there are potentially some opportunities emerging in certain parts of the market. If rates continue to drop into the 5's, we can expect a significant increase in activity since there is a backlog of buyers and sellers who are waiting for the right rate environment.
Percent of Listing Under Contract
| | | | | | | | | |
| --- | --- | --- | --- | --- | --- | --- | --- | --- |
| | 16-Apr | 23-Apr | 30-Apr | 7-May | 14-May | 21-May | 28-May | |
| $5,000,000.00 | 13% | 20% | 18% | 25% | 19% | 13% | 17% | B |
| $3,000,000.00 | 20% | 16% | 21% | 19% | 19% | 18% | 16% | B |
| $2,000,000.00 | 17% | 20% | 20% | 20% | 25% | 19% | 18% | B |
| $1,000,000.00 | 39% | 37% | 37% | 37% | 38% | 36% | 38% | S |
| $300,000.00 | 51% | 54% | 50% | 49% | 50% | 51% | 52% | S |
Boulder County Real Estate Insights | May 2023
Boulder County and the Colorado Front Range continue to do well for April regarding real estate. In January, we experienced a strong pullback of sales prices to the original list prices, but as sellers withdrew listings or adjusted the prices, that stagnant stock either sold or expired. This spring, sellers are becoming much more practical in their expectations, and the average sale price to the original list price jumped to 98.3% for the second month in a row.
The market is very specific when it comes to price, as seen by the numbers below:
| Home Cost | 16-Apr | 23-Apr | 30-Apr |
| --- | --- | --- | --- |
| $5,000,000 | 13% | 20% | 18% |
| $3,000,000 | 20% | 16% | 21% |
| $2,000,000 | 17% | 20% | 20% |
| $1,000,000 | 39% | 37% | 37% |
| $300,000 | 51% | 54% | 50% |
As you can see, the Boulder market over $5,000,000 has 18% of the inventory under contract—this is a substantial jump from just three weeks ago when just 13% of that inventory was under contract. The $2,000,000 and below market is a seller's market with over 37% of the inventory currently under contract, and that number rises to over 50% under contract when you look at $1,000,000 and below. Above $2,000,000, the market can still be strong, but multiple offers are certainly not the norm.
April and May have historically been the peak months for median prices in Boulder County, so we will see if 2023 is going to follow suit. We have seen a substantial increase in median and average prices from the beginning of the year. Year over year, the median price is down 3.1%. However, keep in mind April was the peak of the pricing frenzy in 2022 before the rapidly rising rates took effect, so all things considered, 3.1% is a minor decrease. If this trajectory continues, it may be the last month with a year-over-year decrease.
---
Boulder County Real Estate Insights | April 2023
The Colorado Front Range Market is still showing the results of the current rising and falling interest rates. While this week would ordinarily be a historic low because of Spring Break, we still saw a relatively substantial number of new listings and listings going under contract. Because interest rates have been moving favorably recently, this makes sense.
Looking at things increasing, inventory in Boulder County is currently up 134.5% compared to last March—we now have 591 units for sale when we had 253 last year. Historically, we expect to see anywhere from 600 to 800, so we are getting close to historical norms for Boulder County inventory. Other areas, such as Adams County, have seen inventory increase by 90.7% to 791 units. From a historical perspective, this is a reasonably substantial number if you take out the anomaly of 2022.
In March of last year, we experienced unprecedented offers where many buyers were offering well over the purchased price, so we experienced the average list price to sales price swelled to 106% before dropping to an average of 94%. In March, the pendulum stabilized at 98.2%, much more in line with historical norms. This indicates that buyers and sellers are coming into alignment on their price expectations, but these expectations vary by price point.
Total sales are running 16% below last year in Boulder, and Adams County sales for March were down 10%. These trends across the Front Range show that more cost-effective areas have stronger first quarters than some higher-priced markets. The big positive is that we see a 50% increase in under-contracts across all markets from February to March.
In closing, there is no magic solution. At the end of the day, interest rates are going to affect home sales more than anything else. As long as the job market stays strong and we still have limited inventory, the market will tend to follow.
---
Boulder County Real Estate Insights | March 2023
The Front Range of Colorado is experiencing a unique phenomenon, with micro markets behaving differently than major markets. In fact, every market segment is currently different. For example, Boulder County seems to have experienced increased inventory in February. Just a few miles away, Adams County saw an inventory reduction and had one of its highest Februarys for under contracts in a couple of years.
At BoulderHomeSource, we track the data weekly and have seen that rate increases are "wagging the dog," meaning they may be influencing reduced home prices. As such, the markets we expected to see the most significant impact show the most buyer resilience. First-time home buyers and relocation buyers are taking advantage of this reprieve in the market to buy a home in what many consider a less competitive environment. The question is how long this market will last, and no one knows. Still, many predict that we will begin to see the federal funds rate begin to retract in September or October of this year, and based on the projection below, buyers that wait until 2024 may miss this optimal window: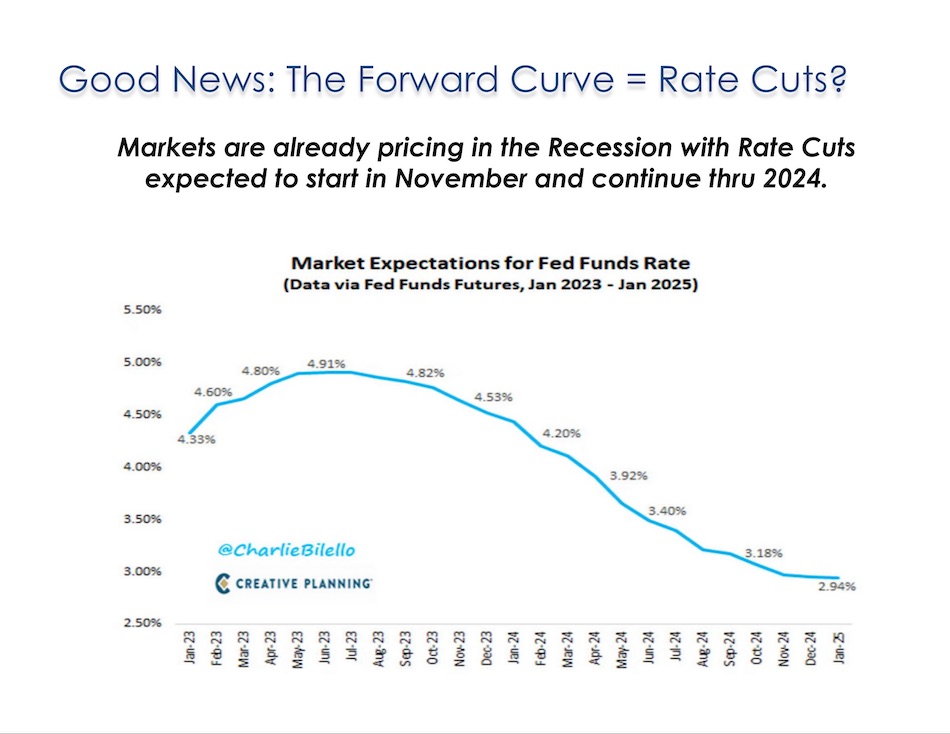 The Libor is showing similar expectations, which would help our international investors: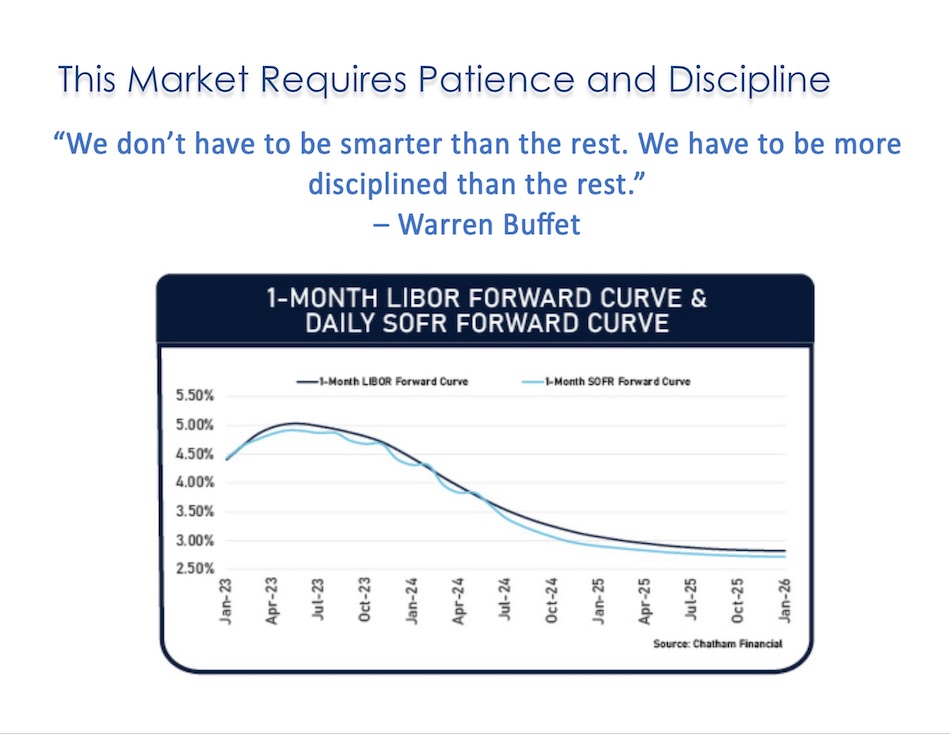 Using Boulder County housing inventory as an example to look at pricing bandwidth, we have seen a tremendous variance by price point. Homes priced at $3 million or more have gone from 2 months of inventory to 8 months, whereas homes that cost less than $1 million are still under a month of inventory.
A Balancing Market in Boulder County | February 2023
The overall market in Boulder County is off to a good start, but it's certainly tamer than the frenzy we experienced last year. Currently, we are sitting at 1.3 months of inventory compared to .3 months of inventory this time last year. Historically, 1.3 months is considered a seller's market, but in 2022, we started with an empty bucket and added a month over the rest of the year. This can also be seen in the average days on the market, going from 43 days to 87—an increase of 102.3%.
What does this mean for buyers and sellers in the city of Boulder or other nearby cities like Louisville or Superior? As a seller, the market is still strong but needs to be more balanced as it was last year in April and May. Sellers need to be more realistic with their pricing and recognize that sales posting in May, June, and July probably need to be validated as comparable sales for today's market.
On the other hand, buyers can take a breath of fresh air and recognize that if a house is priced correctly, it will sell at or near the list price. You should be able to have an inspection, close in an average time period, and be assured that we are buying a good house without needing to offer 10% over the asking price.
While it may not seem like it to sellers, at the end of the day, a more balanced market like we have today is better for all parties involved.
For informational purposes only. Always consult with a licensed real estate professional before proceeding with any real estate transaction.