Boulder County Real Estate Stats: Preparing To Buy and Sell!
Posted by Boulder Home Source on Monday, April 8, 2013 at 10:05 PM
By Boulder Home Source / April 8, 2013
Comment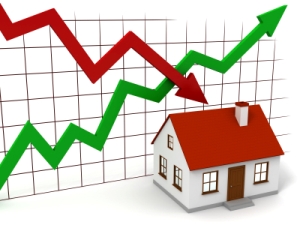 Planning on buying or selling a home this spring in Boulder County?  If so, you might be concerned about rising sale prices and low inventory in this very competitive market.  Although these things are cause for some concern, they are in fact helping to drive the local housing market and economy.  By understanding things like absorption rate, you will be better able to effectively plan and budget for either the sale of your home, or the purchase of a new one.  We all know that Boulder real estate is among some of the most highly sought after in the state, so it is to your advantage to become familiar with area statistics.  Knowing these facts will give you a better chance of timing things accordingly. Here are the most recent real estate statistics for the Boulder County area.  
By looking at the year to date absorption rates, January 1, 2013 - March 31, 2013, for single family homes in Boulder County, you can clearly see homes which are priced in the lower brackets, under $400,000, are selling on average in 2.1 to 3.5 months.  It is also clear to see that homes which are priced over $1.25 million are taking much longer to sell with an absorption rate that fluctuates between 16.8 and 29.6 months.  One interesting fact that can be observed from the chart below is that homes priced from $1,000,000 to $1,250,000 sold quicker, at a rate of 7.7 months in comparison to homes that were priced from $800,001 and $1,000,000 which took 13.7 months.
Now that we know the absorption rates, how can a buyer and seller use this information? Well, it's obvious that price has a lot to do with how fast homes are selling in Boulder County.  This means that if a seller is really motivated to move quickly, they could cut their price and sell in less time than if they tried to get the highest amount possible.  It also says that more people are looking for affordable homes over luxury properties in Boulder County.  When you take all these factors into consideration, buyers can infer that quality affordable properties will move faster than the general market.  This indicates that buyers must act on properties promptly, anticipate a bidding war, and be prepared to make generous offers on highly desirable properties.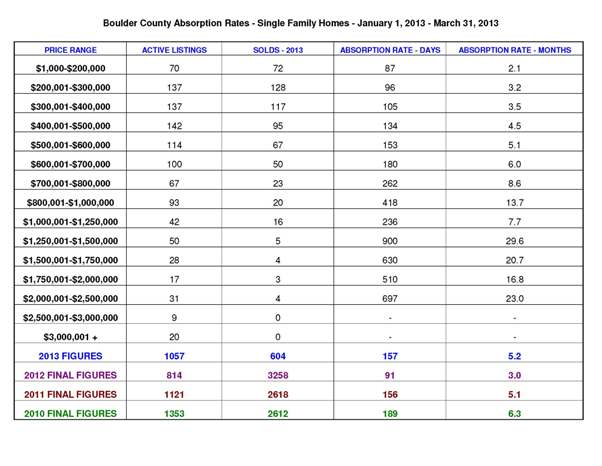 Search for homes in Boulder County, Colorado!