Fun Facts & Trivia About Boulder, CO
Posted by Boulder Home Source on Tuesday, July 6, 2021 at 10:05 AM
By Boulder Home Source / July 6, 2021
Comment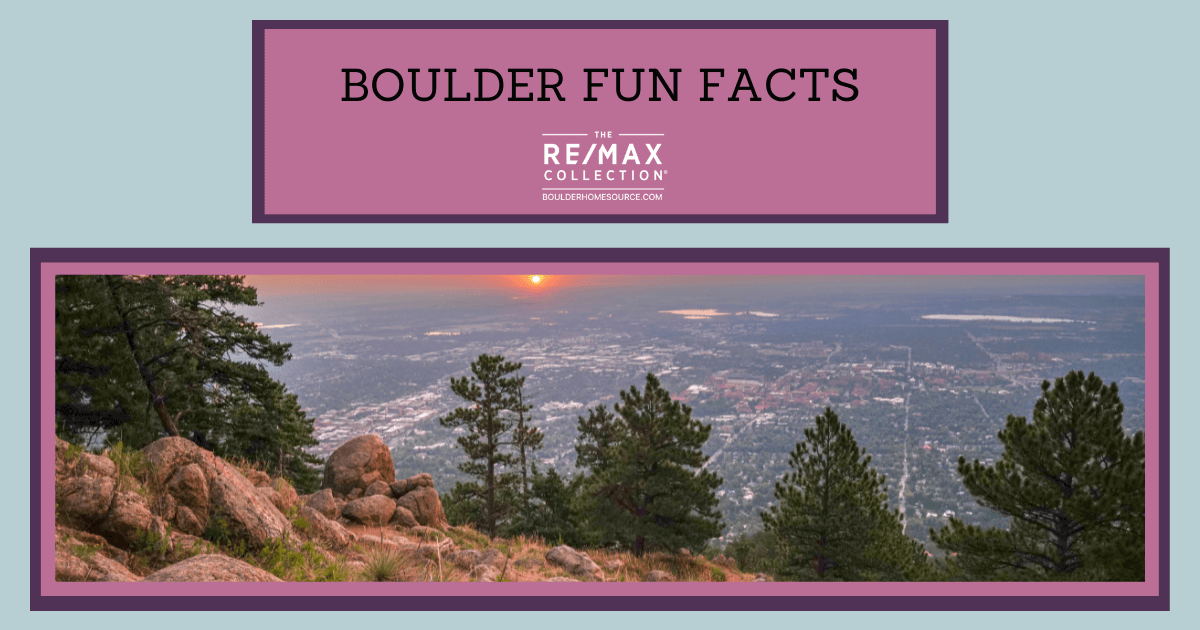 As one of the repeatedly dubbed top five cities in America, the Boulder community is a great place to call home. There are numerous restaurants, many with farm-to-table offerings and creative dishes, especially eateries amid the Pearl Street district. Head to the local coffee shops or breweries in Boulder for private tastings and experience locally grown beans in-store or take home. Hiking trails and Boulder parks abound with lush forests, mountain streams, and abundant biking, fishing, and rock climbing areas. While outdoor lovers flock to the Flatirons and other outdoor wonders, those seeking the best shops, indoor entertainment, and food can find plenty of options at the Pearl Street Mall downtown.
Amid all this excitement, the city of Boulder has few fun facts that even some locals don't know. Read on to discover some fun Boulder trivia.
Boulder's Third Flatiron Is Taller Than the Empire State Building
Climbing Boulder's Third Flatiron takes peak-seekers up to a 1,440-foot elevation, while those heading up the Empire State Building only go up 1,250 feet. The Flatirons have long called to explorers, with the first ascent being made by Floyd and Earl Millard in 1906, who climbed the Standard East Face of Third Flatiron, the earliest-known Colorado rock climb.
The first-known attempt to surmount the summit using ropes occurred in 1919, with another historic ascent taking place in 1949 when three climbers conquered the Northwest Passage on the western overhang. In the early 1970s, climbs with bolts and artificial aids became popular, with free-climbs soon to follow. Since then, Third Flatiron has been taken on by climbers using only their hands, using no hands, and even with roller skates.
Records include a five-minute and 59-second summit by free-soloing climber Stefan Griebel, who also holds the fastest round-trip car-to-car journey each way at 36 minutes and 14 seconds. The quickest round-trip time for rappelling the face is 33 minutes and 17 seconds.
Boulder Has More Used Bookstores Per Capita Than Any Other City in the Country
In addition to top-selling book stores like Barnes & Noble, Boulder has more bookshops for used offerings than any other city in the nation per capita. That's a lot of books and great deals to be had while supporting local, independent retailers. Here are some top second-hand bookstores in Boulder.
Beat Book Shop
Beat Book Shop is a haven for lovers of art, music, and the written word alike. This used books and records shop counts everything from old magazines and posters to rare and antique books among its collection. While the store reportedly keeps somewhat irregular hours, there's nothing like browsing shelves full of hidden gems.
The Bookworm
The Bookworm is the largest used bookstore in Boulder, featuring 5,000 square feet of bookshelves. Patrons can trade in both hardback and paperback books in exchange for store credit to buy second-hand books in just about every genre imaginable. The store also has a café, seating, and free WiFi.
Trident Booksellers and Café
Head to Trident Booksellers and Café to grab a cup of caffeine or a light snack while perusing a new or used book or enjoying free WiFi. Employee-owned and -managed, this downtown Boulder book store also hosts special evening events with beer and wine offerings.
Boulder Bookstore
Boulder Bookstore is a Pearl Street Mall favorite and one of the most well-known bookstores in Boulder. From hardbacks to paperbacks, it's likely to be found here, especially with its highly knowledgeable staff on hand, ready to offer assistance and advice. Visitors can find a bookcase on the main floor specially marked for recently acquired used books or browse each section for used books distributed throughout.
Boulder Is Surrounded by 31,000 Acres of Recreational Open Space & Nature Preserves
Boulder is graced with geological wonders, trails, and pristine parks where outdoor activities, such as hiking, snowshoeing, biking, horseback riding, and much more are widely popular. In fact, there are over 31,000 acres of open space and nature preserves ready for recreation year-round. In 1967, the city became the first in the U.S. to tax itself to generate funds specifically for acquiring, managing, and maintaining open spaces like the following.
Flatirons Geologic Formations
Hiking the Flatirons is an amazing experience but is challenging regardless of the method used to reach the higher elevations. Five looming Flatirons await exploration around the slopes of Green Mountain. The park is open year-round from dawn to dusk without special permits.
Colorado Chautauqua Park
Since its establishment in 1898, Colorado Chautauqua Park has been a top-notch rock climbing destination and is popular for peaceful picnics with remarkable views. Hike the many trails, meander the lovely gardens, or take in a special event here. Lodging and dining are available year-round. Park hours are 5 a.m. until 11 p.m. daily.
Flagstaff Mountain
Amazing for group and solo hikes, Flagstaff Mountain is a peaceful and quiet respite for hikers at Boulder Mountain Park. Standing at almost 7,000 feet, the summit is a great place for a picnic with ample tables and seating. There is also a Nature Center onsite, and it, along with vehicle access, is open during spring, summer, and early fall. Access Flagstaff Mountain via Flagstaff Road and Realization Point.
Boulder Falls
One of the state's most beautiful waterfall groups can be safely viewed at Boulder Falls, but one needs a bit of agility to navigate the rocky trails leading to various overlooks. Sometimes called Yosemite of Boulder Canyon, this popular picnic destination is located nine miles west off a marked route on Highway 119.
Dushanbe, Boulder's Sister City, Gifted the Boulder Dushanbe Teahouse
The sisterhood between Dushanbe, Tajikistan, and Boulder, Colorado, began after a visit from Mayor Maksud Ikramov in 1987. He announced that he would present a grand teahouse to celebrate the union. For the following four years, more than 40 talented artisans in several Tajikistan cities hand-carved and painted each interior and exterior element of the Boulder Dushanbe Teahouse to reflect 2,000 years of tradition. The teahouse was then built piece by piece in its current home.
Guests can enjoy a full meal or partake in the monthly Dim Sum & Oolong After Tea Service upon reservations—though they fill fast! Tour the 10-acre farm in the Lafayette community, where produce is grown for the teahouse and other establishments around the state. Join in on the vision for cooperation, respect, and peace between cities and citizens world apart.
The Boulder Area Is the Largest Beer-Producing Triangle in the World
With major facilities and manufacturers like Anheuser-Busch and Coors situated amid dozens of microbreweries, Boulder is noted as the largest beer-producing triangle on the planet. More beer is produced in Colorado as a whole than anywhere in the country, and there are tons of great places to take tours and grab a pint of local brew.
Avery Brewing in Boulder, CO
Pop into Avery Brewing to test out their 21 brews on tap. Tasters and pints can be enjoyed in the taproom, and free tours are offered daily at 4 p.m. on weekdays and 2 p.m. on weekends.
Twisted Pine Brewing Company
Twisted Pine's tap rotation in its Ale House includes drinks running the spectrum from Hoppy Boy American Pale Ale and Trail Blazer Blonde Style Ale to Ghost Face Killah, a wheat ale including half a dozen peppers, including the infamous ghost pepper. The menu also includes kombucha, wings, pizzas, and other tasty bites.
Upslope Brewing
Upslope Brewing is a relative newcomer to the beer scene in Boulder, but they have some of the most creative craft beers around town. In addition to the brewery, which offers tours, there are two separate taprooms to check out.
Experience the Fun & Excitement of Boulder
There are so many reasons people move to Boulder and plan vacations throughout the year. From the sights and sounds around town to the lovely natural installations on the outskirts, it's a great place to be for those seeking fun and thrills. This lovely community offers residents of Boulder's townhomes and Boulder's new constructions an urban vibe with all the amenities and attractions, both manufactured and natural, one could ask for. Explore this mountain city and find out why it's one of America's favorite places.