Where to Live in Boulder: The Complete Boulder Neighborhoods Guide
Posted by Greg Smith on Friday, October 1, 2021 at 11:54 AM
By Greg Smith / October 1, 2021
Comment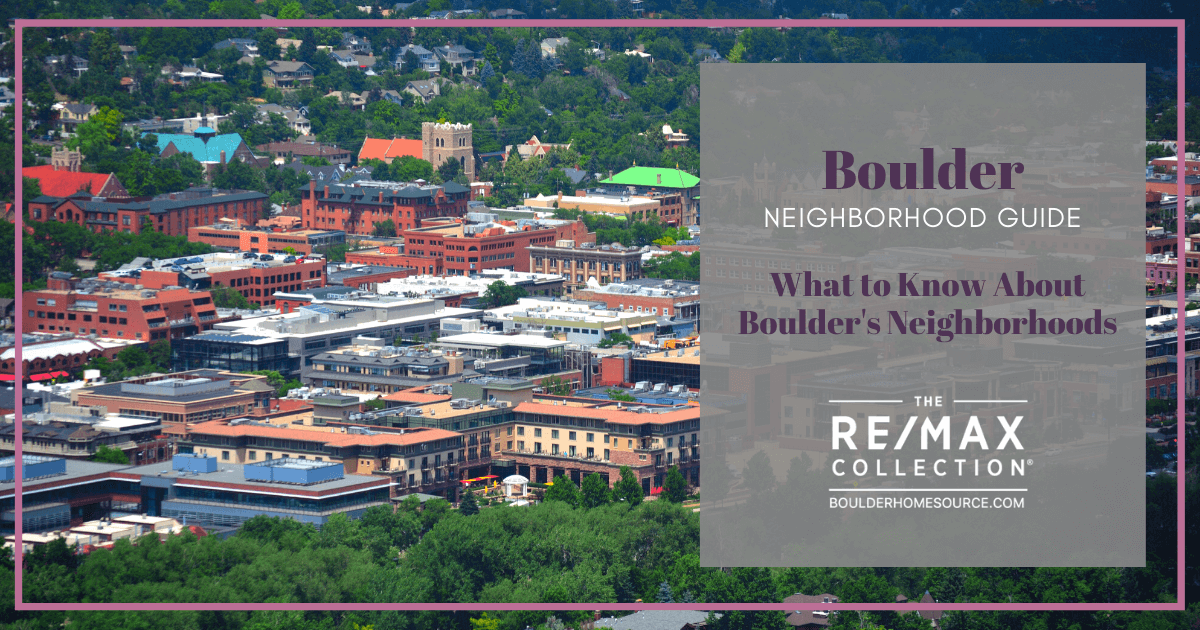 Boulder, Colorado, sits at 5,430 feet above sea level. It's known for its location right at the foothills of the Rocky Mountains. This beautiful city of over 105,000 people is filled with numerous neighborhoods, each with plenty of features that make them special. For those moving to Boulder, it helps to know as much as possible about the characteristics and layout of the neighborhoods. Keep reading to learn all about the neighborhoods in the Boulder real estate market.
What Are the Sections of Boulder?
Boulder is a large city spanning over 27 square miles. Throughout it are various sections. Each of these can be broken into neighborhoods. Many of these areas boast beautiful views of the mountains, easy access to the region's amenities, good access to public transportation, the best parks, and hiking trails. Yet, for those considering a move here, it is a good idea to know the differences in each area.
Each of these Boulder sections provides a different personality. Most of the communities here have dedicated parks, while some offer more wildlife than others. Some also have more commercial areas and fewer residential properties. Overall, Boulder is recognized as the happiest place in Colorado due partly to its weather but also because of the numerous amenities present in each of these communities.
It's important not to think of Boulder as a big city – it definitely is not in terms of population. For that reason, individuals are sure to find a range of locations that offer ample space and larger lots.
Life in the North Boulder Section
North Boulder real estate is located just to the north of downtown. It's a calm area with more open green space than other areas. Sometimes called NoBo, it is near the Rocky Mountain National Park, providing residents with an easy way to get onto the trails and explore the natural habitats here.
The homes throughout North Boulder are typically older. Many date to the 1940s, though there are some areas with newer homes as well. It's possible to find most types of homes here, including Boulder condos and single-family homes. Lot sizes are moderate, but there's ample option for those who are looking for big backyards. Wonderland Lake Park offers a playground, hiking trail, picnic area, and a multi-use path. Access to the lake allows for water recreation opportunities. BookCliff Vineyards is located in this area.
This section also features many Boulder new construction homes. There are several new subdivision areas under development. Look to the Dakota Ridge and Uptown Broadway developments, some of the region's newer homes.
North Boulder Neighborhoods
There are several subdivisions and smaller neighborhoods located in North Boulder. This area offers plenty of options for home buyers looking for the true neighborhood feel.
There is the potential for new developments in this area as well. While new construction is taking place, open space remains an option for those looking for a custom-built home.
Homes For Sale in North Boulder Neighborhoods
Perks of Living in the Gunbarrel Section
Also called Boulder Country Club, Gunbarrel real estate is about seven miles from the downtown area. The area is beautiful, with the Boulder Reservoir and other water features throughout it. Yet, Gunbarrel is also a bit more remote with more farmland than other areas of the city. It is easy to enjoy a quiet stroll here.
Still, Gunbarrel has much to offer, including the Finkel & Garf brewery and Gunbarrel Brewing Co. calling it home. Also, it is the home of the Celestrial Seasonings brand of tea, one of the more recognized. The manufacturing plant here is operational most times of the year. Finally, individuals may wish to check out Twin Lakes, which offers walking paths and relaxing, nature-focused spaces. There are several industrial companies and commercial office buildings in the area, but they are tucked out of the way and do not take away from the serene qualities of Gunbarrel as a whole.
The homes in Gunbarrel range widely from small single-family properties to larger Victorian-style homes. Ranches dot the landscape, and multi-family homes are present as well.
Gunbarrel Neighborhoods
Gunbarrel is more remote, which means there are fewer overall subdivisions or neighborhoods. Homes are more spread out overall, which creates a greater feeling of privacy. Yet, there are a few key subdivisions here where there are often many property options available. In addition, there is room in this area of the city for new construction. Finding a vacant lot for sale is also an option in some situations.
Homes For Sale in Gunbarrel Neighborhoods
The Central Boulder Section: Life in the Heart of the City
Central Boulder Zip Codes
80301
80302
80304
80305
80309
Commonly known as Downtown Boulder, Central Boulder real estate is recognized as the hub. There are plenty of things to do here, including dining, live entertainment, and outdoor, walkable shopping options. For those who plan to enjoy a nice dinner or want to take in some nightlife, Central Boulder is the place to be.
That is not to say Boulder's central area doesn't offer residential opportunities. There are generally many options here. This includes communities that offer traditional tree-lined streets and subdivisions and areas with upscale condos and townhomes. Multi-family homes are also available, as are lofts. Bungalows and other styles of homes are present. Typically, this area of the city has some of the most valuable property overall.
The Boulder Farmers Market and Historic Pearl Street are highlights of the area. The Dairy Arts Center offers a theater performance area, exhibitions, and some business space. McGuckin Hardware is a staple in the area for those who need to pick up something to fix the home. There is a lot of tourism in this area of the city, which means there are some hotels located in the area.
Central Boulder Neighborhoods
The downtown area, as well as the surrounding streets, falls into one of several neighborhoods. These are some of the most desirable neighborhoods, each offering a wide range of home styles to select from.
Much of this area is fully developed. Some of these locations are subdivisions with well-defined boundaries, while others, such as the Downtown area itself, are less structured without specific boundaries.
Homes For Sale in Central Boulder Neighborhoods
Glenwood Grove-North Iris
Transit Village
Ara
Life Is Always Trendy in the East Boulder Section
The area of East Boulder is often known as the Brooklyn of Boulder. That's because this area is a bit more unique. There are more tech companies located in this area. It's also an excellent place to find fun bars and modern restaurants. There are coffee shops as well as some very cool boutiques. For a good dinner, check out Blackbelly Market, one of the more upscale locations. BDT Stage offers a dinner theater environment that is a lot of fun to explore. Stein Brewing is also located in this area.
Much of this area has been recently developed and changing into a more affordable area of the city. There are several neighborhoods here, but there is also a lot of commercial development. Some warehouses are present, but being along the edge of the Foothills Parkway makes this a desirable area to buy a home for many people.
The homes in this area fit the eclectic vibe in the city. It is easy to find a wide range of home styles, from bungalows to apartments and condos. In addition to this, the area has some smaller single-family homes.
East Boulder Neighborhoods
There are a few subdivisions located in East Boulder, as well as homes scattered throughout the area. These homes range from condos to some modern, Colonial-style homes. A few lofts and apartments are present in the community as well.
East Boulder's neighborhoods with great walkability are filled with shops and restaurants. Still, ample options for enjoying the outdoors, good food, and entertainment exist close to home.
Homes For Sale in East Boulder Neighborhoods
Put Down Roots in the University Hill Section
University Hill Zip Codes
Sometimes called The Hill, University Hill real estate is close to the University of Colorado campus. The area is known for its casual restaurants, convenient shops, and beautiful architecture. The area includes Ninth Street and runs through University Avenue. The area is ideal for students or anyone looking for a home in a vibrant place.
University Hill is home to Fox Theatre, one of the more recognizable names in Boulder City. There are also several buildings dedicated to the sororities and fraternities from the college. For food, check out Dot's Diner, an establishment that has been present in the area for decades. Another treasure is The Sink, a favorite among high-profile visitors like Guy Fieri, Barack Obama, and Anthony Bourdain. Owsley's Golden Road, one of the truly coolest areas in the town, is the ideal place for watching a live show.
University Hill Neighborhoods
Though there is a range of neighborhoods here, it is easy to tell them apart by looking at the architecture. Some have beautiful Victorian homes. Others are a mixture of bungalows and ranch-style homes. Condos and townhomes are also present in the area.
Each of these areas is rather distinct in terms of where they are located. University Hill is one of the most walkable communities in Boulder.
Homes For Sale in University Hill Neighborhoods
University Hill
Flagstaff
Lower Arapahoe
The Chautauqua Section Is Perfect for Outdoor Enthusiasts
Chautauqua real estate is one of the ideal places to visit or call home for those that love the outdoors. These are larger lots that typically have more space between homes. The area is also more likely to have custom homes rather than the traditional subdivision feel.
This community is recognized for the Flatirons climbing trails and the hiking trails that are present throughout it. It is a good place for open green space (and there are often open-air concerts in the area). Chautauqua Park, located in the community, is a stunning location. It is on the National Historic Landmarks list for its unique beauty – look at the Flatirons from this area to see the wonder here. Few businesses are located in this area, as it is more about the outdoors.
When it comes to homes in this area, there are fewer options overall. Many of the homes here are rentals often used for tourism during the summer months. Others are summer cabins owned by those who want to get away into the heart of the mountains. There are a few neighborhoods present with custom homes, luxury homes, and a few smaller bungalows.
Chautauqua Neighborhoods
There are a few somewhat defined neighborhoods in Chautauqua. There is land available for new construction, but a lot of it is dedicated to preserving the area's natural beauty. Wildlife will likely be found in most neighborhoods and backyards in this area.
Home styles include everything from very modern and elegant to more cabin-like spaces and estates. There are a few outstanding opportunities to find a home with a Colonial feel, though larger ranches are an option here.
Homes For Sale in Chautauqua Neighborhoods
Chautauqua
Lower Chautauqua
Find Residential Bliss in the South Boulder Section
Often referred to as SoBo or Table Mesa, South Boulder real estate is ideal for buying many people's homes. There is a good amount of natural area here, including wooded forests and open pastures. There are some hunting areas in this neighborhood, too. Biking and hiking trails are also present, providing ample outdoor activities for those in the area. South Boulder offers a range of home styles, including larger Victorian homes, custom homes, and smaller condos and townhome developments.
For those who hope to catch a show, South Boulder is about 20 minutes from Red Rocks Park and Amphitheatre. It is also home to the National Center for Atmospheric Research. Much of the rest of the community is residential. It is more of a laid-back lifestyle here rather than an urban hotspot. There are also numerous foothills around every corner, so spending time outdoors is a common activity here. The Shanahan Ridge Trail is located in this area.
South Boulder is definitely a place for those who enjoy exploring its vibrant outdoors. At the same time, it is only a short 30-minute drive to the city's heart, which means most of the amenities people need and want are still close by.
South Boulder Neighborhoods
For those looking for traditional neighborhoods in South Boulder, there are a few options here. Yet, there are also large homes sitting on their own plots of land throughout the region. There is a significant amount of conservation here, which means there are some limitations on new construction. Some of the existing South Boulder neighborhoods include:
Finding a home in SoBo can mean big backyards and open spaces. It is not as much of a walkable subdivision area, though there are some options.
Homes For Sale in South Boulder Neighborhoods
Your Dream Home Awaits in a Boulder Neighborhood
There are plenty of neighborhood options located throughout Boulder, Colorado. Any one of these can prove to be the ideal place to call home. Boulder is recognized as a happy, nature-infused community but still offers a lot of modern thrill. Any of these areas could be an excellent place to find a new home.