Things to Do in Boulder: Boulder, CO Places to Go and Things to Do
Posted by Boulder Home Source on Wednesday, December 2, 2020 at 6:24 AM
By Boulder Home Source / December 2, 2020
Comment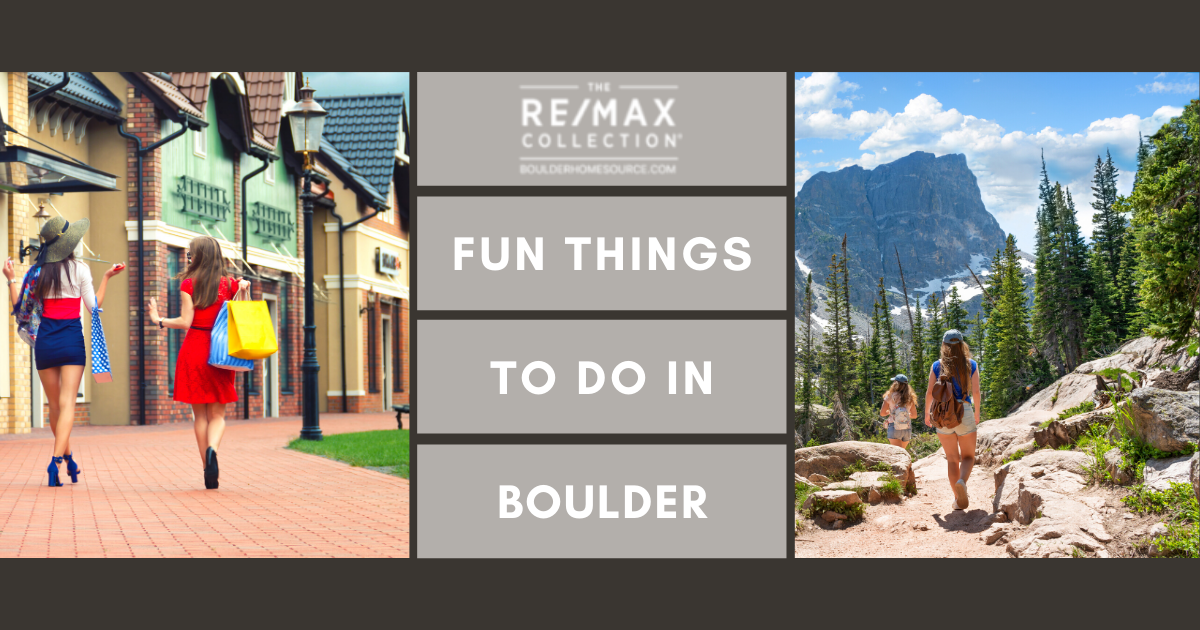 Like many other Colorado communities, Boulder was founded in the mid-1800s during the Gold Rush. Today, the former mining town is a vibrant and incredibly scenic hub of outdoor recreation, craft breweries (the Brewer's Association is even headquartered here), farm-to-table cuisine, and other popular attractions. It's also the home of the University of Colorado at Boulder, the state's largest university.
In Boulder, there's always a trail to hike, a movie premier to attend, a new restaurant to try, or an event at one of the many art galleries. Fortunately, there's also not a single bad view in town, and the city gets an average of 245 sunny days each year, so it's easy to get out and experience it all. If you're not sure where to start, here's a list of fun things to do in Boulder.
Boulder Outdoor Adventures
There is truly an endless number of outdoor activities in Boulder. In any season, there's hiking, biking, fishing, camping, climbing, boating, skiing (both downhill and cross-country), and more – and that's really only taking into account the backcountry! Right in town, Boulder has numerous parks, lakes, reservoirs, and trail systems surrounded by everything from mountain cabins to luxury homes.
Parks
Parks in Boulder
Central Park
Scott Carpenter Park
Foothills Community Park
North Boulder Park
Valmont City Park
Boulder has more than 60 parks, but a couple in particular are symbolic of the entire community. The first is Chautauqua Park, a National Historic Landmark. It features several hiking and biking trails suitable for every experience level, as well as a front-row view of the Flatirons, Boulder's most iconic landmark. There's also a free shuttle during summer as part of the city's Park-to-Park program.
Another must-see is Eben G. Fine Park, a community park with too many amenities to count. Most notably, it has direct access to Boulder Creek and the adjacent paved path, plus a whitewater "playpark" for kayaking.
Water Recreation
Water Activities in Boulder
White water rafting
Paddleboarding
Canoeing
Kayaking
Fishing
There is certainly no shortage of ways to get out on the water in and around Boulder. Whitewater rafting is a classic Colorado adventure, and some of the state's best rapids are just an hour's drive. A Wanderlust Adventure takes you down the Cache La Poudre River, through the eponymously named canyon, where there's an excellent chance that visitors will see wildlife such as bighorn sheep and black bears.
For those who prefer slightly milder water adventures, there's The Bay Aquatic Park in nearby Broomfield, Colorado. It has dozens of pools and slides, all with unique features to entertain visitors of all different ages and interests.
Hiking & Biking Trails
Trails in Boulder
Boulder Canyon Trail
Bobolink Trailhead
Flagstaff Trailhead
Mount Sanitas Trailhead
Exploring Boulder on foot or on a bike is a wonderful way to experience it from a different perspective. Fortunately, hundreds of trails traverse Boulder, from the heart of downtown to the backcountry.
The First and Second Flatirons Trail is a favorite local hike – and for good reason. The 2.6-mile loop gives hikers a great workout, and the classic Boulder views are unbeatable. AllTrails is an excellent resource for finding other nearby trails. If biking is more of someone's speed, Boulder is one of the best cities in the U.S. for it, with miles of dedicated bike routes and paths.
For those who are often described as "outdoorsy," they just may find that Boulder is an excellent fit. No matter what type of outdoor recreational activities they prefer, from hiking or kayaking and everything in between, there are ample opportunities to do them in Boulder.
Boulder Shopping
Shopping Centers in Boulder
Pearl Street Mall
Village Boulder Shopping Center
Base-Mar Shopping Center
Twenty-Ninth Street
Aside from being a paradise for outdoor enthusiasts, Boulder has earned a reputation as an eclectic shopping mecca. Those shopping in Boulder will find everything from traditional retail stores to independent, locally owned boutiques and specialty stores. Whatever it is shoppers are looking for, they'll almost certainly find it here.
Pearl Street Mall - The bustling Pearl Street Mall is Boulder's main thoroughfare. In fact, it has been for well over 100 years! Keeping things authentic, most of the businesses along Pearl Street are converted old Victorian homes. This lends a quaint, charming vibe as you stroll the street, coffee in hand, popping into the many shops, galleries, and cafés.
Twenty-Ninth Street - This outdoor mall features many well-known international retailers such as Anthropologie, The North Face, and H&M. There is also a children's play area and dozens of restaurants to choose from, ranging from fast food to upscale sit-down. Twenty-Ninth Street is even dog-friendly, and there are pet waste stations and a relief area onsite.
Boulder Restaurants
Restaurants in Boulder
Blackbelly
The Boulder Cork
Black Cat
Walnut Cafe
The Sink
River and Woods
Boulder's location in the Rocky Mountains makes for local cuisine that's hearty, flavorful, and comforting. Bison, lamb, elk, and trout are all common on menus across the city, as well as pizza and green chili anything.
Pearl Street's West End Tavern is a longtime local favorite, serving classic American dishes with a Southern BBQ twist. They also offer over 75 types of bourbon. Audrey Jane's Pizza Garage is way off the beaten path, but that's likely why it was featured on Food Network's Diners, Drive-Ins, and Dives in 2017. For something with a more international flair, the Boulder Dushanbe Teahouse cannot be missed. In addition to serving dishes like Spaghetti Squash Noodle Pad Thai, Indian Dosa, and well over 80 teas, the building has a fascinating story. It was gifted to the city by the mayor of Tajikistan, Boulder's sister city, and shipped piece by piece in the 1990s.
Arts & Culture in Boulder
In 2018, Expedia named Boulder on its list of "America's Most Artistic Towns," citing the "countless ways to enjoy it [art]." It's true: From monthly art walks and literary festivals to live dance performances and the Boulder International Film Festival, there's something for everyone in Boulder's art community.
Museums
Museums in Boulder
Museum of Boulder
University of Colorado Museum of Natural History
Wonder Wonder
There's no question that Boulder offers a seemingly endless list of outdoor activities. Still, there is plenty to experience indoors as well. The always-free University of Colorado Museum of Natural History is widely regarded as one of the best of its kind in the United States. Although physically it's not especially large, it has nearly 5 million artifacts displayed across five galleries. The museum houses the largest bee collection in Colorado, as well as the oldest-known Navajo textile in the world. At the Museum of Boulder, visitors can dive deep into the area's history and how the community has been shaped.
Art Galleries
Art Galleries in Boulder
Boulder Museum of Contemporary Art
University of Colorado Art Museum
Perhaps it's the gorgeous red rocks and the impossibly blue sky that have drawn artists to Boulder for as long as anyone can remember. Whatever "it" is, Boulder benefits nicely from it. There are dozens of galleries to find the perfect work of art. For those who prefer art museums, Boulder has plenty of those also. Head to the intimate Boulder Museum of Contemporary Art for modern art of all kinds, including poetry and dance performances. The University of Colorado Art Museum displays an eclectic mix of all art forms and works closely in support of students at CU's College of Arts & Sciences.
Dance & Theater
Performing Arts in Boulder
The Nomad Playhouse
Dairy Arts Center
Canyon Theatre
Rocky Mountain Theatre for Kids
Boulder doesn't just have a large artist community; it also has several open-to-the-public performing arts venues. From silent films to interpretive dance to improv comedy and something in between, it surely exists in Boulder. The historic Nomad Playhouse has been revived and reimagined a few times in its 65-plus-year lifetime, and it is still a local favorite for live theater. At the Dairy Arts Center, Boulder creatives come together under one roof for live theater, art, and cinema. The converted historic barn known locally as "The Dairy" is a non-profit organization where performing arts troupes can host events, display their art, and perform.
For numerous reasons, this inspiring community has always attracted artists and other creative types to move to Boulder. That much is evident in the fact that there are four museums, over a dozen performing arts venues, and 30-plus art galleries in Boulder – substantial by any measure for a city of just over 100,000 residents.
Boulder Nightlife
Boulder Bars, Music, and Clubs
Press Play Bar LP
Bohemian Biergarten
Tonic Alchemy Lounge
Dark Horse
The Riverside
eTown Hall
Being that Boulder is a college town, it should come as no surprise that the city's nightlife options are incredibly diverse. Dive bars are just as popular as more upscale nightclubs, and every bar and restaurant has a completely unique vibe. Bearing in mind that Boulder is also a hub of craft brewing, there is an astonishing number of breweries in the city. That's not even counting the wineries, meaderies, cideries, and distilleries, but there's plenty of those also. Several offer free tours, and there are also bus tours that allow people to hit several in a day.
After a brewery tour, there's still lots to see in Boulder. The Pearl Street Pub & Cellar is legendary for being one of the divey-est dive bars of all time (in a good way!). It's tiny, inexpensive, and has bar games. It's also right around the corner from West End Tavern. Another Pearl Street hotspot is Press Play Bar, well known locally for having incredible daily specials. For something a bit more refined and completely unique, check out The Bitter Bar on Walnut Street. The drink menu is super simple with a focus on classic cocktails, and guests enter through an unmarked door in an alley, speakeasy-style.
Find Something to Do in Boulder Today
In a city as diverse as Boulder, people will never be short on activity ideas. The city is remarkably beautiful and lends itself to every outdoor pursuit imaginable, of course, but it also has a rich arts and cultural community, a buzzing nightlife and foodie scene, and premier shopping for every budget and style. Come visit Boulder, book a hotel, and find out why so many people choose to live, work, and play in Boulder today.