Boulder Wine Merchant - A Blend of Old and New Traditions!
Posted by Boulder Home Source on Tuesday, October 1, 2013 at 8:03 AM
By Boulder Home Source / October 1, 2013
Comment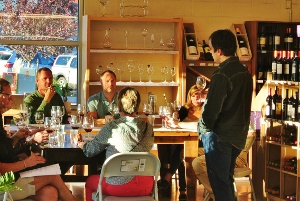 The City of Boulder is known for a lot of things like the University of Colorado, our green spirit, and our gorgeous Rocky Mountain landscape, but a few other things outsiders might not realize is that Boulder, Colorado is a mecca for food, beer and wine as well! In Boulder if you want killer food you go to Frasca, if you want the best beer you go to Boulder Brewery, and if you want to purchase high quality fine wines from a master sommelier you go to the Boulder Wine Merchant! With more than 30 years of business under its belt and its 2010 acquisition by a young up-and-coming master sommelier, the Boulder Wine Merchant offers wine lovers of all kinds with valuable resources, and of course, amazing vintages and varietals. Regardless of your wine knowledge, buying a bottle from the Boulder Wine Merchant, participating in one of their tastings, or attending one of their many events is sure to be a great experience.
The new owner of the Boulder Wine Merchant, Brett Zimmerman, is a Boulder native and what some local aficionados call a wine hotshot. After all, he is only one of something like 180 people on the world who have passed the master sommelier test, which includes a variety of written and verbal exams, as well as blind taste tests of some of the world's most complex and reputable wines. After working at some of Boulder's top restaurants and being shown the real satisfaction in wine appreciation, Brett decided to set his sights high and eventually became a sommelier at the world famous Charlie Trotter's restaurant in Chicago, a place where master sommelier traditions run deep. From there, Brett returned to Colorado and opened Mateo, a popular Provençal-style restaurant, and then later became the General Manager of Southern Wine and Spirits' American Fine Wine Division. His true passion for wine, incredible palette, plus his years of hard work and dedication to the art of wine tasting have all contributed to the eventual recognition as one of the world's top celebrity master sommeliers.
Boulder Wine Merchant - A Blend of Old and New Traditions!

I share his background with you, because it is a true testament of what you get when you buy a bottle of wine at the Boulder Wine Merchant. The knowledge Brett brings with new ownership has helped to carry on the legacy of the Boulder Wine Merchant as being the only wine store in America to be owned and operated by two master sommeliers ever. (Brett Zimmerman as the present owner and Wayne Belding as the former.) Upholding its reputation and long standing mission as being the best place to buy fine wine in Boulder was the new ownership's main objective in the acquisition. In addition to this, Brett has also implemented many programs like tasting events, festivals, sommelier classes, and membership benefits.
Coming up on October 18th - 20th, 2013 the Boulder Wine Merchant will be sponsoring the popular Burgundy Wine Festival. This three day event will feature some of the rarest wines available out of the Burgundy region, elegant dining opportunities, and a featured seminar. The proceeds that are raised from this unique wine tasting experience will benefit the Growe Foundation, which is a local non-profit that provides elementary schools with organic gardens facilitating an efficient garden to table program.
So whether you are looking to learn more about wine in general, or want to start investing in fine wines, the Boulder Wine Merchant is the best place to go! Click here to view their website and event calendar.
BoulderHomeSource ...It's A Lifestyle