Things to Do in Broomfield CO: 9 Ideas For Fun Activities This Weekend
Posted by Boulder Home Source on Thursday, January 20, 2022 at 12:15 PM
By Boulder Home Source / January 20, 2022
Comment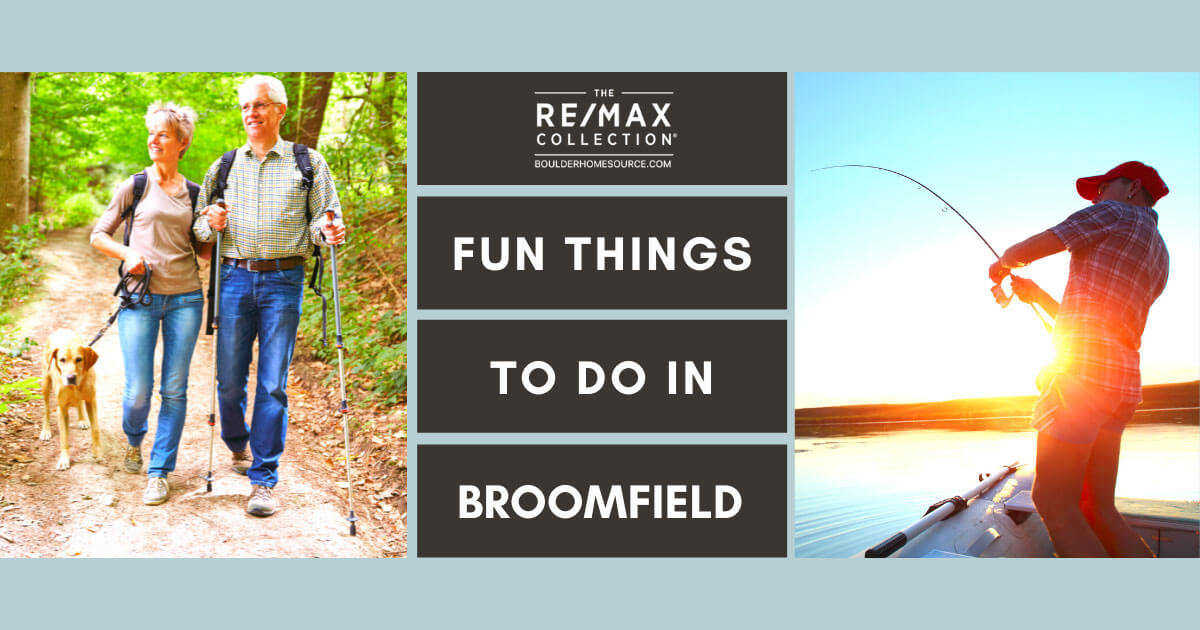 Broomfield, CO is ideally situated about halfway between the city of Boulder and the Denver area. But that doesn't mean residents have to venture into the bigger cities to find year-round activities and adventures. The Broomfield community provides many recreational opportunities for residents, from outdoor adventures to shopping to a thriving arts and culture scene. Keep reading to learn more about the many activities available in Broomfield.
Broomfield Outdoor Adventures
Colorado is one of the country's prime destinations for outdoor adventures. Residents in Broomfield like to stay active, and many outdoorsy residents take advantage of the city's opportunities. There are plenty of parks, hiking and biking trails, and even water recreation activities in Broomfield.
Parks in Broomfield
Popular Broomfield Parks
Midway Park
Broomfield County Commons Dog Park
Xeriscape Demonstration Garden
Midway Park in Broomfield is a significant hub for events and outdoor activities Broomfield. The park hosts the annual Broomfield Days in the summer. The sports fields and playground make it an excellent place for a summer barbecue.
Dog owners flock to the Broomfield County Commons Dog Park in large numbers. This popular off-leash park provides agility obstacles and plenty of outdoor space for dogs to run and play. The larger park surrounding the dog park has more than 200 acres of open space.
Broomfield's Xeriscape Demonstration Garden is well worth visiting to see its varied wildflowers and 11 smaller themed gardens.
Water Recreation in Broomfield
Broomfield Water Recreation Options
Fishing
Bay Aquatic Park
Paul Derda Rec Center Pool
Broomfield Community Center Pools
Fishing is allowed in all of the reservoirs and ponds owned by the city and county of Broomfield. A Colorado fishing license is required. There are seven reservoirs and ponds in Broomfield available for anglers to use.
The Bay Aquatic Park is a family-friendly water park open during the summer months in Broomfield. It has water slides, splash areas, toddler wading pools, and plenty of opportunities to cool off.
Swimming is available year-round at the Paul Derda Rec Center Pool and the Broomfield Community Center Pools. Family swim times, water aerobics, lap swimming, and other activities are available at these pools. Residents can also venture out to the best lakes in Boulder with ease.
Hiking & Biking Trails in Broomfield
Popular Broomfield Trails
Lake Link Trail
Big Dry Creek Trail
McKay Lake Trail
Standley Lake North Trail
Some popular loop hikes through the hills around Broomfield include the Lake Link Trail (11 miles), Big Dry Creek Trail (11.7 miles), the McKay Lake Trail (1.5 miles), and the Standley Lake North Trail (4.9 miles). Most hikes are rated as easy to moderate, with only slight elevation changes. Many of the trails are also open year-round. Dogs are welcome on most hikes, so long as they are kept on a short (6 feet or less) leash. All hikers should be mindful of wildlife, including coyotes. The Broomfield Department of Open Spaces and Trails provides hiking maps and coyote whistles for anyone who wants to enjoy the many hiking trails around Broomfield.
Outdoor activities in Broomfield don't take a break for the winter months. Besides the Bay Aquatic Park, every activity listed above is available year-round. However, reduced facility hours in the winter months may apply to some activities.
Broomfield Shopping
Broomfield Shopping Destinations
FlatIron Crossing
Broomfield Farmer's Market
The FlatIron Crossing is the central shopping mall in Broomfield, located just off the Denver Boulder Turnpike. It has all the usual stores one would expect in a retail mall, from national retailers to some local businesses. With more than 200 shops and restaurants to choose from, the FlatIron Crossing makes shopping trips into Denver or Boulder a lot less necessary for locals. Just south of the FlatIron Crossing, there's a Walmart SuperCenter and a large selection of restaurants to choose from.
For a truly local experience, the Broomfield Farmer's Market is open every year from June through late September at the Holy Comforter Episcopal Church. It has live music every weekend, lots of farm-fresh produce to purchase, and many opportunities to meet new friends and neighbors.
Broomfield Restaurants
Popular Broomfield Restaurants
Kachina Southwestern Grill
Azitra
Big Dog Deli
Big Mac and Little Lu's
Early Bird Restaurant
Broomfield has a unique dining scene that features American fare and international cuisine. Here are a few local favorites:
Kachina Southwestern Grill is open for brunch, lunch, and dinner. It has traditional Southwestern fare and some dishes with a unique twist, like the Colorado bison empanada.
Azitra is an upscale Indian restaurant in Broomfield. It features classic Indian cuisine that's been upgraded with some modern presentations.
The Big Dog Deli is considered one of the best sandwich shops in Broomfield. The fish and chips are well-loved, and so is the Big Dog prime rib sandwich.
Big Mac and Little Lu's brings in fresh seafood from the Florida Keys every day. This spot should be first on the list for any seafood lover!
And the Early Bird Restaurant features all organic fare. The fantastic breakfast offerings make this a great spot to start the day.
Arts & Culture in Broomfield
Broomfield is highly supportive of the arts and cultural activities. The city has a Council on the Arts & Humanities that supports local artists and enrichment programs throughout the year. Here is a closer look at some of the museums, art galleries, and other opportunities available in Broomfield.
Museums in Broomfield
Popular Broomfield Museums
The Depot Museum
Broomfield Veterans Museum
The Depot Museum gives a glimpse into what life was like in Broomfield more than a century ago. Today, the building that houses the museum was the original train depot built in 1909. There were no townhome communities or condos in Broomfield back then -- just 160 families whose lives centered mainly around maintaining the railroad.
The Broomfield Veterans Museum pays tribute to the veterans in Broomfield and their contributions to the US military. Artifacts and exhibits date back to the Civil War and include exhibits covering every major armed conflict that Coloradans fought through Afghanistan and Iraq.
Art Galleries in Broomfield
Popular Broomfield Art Galleries
Don Woodward Artworks Studio & Gallery
Local art in parks
Life in the West Gallery
The Don Woodward Artworks Studio & Gallery on Alter Street in Broomfield is a great spot to peruse the works of local Colorado artists. This studio co-hosts showings and events with Broomfield's "Life in the West" gallery.
Virtually every public space or park in Broomfield showcases the work of local artists in one form or another. The Public Art Permanent Collection maintains a lengthy list of locations throughout Broomfield where various sculptures and murals were commissioned from local artists. All of the artworks and sculptures are owned and maintained by the city of Broomfield.
Dance & Theatre in Broomfield
Broomfield Dance & Theatre Opportunities
BackStory Theatre
Summer concert series
The BackStory Theatre is a venue that allows kids and adults alike to pursue the stage arts in Broomfield. Stage and theater classes are available for kids between 18 months and 18 years. When kids feel like they're ready, they can audition to perform in full stage productions of plays and musicals performed at BackStory.
The city of Broomfield also provides an annual free summer concert series in local parks. Live music from local and regional bands and performance acts is available for these family-friendly weekend events.
Broomfield may lack the "big city" feel of Denver and Boulder, but that doesn't mean the city lacks anything about the arts and culture. There are many opportunities available for residents to enjoy the works of local Colorado artists or even to participate as an artist in the local scene.
Broomfield Nightlife
Broomfield Nightlife Destinations
Colorado Keg House
Gordon Biersch Brewery Restaurant
4 Noses Brewing Company
Rails End Beer Company
Night Owl Lounge
Colorado is known for its craft beer scene, and Broomfield is no exception. The nightlife in this city includes some great options, whether one is looking for a quiet drink or a rowdy night with some karaoke. Here are some local favorites!
The Colorado Keg House is considered the premier sports bar in Broomfield. With more than 75 craft beers on tap, it's a great spot to catch a game or the latest UFC fights on a big screen.
Gordon Biersch Brewery Restaurant in Broomfield has excellent food, and great German craft beers brewed on-site. This upscale brewery can be reserved for private parties or events.
The 4 Noses Brewing Company has a rotating list of around 20 different craft beers brewed on-site. Leashed dogs are welcome with owners on the outdoor patio. There's no menu available, but a different local food truck is parked outside the brewery every day.
The Rails End Beer Company has live music every Thursday and Saturday night to accompany their hand-crafted beer offerings. Every Tuesday is Pizza & Pint Night at Rails End. They also host quirky events from time to time, such as a Saturday yoga class that includes a free pint of beer after the class.
And for those who need some karaoke to make it a night on the town indeed, the Night Owl Lounge on Midway Boulevard is one of the best choices.
The Adventure Never Ends in Broomfield, CO
From outdoor hikes to taking in a children's performance of the "Pirates of Penzance," Broomfield is a city that offers countless adventures for all tastes. With a thriving nightlife and bustling arts and cultural scene, residents always have something fun to do. Winter doesn't intimidate Coloradans, so the activities continue year-round. People moving to Broomfield can look forward to all-season adventures.