House Under Construction: What to Know About Buying a New Construction Home
Posted by Greg Smith on Tuesday, July 12, 2022 at 8:00 AM
By Greg Smith / July 12, 2022
Comment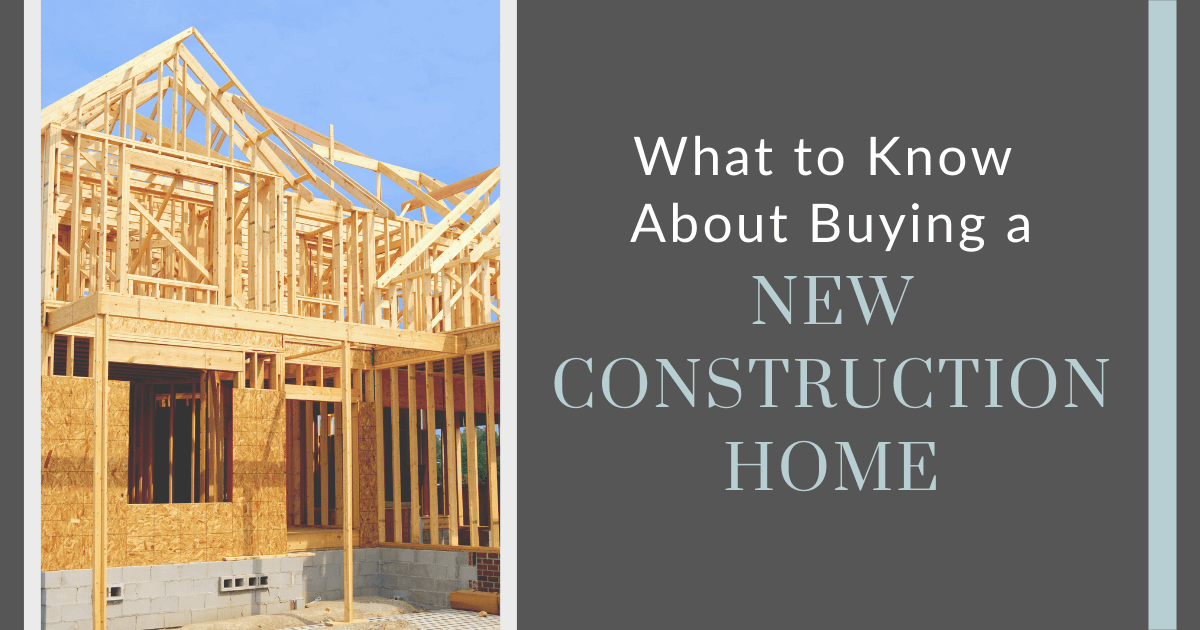 Homebuyers have many choices when it comes to investing in a home, and one popular option is to buy a newly built home. Like any other large purchase, weighing the pros and cons of a house under construction should involve thoughtful consideration for the best results. If you're thinking about buying a new construction home but aren't sure where to start, read on for a quick overview of everything you need to know about buying new construction.
There Are Multiple Types of New Construction Homes
Before a buyer starts looking at having a home built, they should first decide what they want out of their new construction home. Are they looking to live in a development of all-new homes? Do they want to build their perfect dream home from the ground up? Different types of new homes lead to very different experiences and processes.
Custom homes are homes that are built entirely to the specifications of the home buyer. They often contain hand-crafted details like built-in furniture and custom millwork. Custom homes are beautiful, remarkable, and different from all other homes in their neighborhood. Often, custom home builders will build on lots that the customer already owns, wherever that may be.
Production homes are usually built as a part of a development, surrounded by homes that have similar features. For semi-custom homes, buyers can purchase homes that are still being built and can choose some of the details about how their house will look, such as cabinets, floors, and carpeting. However, homebuyers of production homes are not able to control all of the details of the way the home looks and feels. For buyers who are less interested in customization, there are even production homes available that are turn-key ready and have no further adjusting at all.
Custom homes are typically more expensive than production homes. Homebuyers on a budget usually seek out production homes. Buyers who prioritize uniqueness and customization over cost, or have a specific location they'd like outside of a new home development, will often seek a custom home.
Location Matters: Be Sure to Pick the Right Lot
The beauty of buying a new construction home is that the home buyer can pick the site and build their home in a place that's right for them. When trying to decide which location is best, the home buyer must consider a variety of factors, including:
Commute to work. Driving from the lot to the worksite enables the buyer to determine exactly how much time they will spend in the car on workdays.
Distance from services and businesses. Some homebuyers prioritize proximity to businesses; taking this into consideration when trying to decide where to build a home is important.
Proximity to parks and schools. For homebuyers who are also parents, a lot's proximity to schools and parks is important for ensuring their child will have access to services.
Even within a new home development, picking the right lot is an important step. Some communities have specific views that make some lots more personally attractive than others; master-planned communities may have amenities that a buyer wants to live closer to.
The Advantages of Buying New Construction
Many buyers actively seek a house under construction because they get a pristine home that no one else has lived in. Not to mention, buyers have a certain level of control over the design aspect of the home, something they lose the opportunity to enjoy if they buy an existing resale house.
It's Brand New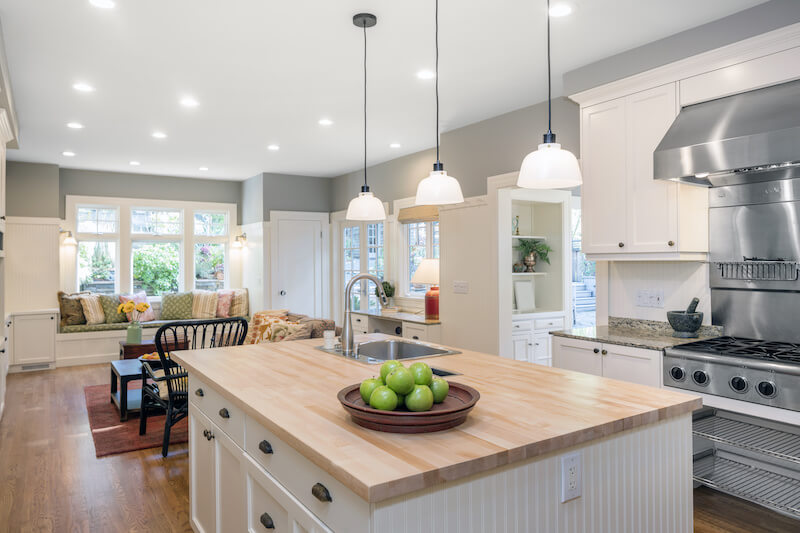 Imagine moving into a home that is 100% untouched—no one has ever stayed in any of the rooms for even one night. Appliances will be up-to-date, it's highly probable smart technology will be integrated throughout the house, and outlets will be new and plentiful to accommodate today's technological needs. Additionally, a newly constructed home is likely to be more energy-efficient than older homes on the market. Energy-efficient home upgrades like new HVAC systems and Low-E windows are often part of the starting package.
The fact that a home is brand new means there are no worries about pre-existing problems or little flaws and secrets previous owners discovered on their own. Homeowners can rest assured there's no chance of deferred maintenance. Also, there are no uncertainties about the biggies, such as unpermitted work, patch jobs, lead paint, or asbestos. Essentially, the home will be built in accordance with the latest building codes and safety regulations, and there hasn't been any time for anything to degrade. Everything is in brand-new condition and homeowners don't have to worry about paying for repairs or upgrades anytime soon.
Not to mention, moving into a brand-spanking-new home offers that new-car feeling, but better!
It's Built to Your Personal Tastes
Today's new construction homes are thoughtfully built with modern floor plans that highlight aesthetics and efficiency. Pre-owned homes were built with the lifestyles of the decade, but some can feel outdated now. New construction offers owners bright open spaces and natural light, very unlike the closed floor plans and darker homes of yesteryear.
Fully custom builds have every aspect customized to the buyer's taste because they can imagine their own floor plan and have it built to spec. Furthermore, they enjoy complete control over every detail of the home, making it truly their own—right down to the flooring, carpets, appliances, closets, and paint.
Semi-custom builds also allow buyers to customize various aspects while the home is being built, but to a lesser degree. However, unlike a pre-owned house, buyers can still be involved in the process and be able to choose from a variety of floor plans selected by the builder, hand-pick desired add-ons (e.g., patio, decks, garage), and choose interior finishes and features. It's not a blank slate like a fully customized home is, but it still offers buyers the ability to personalize.
Other Factors to Know Before Buying New Construction
While the fantastic advantages of purchasing a house under constructionspeak for themselves, there are a few other considerations buyers need to think about, because these few downsides might be dealbreakers. Here's a closer look at those.
Building a House Takes Time
Building a new home isn't as simple as walking in, making decisions, signing a contract, and moving in next month. Homebuyers are essentially going to be waiting on the developer and construction companies' timelines. Their timelines will include the actual construction, but this doesn't always go as smoothly as expected.
Uncontrollable factors, such as delays in material shipments, uncooperative weather days, labor issues (e.g. shortages), permits, inspections, and other unanticipated issues arise. Buyers who want—or need—more control over their move-in date may have to decide to either spend money on renting a temporary place to stay or turn to a pre-owned home instead.
As a consideration, the more customized a home is, the less likely it'll be on a reliable timeline to completion. The average time it takes to build a house is seven to eight months and could go as long as two years. Having realistic expectations is vital.
The Model Homes Have Higher Prices Than the Ones Advertised
Builders, especially those adding homes in new developments, will build the model homes with all the bells and whistles, such as add-on upgrades, top-quality appliances, highest-grade cabinets, and other customizable features, such as flooring.
It's important to keep in mind that a model home isn't going to be the home being advertised at a much lower "base" price; these are the high-end priced properties. Before falling in love with the model home and assuming it's the same as the advertised price, be sure to find out exactly what comes with the base price and whether it meets the same criteria.
Prepare to Negotiate From a Different Angle
A notable difference when buying a pre-owned home vs. a new construction home is the ability to negotiate. Builders of new home developments are highly unlikely to drop the price of the home. If they do it for any one buyer, it changes the selling dynamic, and they might not be able to maintain the specific value they set for their new neighborhood.
That doesn't mean there isn't room for negotiation. One of the things buyers can do is to get creative in their negotiation tactics. See if certain upgrades can be folded into the price of the home. Builders are more likely to offer some of those add-on bells and whistles at a discount to entice people to buy than lower the base price of the house.
Picking the Right Builder is Essential
As with most things in life, not all professionals are created equal, and even builders who get great reviews might not be the right builder for an individual homebuyer's dream home. There's a whole host of factors buyers need to consider when looking for a collaborator to bring their dream home to life, be sure to choose a new home builder with care.
Questions to Ask When Buying a New Construction Home
Before you sign on the dotted line for a house under construction, it's important to do your due diligence and ask the right questions. Here are a few key things to inquire about:
Who is the builder? It's important to research the builder's reputation and track record. Are they experienced? Do they have a good history of delivering quality homes on time and on budget? What do past homeowners have to say about their experience working with the builder?
What kind of warranty is included? Most builders will offer some warranty on their work and materials. It's important to understand what is and isn't covered under warranty, and for how long.
What is the status of the development? Find out how many homes have been sold and if construction is on schedule. If there have been delays, find out why and whether they are likely to continue.
Closing Costs on New Construction Homes
Some buyers may also wonder if closing costs on new construction homes are any different from on established homes. When buying a new construction home, buyers may be surprised to learn that there are additional closing costs beyond what they're used to with a resale property. One of the common culprits is the title policy, which would usually be handled by the seller in the case of a resale home.
It's always a good idea to ask the builder for a detailed list of all potential closing costs before you sign any paperwork. In some cases, builders might offer incentives to buyers who use a preferred lender. These incentives can help offset some of the closing costs, so it's worth considering if you're looking to save money on your new home purchase.
Speak With an Experienced Real Estate Agent About New Construction Homes
Looking to buy a brand new home? If so, it's a good idea to speak with an agent who specializes in new construction homes. Another benefit of working closely with a real estate agent is to ensure everything is in order and get experienced advice in understanding the contract, so buyers can be confident they'll get exactly what they expect.
Buying a new home is an undeniably great opportunity, but it's important to weigh out all the benefits and consider any potential drawbacks so they can be offset. The result is one's dream home.