Condo Maintenance & Condo Fees: What Repairs Are Condo Owners Responsible For?
Posted by Greg Smith on Friday, July 1, 2022 at 10:46 AM
By Greg Smith / July 1, 2022
Comment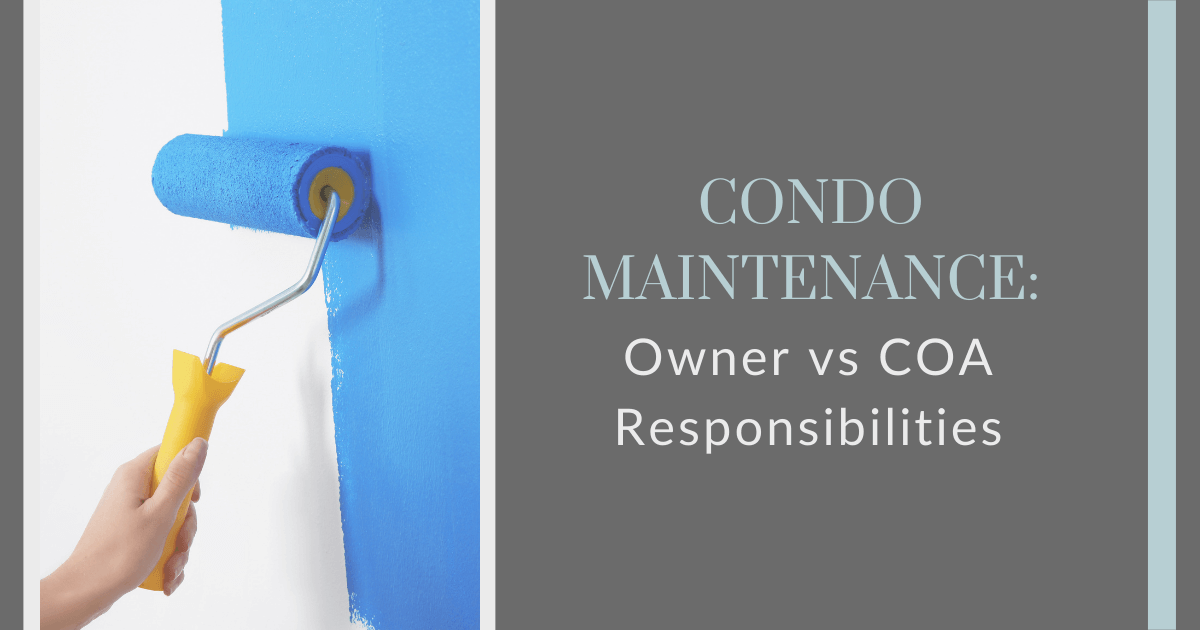 Anyone considering buying a condo should be prepared to face a different set of rules and regulations compared to investing in a traditional single-family home. Owners of a single-family home already know that they will be responsible for maintaining the structure inside and out, including landscaping. However, things operate a bit differently in condo communities.
Condominium communities operate by rules set by a property owners association (POA) or a homeowners association (HOA). These legalities are often referred to as CC&Rs (declarations of covenants, conditions, and restrictions) and bylaws enforced by a property management company and its representatives.
However, both the owner and the association are held responsible for certain aspects of maintaining a condo. Who pays for what and who is responsible for condo maintenance is ultimately determined by how the bylaws formally declare what the owner's private unit areas are versus common areas and limited common elements. Read on to learn more about the maintenance responsibilities of condo owners and how HOAs use condo maintenance fees.
What Belongs to the HOA & What Belongs to Me?
Let's get the discussion started by establishing what precisely the HOA owns and what the condo resident owns before diving into how this impacts each party's maintenance responsibilities. In condo neighborhoods operated by an HOA, the community is divided up into different spaces or sections:
Individual Units
General Common Elements
Limited Common Elements
Owners will be primarily responsible for making repairs, maintaining, and replacing what the governing documents define as their individual unit. This generally includes the floors, ceilings, interior walls, piping, operational systems, and appliances, along with almost anything inside the home. Owners in townhouse communities often have a portion of land just outside their home that belongs to them, as determined by a survey of their official property line.
Generally speaking, the CC&Rs and other governing documents will clearly say that the HOA is responsible for the upkeep and repair of components that fall under general common elements. Common elements are most often held under the ownership of the association and/or its investors.
Maintenance of Common Elements in Condo Communities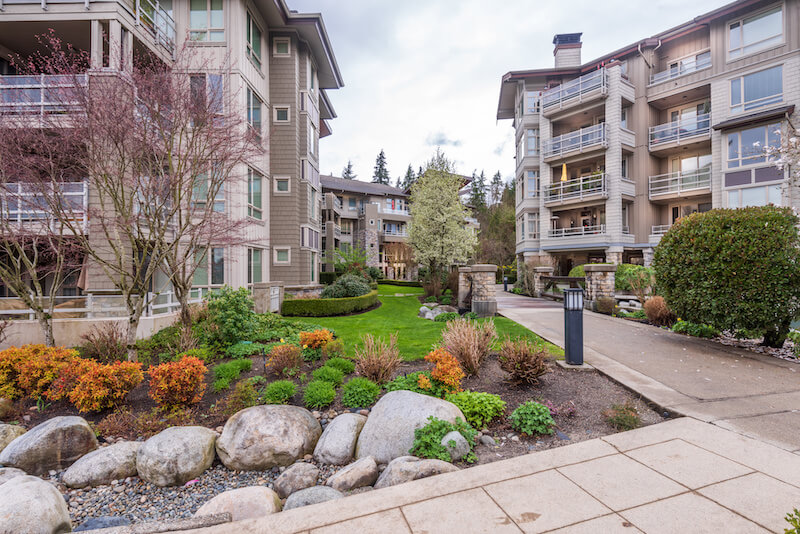 Common areas in condo communities are those in which community unit owners have equal access to use and share. Any part of the community that serves more than one unit or other portions of the common elements is considered such for definitional purposes. For example, shared walls, shared balconies, and hallways that must be used to access owned units, etc. are common elements. Owners looking to maximize their condo space should make sure their plans don't infringe on these shared assets.
Condo Maintenance Fees
Unit owners ultimately pay for maintenance in common areas through their HOA dues and periodic assessments for major projects outside of the annual budget. Monies collected via dues are put into a reserve account fund that the association uses for the maintenance of the common areas. Typical maintenance and repairs in common areas paid for by condo fees may include:
Landscaping
Groundskeeping
Snow & Leaf Removal
Exterior Cleaning of Condo Siding & Fencing
Tree Trimming
Trash Collection
Exterior Wall Repairs & Maintenance
Roof Repair
Condo fees also typically cover expenses related to the upkeep and repair of amenities, such as gyms, swimming pools, clubhouses, and parking areas. Some associations also cover some basic utilities and services with dues such as trash pickup and water.
While dues cover umbrella insurance for the community association, it doesn't cover individual units. That being said, regardless of their required maintenance duties, the HOA is required to routinely inspect common and limited common areas to ensure they are properly maintained.
But how are these condo fees calculated? Generally speaking, the condo association will put together a budget that covers all of the necessary expenses, such as property taxes, insurance, utilities, and maintenance. They will then determine how many units are in the building and divide up the total cost accordingly. It's important to note that while associations can raise the fees year-to-year, some states or documents may require resident approval if the increase is significant.
Maintenance in Private Units
Private units are portions of the condo community that are under separate occupancy or ownership. The boundaries of units are generally defined by associations as the interior surfaces of perimeter walls and the central area of interior walls, floors, ceilings, attics, windows, wallboards, doors, and fixtures. One of the benefits of buying vs. renting a condo is that this interior space is generally the owner's to do with as they see fit when it comes to home renovations and upgrades.
These areas are the responsibility of owners to maintain and repair as needed, as well as interior partition walls, paint, wallpaper, tile, and plaster installations. Maintenance in a private unit for major issues such as leaks in piping or flooding that results in damage may be covered under one's homeowners insurance policy.
There are also certain situations in which maintenance is necessary to a limited common element that owners may be held financially responsible for either partially or wholly. This often depends on the condo community's declarations and covenants and the particular placement of the problem that needs repairs.
Who is Responsible for Plumbing Issues in a Condo?
Typically, the condo owner is responsible for the pipes and fixtures within their unit, including the toilet, sink, bathtub, and shower. The association is typically responsible for the main water lines and sewer lines, as well as any pipes and fixtures that serve more than one unit.
Maintenance for Limited or Exclusive Use Common Elements
Maintenance of limited or exclusive common use elements in condo communities can be challenging concerning responsibility, as these areas are those that are only accessible to a select few owners and occupants. Exclusive use of any portion of the common area outside the boundaries of the condo's interior is designated by the CC&R as only for the use of one or more, but less than all, owners in the community.
Condominium patios, balconies, porches, parking spots, roofs, and sometimes window boxes and shutters, entryways, and exterior doors may be considered common elements. Even those located outside of the unit's boundaries that are designated for a single resident are a part of the community's infrastructure and are considered limited common elements.
Other common elements in certain condo layouts may include heating units, flues, ducts, wiring, load-bearing walls, and columns and chutes. Until recently, the question of who is responsible for these repairs has been fairly ambiguous, and many HOAs had yet to clearly define fiscal responsibilities as provisions of the CC&Rs.
Those who have done so allow owners to know exactly who is liable for what portion of maintenance and repairs for certain implements only used by one household. Legislation in 2017 clarified this issue in cases where covenants are unclear. In these situations, owners are responsible for maintaining their exclusive use of common areas, while the association takes responsibility for repairs and replacement of these areas when needed. Damage resulting from acts of the owner or their guests may incur efforts to recover repair costs through reimbursement & compliance assessments against the owner.
Who is Responsible for Structural Issues in a Condo?
The association is typically responsible for handling the structural areas of the building, like the foundations. However, if an issue affects something within an individual unit, then the condo owner may need to get involved. For example, if a foundation problem affects a unit's door, the owner could have to handle the door's repair or replacement while the association takes care of the foundation itself. Like with most issues, it's important to check the community's rules to know for sure.
Considering Condo Living?
Go in with eyes wide open. Be aware of how the community's HOA works and get familiar with the CC&Rs before committing to buying one to ensure the bylaws and covenants are thorough and fair to both owners and the community as a whole.