5 DIY Tasks You Should Master to Be a Great Long-Term Rental Landlord
Posted by Boulder Home Source on Wednesday, November 3, 2021 at 1:10 PM
By Boulder Home Source / November 3, 2021
Comment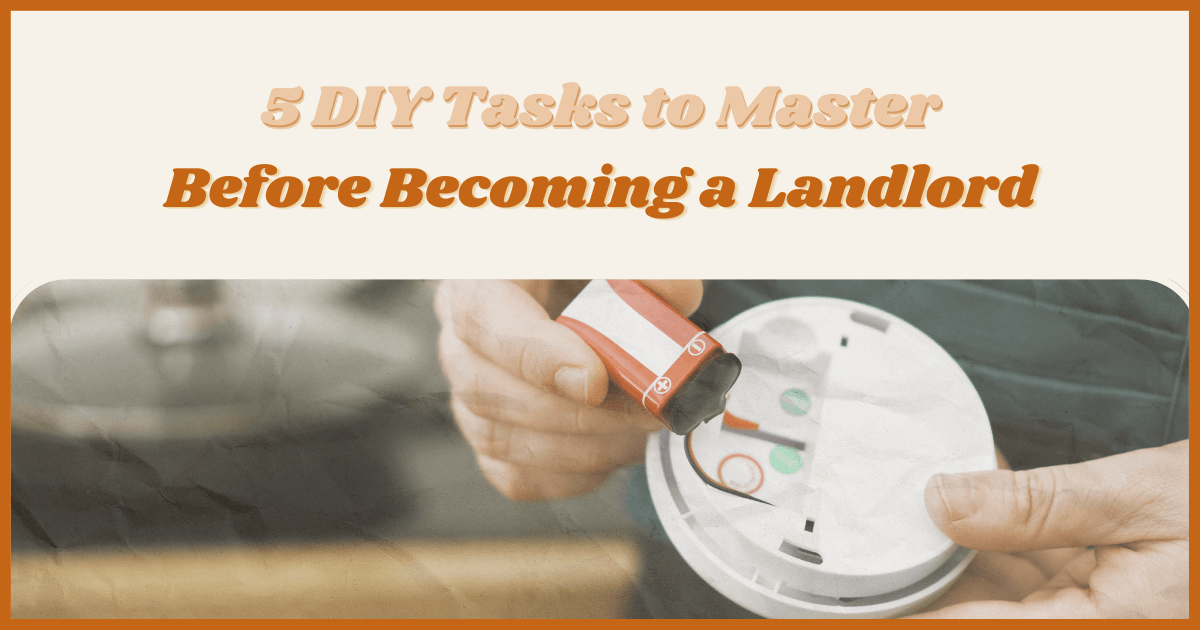 With a student and faculty population of nearly 40,000 people, the homes for sale near the University of Colorado present many lucrative opportunities for people interested in investing in Boulder real estate. Purchasing property to be used as long-term rentals is a great way to start real estate investing. With owning a rental property comes the responsibilities of being a landlord.
Whether you're a long-time investor or a first-timer, there are a few basic home repair and maintenance tasks that landlords should master before taking on renters. Keep reading to learn about 5 DIY tasks everyone should master before becoming a landlord.
How to Handle Clogged Drains
One of the most simple plumbing tasks that landlords can master is the art of unclogging drains and toilets in their rental properties. This skill ensures that tenants aren't left in the lurch if a plumber can't provide service quickly, which will save money. Tools to have on hand include:
Bell-shaped toilet plunger
Auger or snake for the sink and toilet
Slip-lock pliers
Multi-driver
Landlords will want to learn how to properly plunge toilets and sinks. Knowing how to disassemble a P-trap and snake drains can also save calls to professional plumbers. Some other ways to quickly clean clogs are to use a baking soda and vinegar mix. After it sits for a while, flush it out with boiling water to release clogged debris. Most of these fixes take 20 minutes or less to complete.
Basic HVAC Maintenance
HVAC maintenance is key to functionality and longevity, so every landlord will want to understand the basics. Changing filters as directed is a one-minute task in most cases and is something that most renters can learn to do themselves.
For other tasks like oiling fan motors, cleaning coils, and inspecting the unit tools needed include:
Multi-driver
Bristled brush
Pliers
Spanner or crescent wrench
Gloves
To clean the coils, turn off the power on the device, remove the cover of the main HVAC motor unit, and gently brush away any debris on them. Motors only require a few drops of lubricant to ensure they move freely. Those with gas furnaces should also consider learning how to change faulty heat sensors or thermocouples.
The time to complete each task will vary by device, but doing a full inspection and self-service for HVAC systems tends to take less than an hour. However, a licensed HVAC repair technician might be necessary if the system suffers a failure or severe breakdown.
Regular Fire Safety Checks
Every year, home fires account for billions of dollars in property damage. Landlords should be aware of basic fire prevention protocols and fire codes before renting to reduce the chances of becoming a statistic.
Installing smoke and fire detectors and checking them for functionality routinely is an essential step in fire safety checks. Take a look around periodically for any indications of electrical issues that could result in sparks. Check for gas leaks if it is used in a Boulder condo or residence.
Make sure tenants have a fire escape plan and that they also understand essential fire prevention tips. Install escape ladders on the upper stories and fire extinguishers in the unit to assist occupants should flames erupt. In general, this requires no tools and only takes about an hour for a complete fire safety check.
Fixing Outlets and Electrical Switches
If lights are flickering or dimming unexpectedly or certain electrical outlets are not working, tenants will likely request repairs. These are all symptomatic of electrical issues that can start fires and pose an inconvenience.
While changing out an outlet or switch is relatively basic, caution must be taken when doing so. Serious electrical issues should always be handled by a professional. For minor problems, landlords will need to turn off any breakers to prevent getting shocked. A screwdriver is often required to remove the covers, allowing one to check for any loose connections.
A voltage tester can check for weak power in cases of light issues. Replacement of outlets and switches generally only calls for connecting a few wires by hand after splicing and plastic cap covers to ensure they stay together. These tasks can be completed in 10-20 minutes and will help retain tenants longer.
Preemptive Pest Control
The last things tenants want to deal with are critters like rodents, insects, and other creepy crawlers in and around their dwellings. Pests can be problematic in any home, but they are more of an issue typically in multi-unit residential complexes such as condominiums.
Certain pests like termites and roach infestations can cause damage and even be sources of disease. Landlords must learn the basics of pest control and prevention unless they hire a professional company for such maintenance.
Not all methods and products for eradication and prevention are equally effective, so it takes to research and patience for success. There are traps, baits, sprays, and other ways to handle issues depending on the pest one is trying to prevent. These prophylactic measures only take minutes to put in place, so there is no excuse for not doing routine maintenance for pest control.
Sealing up access points with caulk is a great way to alleviate pest problems and keep them from invading the residence. However, certain pests require intensive approaches for prevention and remediation, such as termites that an expert should handle.
Learn Landlord Repair Basics Before Taking on Tenants in Boulder, CO
Staying on top of basic repairs is essential to your success as a landlord. Save yourself some cash on professionals by learning a few tricks of essential home repairs before letting tenants move in to promote their satisfaction and boost the chances of long-term occupant retention.
University of Colorado - Boulder Long-Term Rental Resources