Erie Colorado - Growing in Popularity and Prestige
Posted by Boulder Home Source on Tuesday, April 30, 2013 at 9:36 AM
By Boulder Home Source / April 30, 2013
1 Comment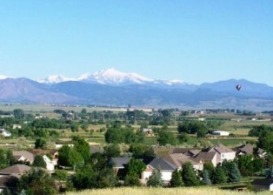 The Erie, Colorado housing market is one of Colorado's fastest growing newer communities in the northern sector of the Front Range area. Residents here boast some of the highest ratings in the quality of life despite the community's relatively young age. The majority of people who purchase homes in Erie neighborhoods, such as Arapahow Ridge, do so because the town offers plenty of newly constructed homes and more land for less money than the surrounding areas. With that being said, the community is also among the most affluent in the area next to Louisville. The median household income according to the Town of Erie's 2013 community profile was is $103,698 which exceeds Boulder County's $93,800. With the increase popularity of this community, some reports are suggesting that the Town of Erie will likely double it's population in the next 11 years, which is great since there is plenty of room for new families to build upon.
One of the best aspects of living in Erie, Colorado is that the community offers tons of family oriented facilities and functions including a brand new recreation center, Skate Park, and several annual events. The family friendly lifestyle Erie residents experience is matched by easy comfortable living, fantastic schools, and exceptional city services. In addition to all the city amenities and new development, Erie, Colorado also offers some of the most gorgeous views of both the Rocky Mountains and the Eastern Plains. Here you will find hundreds of miles of hiking and biking trails as well as several parks, playgrounds, and other outdoor recreational opportunities.
Centrally located to the north of Downtown Denver, just east of Boulder, and directly south of Longmont, Erie also offers residents with the convenience of being close to three of the Front Ranges top producing local economies. This highly desirable location is also attracting many businesses that are only adding to the town's grandeur and draw. In fact, several large renewable energy companies will likely be calling Erie home in the near future as plans to develop the corridor between downtown Erie and I-25 evolve.
Plainly put, if you are looking for the most bang for your buck and a lifestyle that is hard to compete with in any other place in the state, Erie, Colorado could just be the perfect place to build or buy your next home. If you have any questions regarding Erie, Colorado real estate, please contact our local expert Kim Payes.