How to Prepare For Skiing With Kids
Posted by Boulder Home Source on Thursday, April 4, 2019 at 10:28 AM
By Boulder Home Source / April 4, 2019
Comment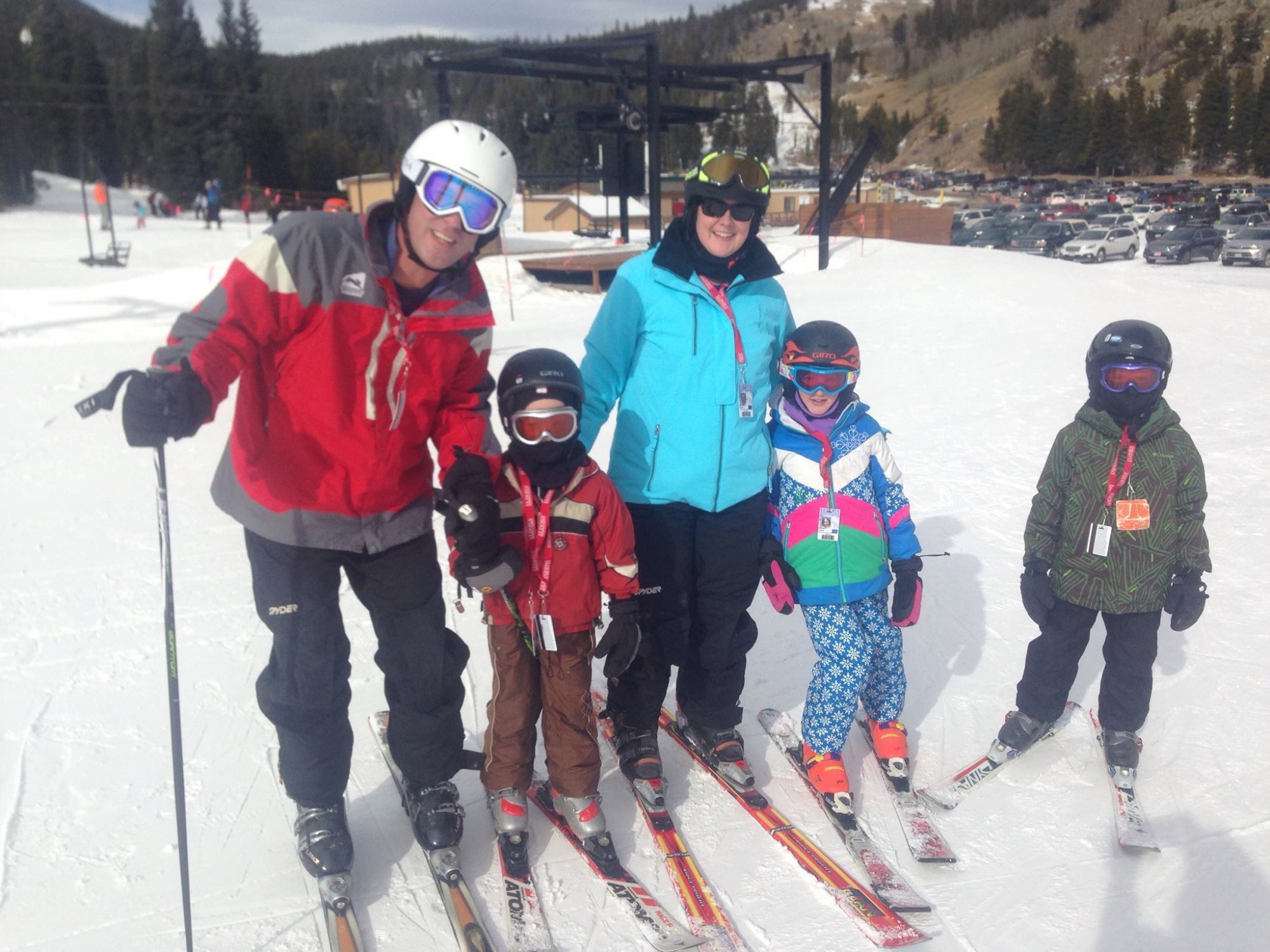 I was a ski instructor for 7 years. It wasn't until my oldest were 6 and my youngest was 3 that we really got skiing as a family. It's a financial investment for sure but it is my favorite thing to do as a family so it's totally worth it. Living in Colorado gives us the opportunity to do things on the weekends other people save all year to do for one week.
Shredder
By far the hardest part of skiing with kids is the cold, so why not ditch it? Shredder is a local indoor ski hill (think wet AstroTurf) that provides learn-to-ski classes for kids and adults. You can bring your own skis or rent there. At Shredder, new skiers learn how to put on equipment, turn, stop, and use the chairlift. All this without paying for a lift ticket, driving through the mountains, putting on snow gear, or falling on the cold snowy ground. Shredder allowed my kids to hit the slopes with basic skills making their first few days on the slopes a lot more enjoyable for all of us!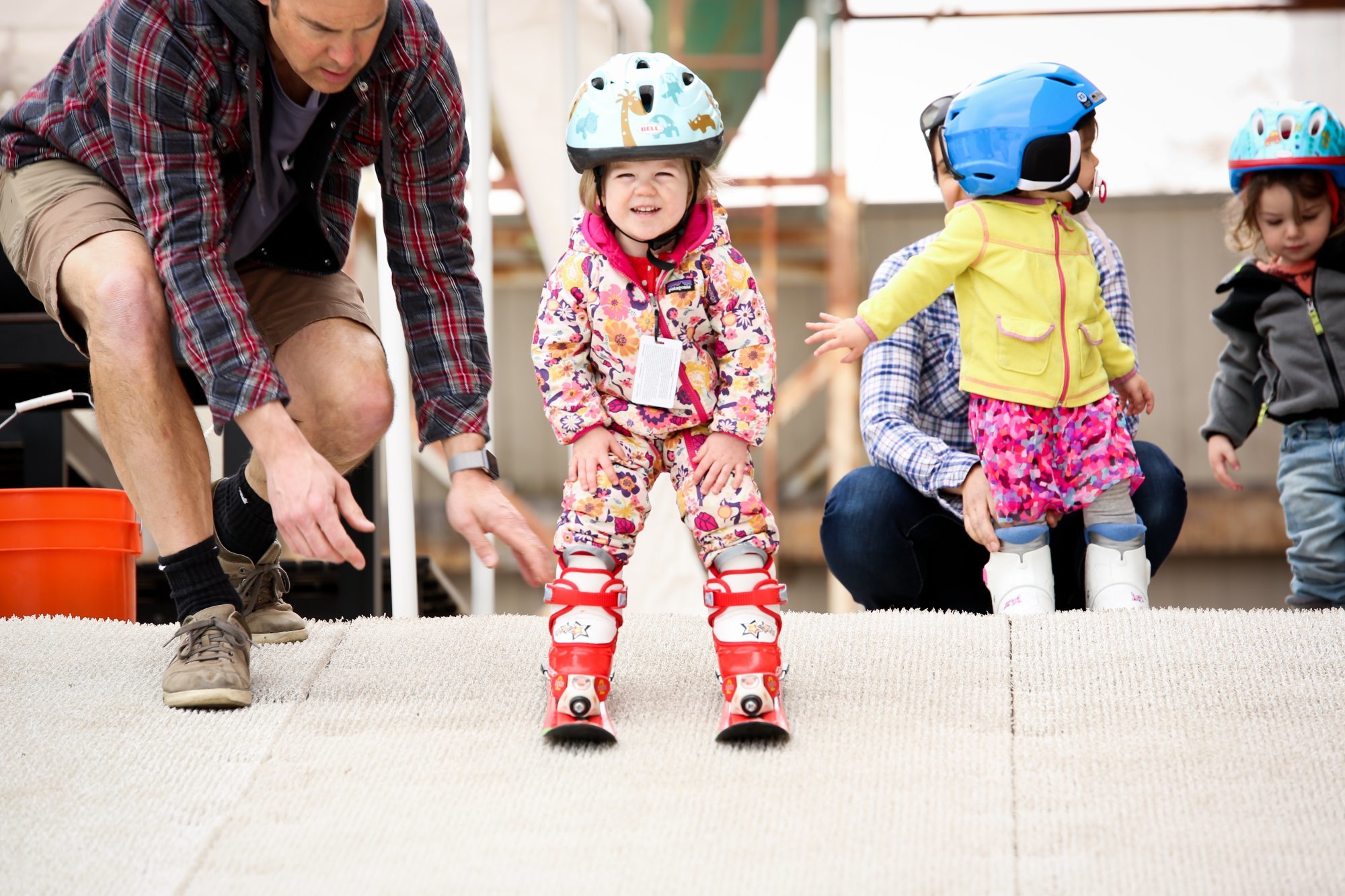 Buying Equipment
Gearing up for ski season can be pricey. You can buy, rent, or do a trade-in system with a local ski shop like Boulder Ski Deals or Christy Sports. If you decide to buy consider buying secondhand. Kids grow fast and gear has a long life. Beginners don't need top of the line equipment, but they do need comfortable boots, safe bindings, and tuned up equipment. You'll need to know your child's height, weight, and ski level to ensure ski bindings are set at a safe release limit.
Snow Gear
Happy kids are warm and dry on the slopes. Bibs with suspenders may be a pain for bathroom breaks but they are superior for keeping snow out of unwanted places. Mittens are warmer than gloves and long cuffs with Velcro will help little hands stay warm and keep gloves on. Layers are important since Colorado winter temps vary from below zero to balmy 60s. Avoid cotton since it holds moisture. Swim shirts are a great first layer under a long sleeve mock shirt. Add a layer of fleece or wool for colder days and don't forget a good jacket – preferably one with a little length in the back. Socks should be thin and definitely not cotton. Thin socks are actually warmer in boots because they allow more circulation and movement of the toes. Most importantly buy waterproof spray and add a layer to pants, jackets, and mittens. Hand warmers aren't a bad idea either, but avoid putting anything inside ski boots. Just beware that hand warmers can get too warm for little hands. Some mittens come with outer zipper pockets for hand warmers which offer more protection from too much heat. You can also stuff them in coat pockets for a little extra warmth.
How to Safely & Effectively Bundle a Child Up For Cold Weather
While it's loads of fun, skiing can—and often does—result in contact with moisture, cold air, and chilly winds. Here are tips for bundling up the wee ones before letting them hit the slopes, and strategic layering is the key to success. The base layer should fit snuggly, but not too tight and consist of breathable materials (not cotton). Essentials for the inner layer include thermal underwear and knee level waterproof socks.
For the middle layer, put kiddos in a mid-weight fleece jacket, and if it's freezing, consider a second layer of thermal pants. For toddlers, look into an all-in-one fleece onesie style fleece to make it easier to take care of potty breaks. The outer layer of clothing should be waterproof and include a ski jacket with a hood and snow pants or overalls. Additional items that kids will need to stay warm and safe on the slopes include waterproof mittens, a hat or beanie and UV protective goggles. As the day warms up, these layers can be shed to maintain comfort both on and off the slopes.
Head Equipment
Heads get their own category because that's the most important gear you'll ever buy. Make sure to buy a good helmet. In this case, new is often better since you never want to use a helmet that has been through a crash. Most hats don't work well under helmets instead use a balaclava. High ponytails don't work either. Good goggles are another important safety feature. They should reduce snow glare, be shatterproof, and anti-fog. My kids prefer goggles to sunglasses because of the protection they offer against wind and cold. On really cold days a layer of Aquafor on the face will help prevent windburn and frostbite.
Learn to Ski Accessories
Ski tip clips like Edgie Wedgies can be good for kids 3 and under since they may not have developed enough muscle to effectively wedge. I don't suggest harnesses that attach at the waist or chest because they tend to pull the skier off balance, increase falls, and create a long-term "backseat" skier, which can lead to knee injuries. Never hand your child the pointy end of your ski pole. If you feel like you need more control over their speed, consider a harness that attaches to their boots like the CoPilot Ski Trainer.
Ski School
Yes. Do it. It's worth it. Even though I was an instructor (or maybe especially since I was) I signed my kids up for three days of ski school after doing a session at Shredders. Why? Because I want them to like it! Ski school is fun and it normalizes skiing for them. They see other children their own age carry their own equipment, put on their own gear, and learn at the same level. Shop deals like early season specials, rentals plus lessons, and deals with condo rentals. Eldora's All Day Ski School even includes lunch.
Ski Passes
Surprisingly Colorado families of four can get season passes fairly affordably relative to day passes. Look for early season passes, 4-packs, kids passes free with adult passes, and passes for children five and under are usually super cheap! The first year we bought each family member a 4-pack (they are usually non-transferrable so you can't split packs) then we bought our next season pass before that season was over which allowed us to ski the rest of the current season as well. For the 2016-17 Season Colorado kids in kindergarten through fifth grade got 16 free days of skiing or snowboarding at Vail, Beaver Creek, Breckenridge, and Keystone. Deals change every year. Start looking as the end of ski season approaches for the best deals.
The Night Before
Lay out all the layers, from socks to snow boots. Put each person's gloves, balaclava, goggles inside their helmet. Bring boots inside. Cold boots do not make happy feet. If you can, put the skis/boards on/in the car. Make sure you have ski passes in the car. Pack lunches, water bottles, and coolers. They can act as insulators keeping things from freezing in the car, which is great for après ski water bottles. Fill up the gas tank. Put sunscreen, tissues, and snack/juice in your jacket pockets. Let the kids join in on the fun of prepping. Also, plan an activity for the kids in the car. For us, this means charging the iPads and packing headphones.
Morning
All layers go on except the jacket. Keep the car cool rather than lose layers. Kick off shoes once you are in the car to keep sweaty feet dry. Eat a good breakfast - preferably warm. Apply sunscreen. We keep one in our jacket and one with our ski clothes so we are always prepared. Dramamine is a good idea for those who get carsick.
From Car to Slopes
Depending on your timing you may have to park far away. Early morning arriving is great for close parking but can also be a challenge with traffic. Mid-morning arrivals are usually parking the farthest away. Late-morning to noon arrivals can often snag a closer parking place of someone who already left. Keep in mind driving conditions for the ride home. Everyone carries his or her own equipment. Even 3-year-olds can carry skis like a stack of wood. Get kids ready first and put your boots on last. Make sure any skis that were inside of the car sit outside while you get ready so snow doesn't stick to warm bases.
Take Breaks and Fuel Up
Skiing with kids usually goes best when you ski a half day or take several breaks. Plan bathroom breaks in advance. An accident in ski pants will end your day. Have fun even if that means hanging out in the lodge. You burn a lot of fuel on the slopes. We pack juice boxes and squeeze applesauce in zippered plastic bags in our ski jacket pockets. Our body heat is enough to keep them from freezing. I see a lot of parents carry backpacks and I'm personally not a fan because when you're riding a lift with kids you are usually pretty distracted and it's easy for a backpack to get intertwined with the lift chair potentially creating a dangerous situation. We pack lunches and either leave them in the car or put them in a locker at the lodge.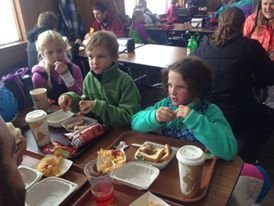 Safety
Besides helmets, the next best thing you can do for your child/children is to be their lookout. If skiing with two adults, one should lead the way and the second should take the rear. When my kids were beginners I left my poles in the car since I needed my hands-free so much. Now that they are better, I do ski with poles but you'll see me with them sticking out behind me in defense. It's amazing how quickly an out of control person can turn when they see the sharp end of a pole. I'm not afraid to shout out "Hey, watch for my kid there. Thanks!" I've been known to report people totally out of control to lift operators or ski patrol. This is a dangerous sport. Don't let manners keep you from advocating for your family's safety.
Storing Equipment
Make sure to lay everything out to dry after each use. We don't wash everything every time, only what we have to. Some people like the one bag per person arrangement but I prefer to put all our under layers in one bag. I fold everyone's things and put them inside each person's shirt. All our helmets with each person's gloves, balaclavas, and goggles stuffed inside go in another Ikea type bag. All our ski boots go in a storage tub together. A large beach towel also goes in that tub. Turned upside down the storage tub acts as bench and the towel as a carpet for boot changing. Passes stay in the car since we only have one we ever take skiing and would likely forget them otherwise.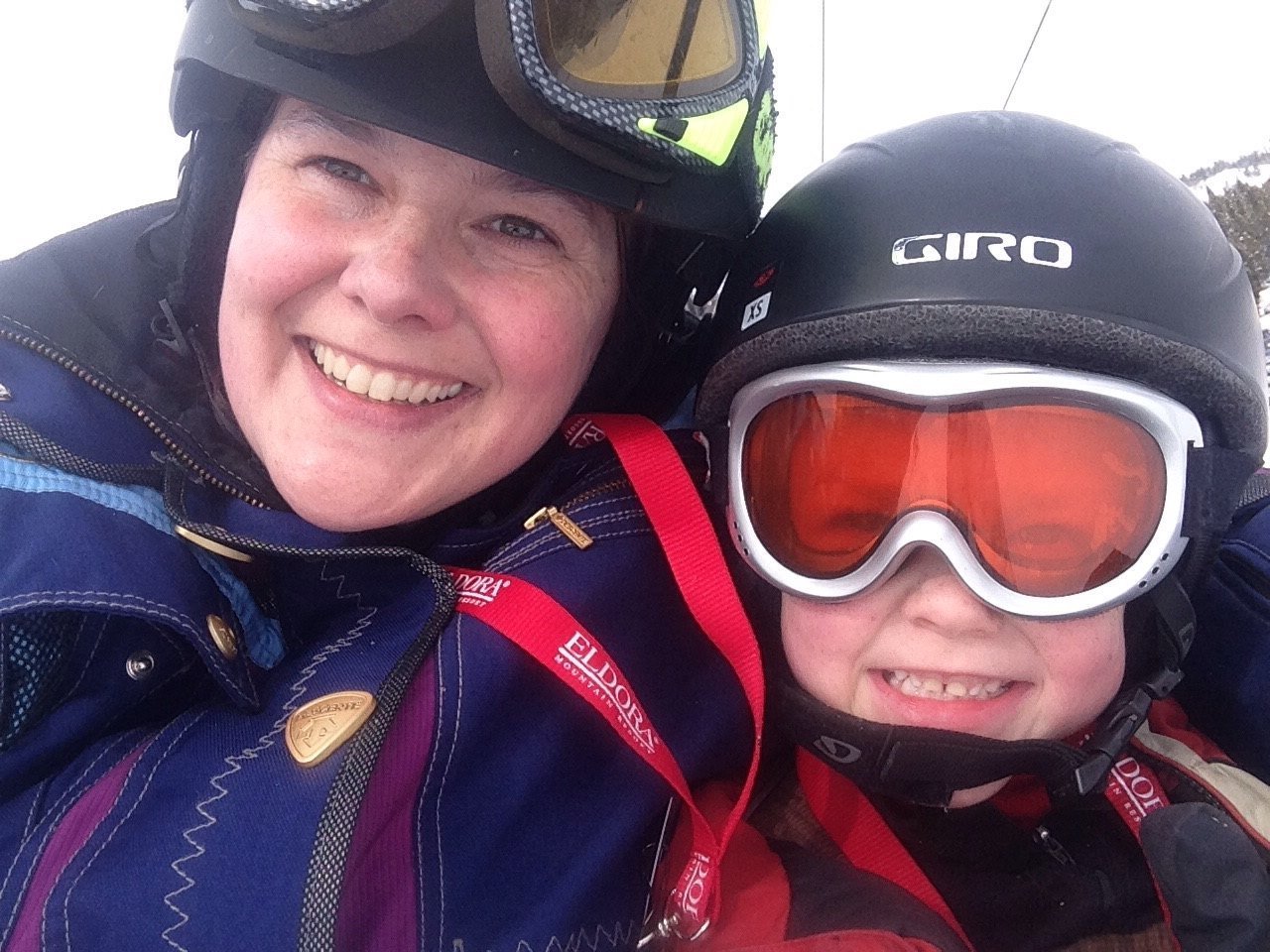 Priorities and Perseverance
It may take a couple of times before the real joy of skiing takes a hold of your family. Don't give up! One day they will be just a good as you, and as a mentor once told me...the next day better. Make your priorities safety, fun, then learning. Winter sports are lifetime sports. They are reasons to be together now and far into the future for family vacations. Your teenager might not want to be seen with you, but with enough snow gear on they might just tolerate you on the slopes. Make it fun! When the fun stops, take a break. Bring candy for the lift. Take silly pictures. Most of all, remember to let your kids see you smile. After all, you are skiing with your family in the beautiful Rocky Mountains!
Skiing Checklist:
Skis/Boards/Poles
Boots in Box
Beach Towel
Ski Passes
Receipts for pre-purchased lessons/passes
Ski Locks
Ski Learning Accessories
Helmet
Balaclava
Gloves/Mittens
Goggles/Sunglasses
Snow Boots
Snow Pants
Snow Jacket
Long Underwear
Ski Socks
Fleece
Sunscreen
Tissues
Snacks/Juice
Cooler
Water Bottles
Lunch
Phone
Phone Charger
---
Be the first to know when a new home is listed. Sign up for Listings Alert. With the www.boulderhomesource.com team, you'll have VIP access to listing details for Boulder real estate listings and the surrounding areas. You'll be able to save your searches, bookmark your favorite homes and set up listing alerts.
- Boulder Home Source: It's a Lifestyle!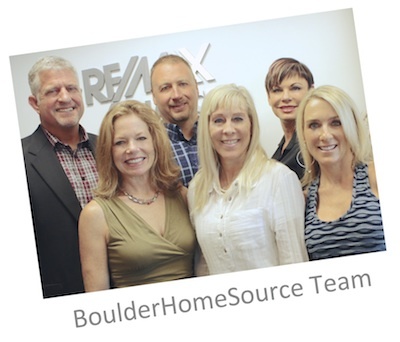 ---