Give Your Kitchen a Facelift for Cheap!
Posted by Boulder Home Source on Friday, February 15, 2019 at 7:52 PM
By Boulder Home Source / February 15, 2019
1 Comment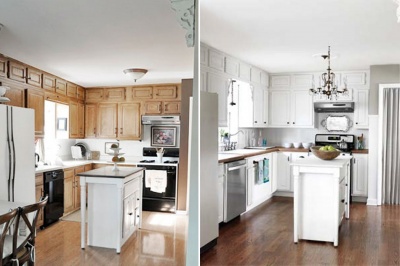 The kitchen for most people is the single most place they spend the majority of their time in their homes. It is a place where friends and family members gather, and the place where you do endless dishes and prepare loving meals. Because of these reasons, having a functioning kitchen that inspires good feelings is important to most homeowners. A dull or dingy kitchen, that you cringe being in for more than 15 minutes at a time, is not likely to inspire culinary creativity. If you have an out-of-date kitchen, adding a cooktop is a great way to give a modern look to your kitchen. I have few easy and cost effective tips that might help. Here is how to give your kitchen a facelift on a budget.
Refresh the Kitchen With Painting and Refinishing
Painting and refinishing your cabinets is not an expensive project, but it does require hard work and a bit of forethought. Examine your cabinets to determine what materials they are made from and what kind of finish they already have. If you have real wood cabinet doors, refinishing them to restore there luster and shine will bring a whole new light into your otherwise bland room. If you are not sure what material or finish you are working with, remove one door and bring it to your local Lowes or Home Depot and ask for help from one of their kitchen specialist. They will be able to suggest what kind of products you will need in order to remove the old finish.
Replace Hardware and Strip Old Paint
When purchasing materials like paint, remember that your kitchen needs to function and painting multiple layers of new paint over crusty old paint is an absolute no-no! You will have to remove the old paint first to the best of your ability and then sand the surface down so that is allows for easy application of the new paint. Furthermore, replacing old hardware with a sleeker designs will go a long way to updating your drab cabinets. You can also purchase decorative moldings and finials that will spruce plain cabinets up, and make them look more expensive.
Clean Your Kitchen Before Renovating
After purchasing your supplies, CLEAN your kitchen from top to bottom, including all crevices and remove hardware. The tasks you perform in your kitchen on a day to day basis will leave residue on almost every surface which will overtime cause damage to relatively decent cabinetry. After scrubbing everything down, it is time to remove your existing cabinet faces. Be sure to number the doors when you remove them so that when you put them back in, the process goes quickly and everything fits the way it should.
Take Care of Countertops
Last but not least, do not neglect the countertops. There are several products out there that can be used to refinish these as well. After you have everything reassembled, bring in a few new items, maybe up-cycle something from around your house or add some baskets to the countertop to complete the look. If you are in dire need of extra storage, you can also find wire racks are Walmart or Target that will add an additional level in each cabinet.
Learn When You Can Do It Yourself For Cheap and When It's Best to Hire a Contractor
One of the most difficult parts of DIY is knowing when "do it yourself" is the best option and when hiring a contractor would make sense. We've put together a few tips that may help when deciding whether the job would be a good DIY task or not.
DIY works well when someone enjoys the work. For instance, a person may find painting kitchen cabinets fun but installing a new sink a huge undertaking.
DIY is a good choice if "good enough" works. If someone is getting ready to sell a house, for instance, it may make sense to hire a professional.
If permits are required, getting a pro involved is often the right choice.
When a mistake could be dangerous, utilizing the assistance of a contractor is always the right decision.
Renovating your kitchen can be as simple or as complicated of a task as you want. When renovating your kitchen, it's important to be honest about which projects you can handle yourself and which are best handled by an expert.