How to get the biggest bang on your Colorado kitchen remodel
Posted by Boulder Home Source on Tuesday, November 15, 2011 at 7:47:41 AM
By Boulder Home Source / November 15, 2011
2 Comments
How to get the biggest bang on your Colorado kitchen remodel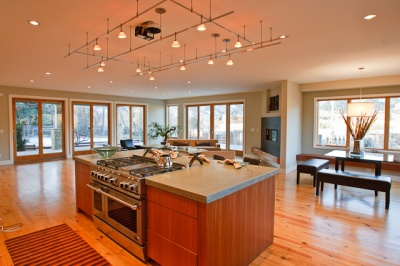 If you are thinking about remodeling your home for the best return on investment the Kitchen and Baths are good places to start. Since both areas can be a challenge to work on while you are in the home most buyers do not want to tackle the task themselves. Kitchens are especially expensive. Countertop and appliance replacement are usually a buyer's prime concern and tend to be the area buyers focus. Cabinets are just as important, though, and arguably just as expensive. They can often account for between 50-70% of the cost of a kitchen remodel. As a result thinking through your design and cabinet choice can have a huge impact on the overall cost of the project.
There are three kinds of cabinets from which to choose. These options are stock, semi-custom and custom. Each has its own pros and cons.
Stock cabinets are the most reasonably priced. This means that if you can develop a design that allows you to use stock cabinets you may have room left over in your budget for other item, like higher-end countertops, for example. Stock cabinets also come fully assembled and are usually available immediately or only a few days after purchase. The downside, stock cabinets are what they are and come in limited options. But if you can find a design that works that are the most cost effective option and offer some great choices.  Ikea is a great place to see what is possible with stock cabinet designs.
Semi-custom or built-to-order cabinets offer a more diverse range of options and can include some custom touches.  If you have a very unique space, even semi-custom cabinets may not fit the bill.
As the name implies custom cabinets offer the most flexibility. A good custom cabinet maker can build them to specific measurements.  You also get the quality and expertise of a true craftsman.  The cabinet maker will design cabinets to fit your particular tastes and the exact style of your kitchen. Unfortunately, they are the most expensive and can take the longest time to arrive after purchase since they're custom-made.
If you choose stock, semi-custom or custom-built cabinets you still will have many choices and that's just the beginning. After deciding cabinet type, you will think about type of material you want for your countertops, sink and fixtures. Ultimately, doing your research and factoring in your overall budget is the best way to choose the right cabinets for your kitchen.  Cabinets are the supporting casts when it comes to buyers the will look at appliances first, countertops second, and cabinets third so when considering return on investment plan accordingly.
Happy Remodeling!!
Remember when looking forBoulder CO homes for salewe are the best source for the most up to date MLS data on our real estate site. If you are looking forhomes for sale in Louisville CO or anywhere else along the Front Range we have what you are looking for.