How To Sell a Fixer-Upper Home As-Is
Posted by Boulder Home Source on Wednesday, November 21, 2018 at 11:06 PM
By Boulder Home Source / November 21, 2018
Comment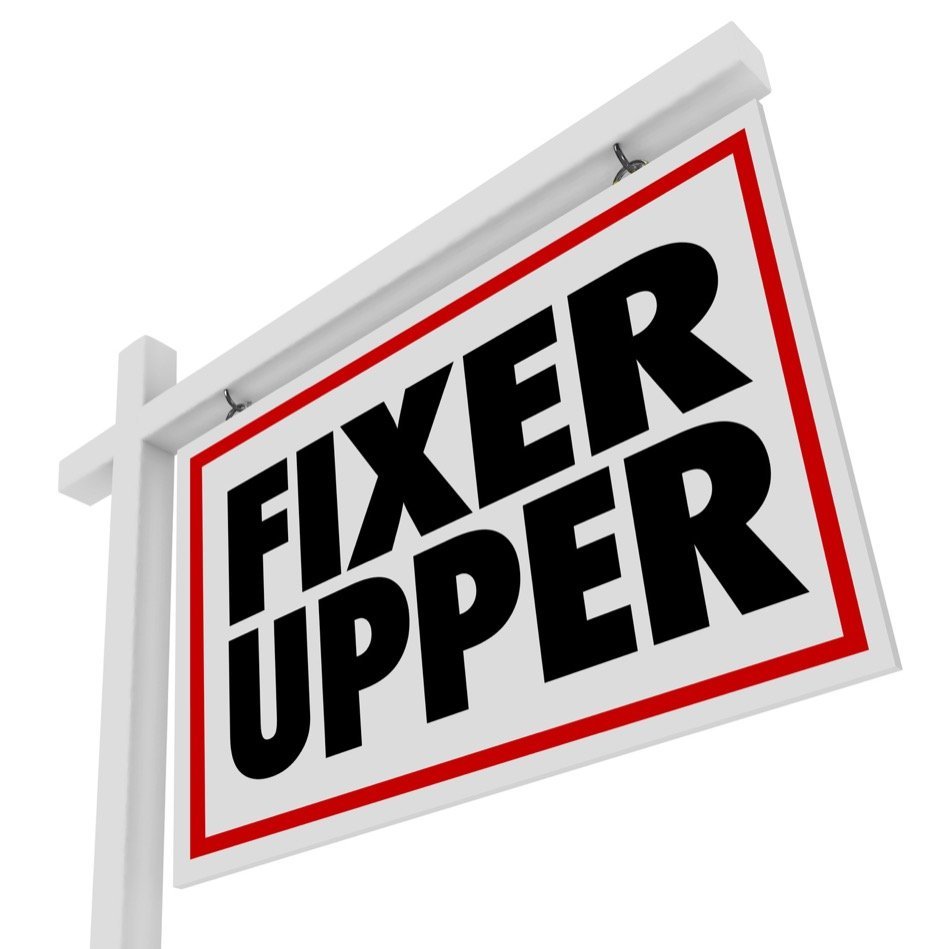 Selling a home can be a challenging endeavor, and many homeowners try to wait for the best opportunities to align before putting their home on the market, but sometimes this isn't possible. When trying to sell a fixer-upper home, there are many unavoidable challenges that homeowners will encounter that may be frustrating, but with the right preparation, those little bumps in the road can be nothing more than that. Here are some things to keep in mind when selling a fixer-upper home.
For informational purposes only. Always consult with a licensed mortgage professional before proceeding with any real estate transaction.
Reduce the Home's Selling Price
One of the most important factors that goes into choosing a home to buy is the price, and when looking for a fixer-upper home, buyers expect a lower price than a move-in ready home. Trying to keep the price high can be detrimental to a fixer-upper's chances of selling, so it's important to remember to make the price enticing. The money a buyer saves on the price of a fixer-upper is going to go directly into the home in way of doing the actual fixing up, so saving on the home's cost is of the utmost importance for them.
Be Open To All Types of Buyer Loans
There are many different types of home loans that incentivize people to purchase fixer-upper home such as Veterans Affairs (VA), Federal Housing Administration (FHA), and United States Department of Agriculture (USDA) loans. Many people may not be familiar with these sorts of loans and be wary of selling a home to a person using one because of it, but there's nothing to fear from loans like these. The biggest difference between VA, FHA, and USDA loans compared to conventional loans is that the three mentioned are sponsored by the government instead of a private institution. Beyond that, they're nearly identical, and homeowner should feel no fear selling to a buyer who chooses to use one.
Be Honest About the Flaws, But Don't Be Shy About Selling Points
When buying a fixer-upper home, buyers expect there to be something that needs to be fixed. Trying to hide things like an old roof or rotting drywall in the bathrooms will only hurt the chances of selling because buyers are going to be on the lookout for these sorts of things, and they will know when the seller is lying about the condition of the home.
However, not all about the home has to be fixed. Every home has its good qualities, and a fixer-upper is no different. Has the home had some work done recently that buyers won't have to worry about doing themselves? Or is the home a historical property or located in a great neighborhood? These sorts of things can be excellent selling qualities, and homeowners shouldn't hesitate to make sure buyers know about them.
Make Sure the Home is Clean and Presentable
A common pitfall to fall into with fixer-upper homes is that because they're classified as fixer-uppers, the homeowner doesn't have to put any effort into how the home looks. This is false. Regardless of if the home is a fixer-upper or move-in ready, the homeowners should always spend time making sure it's presentable to buyers. Here are a few different ways homeowners can do that without resorting to any big projects:
Make sure the lawn and flowerbeds are free of any weeds.
Clean up kids' toys from inside and outside.
Put away any dishes in the sink or on the counter.
Vacuum and sweep when necessary.
Remove personalized decorations such as family photos from the home.
Home buyers who are interested in a fixer-upper home aren't looking for perfection, but putting a little work into the home's appearance can go a long way when it comes to winning favor.
It May Be Worth it to Fix the Home Up
It's important when selling a home to find out how much money to be spent fixing up the house is worth it. Of, course there are may factors which go into making this kind of a decision.
How much did the homeowner pay for my home? What is the home worth as an average in the neighborhood--is the home at the high or medium range when compared with the other homes which are for sale or have recently sold? A real estate agent can help you determine that with a professional opinion called a competitive market analysis.
How much equity do I have in my home measured by the value above the financing or other obligations owed when you get that check at the closing table? Is the home an income property and will the homeowner be concerned with capital gains or other hidden costs when the homeowner sell?
These and other questions are important for us to work through together. The Williams Colorado Realty Team at RE/MAX Alliance can help with it all. Warren and Yvonne have helped more than 500 clients realize their goals when deciding on real estate and financing needs.
The question often raised regarding whether homeowners should remodel before marketing a home could be helped by the attached matrix which gives general values in the Mountain region of the country when it comes to evaluating cost and value for certain projects. These are in no way considered accurate for bidding purposes but rather are a guideline for general planning purposes. For actual cost evaluation we recommend homeowners get at least three bids from bonafide contractors in the trade associated with your projected remodeling project. That way you can make the best decision, but you should have some idea of the neighborhood cost from the attached chart.
Selling a fixer-upper Niwot home may be more difficult than selling a move-in ready home, but it isn't impossible. By following these tips, homeowners can help ensure that their home has the edge it needs to find the right buyer.
For informational purposes only. Always consult with a licensed mortgage professional before proceeding with any real estate transaction.
Copyright © 2015 Hanley Wood Media, Inc. All rights reserved.

2015 National Averages

Mountain

Project

Job

Resale Value

Cost Recouped

Job

Resale Value

Cost Recouped

Cost

Cost

Attic Bedroom

$51,696

$39,908

77.20%

$49,079

$35,682

72.70%

Backup Power Generator

$12,135

$7,263

59.90%

$11,826

$5,998

50.70%

Basement Remodel

$65,442

$47,637

72.80%

$62,538

$44,607

71.30%

Bathroom Addition

$39,578

$22,875

57.80%

$37,653

$19,662

52.20%

Bathroom Remodel

$16,724

$11,707

70.00%

$15,879

$10,528

66.30%

Deck Addition (composite)

$15,912

$10,816

68.00%

$15,414

$9,670

62.70%

Deck Addition (wood)

$10,048

$8,085

80.50%

$9,584

$7,020

73.20%

Entry Door Replacement (fiberglass)

$2,926

$2,107

72.00%

$2,875

$2,002

69.60%

Entry Door Replacement (steel)

$1,230

$1,252

101.80%

$1,193

$1,089

91.30%

Family Room Addition

$84,201

$53,955

64.10%

$81,047

$49,262

60.80%

Garage Addition

$52,382

$33,938

64.80%

$50,759

$30,916

60.90%

Garage Door Replacement

$1,595

$1,410

88.40%

$1,544

$1,211

78.50%

Home Office Remodel

$29,066

$14,155

48.70%

$27,929

$11,648

41.70%

Major Kitchen Remodel

$56,768

$38,485

67.80%

$55,006

$34,502

62.70%

Manufactured Stone Veneer

$7,150

$6,594

92.20%

$7,103

$5,594

78.80%

Master Suite Addition

$111,245

$68,596

61.70%

$107,725

$65,832

61.10%

Minor Kitchen Remodel

$19,226

$15,255

79.30%

$18,491

$14,822

80.20%

Roofing Replacement

$19,528

$13,975

71.60%

$18,592

$13,538

72.80%

Siding Replacement (vinyl)

$12,013

$9,694

80.70%

$11,370

$9,700

85.00%

Sunroom Addition

$75,726

$36,704

48.50%

$73,220

$32,213

44.00%

Two-Story Addition

$161,925

$103,848

64.10%

$154,980

$99,032

63.90%

Window Replacement (vinyl)

$11,198

$8,163

72.90%

$9,947

$7,383

74.00%

Window Replacement (wood)

$11,341

$8,937

78.80%

$10,972

$8,996

82.00%

Upscale

2015 National Averages

Mountain

Project

Job

Resale Value

Cost Recouped

Job

Resale Value

Cost Recouped

Cost

Cost

Bathroom Addition

$76,429

$44,750

58.60%

$74,533

$40,444

54.30%

Bathroom Remodel

$54,115

$32,385

59.80%

$52,445

$28,396

54.10%

Deck Addition (composite)

$36,385

$21,437

58.90%

$35,156

$18,806

53.50%

Garage Addition

$85,592

$46,791

54.70%

$82,620

$41,828

50.60%

Garage Door Replacement

$2,944

$2,429

82.50%

$2,888

$2,060

71.30%

Grand Entrance (fiberglass)

$7,548

$5,099

67.60%

$7,405

$4,479

60.50%

Major Kitchen Remodel

$113,097

$66,747

59.00%

$110,060

$61,250

55.70%

Master Suite Addition

$236,363

$126,860

53.70%

$230,677

$118,592

51.40%

Roofing Replacement

$36,329

$22,840

62.90%

$33,131

$19,794

59.70%

Siding Replacement (fiber-cement)

$14,014

$11,816

84.30%

$13,274

$9,975

75.10%

Siding Replacement (foam-backed vinyl)

$15,184

$11,790

77.60%

$14,560

$10,516

72.20%

Window Replacement (vinyl)

$13,837

$10,365

74.90%

$13,425

$9,206

68.60%

Window Replacement (wood)

$17,422

$12,533

71.90%

$17,015

$11,031

64.80%