Is Boulder Dog-Friendly?: The Best Places to Take Your Dog in Boulder, CO
Posted by Boulder Home Source on Tuesday, June 1, 2021 at 11:20 AM
By Boulder Home Source / June 1, 2021
Comment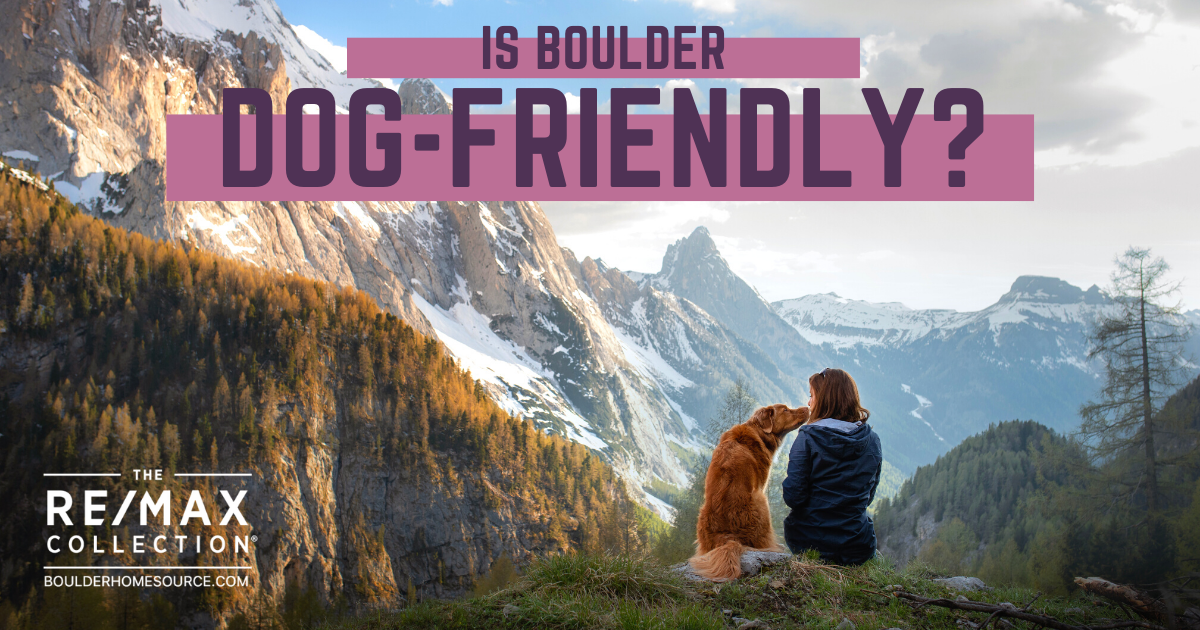 As one of the most desirable places to live in the U.S., Boulder is welcoming for humans and their canine companions. There are many places to take pups for outings in and around this mountain community, from shops, restaurants, and lodging to numerous trails and dog parks. Read on to discover the best dog-friendly areas in Boulder, nestled among Boulder's new construction homes, downtown condos, and vacation hot spots for all to enjoy.
Dog-Friendly Activities in Boulder
Dogs are man's best friend, so why leave the dog at home when on the go? Dozens of local attractions and activities around town welcome well-behaved dogs into their establishments.
Twenty-Ninth Street Mall
Head out to the Twenty-Ninth Street Mall to peruse charming shops and eclectic restaurants and partake in various services. Many businesses here allow leashed dogs, and they can hang out in common areas with their owners. Outdoor events happen here throughout the year, typically at no charge for attendees.
Gunbarrel Brewing Company
Gunbarrel Brewing Company opens its doors to its indoor brewery and taproom and the grassy, outdoor beer garden to pets and patrons. The brewery hosts rescue events with local dog rescues quarterly while guests indulge in various sours, IPAs, and ales.
Liberty Puzzles Factory
Unique, artistic puzzles can be shopped for in the gallery at Liberty Puzzles Factory in Boulder, with hand-drawn pieces shaped in whimsical designs. Choose from pre-made limited edition pieces or have a custom puzzle created.
The Barrel
Dogs are welcome indoors and outside at The Barrel, Boulder's most lively pet-friendly bar. Open seasonally, guests can bring their own food or order from the rotating schedule of on-site food trucks, as the menu is wholly focused on beverages.
Dog Parks and Trails in Boulder
Keeping dogs active is easy with many accessible dog parks and dog-friendly trails in Boulder. Check out these popular dusk-til-dawn parks perfect for accompanying canines on a day out.
Switzerland Trail
Hit up to 14 miles of gravel and dirt pathways at dog-friendly Switzerland Trail. This rail-trail is quiet and has plenty of interesting critters along the way to keep pups excited about the journey. Bring a pole and drop a line to catch a few fish with four-legged friends alongside. Trail end and access points can be found at Sugar Mountain Road near Sugarloaf Mountain and Glacier Lake near Gold Hill.
South Boulder Peak and Bear Mountain Trail
South Boulder Peak and Bear Mountain Trail offers 5.6 miles of packed gravel. Be forewarned: it's a challenging trek that takes six hours to complete for hikers and their dogs. Hikers can access the trail near Eldorado Springs.
East Boulder Dog Park
Dog lovers can let their buddies roam in a large fenced-in space at the East Boulder Dog Park. Areas are dedicated to large and small dogs and a small lake that they love to cool off in. Access the dog park at 5660 Sioux Drive in town.
Howard Heuston Off-Leash Dog Area
Howard Heuston is a public park that has a 1.25-acre off-leash voice and sight area. However, pets must be leashed when on the southern side of the fence, as those areas are designated for public use. Access the park by heading to 34th & Iris, then go south to O'Neal Parkway.
Dog-Friendly Boulder Restaurants
More than 70 places to eat in Boulder allow leashed dogs to sit next to owners in outdoor areas. Hungry? Load up Fido and head to these local pet-friendly restaurants.
North End at 4580
With a menu of American classics and special "pup patties," one can't go astray at North End at 4580. This downtown pet-friendly bistro offers up a rotating menu of food, cocktails, and craft beers.
Roadhouse Boulder Depot
Roadhouse Boulder Depot was once a Union Pacific Railroad Station with a past dating to 1890. In 1957, this historic building transitioned into a local treasure for pets and patrons looking for fresh American goodies.
The Hungry Toad
Take a seat at one of the outdoor tables at The Hungry Toad, where staff will bring a water bowl for pups and a cold English or local brew for owners if they like. The extensive menu here is amazing, and the patio views of the foothills and Sanitas are equally impressive.
Dog-Friendly Shopping in Boulder
With so many dog owners in Boulder, there are plenty of shops and stores around town that welcome leashed pets who are well-behaved. Here are some top dog-friendly stores to explore.
McGuckin Hardware
Since 1978, the owners and staff at McGuckin Hardware have invited canine companions into their stores. Not only are there tools and supplies for humans, but there's a large selection of foods, treats, bedding, toys, and clothing for dogs. Be on the lookout for staff with pocket treats.
BOCO Cider
Love cider? BOCO Cider is pet-friendly and lets dogs come inside the taproom for a drink, too. There's live music on the weekends, and guests can get ciders to take home.
Chuck & Dons
Head to Chuck & Don's to stock up on pet foods, treats, and accessories without having to leave your pup at home. Cats and dogs are welcome here, and the store partners with cat rescues locally. Come in and use the self-washing station or schedule professional grooming services.
Pet-Friendly Lodging in Boulder
While there is ample pet-friendly lodging in and around Boulder, one of the best ways to easily find various options is to search through local AirBnB listings. Fine-tune the search to meet specific dates and to view each location's pet policies before booking.
Foot of the Mountain Motel
Pets are invited to stay at Foot of the Mountain Motel, where up to two pets of any size can stay for an additional charge of $20 per pet per night. Crated pets may be left unattended in rooms, and food and water bowls, crates, and dog beds are available. The property boasts a spacious lawn and a dog run.
Basecamp Boulder Hotel
The Basecamp Boulder Hotel welcomes up to two pets of any size for $45 per stay and a $10 refundable deposit. Pets cannot be left alone in rooms, and there is no official relieving station on the property.
Millennium Harvest House Boulder
Bring up to two pets to Millennium Harvest House Boulder for $25 per pet. They do allow unattended pets in rooms and have a large grassy relief zone on the 16-acre property. Hiking trails are within walking distance of the hotel.
Some Come to Boulder to Play...Many Stay!
Boulder, Colorado, routinely tops lists tapping it as one of the happiest cities in the U.S. It's no wonder why, with so many things to do with friends, neighbors, and even pets. Enjoy the views, trails, shops, diners, and attractions that say yes to pups coming along right here in Boulder.