Is Broomfield Dog Friendly? Best Broomfield Dog Parks & Pet-Friendly Things to Do
Posted by Greg Smith on Tuesday, February 14, 2023 at 10:33:05 AM
By Greg Smith / February 14, 2023
Comment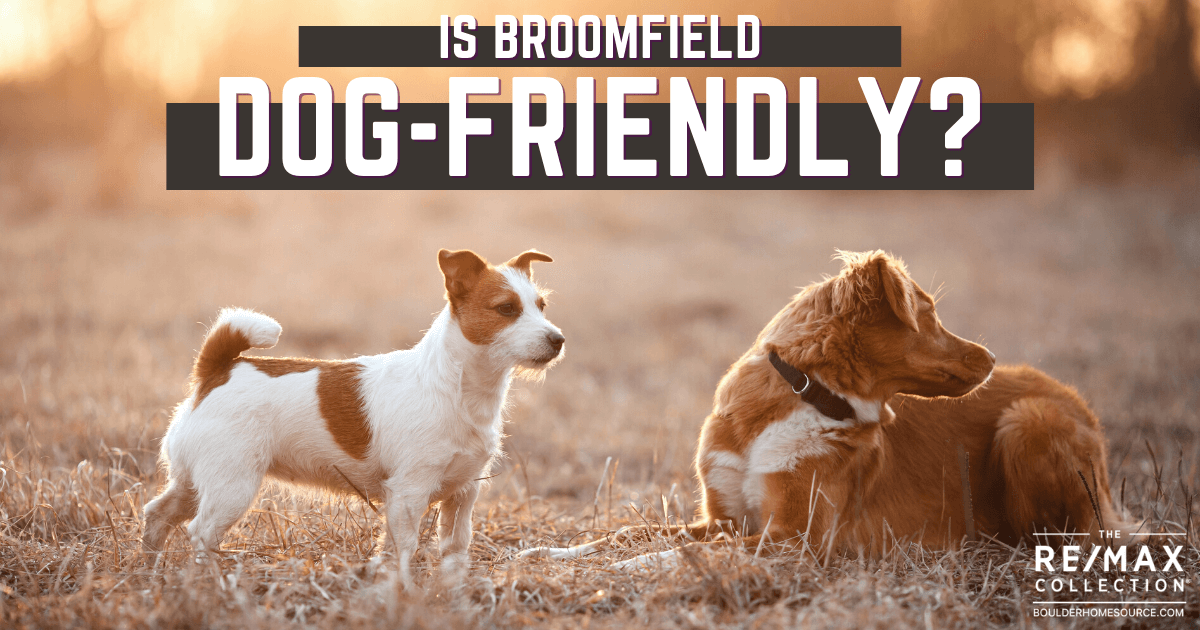 Broomfield is an outdoor lover's paradise that, for many, is just far enough away from the hustle and bustle of the cities. With over 8,000 acres of open public land nestled about halfway between Denver and Boulder, almost 300 miles of multi-use trails, mild year-round weather, and dozens of dog-friendly places and services, Broomfield is also a great place to live with your favorite four-legged friend.
This guide details many of the best dog-friendly things to do in Broomfield and ultimately answers the question, just how dog-friendly is Broomfield?
Best Dog Parks Near Broomfield
From traditional dog parks with separate spaces for large and small dogs to more natural, wide-open parks with forested surroundings, there are many places for pups (and their owners) to enjoy playtime in and around Broomfield.
Broomfield Commons Dog Park
Broomfield Commons Dog Park is located in the northeast of town and is a haven for all dogs who love to run, play fetch, and socialize with other dogs. The large park has two separate, spacious fenced-in areas for small and large dogs to play safely.
The ground surface in the dog park is a mix of sand and gravel, which residents note is great for controlling any odors and preventing their dogs from getting muddy. There are several water taps at ground level for dog water fountains, and they were thoughtfully designed to be in the paved area near drains.
Dog owners can sit on the park benches and chat with others while their dogs run around. It should be noted that this dog park doesn't have a lot of shade, but it has a small shaded area. It is recommended to plan your visit accordingly and avoid the midday sun, especially on hot days.
This Broomfield dog park is part of a larger 300-acre open space, Broomfield County Commons Park, which features a recreation center, sports fields, picnic tables, playgrounds, and restrooms. It's also one of Broomfield's best parks.
Broomfield Commons Dog Park Additional Information
Address: E 14th Ave & Sheridan Blvd, Broomfield, CO 80020
Hours: Open daily from 5 a.m. to 11 p.m.
Westminster Hills Open Area Dog Park
Seven miles from Broomfield Commons, dog owners will find a 420-acre doggy paradise, Westminster Hills Open Area Dog Park. This area is excellent for dogs and owners looking to get some exercise and explore freely without a leash, and it's a major advantage for dog owners moving to Westminster. The park is only partially fenced in, so be sure your dog is always within your line of sight and practice those recall skills with your pup before visiting.
Note that dogs must be on a leash when entering and exiting the off-leash area, and owners must have their dog's leash on their person and visible at all times.
Westminster Hills Open Area has multiple trails to check out and even a seasonal creek for your pup to cool down in, as well as benches, a shade structure, and dog-drinking fountains.
There are two large parking lots on-site with porta-potty restrooms available. Doggy waste bags and trash cans are located throughout the park, so please be sure to do your part in keeping it clean.
Westminster Hills Open Area Dog Park Additional Information
Address: 10499 Simms St, Westminster, CO 80005
Hours: Open daily from sunrise to sunset
West Arvada Dog Park
West Arvada Dog Park is a short, pleasant 15-mile drive from Broomfield in the city of Arvada. It features several different fenced-in play areas that span over 10 acres. There are four total areas, including two separate fenced spaces for small or shy dogs.
The park has beautiful mountain views, mature trees, and grassy fields for pups to run across, and it's one of the many things to do in Arvada for dog owners. There's even a walking path around the park's perimeter for pet owners to exercise while their dog plays or to finish up a dog park session with a walk.
Other amenities at the park include several waste scoopers, doggy bags and trash cans, picnic tables, a shaded pavilion, and water bowls throughout. In the summer months, there's also a variety of agility equipment in the park.
This dog park is run entirely by volunteers (who are primarily regular visitors) and donations, and there's a Facebook page where information on getting involved is sometimes posted. It's also important to note that Arvada law requires residents to license their dogs annually. That policy also applies to dogs visiting West Arvada Dog Park, even if they aren't living in Arvada.
West Arvada Dog Park Additional Information
Address: 17975 W 64th Ave, Arvada, CO 80005
Hours: Open daily from 8 a.m.–8 p.m.
Other Dog Parks Near Broomfield, Colorado
The above aren't the only options for dog parks near Broomfield either.
Berkeley Dog Park - Denver (11 miles)
Valmont Dog Park - Boulder (13 miles)
Willow Bark Park - Denver (16 miles)
Foothills Dog Park - Boulder (17 miles)
Forsberg Off-leash Dog Park - Lakewood (22 miles)
Pet Stores Near Broomfield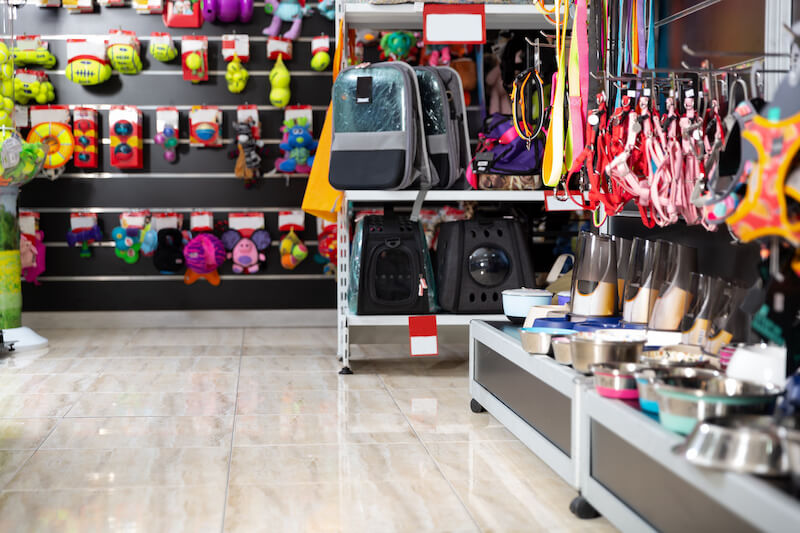 Broomfield has an excellent selection of pet stores, supplying everything from necessities such as food and water to pet pampering items and treats.
Urban Dogg
Urban Dogg is just south of Broomfield's city center and is a one-stop shop for everything a dog owner may need (or want!). In addition to having a plethora of choices of dog food, treats, and toys, the store also offers professional grooming, a self-wash station, and nutritional counseling. It even offers home delivery!
Open and closing hours vary throughout the week, but Urban Dogg typically opens between 10:00–10:30 a.m. and closes between 5:00–6:30 p.m.
Willow Run
Also located close to downtown Broomfield, Willow Run is a locally-owned feed and supply store with a wide selection of pet food, toys, and supplies. The store is known for carrying specialty dog food options that the big-box stores do not, yet it offers its products at affordable prices. There's also a groomer and boarding facility on-site.
Doggie Style
Doggie Style is another locally-owned pet store with all-natural dog food and a wide selection of toys, treats, and dog accessories. A self-serve dog wash and a bakery inside the store, Little Crumbles Dog Bakery, serves gourmet treats made just for dogs. It's the perfect place to order your pup a special birthday cake! The store is open Tuesday through Saturday and closed on Mondays.
Pet Groomers Near Broomfield
Pet owners know how important it is to keep their pet well-groomed. Instead of taking the time and effort to do the work themselves, Broomfield residents have access to some professional groomers.
Collar Cuts
A 100% mobile dog and cat grooming business that comes right to you! Collar Cuts offers a basic brush-and-bath service and full-service grooming, including a brush, bath, ear cleaning, nail trimming, and a haircut. They also have specialty treatments such as nail grinding, teeth brushing, skunk shampooing, and tick and flea treatment.
Wag N Wash
Wag N Wash focuses on giving dogs and cats the spa day they deserve. With professional groomers on-site, your dog will surely leave feeling pampered and smelling fresh. Each full-service groom takes about three hours and includes a wash, dry, ear clean, and nail trim. There's also a self-wash station available for pet owners who prefer to do it themselves.
Veterinarian Clinics Near Broomfield
Having a vet you trust nearby is essential when you're a pet owner. Fortunately, Broomfield has a couple of excellent options right in town.
Laurel Veterinary Clinic
The Laurel Veterinary Clinic is an all-inclusive clinic offering everything from routine and preventative care to emergency services. The clinic also has behavioral counseling, dental care, and end-of-life services.
Laurel Veterinary Clinic Additional Information
Hours: Monday–Friday 7 a.m.–7 p.m.; Saturdays 8 a.m.–4 p.m.; closed Sundays
Address: 1480 W Midway Blvd, Broomfield, CO 80020
Online appointments available
The Animal Doctor
The Animal Doctor is open Monday through Saturday and offers high-quality care for pets of all shapes and sizes. They focus on preventative care to lower future costs and detect problems early, with services including spay and neuter, vaccines, dentistry, digital imaging, soft tissue surgery, endoscopies, laser treatments, and more.
The Animal Doctor Additional Information
Hours: Monday–Friday 7 a.m.–6 p.m.; Saturdays 8 a.m.–2 p.m.; closed Sundays
Address: 1705 W 10th Ave, Broomfield, CO 80020
Online appointments available
Other Helpful Resources For Broomfield Pet Owners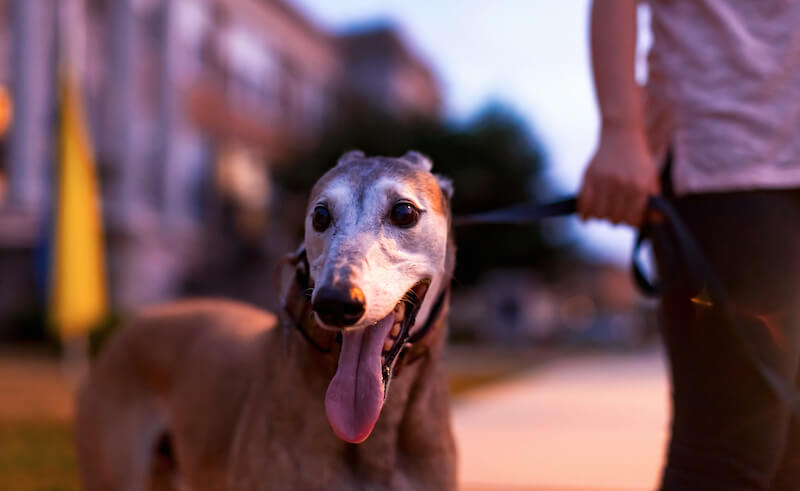 In addition to its abundance of dog parks, pet stores, and veterinary clinics, Broomfield is also home to several other dog-friendly places and services. There are some popular breweries in town, plus it's very close to countless dog-friendly hiking trails and has great pet-sitting services.
For pet owners looking for a night out and tasty food and drinks, 4 Noses Brewing Company and Rails End Beer Company both welcome friendly dogs to join their owners on the patio. Both breweries have on-site food trucks, weekly events, live music, and a large selection of local Colorado beers!
There's no shortage of Broomfield outdoor adventures for dog owners in town. Some popular dog-friendly trails nearby include the 1.7-mile Mckay Lake Trail and the five-mile Standley Lake North Trail. Suppose you're looking for more dog-friendly activities and hikes. In that case, Broomfield residents can also make the 30-minute drive to either Denver or Boulder for an even greater selection of dog parks, restaurants, breweries, and walking tours.
For those times when you need to get away and leave your pup behind, there are several pet sitters and boarding facilities located right in Broomfield. Pet Sitters International is an excellent resource that puts you within quick access to vetted dog sitters near you!
The city of Broomfield also has an animal service department to ensure all dogs are treated appropriately and do not become a nuisance to Broomfield residents. In addition to enforcing animal-related ordinances, the department also helps reunite lost pets with their owners and assists in helping injured pets. It provides community news and education regarding wildlife concerns, pet safety, bite prevention, and humane education classes.
Is Broomfield, CO Dog-Friendly?
The short answer is a resounding yes, Broomfield is incredibly dog-friendly! Although there are countless considerations one needs to factor in before relocating, this guide should give you an inside look into the overall dog-friendliness of Broomfield. With Broomfield's best trails, its many neighborhood dog parks, pet stores, veterinary clinics, and dog-friendly restaurants and breweries, you and your pup will feel welcome around Broomfield.