Dog Parks & Dog-Friendly Activities in Superior, CO: Where to Take Your Dog in Superior
Posted by Greg Smith on Tuesday, August 15, 2023 at 11:15 AM
By Greg Smith / August 15, 2023
Comment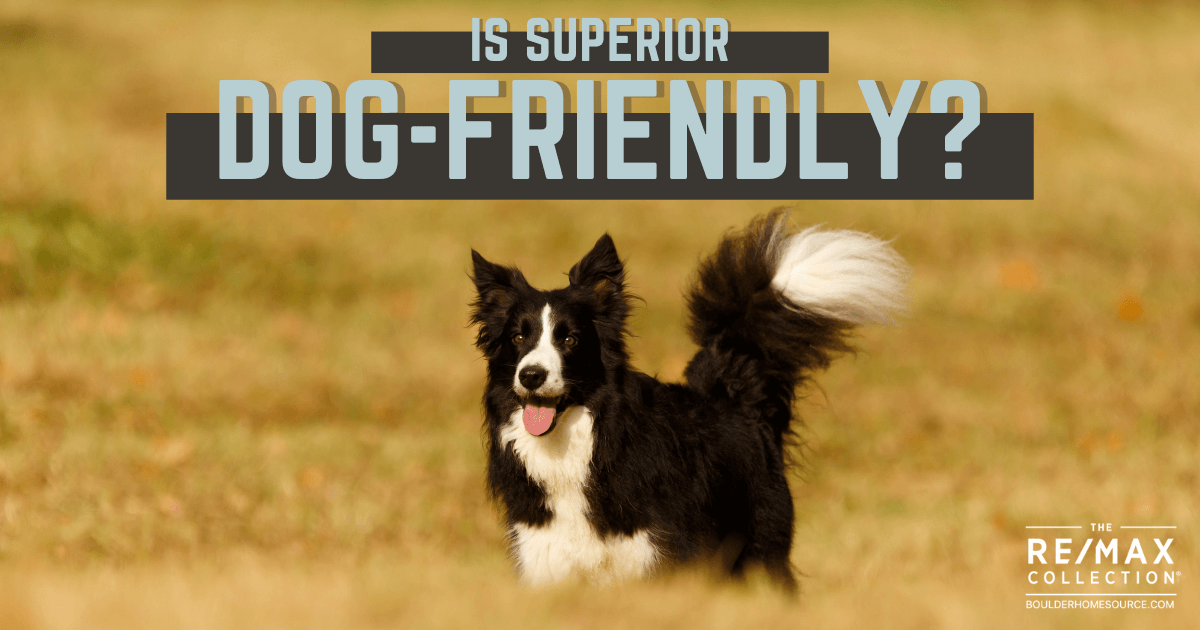 When deciding where to live, considering the needs of your four-legged friends is often just as important as other factors. The city of Superior, Colorado, stands out as an idyllic location, combining a sense of community with outdoor living — a perfect place for dog owners!
Beyond Superior's parks and pet-friendly neighborhoods, this area offers activities for you and your canine companion to enjoy together. From scenic hiking trails to shopping, here's what to know about the dog parks and dog-friendly activities in and around the city.
Best Neighborhood Dog Parks in & Around Superior
Superior, a suburb in Boulder County, Colorado, has a beautiful natural environment that makes it a wonderful place for dog owners. Several neighborhood dog parks in Superior provide pet owners with a fun place for their dogs to play and socialize.
Autrey Park Dog Park
Autrey Park Dog Park is a medium-sized dog park where pet owners can walk their dogs and let them play off-leash. There is free entry and free parking in this fenced park and some shady areas, including a covered shelter, to help keep dogs and their owners nice and cool. The park has bags and a water station where you can fill your dog's water bowl. There is some grass, dirt, and pea gravel, so it's not too hard on the dog's paws while playing.
All dogs must be spayed or neutered and vaccinated to enter any dog park in Superior. Nearby amenities include restrooms, walking paths, and a skate park.
Autrey Park Dog Park Additional Information
Address: 1830 Honey Creek Dr., Superior, CO 80027
Hours: Open daily from sunrise to sunset
Louisville Community Park Dog Park
This park in the city of Louisville, Colorado, is part of the Louisville Community Park and is dog-friendly, with lots of space to roam. All dogs must be vaccinated and spayed or neutered to enter any dog park in the area.
Due to the park's proximity to the Leon Wurl Wildlife Sanctuary around Harper Lake, dogs must remain on leash at all times to avoid spoiling this area. Additionally, dog owners must clean up and dispose of pet waste, and puppies under four months are prohibited.
Rules aside, the dog park portion is spacious and includes fantastic amenities, including its very own pond where dogs can dip or splash in the water. There's also a small sculpture walk for visitors to enjoy.
Louisville Community Park Dog Park Additional Information
Address: 955 Bella Vista Dr, Louisville, CO 80027
Hours: Open daily from 6 a.m. to 10 p.m.
Davidson Mesa Open Space Dog Off-Leash Area
The Davidson Mesa Open Space Dog Off-Leash Area is part of the Davidson Mesa Trail System. This grassy open area is available to dogs on a leash up to 10 feet long. All dogs must be vaccinated and spayed or neutered to enter any dog park in the area, and owners must pick up all pet waste.
This gated area has mountain views and resides near Harper Lake. There are no designed shade areas or water provided. Dogs may roam off-leash within the gated area, but they should remain on leash while enjoying the nearby walking trails. Parking is limited, so it's best to come early in the morning to guarantee a spot.
Davidson Mesa Open Space Dog Off-Leash Area Additional Information
Address: McCaslin Boulevard and Washington Avenue, Louisville, CO 80027
Hours: Open daily from 6 a.m. to 5 p.m.
Dog-Friendly Activities in & Around Superior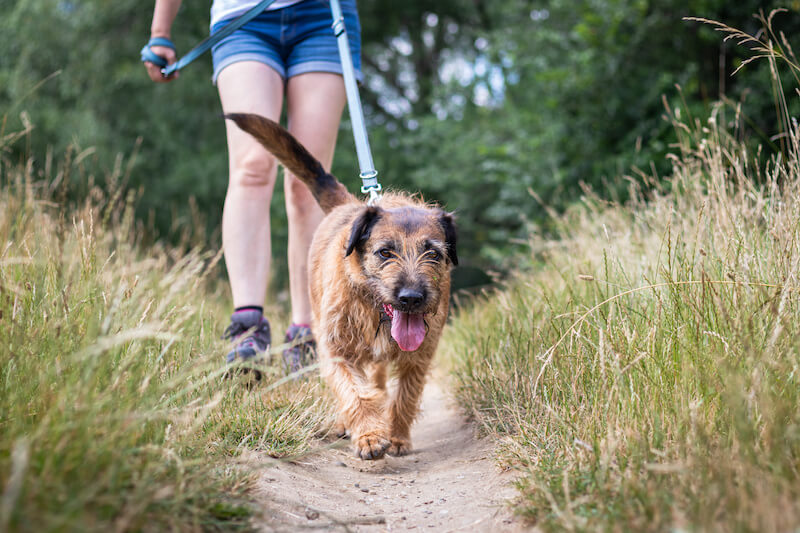 There are plenty of dog-friendly activities to enjoy with pets in Superior, Colorado.
The Frank Varra Park Loop is a popular 1.2-mile loop trail near the city of Broomfield and is considered an easy route that takes around 25 minutes to complete. This popular location sees athletes and dog owners alike. Some areas even allow dogs to be off-leash, making it a wonderful escape for pet owners and their pets.
For those who are more adventurous, Beaver Brook Trail is a strenuous, pet-friendly hiking trail on the south rim of Clear Creek Canyon in the city of Golden. This trail is a 10-mile, one-way hike with limited trail markers. Dogs must be on a leash, and you should bring snacks and plenty of water for your pet and yourself.
The Carolyn Holmberg Preserve connects with the Rock Creek Trail and has plenty of regional trails and trail connectors, open 24 hours a day. All trailheads close at sunset, and parking isn't allowed between sunset and sunrise. Each area within the preserve is dog-friendly, and all pet owners must follow local laws and regulations regarding spay/neuter, vaccinations, and leash laws.
Union Reservoir Dog Beach is in the city of Longmont, Colorado, and features a dog training area on the south side of the reservoir. Here, dogs may roam off-leash and can swim in specifically designated areas. All dogs must remain leashed in all other areas of the nearby park, but it's a great place to allow pets to enjoy a cool swim.
Dog-Friendly Restaurants in Superior
Superior is also known for its many dog-friendly restaurants, including:
Bambei Brewing, a popular brewpub with a pet-friendly patio, features plenty of tables, string lights at night, and a nice fire pit during the cooler months. Enjoy several in-house beers, salads, wings, burgers, and more. All well-behaved, leashed dogs are welcome here.
Old Chicago Pizza & Taproom resides on Superior Plaza. This fun pizza restaurant and taproom has pet-friendly tables outside, so you can bring pets as you eat and drink. Aside from pizza, the restaurant serves its Taproom Mac and Cheese and salads, sandwiches, burgers, and more.
Wayne's Smoke Shack in Superior serves up next-level barbecue, including brisket, pork ribs, sausage, and many others. Dogs can enjoy spending time at one of the 12 pet-friendly outdoor tables. The smell alone will have dogs and owners drooling.
Low Down Brewery in the city of Denver serves delicious local craft beer, pizza, sandwiches, and barbecue. The large outdoor patio welcomes dogs of all sizes, as long as they're on a leash.
Also in Denver is the Denver Beer Co., a dog-friendly brewery with a spacious outdoor area. Dogs can hang out on leash inside, and they're welcome to sample a "Dog Beerscuit" made from the spent grain after the brewing process, while owners can enjoy a selection of food and drinks, including specialty food trucks.
The Garden at Left Hand Brewery in Longmont features a large, dog-friendly outdoor beer garden. A custom bar made from a shipping container features six rotating taps and lots of cans. Guests can also bring blankets, lawn games, and chairs to relax with other pet owners or sit under the shaded tables.
Dog-Friendly Shopping in Superior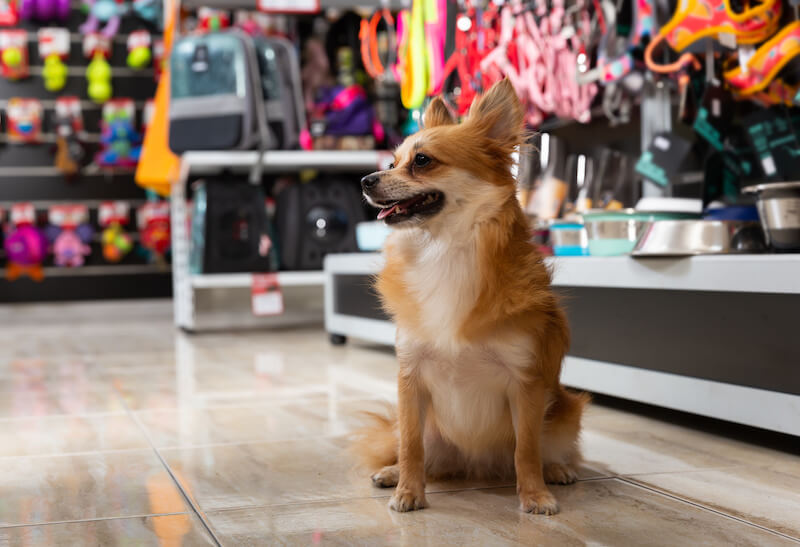 There are many dog-friendly stores in Superior where pets are welcome to join their owners as they shop.
In Longmont, Four Paws & Co. has specialized in premium natural dog food and treats since 2003. The retailer also sells frozen food, raw bones, and great products for cats, dogs, and other animals, including toys, grooming supplies, and much more.
Two Pals & a Pup is a boutique pet store in Denver offering some of the best organic, all-natural baked goods and pet products for animals and humans. Dogs on leash are welcome to come and shop.
Chuck & Don's in Longmont is another pet-friendly store offering various pet products for dogs, cats, and more. Pet owners praise the retailer for its friendly staff.
Independent dog bakery Doggy Style is in nearby Broomfield and provides pet owners access to a self-serve dog wash. This pet-friendly store carries freshly baked dog treats, made-to-order pet birthday cakes, premium cat and dog food, and much more. The staff is also happy to recommend food and other products and answer any questions.
PetSmart has several locations throughout Colorado, including Boulder, Denver, and more. It's the number one retailer of pet food and supplies. Some locations also include a Banfield Veterinary Clinic, and dogs on leashes are welcome to shop.
Pet-Friendly Lodging Around Superior
If you're planning to visit before moving to Superior, there are many pet-friendly lodging options to choose from while you stay.
Hotel Teatro in Denver allows two pets of any breed and size for no additional fee. Dogs and cats are permitted, and well-behaved pets may be left unattended. All dogs and cats get treats, a comfy bed, and a bowl at check-in. There's also a pet relief area on the property.
Hotel Monaco Denver is also pet-friendly and allows two pets of any size to stay without charge. There is also a nearby dog park where owners can take their pets for some exercise.
Boulder A-Lodge is popular with many local guests. Dogs may stay here, but cats are not allowed. This dog-friendly lodge offers unique amenities with plenty of outside areas for pet relief.
Staybridge Suites Denver Cherry Creek welcomes two pets of any size in designated rooms for just $10 per night per pet, with a max fee of $150. Access the Cherry Creek walking path with waste stations on the property.
Life in Superior, CO, With Your Dog Awaits
With various activities ranging from natural escapes to community shops and restaurants, there's never a dull moment for dog owners. Engaging in these activities enhances the quality of life for your furry friend and enriches your experience as a resident. If you're considering making Superior your new home, rest assured your canine companion will have just as much to look forward to as you will. From leash-free parks to outdoor dining options where dogs are welcome, Superior proves that a dog-friendly lifestyle is entirely within reach.