January 2017 Market Insights
Posted by Boulder Home Source on Tuesday, January 24, 2017 at 1:17 PM
By Boulder Home Source / January 24, 2017
Comment
JANUARY: MARKET INSIGHT, DEALS & EVENTS
---
Featured Listing: 8812 Lakeside Ct, Boulder
$2,500,000 | 5 Beds | 2 Full/3 Three-Qtr/1 Half Baths | 5,614 sqft
Listed by Thomas Precourt RE/MAX Alliance on Walnut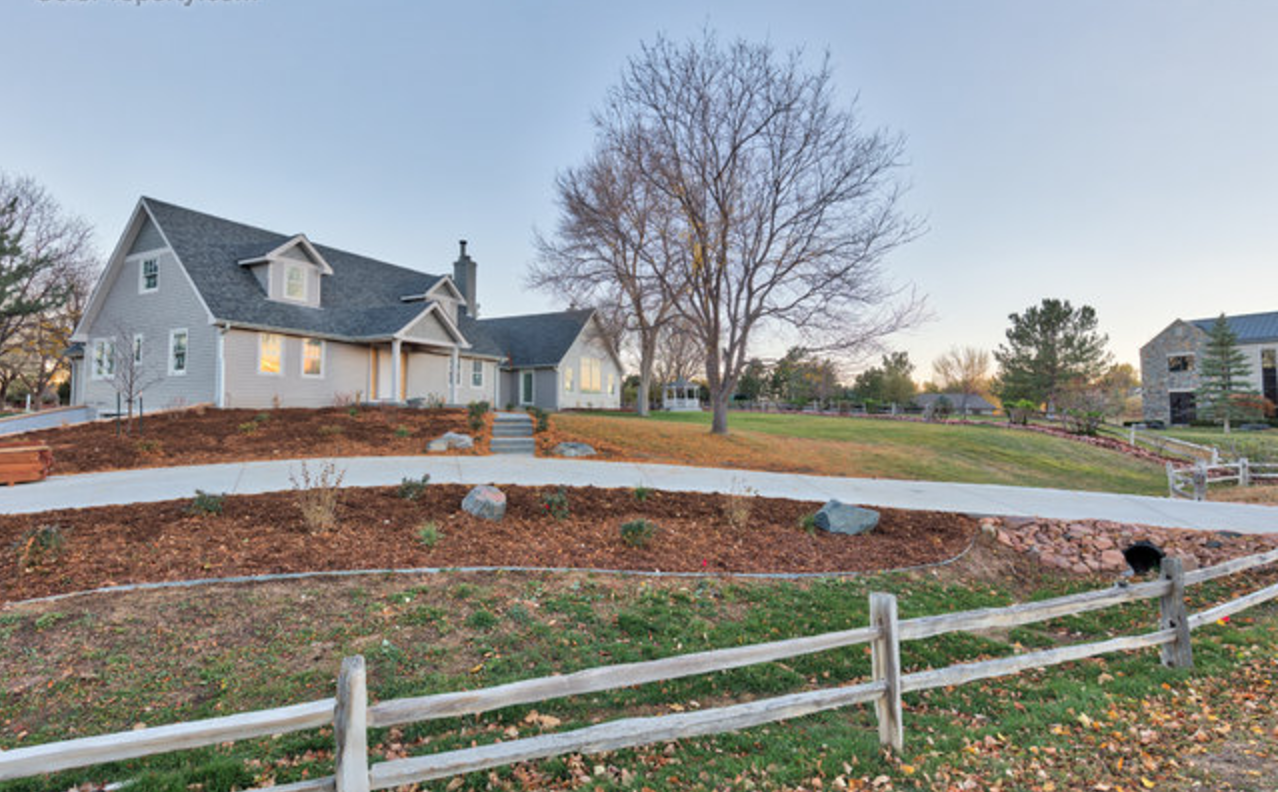 The "Modern Farm House" sits on a spectacular rural lot in East Boulder with incredible views of the Flatirons over the lake! Essentially new construction with tasteful modern/contemporary finishes from top to bottom. Gorgeous vaulted gourmet kitchen with large island, walk-in pantry and high-end appliances. Master suite with fireplace and a luxury bath with steam shower and soaking tub. Entertain on the large patio with outdoor kitchen and fire pit or in the gazebo! 2-car attached and 4-car detached garage/studio. Under Construction.
$650,000
4105 Riverside Ave, Boulder
3 beds, 2 Full baths, 1,730 sqft
Listed by Zachary Epps
RE/MAX Alliance
$759,900
2009 Coralbells Court, Longmont
4 beds, 2 Full/1 Half baths, 4,008 sqft
Listed by Stephen Noel
RE/MAX Alliance
$1,150,000
900 Sunny Way, Lafayette
5 beds, 3 Full/1 Half baths, 3,892 sqft
Listed by Jack Austin
RE/MAX Alliance on Walnut
$530,000
684 W Aspen Way, Louisville
3 beds, 1 Full/1 Three-Qtr baths, 1,858 sqft
Listed by Tonya Deiter
RE/MAX Alliance
$498,500
10130 Farmdale Street, Firestone
5 beds, 3 Full/1 Half baths, 4,144 sqft
Listed by Pat Kahler
RE/MAX Alliance
$799,000
14169 Whitney Cir, Broomfield
6 beds, 3 Full/1 Three-Qtr/1 Half baths, 5,329 sqft
Listed by Thomas Precourt
RE/MAX Alliance on Walnut
Search listings
here and please contact me with any questions. I'm never too busy for your referrals.
---
Market Insight Boulder County: Mountain Properties Heating Up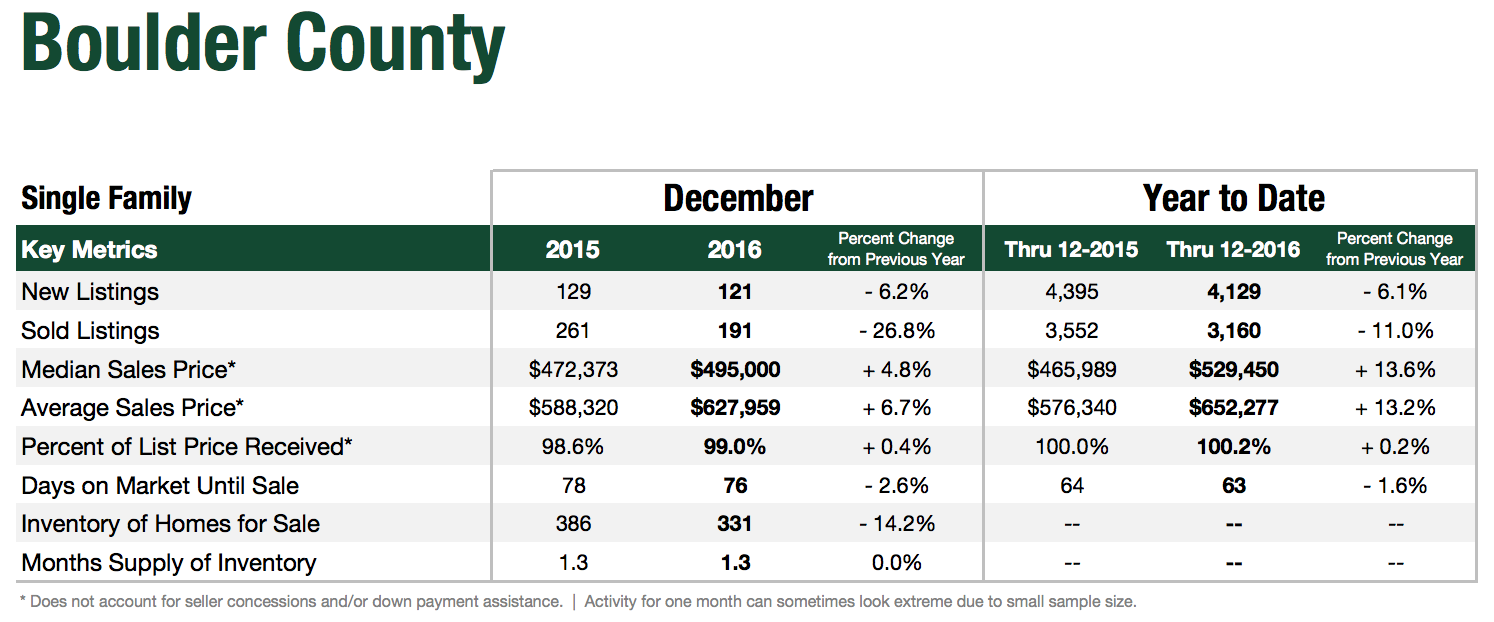 As the market heats up from what was already a pretty hot holiday season, Mountain Property is really coming alive according to recent statistics. This past year the median price has increased by 6% to $445,000 and the average price has increased by a robust 16.6% to $595,633. The nice thing is these numbers have shown strong increases, but are substantially more affordable per square foot than what we are seeing in the City of Boulder and as a result, present some nice opportunities for Buyers.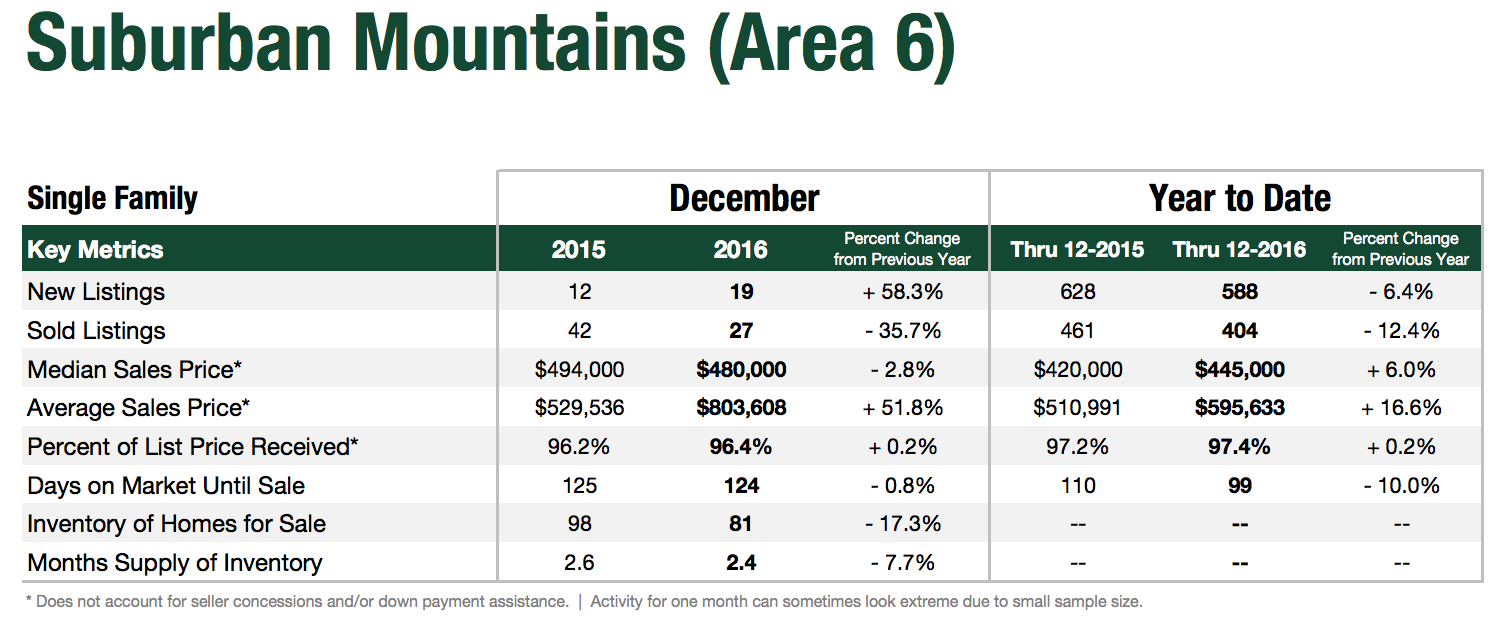 Days on Market has Decreased from 110 days to 99 days for Mountain Properties so we are experiencing a Seller Market, but it is less heated than what we are seeing in Longmont, Louisville, Lafayette, and Boulder, so Buyers have a little bit more to choose from if they are open to pushing into the foothills lifestyle. With sale price to list price ratio of 97.2% Buyers also have a little bit of wiggle room on price.
Expect mountain properties to mirror the growth in value seen in the plains. Properties close to cities will grow faster in value than those off the beaten track. Buyers should be aware if interest rates creep up as expected it will diminish their buying power further impacting their ability to invest in a home.
We expect home values to continue to grow in 2017, albeit at less of a breakneck speed than the last two of years. Couple that with rising interest rates and Buyers waiting to get into the market will likely face more obstacles regarding inventory and affordability, not less. Serious buyers should look west and east of the Front Range now for the most affordable options.
One thing is sure, 2017 is going to be an interesting year.
---
Becoming a Rental Property Owner: Do's and Don'ts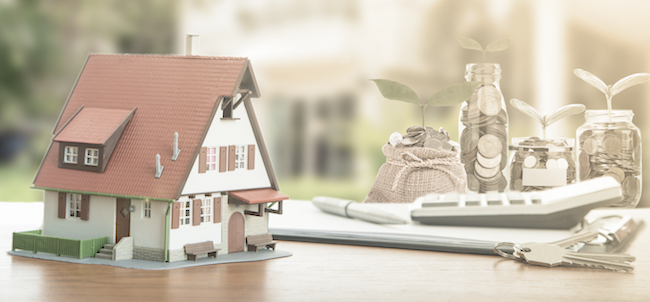 The idea of having a consistent cash flow coming in each month can be a tempting offer when considering buying a rental property. This venture comes with its ups and downs, and it is important to be aware of all aspects before diving in.
The Benefits of Owning a Rental Property - Do's
Do The Calculations! It is critical when looking into potential rental properties that you carefully calculate your current finances as well as those down the road. Be sure to take into account the necessary amount of start-up capital, including the cost to update or repair the property. No estimation will be perfect, but utilizing the most accurate current data will help. If you are in doubt or unclear on exactly how to calculate the finances of your property, don't hesitate to seek professional help.
Do Seek Professional Help! Finding the perfect rental property is critical to making a successful investment. Buying any property alone can be tricky, luckily real estate agents are here to help! Real estate agents have a wealth of knowledge as well as resources that are not available to the general public. The right real estate agent can help you find that hidden gem that will become your perfect rental property.
Do Regularly Maintain Your Property! Owning a rental property is not a quick one and done. As with any property, you will need to check up on your property to ensure all building and safety codes are up to date. To help remember, try setting up a schedule to periodically visit your property and do an inspection. Putting in the proper work and maintenance consistently can save you from costly expenses down the road.
Potential Downsides of Owning a Rental Property - Don'ts
Don't Forget You're a Landlord! Becoming a landlord is a responsibility you want to be prepared for. Every landlord handles their properties differently, but you can't forget it is first and foremost your responsibility. As a landlord, you may be faced with issues such as vacancy or bad tenants. These can be avoided with proper planning and careful screening of potential tenants. Legal contracts can also help you to steer clear of these downfalls.
Don't Expect Immediate Results! As with most investments, you may not see big and fast results like you would hope for. After calculating your ROI (return on investment) you may find that your breakeven won't be for a few years down the road. Don't let this scare you off, although it may take some time, your investment has the potential to create a big payday if you make smart decisions and stay patient!
---
Local Business Features: Colorado Multisport & Properties Plus, LLC

With 10 years under their belt, Colorado Multisport invites you to explore their expanded store and extensive cycling and triathlon inventory. They aim to fill all of your cycling and triathlon needs with expertise and kindness, not attitude. It is their privilege to serve the athletic community by carrying even more of your favorite products in-store, with fast special-order capabilities when you need it. Whether you are a novice taking your first step or a veteran, they will provide you with personalized one-on-one service.
Friends of RE/MAX Alliance who mention this ad receive $10 off any purchase of $50 or more. Offer expires February 15, 2017. 2480 Canyon Boulevard # M-2 Boulder | (303) 865-4604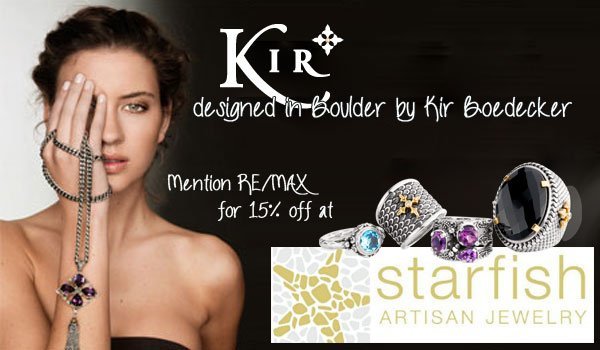 Stop by Boulder's Starfish jewelry store to shop that latest jewelry from the exclusive KIR collection. Sterling silver and 18 karat gold designs adorned with semi-precious stones and pearls are the backbones of the KIR collection. References to exotic cultures, detailed textures, unusual finishes and the finest craftsmanship combine to create a striking and versatile collection.
Friends of RE/MAX Alliance who mention this ad receive 15% off any purchase of $30 or more on KIR Collection pieces. Offer expires February 15, 2017. 1136 Pearl St, Boulder | (303) 443-24414
---
Pets of the Month: Casey & Jenny
| | |
| --- | --- |
| | |
| | |
| Casey is a female 9-year-old German Shepherd/Pointer, German Shorthaired who lived successfully with children and cats in her recent home and will benefit from a family that can be home with her often as she experiences some stress when her family is away. As Casey has matured, her tolerance for other dogs has diminished and at this time, Casey should be the only dog in her household. Casey has truly become a staff and volunteer favorite - she's just so easy to hang out with, is always happy to see you, and is appreciative of every toy she receives. Some lucky person is going to hit the jackpot with this special girl. | Hi, I'm Jenny, a 50lb female mix! Do you like to have fun? Well so do I! I'm a really sweet, outgoing, playful girl looking for a family of all ages to share my love with. I love to snuggle up and go for long walks. I came all the way from Texas to find my forever home, do you think it might be with you? Ask the desk about taking me out for a visit today! |
---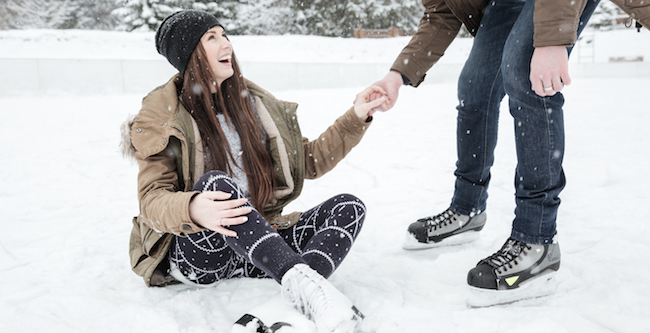 Utah Utes at Colorado Buffaloes Women's Basketball - Jan 25, 7 pm - Coors Events Center, Boulder
Come cheer on these incredible women as the face the Utah Utes here at CU Boulder's campus!
Denver Winter Brew Fest, Jan 27-28, 6-10pm, Mile High Station, Denver
Celebrating craft beverages from around Colorado and other U.S. craft brews. Featuring live music, food, and other vendors. Tickets $35-$55.
Free Community Skating Party at Evergreen Lake House - Jan 27, 3 - 8 pm - Evergreen
Evergreen Park & Recreation District (EPRD) and the Evergreen Chamber of Commerce invite the community to a free customer appreciation event. The event features free skating and skate rentals (rentals are limited -- bring skates if you have them). Visit the Chamber table and get a coupon for free hot chocolate! The concession stand will be open with snacks to purchase.
The Longmont Symphony Orchestra - Beginning Jan 28
Conductor David Handel and Violinist Geoffrey Herd will help kick off the Spring concert season with Reveries and Passions.
20th Annual Boulder Wedding Showcase, Jan 29, Rembrandt Yard Art Gallery & Event Center, Boulder
The 20th Annual Boulder Wedding Showcase is a boutique wedding expo held in two beautiful venues just steps away from each other in the heart of downtown Boulder- The modern Rembrandt Yard Art Gallery & Event Center, and the historic Boulder Theater. You will find the best local vendors in a relaxed atmosphere, giving you a unique opportunity to plan the wedding of your dreams stress-free!
Snowshoe Hike to Brainard Lake - Jan 28, 8:30 am - 4:30 pm - Brainard Lake, Ward
Hosted by the Boot Camp folks at Fitness For Living, join in for a fun-filled day of snowshoeing! The hike will end at a hidden backcountry cabin where participants will enjoy tea and hot cocoa. All adults of average fitness are welcome, no prior snowshoe experience required! Carpools are available from Boulder, make sure to register in advance.
Colorado Buffaloes vs. Oregon Ducks - Jan 28, 12:30 pm - Coors Events Center, Boulder
Come out to show your support of the Colorado Buffaloes Men's Basketball here in Boulder at Coors Events Center!
The Frog Prince - Jan 28, Feb 04, & Feb 11, 3-4 pm - Jesters Dinner Theatre, Longmont
Come watch and enjoy this adapted version of the classic fairy tale by the Brothers Grimm, performed by a youth cast! This production combines song, dance, and comedy. Admission is $7, purchase tickets online!
Broomfield Poms Showcase - Feb 3 - 4, 7 pm - Broomfield High School Auditorium, Broomfield
Come watch and enjoy Broomfield High School Varsity Pom Team's Annual Dance Show! The show will include their high-energy State and National routines that have placed them at various competitions! Tickets can be purchased through a Pom Team member or at the door.
The Bees Knees - Feb 4, 1 pm - Standley Lake Regional Park, Westminster
Have you always wanted to raise your very own honeybees and learn how to collect fresh honey? Find out all the benefits of raising honeybees from a professional beekeeper. Park entrance fee is required, but the class is free!
Iration with Protoje - Feb 6, 12:30 pm - Boulder Theatre, Boulder
Iration- Lost and Found Tour with Protoje! All ages are welcome to enjoy this alternative/reggae group of musicians. Iration's 2015 album "Hotting Up" includes the single "Reelin" which debuted at #1 on iTunes reggae singles chart.
Backcountry Film Festival - Feb 09, 7-9:30 pm - Backdoor Theatre, Nederland
Enjoy a night filled with films that capture the spirit of winter. This annual event is produced by Winter Wildlands Alliance to celebrate the backcountry snowsports community. Funds raised from screenings stay in the local community to support recreation and conservation efforts, winter education and avalanche safety programs, and to raise awareness of winter management issues.
Loveland Fire & Ice Festival, Feb 10-12, 5-10pm, Free
Don't miss the award-winning Valentine's Day event, right in the heart of the Sweetheart City. The Loveland Fire & Ice Festival celebrates the passion of Valentine's Day, turning downtown Loveland into a magical destination where fire, ice, entertainment and fun collide. The 2017 schedule will be packed full of live music, entertainment, and fun experiences! You don't want to miss a single performance, attraction or special event.
Cupcake Wars: Kill 'Em with Sweetness - Feb 15, 4-5 pm- Erie Community Library, Erie
Come compete to create the best decorated cupcakes! Each round will include a specific theme that judges will determine who wins. Admission is free!
Nature's Comeback: Bald Eagles - Feb 18, 9:30 am - Standley Lake Regional Park, Westminster
Take a guided nature tour through Standley Lake Regional Park to get an up-close look at bald eagles! Learn all about these amazing creatures! Park entrance fee is required, but the class is free.
Girls & Science - Denver Museum of Nature and Science - March 4, 9 am - 6 pm - Denver
Be inspired by women in science! Explore a variety of Science Clubhouses, where girls (and boys!) and their families will meet women scientists and experience the many diverse opportunities a future in science, technology, engineering, art, and math can bring. This day is all about igniting a passion for science — so try it on, test it out, and play!
Frozen Dead Guy Days - March 10-12 - Nederland
Known as one of the most unique and quirky festivals in the country, Frozen Dead Guy Days takes place in the Colorado mountain town of Nederland — three days of frosty hilarity featuring 30 live bands in heated tents and outrageous events like coffin races, costumed polar plunging, frozen t-shirt contests and much more. Celebrating its 16th year in 2017, Frozen Dead Guy Days continues to be a world-renowned spectacle. The home-grown frosty fest pays homage to Bredo Morstol, who is frozen in a state of suspended animation and housed in a Tuff Shed on dry ice high above Nederland. Thousands of adventurous, life enthusiasts come annually to participate in Colorado's "most frigidly fun festival" and view the events along with local, national and international media and entertainment.