Jasper - A Shelter Dog Story
Posted by Boulder Home Source on Tuesday, February 23, 2016 at 9:02 AM
By Boulder Home Source / February 23, 2016
1 Comment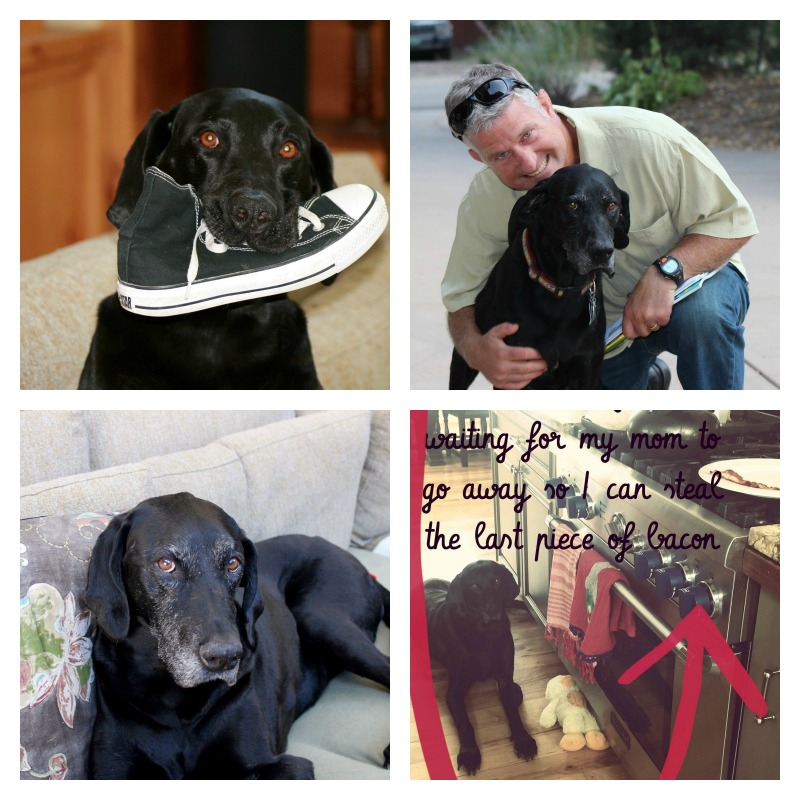 The Smith family recently lost our goofy and charismatic canine friend, Jasper. Thinking it might be weird having a wake for a dog (or perhaps a roast would be more suitable), I'd like to honor Jasper by sharing some of the crazy stories that make us laugh now…not so much then.
Jasper captured our hearts immediately when we saw him sitting in a kennel at the Humane Society Boulder Valley in July 2004. We had recently lost our black lab-mix, Romeo, and decided to "just go check out" dogs at the Humane Society. With big sad eyes looking up at us, beautiful silky ears hanging above his skinny and an odd looking 60 lb. body, Jasper knew that we were the ones for him. We should have known that a black lab/coonhound shelter dog (for months) would fill our lives with adventure and crazy mischievous ways. If that wasn't enough of a tip off, the two for one bargain offered when we also decided to take, Chloe, a 10 week old husky/shepherd mix, should have left no doubt that we were in for some nutty adventures. 
Jasper's first memorable antic was truly astonishing when he decided that the raw chicken breasts marinating on the counter would be a delightful snack. I went out back to light the grill and upon returning inside found Jasper STANDING, all four legs, on TOP of the counter with a raw chicken breast in his mouth. It was one of those moments when I was laughing too hard to be mad, and quite impressed. 
A couple of months later, on my birthday, we came home to find what looked liked a murder scene. Jasper had badly cut his paws on the metal edging in our yard. Ugh. Off we went on our first of many, many adventures to the vet. The very NEXT DAY Jasper, upset that he had been left alone once again, consumed all his meds including pain pills, anti-inflammatories, antibiotics, and anything else he could swipe off the counter including grapes, pumpkin seeds and chocolate chip cookies. This time the trip was to the ER vet (5:30 p.m. Friday night) included pumping his stomach. No one was laughing this time.  
Jasper was a professional counter surfer. Loaves of bread, sticks of butter, cookies, cheese, meat, chocolate bars, lunch bags, and oh so much more frequently disappeared from our countertops. Likely that's why his weight exploded to over 100 lb. at one point (again, he was 60 lb. when we adopted him). Even when his back legs were weak & failing him this past December, he woke us up at 1 a.m. attempting to get into the new ceramic dog cookie jar filled with dog treats that I mistakenly left on the counter. 
Jasper's many escaping adventures from our yard (over a 6' fence) or covert exits out the doors to nearby open space or Boulder Reservoir at our previous house added quite a few wrinkles to my already prematurely aging skin. Once while I was taking a quick nap on the couch in Steamboat, Jasper stealthily opened the screen door a mere ten feet away. He and Chloe both took an unsupervised jaunt. Four hours and many tears later they trotted safely back home. Another day a quick hour long hike turned into a highly stressful afternoon when both dogs thought chasing deer up Flagstaff Mountain was more fun and exciting than being with mom. That was the end to having both dogs off leash at the same time.   
Jasper had a talent for opening doors. He discovered he could pull our door levers down, open the door and go outside, no human assistance necessary!  How cool is that?! Several times he was found in the middle of the street lucky to still be alive. Jasper also enjoyed opening interior doors and often would help himself to his kibble, food containers in the recycling bin (another trip to the vet when he cut the inside of his mouth on a can), or a variety of yummy stuff in the walk-in pantry. He seemed to enjoy brownie mix the most because several times we found open packages of it in the backyard after he retrieved it from a high up shelf. It was his way of telling us he'd rather we never left him alone.  
When shoes, stuffed animals, or Callie's backpack went missing typically the backyard was the first place we'd look. Like Houdini, Jasper could haul/shove backpacks, purses, dog food bags, pillows, and other larger items through the 10"x16" dog door.  
Canine instinct took over a few times (sorry to say) when he had encounters with rabbits, squirrels, prairie dogs, and even Callie's Guinea pigs (they survived, yay!).  Some encounters did not turn out so well for him (karma?). Once, he was bit by a rattlesnake, another time  attacked by coyotes, and he also had several run-ins with raccoons. Each resulted in MORE visits to the vet for anti-venom, stitches, cones, etc. 
Jasper truly loved it when we had parties. If he wasn't helping guests clear their plates, (finished or not when they set it down), he would patiently sit and wait until they gave him a taste. And a couple of times we found him ON TOP of the grill cleaning it for us, thanks dude.  
These are just a few of the stories we can remember. That's why we still might need to have a wake or roast so we can invite family, friends, pet sitters and our awesome veterinarian  and staff over to share the crazy stories about Jasper. I'm sure there are many more incidents and special memories over the years that we've forgotten. 
Even though Jasper was a true survivor as these stories explain, all dogs do eventually go to heaven. He/we did our best to fight his mast cell disease and neurological issues.  Well, ok, he tolerated acupuncture and a couple of rounds of chemotherapy to give us hope. On January 9, 2016 Jasper decided that not feeling well sucked and that he had lived a very full life. Thanks Jasper for putting up such a great fight. 
We sure do miss Jasper's presence when hiking and taking walks, or just hanging out while cooking, working at the computer, doing yard work, or watching TV. Even though you stole our spot in bed, on the couch, in the car, and wouldn't budge, we still miss you big guy.   
---
Be the first to know when a new home is listed. Sign up for Listings Alert. 
With the 
www.boulderhomesource.com
 team, you'll have VIP access to listing details for Boulder real estate listings and the surrounding areas. You'll be able to save your searches, bookmark your favorite homes and set up listing alerts.

- Boulder Home Source: It's a Lifestyle!
---