List Price To Sales Price, What Should I Offer?
Posted by Boulder Home Source on Friday, February 22, 2019 at 7:26 AM
By Boulder Home Source / February 22, 2019
Comment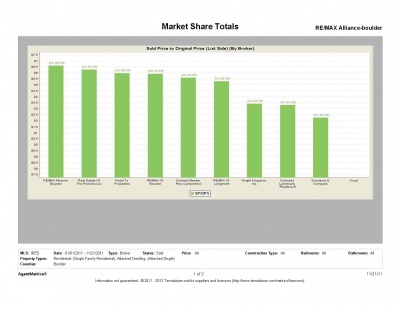 Almost everyone loves a good deal. When it comes to real estate, a property seller and the buyer both want to feel like winners. Few rules apply when deciding what a first offer should be on a home; a lot depends on the local market and practices in a specific locale. There are, however, some reasonable guidelines to help a buyer along the road to home ownership.
Buyer Interest in List Price vs Sale Price
As Buyers become more sophisticated, one question heard more often by real estate agents is, "what is the average List Price to Sales price for the market?" Buyers will then use this number to justify an offer on a property. It is not a bad idea to gain an overview of what is the average "built in" for negotiations in any given market. However, in the end it is going to be based on the given home and how well the Listing agent is able to communicate the value in the home to the other agent and their Buyer.
How Low Is Too Low?
Making an offer on a house is not like negotiating with a dealership for the price of a new car. It is a much more subjective process, and the bottom line can shift depending on seller needs and buyer preferences. It is prudent to consider local statistics as you consider what the initial offer should be. Days on market, price per square foot, the sold prices of comparable properties in the neighborhood, and the dollar estimate of needed repairs and improvements all play into the amount.
In addition, an initial offer will include contract terms: Closing date, loan approval, contingencies such as selling an existing home, and other special requests may have a positive or negative effect on the price itself. Always discuss your concerns and explore possibilities with a real estate professional in advance. Be prepared to act swiftly when you find a house that meets your specific wants and needs.
It's Not All About Money
The process of buying a house is an emotional experience every bit as much as a major financial transaction. Balancing budget and desire are the keys to a successful experience. Although it's vital to keep a dollar figure in mind during home-buying negotiations, it's also important to understand that family needs are at the heart of the process.
The desire to snap up a house at an under-market price should never override the need to find a property that meets specific criteria for individual satisfaction and future happiness. No matter how great the financial deal, if the home doesn't live up to expectations, it will not be suitable over the long term.
Seller's Markets and Buyer's Markets
The world of real estate is not a static one. Instead, it is often used as a classic illustration of supply and demand. Although some "old school" sellers tend to list a home higher than what they actually expect, today's trends are toward more realistic pricing, based on selling as quickly as possible at a price that is close to actual appraised value.
In hot markets, and when few properties are available, it is not uncommon for sellers to receive multiple offers in a single day. Under such conditions, homes might sell for over list price, and it is the specific contract terms that determine the winner. Keep in mind that financing preapproval and a quick close can be as important to a buyer as the actual price.
Seek Professional Advice
Buying a home might seem, in some ways, like a strategy game. In the end, however, it is more a collaboration between seller and buyer to find a solution -- and a price -- that makes both sides feel like winners. Realtors, both the listing broker and the buyer's agent, are important to ensure a favorable outcome. Always rely on professional expertise as you enter the home-buying or selling arena.