March Market Insight
Posted by Boulder Home Source on Wednesday, March 15, 2017 at 2:58 AM
By Boulder Home Source / March 15, 2017
Comment
MARCH: MARKET INSIGHT, DEALS & EVENTS
---
Featured Listing: 1003 9th St, Boulder, CO
$1,850,000 | 6 Beds, 4 Baths, 4,086 Sq Ft
Kim Payes, RE/MAX Alliance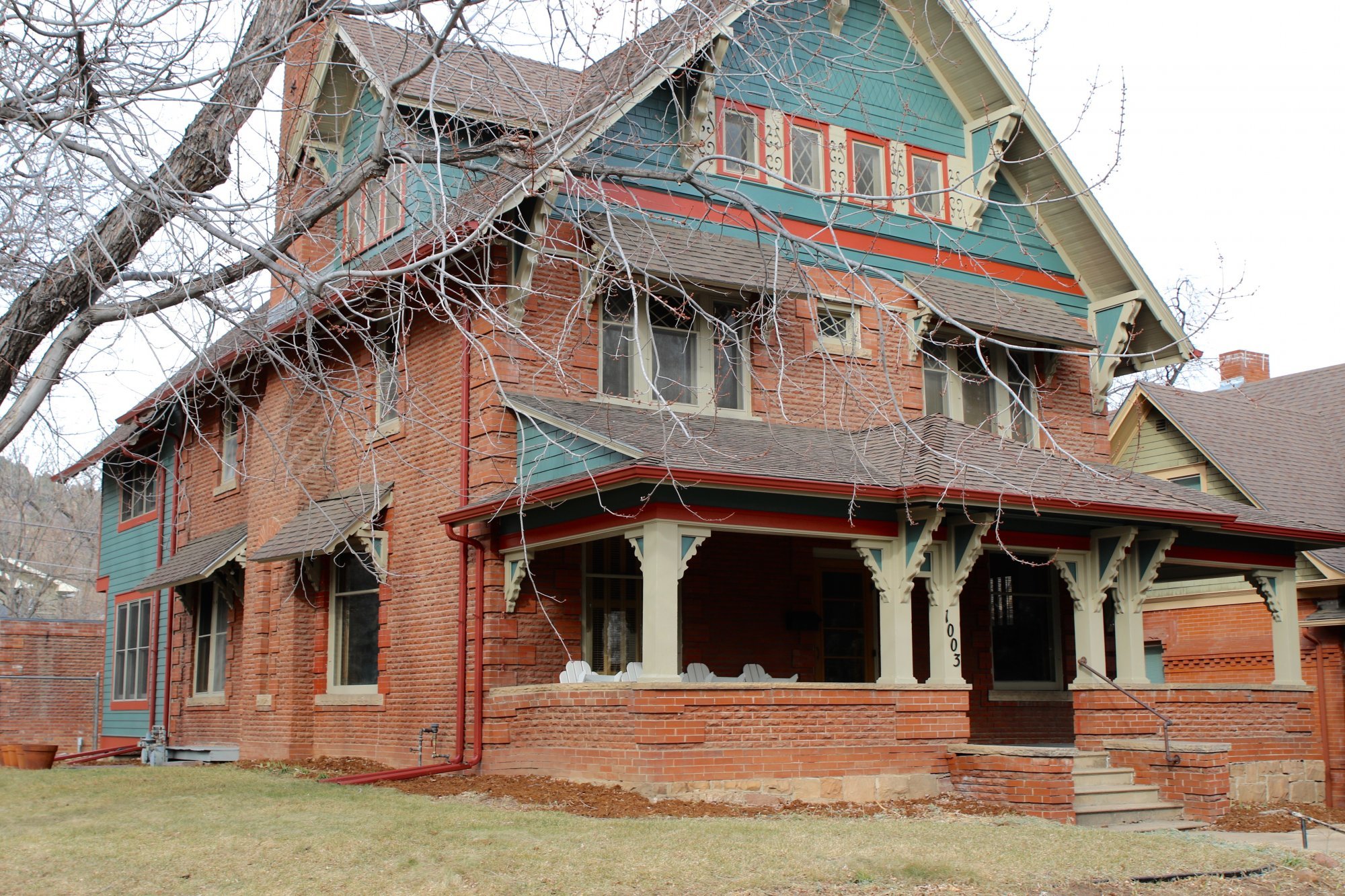 Large 3-story historic Craftsman home built circa 1899 by master craftsman BF Gregg features hand-chiseled red clay pressed bricks and fine woodwork. Located near Chautauqua Park. Original features include wood floors, stairs, fireplace and trim. Remodeled in 1999 to add spacious modern kitchen and large mstr bedroom suite with walk-in closet. Flatiron views from south facing windows and multiple balconies. Includes 700 Sq Ft garage, wine cellar, workshop, coffered ceilings, skylights and more.
$930,000
1460-1468 55th St, Boulder, CO
2 Units, 3 Beds, 2 Baths & 2 Beds (Income Prop)
Listed by Lorrie Trussell
RE/MAX Alliance
$1,699,000
8849 Portico Lane, Longmont
5 Beds, 4 Full/1 Three-Qtr/2 Half Baths, 7,042 Sq Ft
Listed by Steven Noel
RE/MAX Alliance
$476,000
5239 Pierre St, Boulder, CO
Lot Size 4,170 Sq Ft
Listed by Kim Payes
RE/MAX Alliance
$1,099,999
2381 County Road 68j, Nederland
3 Beds, 3 Baths, 2,834 Sq Ft
Listed by Candace Newlove-Marrs
RE/MAX Alliance
Search listings
here and please contact me with any questions. I'm never too busy for your referrals.
---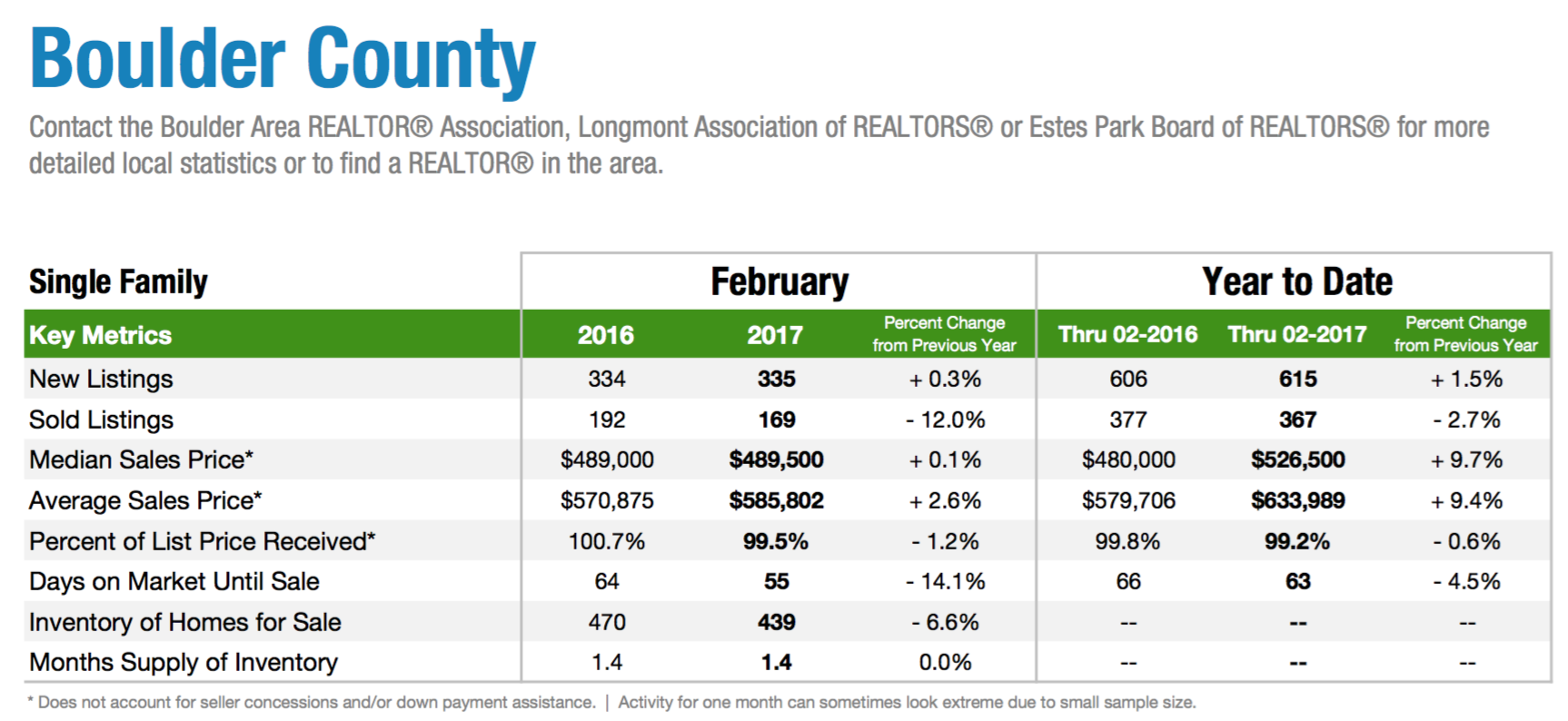 Mother Nature decided to have spring-like weather for us early this year and the Real Estate market decided to follow her lead with an extremely strong January.

February proved to be another strong real estate market in Boulder County but we are beginning to see some leveling.
New listings in 2017 were consistent with what we saw in 2016 with 335 new listings. We did see a fall in Sold listings of 12% even though inventory is slightly up this year. Even with this drop we still only have 1.4 months of inventory, which still indicates a strong Seller's market.

As is common when a market begins to plateau we are seeing Buyers being slightly more price sensitive, which is indicative of average sales price for this year only increasing 2.6% as compared to last year. This number is more in line with what we experience in a balanced market. We saw a strong decrease in Days on Market from 64 days to 55 days, which when we look closer we see that homes that are priced well are going under contract quickly.
The Percent of List Price Received 1.2% drop to 99.5% gives insight into the shifting mindset of Buyers. This is still a very strong number but does indicate a slowing in homes selling for over asking price.
Overall, inventory is down 6.6% when compared to last year and this low starting base of inventory will continue to keep the market strong through 2017. Our real estate market is similar to drought area. Our reservoir of homes is extremely low and even though new listings were up for January and February, it will take several years of inventory strength to get us back in balance.
Overall 2017 looks to be another great year in Real Estate, but it takes expertise to truly understand the numbers, so if you are ready to buy or sell or just curious give me a call. I am here to help.
---
The Best Time to Sell Your Home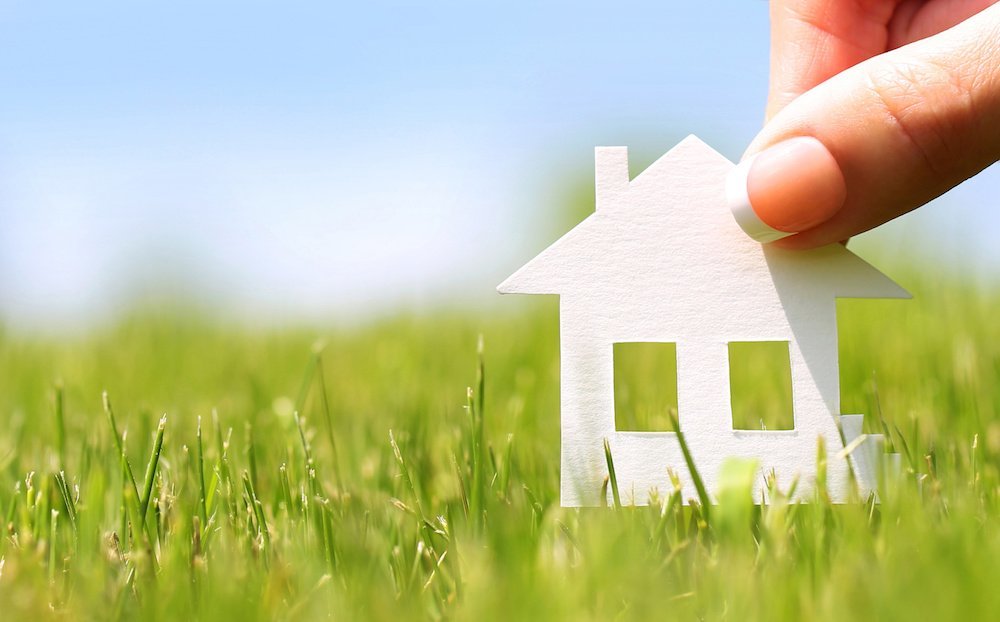 The most common question I'm asked is, "When is the best time to sell my home?" Here is your answer, spring! Anytime from late February through mid-May is the best time to list your home. Here is why:
Peak Season
The peak of real estate season is usually early summer in Colorado. Many families wait until the end of the school year before listing their home. In late May and early June, there is an influx of homes for sale.
Competition
More inventory is good for buyers, but sellers looking to maximize the value of their home are better served when they beat the competition to the market. Right after the winter holidays, serious Buyers start looking at homes for sale online. By February they have a good idea of their price range and desired area.
Get the Best Price for Your Home
Low inventory heightens competition for the available homes on the market. The greatest increase in home values occurs during the early part of the year. Selling in spring allows Sellers to take advantage of increased home values before inventory spikes. Sellers can expect more serious offers and quicker sales just before peak season. This is the time Sellers often see multiple offers, bidding wars, and homes that sell over asking price.
Sell on Your Terms
When competition is fierce, Sellers drive the terms of the deal. If you want to rent back the home to avoid a double move, need a quick close, or are looking to sell "as is", spring gives you the best chance to call those shots. Once peak season hits and inventory increases, Buyers may decide a different home offers better terms, thus placing your deal at risk.
Selling Fast and High
During peak season there is significantly more housing inventory, which may drive prices downward for Sellers. Furthermore, when there is a large inventory available, buyers may have less of a sense of urgency as they wait for the perfect house to come along.
Ancillary Services
An additional benefit to both homebuyers and sellers during these off-peak seasons is more readily available ancillary services. These services such as mortgage lenders, home inspectors, title and settlement companies, and attorneys may be more available. Not only does this benefit your time, but you also have more choices of professionals.
How to Avoid the Peak Season
Start preparing as soon as possible! In order to sell your home before we reach the peak months, contact an agent now so they can start the process right away. This gives them time to stage your home, schedule professional photos, and it gives you time to get pre-approved for a loan for your new home.
Don't feel you can only buy or sell during popular real estate months, if you have the luxury of choosing, just before peak season may be the right time for you!
---
Local Business Features: Colorado Athletic Club - Flatirons & Precision Carpet Cleaning and Janitorial

Did you know that RE/MAX Alliance and Colorado Athletic Club partner to offer discounts at Colorado's premier workout facility? With the recent renovation Flatirons now offers hot yoga, year-round swimming pools and tennis, new locker rooms, and childcare! We are excited to have begun registration for summer memberships and summer camps!
Mention you are a friend of RE/MAX Alliance and receive 15% off Children's Camps if you register before April 1, 2017, or to receive a discounted rate, enrollment, and two personal coaching sessions. Please contact Alison Thomas at [email protected] to set up a time to stop in or discuss options. 505 Thunderbird Drive, Boulder, CO, 80303 | 303.499.6590

Nothing says spring like freshly cleaned carpets. Precision Carpet Cleaning and Janitorial is a family-owned business based in Boulder, Colorado since 1990. They provide a variety of professional cleaning services, from carpets to oriental rugs and upholstery, to tile and grout, to hardwood floors, serving the northern Front Range.
Friends of RE/MAX Alliance who mention this ad will receive a 10% discount on the following services: carpet cleaning, upholstery cleaning, tile and grout cleaning, and wood floor cleaning when you spend $150 or more of their services. Offer expires April 30, 2017. Call 303.440.9772 to schedule today.
---
Pets of the Month: Toby & Blossom
| | |
| --- | --- |
| | |
| | |
| Handsome Toby, a two-year-old Pointer, German Wirehaired/Mix, is such a sweetheart! Toby is an active fellow who will benefit from abundant exercise and positive reinforcement training. Toby enjoys taking himself on adventures and will require some management to keep him at home; he comes with complimentary support from our Training and Behavior Center to help curb his wanderlust. Toby shared his previous home with young children with great success, and he enjoys playing with other dogs. | Hi, my name is Blossom and I'm a two-year-old mix! I am a sweet girl looking for my forever home with a family with high school aged children or older! I enjoy meeting new people. I love to go for walks and would be happy to go exploring with a new best friend. I love to play and being petted! |
---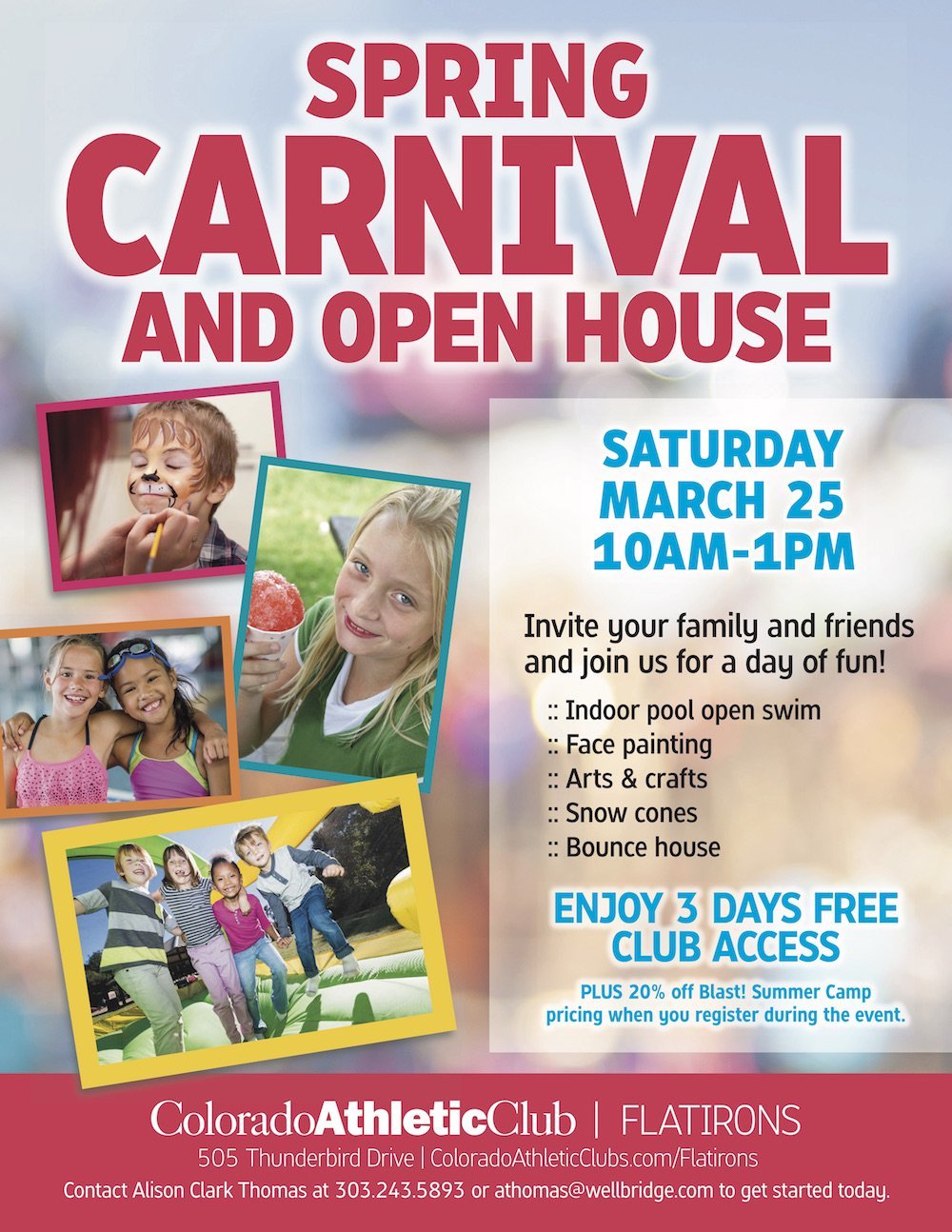 Friends of the Longmont Library Book Sale, March 16 - 19, Longmont Public Library
Donated books will be sold to raise funds for the Longmont Public Library.
Cultural Cul-de-sac: Coffee with Muslims, March 23, 5 - 8 pm, Boulder Museum of Contemporary Art
Coffee with Muslims is a casual get together with your Muslim neighbors. The event allows for conversation, but also provides an opportunity to ask uncomfortable and meaningful questions in a civilized manner. The main focus is to get to know one's neighbors on either side of the spectrum.
Denver March Powwow March 24-26, 10 am, Denver Coliseum
Since 1984, the heritage of American Indians has been celebrated in Denver every year at the Denver March Powwow, one of the largest events of its kind in the country. The Powwow features more than 1,600 dancers from close to 100 tribes from 38 states and three Canadian provinces. The three-day event in the Denver Coliseum is packed with singing, dancing, storytelling, food, art and more, ensuring a wonderful experience for everyone.
Interweave Yarn Fest, March 30 - April 2, 10 am - 6 pm, $5, Embassy Suites Loveland
Immerse yourself in the world of specialty fiber and expand your technical abilities at Interweave Yarn Fest—a celebration of the fiber arts. Enjoy a bustling marketplace, dozens of expert-taught workshops, and the company of other yarn enthusiasts! The Marketplace will be stocked with knitting, weaving, crochet and spinning supplies dozens of vendors.
Boulder Arts Week, March 31 - April 8
Boulder Arts Week is Boulder's only large-scale, inclusive celebration of our community's vibrant arts and cultural offerings. This citywide event highlights Boulder's distinguished arts and cultural programming and includes art walks, First Friday, exhibitions, performances, dance, music, theatre, artist demonstrations, lectures, readings, workshops, and symposia.
Boulder County Farmer's Market Opening Day, April 1, Boulder - 13th Street & Longmont, Boulder County Fairgrounds
We are a nonprofit organization operating producer-only farmers markets in Colorado since 1987. Our mission is to support, promote and expand local agriculture, making fresh products accessible to our community and strengthening relationships between local food producers and food consumers.
Colorado National Speedway Season Opener, April 1, 5:30 pm, Dacono
On April 1st the green flag drops on the 52nd season at Colorado National Speedway. Along with the Super Late Models the Grand American Modifieds, Super Stocks, and the Figure 8s will thrill the fans and launch a brand new year at CNS.
Tulip Fairy & Elf Festival, April 2, 1 - 5 pm, Boulder
Spring officially arrives in Downtown Boulder when the vibrant Tulip Fairy, along with pint-sized fairies and elves, parade around the Pearl Street Mall 'welcoming the tulips'.
Taste of Vail, April 5 - 8, Vail
Rated among the top food and wine festivals by Forbes, Travel Channel and USA Today, Taste of Vail is held at several different venues throughout North America's most popular mountain resort. In addition to the seminars offered during the 26th Annual Taste of Vail, the event will include, the Debut of 2016 Rosé, the American Lamb Cook-off and Après Ski Tasting, the Mountain Top Tasting and the Grand Tasting.
Colorado Avalanche Last Regular Home Game of Season, April 6
Enjoy Colorado Avalanche's last home game versus Minnesota at Denver's Pepsi Center
Colorado Rockies Opening Day, April 7, 2:10 pm, Denver
The Colorado Rockies will open the 2017 season on the road against the Milwaukee Brewers but the first at home game will be against the LA Dodgers.
5th Annual Moovers and Shakers Cocktail Competition, April 20, 5:30 pm, The Dairy Center For The Arts, Boulder
Features local mixologists who will compete to make a new cocktail featuring Colorado-based Leopold's American Small Batch Gin! Guests will receive a souvenir glass, sample six delicious cocktails, enjoy small paired bites, and vote for their favorite new drink! Cash prizes and bragging rights are at stake!
Earth Day & Youth of the Earth Celebration, April 22, 12 - 5 pm, Free, Longmont Museum
Celebrate Mother Earth at this event featuring hands-on activities for kids, music and live performances, films, and talks highlighting sustainability and environmental issues. This event is in partnership with Sustainable Resilient Longmont. Local food and beverages.
Taste of Pearl, April 23, 2 - 6 pm, Boulder
From the heart of America's Foodiest Town: An unforgettable afternoon exploring Boulder's tantalizing culinary arts scene and celebrating Colorado's distinctive wines while strolling through some of Downtown Boulder's most vibrant galleries and retail stores. Tickets go on sale March 1.
Rocky Mountain Steam Fest, April 29 - 30, Boulder County Fairgrounds
In the Rocky Mountains, we are celebrating all things creative, imaginative, exploratory at a festival extraordinaire… It's Science, Technology, Entrepreneurship (invention!), Arts and Making. STEAM Fest is an awe-filled, jaw-dropping chance to tinker, hack, build, crumble, fly, drive, drink, DO, dabble — PLAY!)
Star Wars at the Hangar, April 30 at 12 pm - 5 pm, Wings Over the Rockies Air & Space Museum
Mark your calendar for a Star Wars™ event unlike any other as Rebels and Imperials alike descend on Wings Over the Rockies Air & Space Museum for a day of family-friendly activities. Enjoy Star Wars-specific games like Blast-A-Trooper and Green Screen Adventures, meet BB-8, R2D2 and a whole host of your movie favorites as you unleash your inner Jedi. Tickets on sale now.
Denver Bacon and Beer Classic, May 13, Sports Authority Field at Mile High
The Bacon & Beer Classic is one of the fastest growing food & beverage festivals hosted in iconic sports stadiums across the country. This all-inclusive event features 50+ bacon dishes from local restaurants, 100+ craft beers from local and regional breweries, games, music and more.
Jethro Tull by Ian Anderson with the Colorado Symphony, May 26, Red Rocks Amphitheatre
This tour will find the group performing "a collection of best-known Jethro Tull classics with a few rarely played pieces." Led by Anderson's signature flute, Jethro Tull has amassed one of the most impressive catalogs in the prog rock canon, including the back-to-back masterpieces of Aqualung and Thick as a Brick.
BolderBoulder, May 29, Boulder
Register now for the BolderBOULDER which has grown to become one of the largest and most highly acclaimed 10K's in the world. Almost 1.2 million runners, joggers, walkers and spectators of all ages gather with Olympic medal winners and hopefuls, grandmothers and kids from all over the world.
---
Be the first to know when a new home is listed. Sign up for Listings Alert. With the www.boulderhomesource.com team, you'll have VIP access to listing details for Boulder real estate listings and the surrounding areas. You'll be able to save your searches, bookmark your favorite homes and set up listing alerts.
- Boulder Home Source: It's a Lifestyle!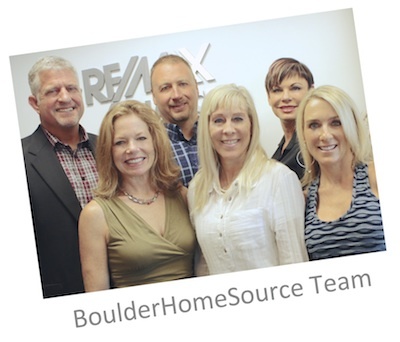 ---