Affordable Towns Near Boulder CO: Get More, Pay Less in Cities Near Boulder
Posted by Greg Smith on Tuesday, March 15, 2022 at 7:45 AM
By Greg Smith / March 15, 2022
Comment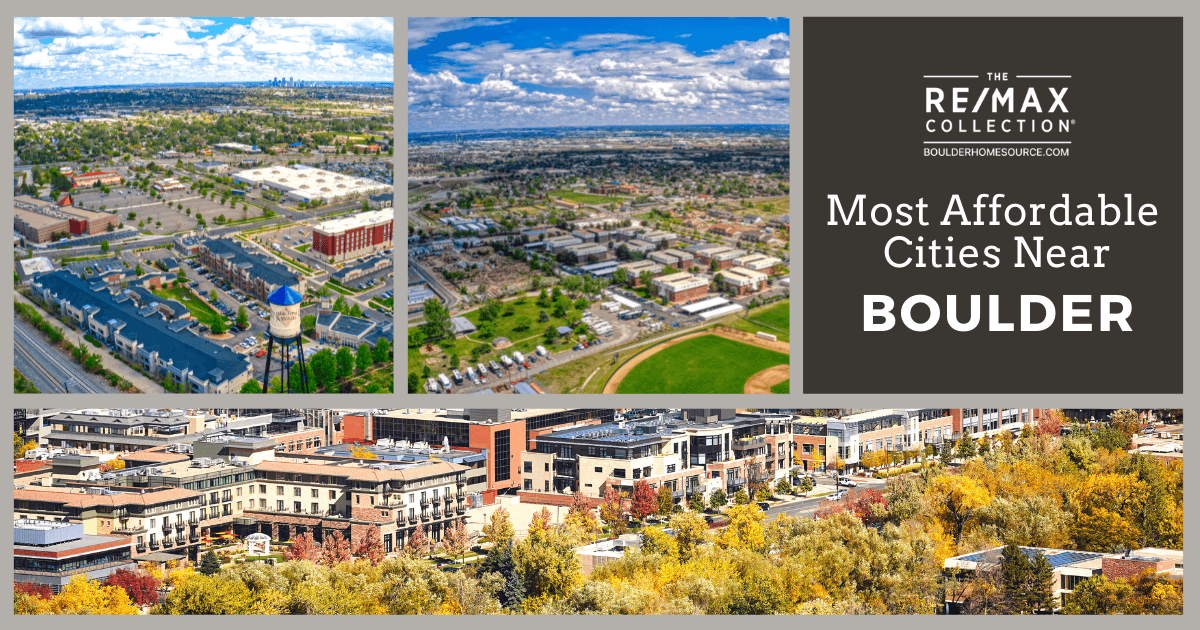 For many years, Colorado has had some of the most in-demand real estate in the nation. In fact, it's considered one of the Top 10 Best States to Live In, with the city of Boulder being among Colorado's most popular communities. With its idyllic streets, microbreweries, and rugged mountain trails, Boulder is a beautiful city that strikes a balance between urban and outdoor living, making it one of the most desirable cities in Colorado.
This desirability, of course, comes at a price. With the median home price in Boulder being close to $1.3 million, Boulder is one of the most expensive real estate markets in Colorado. Fortunately, there are many surrounding cities with more affordable real estate. Keep reading to discover the most affordable cities near Boulder, Colorado, so you can enjoy the benefits of this premier location without the higher price tag.
Table of Contents
Frederick
Frederick Amenities
Bulrush Wetland Park
Miners Memorial Museum
Bella Rosa Golf Course
Frederick Recreation Area
Peel Handcrafted Pizza
Butcher and the Blonde
Sterling Coffee Company
Frederick is a statutory town 30 minutes east of Boulder in Weld County. With a population of over 14,500 residents, Frederick is one of the fastest-growing towns in Colorado, with a population increase of 67.5% since 2010. Today, Frederick is a dynamic community close to Boulder and the city of Denver, but its home prices are far more affordable: homes in Frederick can sometimes list for as low as the mid-$200s for three-bedroom homes, and the median listing price is only a little over $500,000.
Like many small towns in Colorado, Frederick is a naturally beautiful town with an array of shops, restaurants, green spaces, and microbreweries. Some of the town's most popular microbreweries are Mountain Cowboy Brewing Company and Mirror Image Brewing. In addition to its bevy of microbrews, Frederick also has many parks and green spaces. One of the area's most popular parks is Centennial Park, located in Downtown Frederick. For prospective residents, Frederick offers a variety of housing options, from townhouses to single-family homes. Residents also have the option to buy lots to build their dream home.
Dacono
Dacono Amenities
Clem Dufour Park
Dacono Baseball Park
Casa Cortes Family Mexican
Centennial Field
E.L.F. Grille
Ziggi's Coffee
David H. Osbourne Park
Located just south of Frederick, Dacono is a small town located in southwestern Weld County. With a population of under 6,300 residents, Dacono has experienced significant growth, with a population increase of 51.6% in the last decade. Fun fact about this town—Dacono is an amalgamation of the names Daisy Baum, Cora Van Vorhies, and Nora Brooks, giving the town its unique name. Like many Colorado towns, Dacono was a coal mining town in the early 20th century and has become a commuter town in recent years.
Similar to Boulder, but on a smaller and more affordable scale, this is a beautiful mountain town. Two-bedroom homes in Dacono typically list in the $200s—compare that to the usual listing price for a similar home in Boulder, where, outside of condo communities, the asking price of a two-bedroom home can rise to over $1 million.
Dacono has several nearby universities, including Colorado School of Mines and Colorado State University. Dacono is also home to a number of delicious restaurants. Some of the cuisine options include Mexican, American, barbecues, pizzerias, and bakeries. Dacono also has easy access to I-25 and Highway 52, allowing for faster commutes to Boulder and Denver. Dacono offers a range of choices for prospective homebuyers, from mobile homes to single-family homes. Dacono also has many vacant lots where residents can build their dream homes.
Lafayette
Lafayette Amenities
WOW! Children's Museum
Rock Creek Curling
Waneka Lake Park
Lafayette Public Library
Good Samaritan Medical Center
Acreage by Stem Ciders
Situated just off of Highway 287, Lafayette is a small town located in southeastern Boulder County. With a population of over 24,000 residents, Lafeyette is situated 25 miles northwest of Downtown Denver, at the foothills of the Rocky Mountains. Founded in 1888, Lafeyette has a deep, rich history rooted in coal mining and finance. Today, Lafayette is a beautiful town with numerous green spaces and restaurants.
Lafayette offers a variety of housing options for newcomers ranging from charming townhouses to traditional single-family homes. For many, Lafayette is an affordable alternative to more expensive Colorado cities. Real estate in Lafayette usually ranges from single-family homes in the low $300s to over $2 million for Lafayette luxury homes.
At an elevation of 5,200 feet, Lafayette has an array of boutique shops, restaurants, and nature trails. Lafayette is also home to a microbrewery, Liquid Mechanics Brewing Co. The town has also set aside a number of green belts, bike paths, and open land to preserve the town's natural atmosphere.
Westminster
Westminster Amenities
Pho on 74th
Wolff Run Park
Hidden Lake Park
Dae Gee Korean Barbeque
Westminster Square
Westminster Station Nature Play Park
Straddling the line between Adams County and Jefferson County, Westminster is part of the Denver-Aurora-Lakewood Metropolitan area. With a population of over 116,000 residents, Westminster is the eighth-most populated town in Colorado, with around 71,000 residents living in Adams County and 45,000 residents living in Jefferson County.
Westminster is located just nine miles north of Denver, making it an ideal town for commuters. When gold was discovered in the area in 1858, prospectors began settling the area within the next decade. The town would eventually be incorporated in 1911, where it would be known as the Town of Westminster. Today, Westminster is a highly desirable area for Colorado residents and has twice been ranked among the best 50 small towns in the U.S. by Money Magazine.
The town features a 14-story bell tower located in Westminster's downtown, next to City Hall. The city also features many shops, restaurants, parks, and bike paths. Homes in Westminster generally list between the low $200s and $1.5 million, though some luxury homes in Westminster reach home values of $3 million-plus, and there are a variety of housing options available, including condos, townhomes, and new construction homes.
Thornton
Thornton Amenities
Thornton City Pool
North Suburban Medical Center
The Owl's Den at Pelican Ponds Disc Golf Course
The Point Bar & Grill Sports Bar
Located between I-25 and the South Platte River, Thornton is 20 minutes north of Downtown Denver. With a population of over 142,000 residents, Thornton is the sixth most populated town in Colorado and is part of the Denver-Aurora-Lakewood Metropolitan area. Because of its size and proximity to Downtown Denver, Thornton is an incredibly popular area for Denver and Boulder commuters.
Thornton is one of the newer cities in Colorado; the local area was only farmland until 1953 when Sam Hoffman purchased land off of Washington Street and created the first planned community in Adams County, which would eventually become the City of Thornton. Because of its newness, much of the housing in Thornton is made up of new construction homes.
Known for its green spaces, Thornton has 81 city parks and nearly 2,000 acres of parks and green space. The city is desirable among commuters because of its easy access to major highways and freeways, and it's only a short drive to the Denver International Airport. Thornton offers a variety of housing options, from condo communities to traditional single-family homes. Homebuyers can often find three-bedroom condos in Thornton for less than $200,000, and single-family homes typically start in the low $300s.
Broomfield
Broomfield Amenities
Broomfield Community Park
Easy Access to Hwy 287 & Hwy 36
100 Nickel - Live Music, Bowling, Arcade
Highland Park South
Sitting at the confluence of three major roads, Broomfield is located just 17 minutes from Boulder. With a population of over 74,000 residents, Broomfield is the sixth most populated municipality in Colorado and is a combined city and county. Home to several railroads, one of Broomfield's many attractions is the historic Colorado Central Railroad. Because this city is located about halfway between Boulder and Denver, Broomfield is incredibly popular for local commuters to both cities. Not only does Broomfield have easy access to some of Colorado's major roads, but it's also home to many restaurants, retailers, and green spaces.
While homes in Broomfield typically list a bit higher than some other cities on this list, they're nowhere near the prices homebuyers would find in the major neighboring markets. Home prices in Broomfield generally range from condos in the low $300s to luxury homes worth over $1 million, with single-family homes typically starting around the low $500s.
Firestone
Firestone Amenities
Saddleback Golf Course
St. Vrain State Park
Maya Grille & Cantina
High Plains Library District - Carbon Valley Regional Library
A Cake Come True
Located north of Frederick, Firestone is a short 30-minute drive from Boulder in Weld County. With a population of over 16,000 residents, Firestone is one of the fastest-growing small towns in Colorado, with a 61.44% population increase since 2010. Along with its charming downtown, Firestone is known for its natural beauty and its numerous green spaces. Firestone has more than 35 parks and has over 12 miles of scenic trails.
Homebuyers will find plenty of new construction homes in Firestone, but those on the hunt for the most affordable housing are also in luck. Single-family homes in Firestone typically start below $400,000, and even the luxury real estate options usually stay below $1 million.
Arvada
Arvada Amenities
Cussler Museum
Majestic View Nature Center
Yeti's Sweets and Arcade
Silver Vines Winery
Arvada Plaza Area
Long Lake Regional Park
Like Thornton, Arvada is just 20 minutes from Downtown Denver, and like Westminster, it's situated between Adams and Jefferson counties. About 124,000 residents call Arvada home, making it the seventh most populated town in Colorado. Along with being a popular bedroom community to Denver for its size, access to major roads, and affordability, Arvada also has many attractions of its own, such as its incredibly charming Old Town, with a collection of boutique shops and restaurants.
Known for its abundance of green spaces, Arvada is home to several wildlife refuges including the Rocky Flats National Wildlife Refuge and the Two Ponds National Wildlife Refuge. Majestic View Park, Long Lake Regional Park, and the Ralston-Central Park are just a few of the many places for residents to get outdoors in Arvada. To buy a home in Arvada, new residents are usually looking at home prices ranging from condos and townhomes in the mid-$200s to single-family homes starting in the low $400s, topping out with luxury homes all the way up to the multi-millions.
Ready to Come Home to One of These Colorado Cities?
A metropolitan area rich in natural beauty, big-city amenities, and a variety of charming towns, the Boulder area has so much to offer its residents. Whether residents are looking for a quieter, historic miner town or a lively, vibrant city near Boulder, the Denver-Aurora-Lakewood Metropolitan area has something for everyone. Residents searching for an alternative to Boulder can find a variety of towns that have many of the traits that make Boulder so appealing. Those looking for homes, whether renting or buying, will likely find one that suits their individual needs. Have your heart set on moving to Boulder itself? You may be interested in our guide to the most affordable neighborhoods in Boulder.