8 Most Affordable Neighborhoods in Arvada: More Real Estate For Your Dollar
Posted by Greg Smith on Wednesday, December 28, 2022 at 12:08:13 PM
By Greg Smith / December 28, 2022
Comment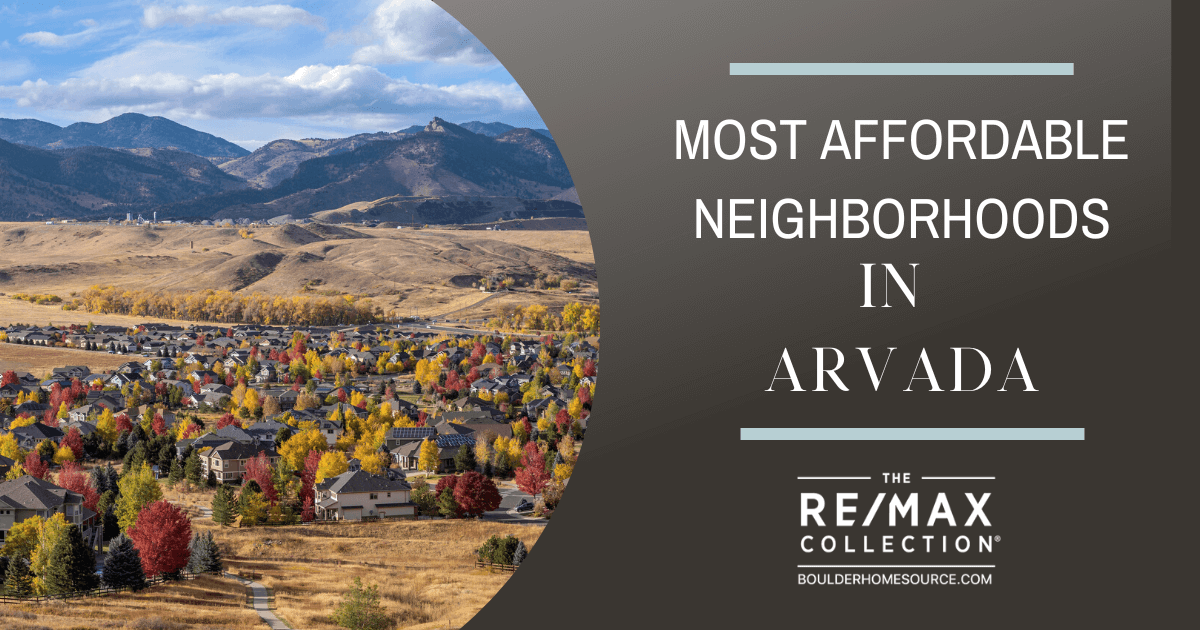 The city of Arvada is in a prime Colorado location, just a short drive from all the cultural and arts offerings of Boulder and Denver and less than 90 minutes from the world-class skiing at Breckenridge. Plus, the bounty of things to do in Arvada include plenty of golf courses, lakes, and beautiful outdoor scenes to drink in. Easy access to these fantastic amenities sounds like something that would lead to a high cost of living, but that's not always the case. For anyone considering moving to Arvada, here are the most affordable neighborhoods in the city.
Arbor Estates
Arbor Estates, also known as Lake Arbor, is one of the northernmost neighborhoods in Arvada. The neighborhood's northern border is West 88th Avenue, and the southern is West 80th Ave. Wadsworth Boulevard marks the western boundary. Chase Drive and the Discovery Trail mark the eastern edge of the neighborhood. Homes for sale in Arbor Estates—exclusively single-family—list from the high $400,000s; larger homes with 2,500-plus square feet of living space list for more than $700,000. There are some townhomes on the grounds of the Lake Arbor Golf Club and some condos in the Westdale neighborhood just southeast of Arbor Estates.
Lake Arbor is a significant feature of the neighborhood. Paved walking trails surround the lake, and a park on the north side of the lake has a children's playground, picnic tables, and relaxing views. Fly fishing and bank fishing are allowed in the lake, with the most common species caught being carp, largemouth bass, and channel catfish.
The Lake Arbor Golf Club is a private course surrounded by golf course homes and a share of Arvada's townhomes for sale. There are major shopping options along Wadsworth Boulevard at the northeast and southeast corners of the neighborhood; residents can find groceries, banking, specialty shops, and big box stores in both locations.
Arbor Estates Amenities
Lake Arbor Center & Outdoor Pool
Lake Arbor Center Tennis Courts
Akihabara Arcade and Bar
KidSpace by Kookalooz (Indoor STEM play center for kids)
Renegade Burrito
Olde Town Arvada
Olde Town Arvada is the historic district of the city. This small neighborhood is filled with friendly shops, restaurants, coffee shops, and residential homes. Ralston Road and Grandview Avenue are the northern and southern boundaries of Olde Town, and Wadsworth Boulevard and Yukon Street mark the east and west boundaries. Most of the housing in Olde town consists of apartments, condos, and small single-family homes. Homes for sale in Olde Town Arvada list from around $300,000, though its larger single-family homes and townhomes can exceed $700,000.
The neighborhood is so small that residents can walk within its boundaries to find eateries, coffee shops, breweries, boutique shops, and more. Olde Town is home to the Arvada - Jefferson County Library, along with the Olde Town Square, an open park space where the Arvada Farmer's Market makes its home once per week in the summer and in December. Most businesses in the neighborhood are concentrated in and around Olde Town Square.
Shops in Olde Town are mostly geared toward tourists and window shoppers. If residents need major shopping or groceries, everything they could hope for is just five minutes south of the neighborhood along the Wadsworth Bypass. They'll find home improvement, big box stores, groceries, banks, and numerous service businesses.
Olde Town Arvada Amenities
The Mighty Colorado Burger
Denver Beer Company Taphouse
McIlvoy Park
The Bluegrass Lounge
Homegrown Tap & Dough
Stone Cellar Bistro
Meadow Lake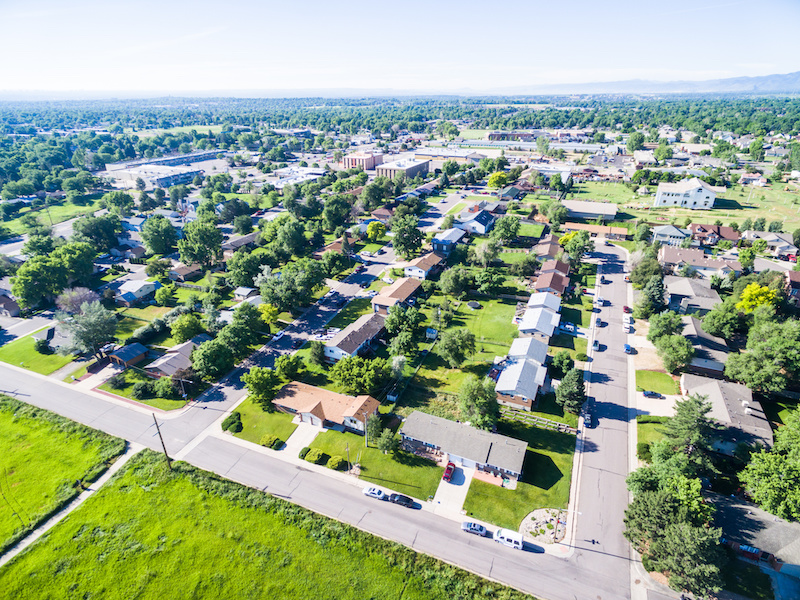 The Meadow Lake neighborhood in Arvada is bounded north by West 64th Avenue and east by Ward Road. McIntyre Street marks the western boundary, and West 58th Avenue marks most of the southern border. Homes for sale in Meadow Lake typically list from the high $300,000s, where homebuyers will find smaller single-family dwellings and condos. For single-family, three-plus bedroom homes, listing prices in the $500,000s and $600,000s are standard.
This cozy neighborhood has several medium-sized lakes, including Meadow Lake, Hyatt Lake, Broad Lake, and Kelly Lake. Meadowlake Park surrounds Meadow Lake and has walking trails and a children's playground. A system of walking trails connects Meadowlake Park to Wyndham Park and several other locations throughout the neighborhood.
Most of the shopping, dining, and nightlife around Meadow Lake can be found along West 64th Avenue. Groceries, pharmacies, banks, veterinary clinics, and convenience stores are all accessible along the street.
Meadow Lake Amenities
LUKI Brewery
Arvada YMCA
Arvada Rifle & Pistol Club
Close to Van Bibber Park and open space
Sunrise Ridge
Sunrise Ridge is a small, developed neighborhood in the west-central part of Arvada. Its northern and southern boundaries are West 64th Avenue and West 60th Ave. Its western boundary is Easley Road, and the eastern boundary is Quaker Street. It's a very walkable neighborhood with sidewalks and beautiful, tree-lined streets. Most of the housing consists of medium-sized ranch-style homes and bungalows, with homes typically listing from the low $500,000s.
The Sunrise Ridge neighborhood is almost entirely residential. There are several parks and green spaces here, and Ralston Creek meanders in and out of the neighborhood in the southeast and northeast sections. A walking path follows the creek, and another trail system runs east to west across the neighborhood. Long Lake Regional Park is directly west of Sunrise Ridge and provides many outdoor activities for locals.
For shopping, residents have to leave Sunrise Ridge. The closest option is the Westwoods Shopping Center mall, which is five minutes away along West 64th Avenue. It has groceries, fuel, fast food, beauty shops, and some big box stores. For healthcare, the Emergency & Urgent Care Arvada center is located at Quaker and 64th.
Sunrise Ridge Amenities
Sunrise Ridge Park
West Woods Golf Club
Illegal Burger Arvada
West Woods Ranch
The West Woods Golf Club is the main feature of the West Woods Ranch neighborhood. It's a private club with three scenic courses and many golf course homes surrounding it, in addition to some residential areas filled with single-family homes. The northern and southern boundaries of the neighborhood are West 72nd Avenue and West 64th Avenue, while the eastern and western boundaries coincide with the country club's greens. Single-family homes for sale in West Woods Ranch list from the $600,000s, while the neighborhood's share of Arvada luxury homes list from the $900,000s.
Residents living in West Woods Ranch will need a car to run errands, but driving in Arvada is typically a breeze. The Westwoods Shopping Center on the south side of West 64th Avenue is the closest location with banks, eateries, a grocery store, and a department/clothing store.
Families have access to several parks in West Woods Ranch, including The Meadows at West Woods Park. Tucker Lake is on the northwest side of the neighborhood and is surrounded by paved walking and biking paths to enjoy.
West Woods Ranch Amenities
Heaven Dragon Arvada
Westwood Park Tennis Courts
SJ Cookie Shop
Colorado Tap House (in nearby Forest Springs)
Whisper Creek
Whisper Creek is a northern Arvada neighborhood that borders the Village of Five Parks. Homes for sale in Whisper Creek list from the $600,000s, and homebuyers will find townhomes and smaller single-family homes at this end of the pricing spectrum. On the other end, Whisper Creek offers sprawling homes with 3,000-plus square feet of living space, which typically list from the $900,000s. Whisper Creek's southern boundary is roughly north of West 87th Parkway, and its northern boundary is West 91st Lane. Indiana Street marks the western boundary.
This is a planned neighborhood with a residents-only clubhouse, swimming pool, fitness center, tennis courts, and sports fields. The Westminster Hills Open Area Dog Park is a massive dog-friendly open space located about 10 minutes north of the neighborhood. There are also several options north for boarding horses, as some residents in Whisper Creek own horses or participate in equestrian sports.
Shopping and groceries are easily accessible from Whisper Creek. A big shopping center is anchored by a King Soopers just west of the neighborhood, on the opposite side of Indiana Street. There are also convenience stores and restaurants at the corner of Indiana Street and West 87th.
Whisper Creek Amenities
A Rising Star Equestrian Center
Standley Lake Stables
Freedom Street Social (dining & drinks)
Village of Five Parks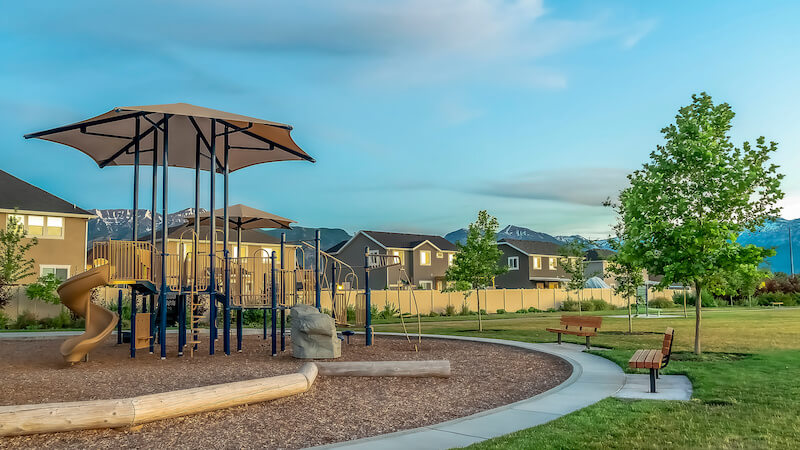 The Village of Five Parks is a relatively new subdivision built in 2002. The neighborhood is between Alkire Street in the east and Indiana Street in the west. The West 89th loop is the northernmost part of the neighborhood, and the railroad tracks roughly mark the southern boundary. Most homes in this subdivision were built with energy-efficient features to lower utility bills, and the neighborhood has single-family homes, townhomes, and condos. Homes for sale in Village of Five Parks list from the $400,000s, but for single-family homes, listing prices in the $700,000s can be expected.
The neighborhood has a residents-only clubhouse with a swimming pool and a fitness center, and the area is dotted with numerous parks and green spaces. Lower Twin Lake and several small ponds are in the northern part of the neighborhood, off West 87th Parkway. Several commercial businesses are on the neighborhood's outskirts, including restaurants, a vet clinic, a dentist, and convenience stores. Just north of Village of Five Parks, along Indiana Street, there's a King Soopers for groceries and several places to shop.
Village of Five Parks is just 15 miles southeast of the city of Boulder and 20 miles from the Boulder Airport, and the massive Standley Lake Regional Park is just northeast of the neighborhood. Camping, boating, fishing, and other outdoor adventures are just minutes away.
Village of Five Parks Amenities
Lot One restaurant
Five Parks Animal Hospital
Rose Roots Community Garden
Stoney Creek Golf Course
Bluegrass Coffee & Brewing Lounge
Woodland Valley
The Woodland Valley neighborhood in Arvada is a residential area with many nice outdoor open spaces. Medium-sized single-family homes for sale in Woodland Valley list from the low $500,000s, while the larger homes in the neighborhood are typically priced above $700,000. Ward Road marks the western boundary of Woodland Valley, south of West 72nd Avenue. The eastern edge is Simms Street, and the southern border roughly follows Ralston Creek.
The largest feature in Woodland Valley is Danny Kendrick Park East, which surrounds Ralston Creek. Walking paths, a children's playground, and picnic areas can all be found along the creek. The Ralston Creek Trail, which is paved, follows the creek for several miles west of the neighborhood. It's an excellent trail for running, strolling, or biking. Leyden Creek, a smaller creek, runs through the northeast part of the neighborhood, not far from the Common Earth Community Garden. Woodland Valley is directly east of the Apex Center, which has an indoor pool, a skating rink, and an ice arena.
Since Woodland Valley is entirely residential, people need a car to run errands away from the neighborhood. Groceries, dining, banking, and other services and shopping options are south of the neighborhood, on the south side of West 64th Avenue at Ward Road.
Woodland Valley Amenities
Leyden Creek Park
Arvada Skate Park
Rockabillies Bar & Grill
Blackjack Pizza & Salads
Apex Racquetball & Fitness Center
Enjoy Life in Beautiful Arvada, CO
Arvada has a spacious and convenient footprint several miles northwest of the city of Denver. It has a small-town feel, with all the amenities and services of a much larger area. And if residents want even more to do, Denver is just a few minutes to the southeast. Arvada's best neighborhoods are quaint and quiet, and the planned-out design makes them lovely places to live, no matter what budget a person is working with.