Most Affordable Neighborhoods in Boulder: Boulder, CO Affordable Living Guide
Posted by Boulder Home Source on Monday, November 9, 2020 at 9:10 AM
By Boulder Home Source / November 9, 2020
Comment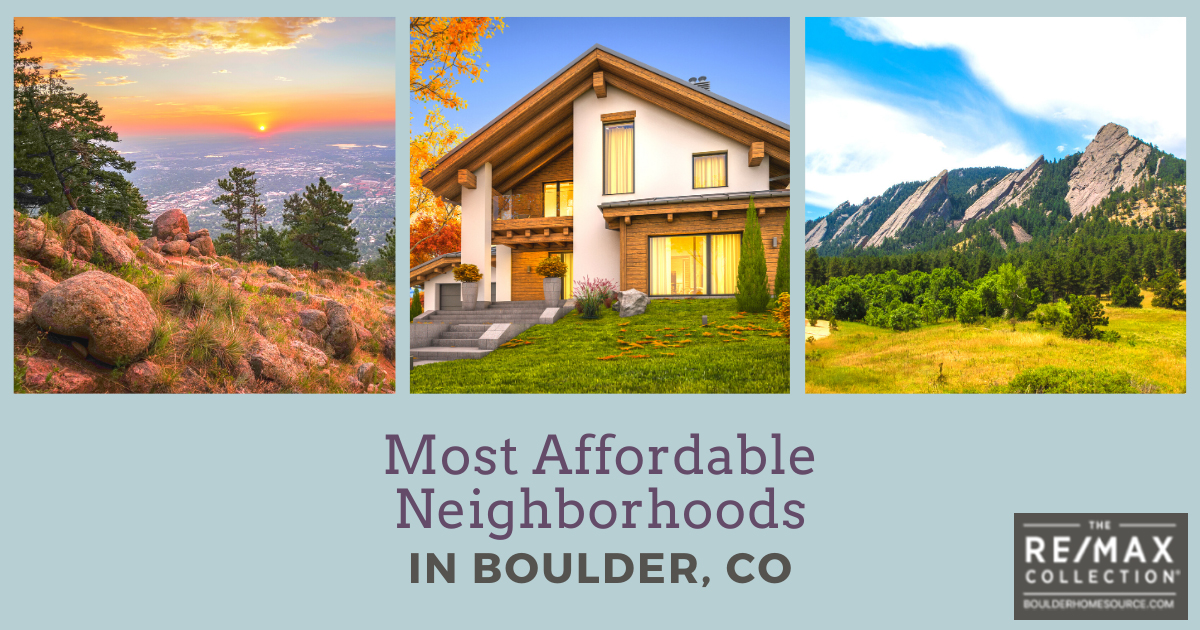 With its fresh air and mountain views, Boulder is a magnet for new residents. It's probably not surprising that many people are eyeing Boulder for their next home.
The biggest barrier to moving to this beautiful city, however, is the price of purchasing a home. With a median selling price of more than $800,000 as of September 2020, it can seem like there just aren't any affordable homes in the city. Fortunately, there are some great neighborhoods in Boulder where prospective buyers can still find affordable housing. Here are some of the most affordable neighborhoods in Boulder, Colorado.
Noble Park
Noble Park Amenities
Wonderland Creek bike path
Christensen Park
Commuter-friendly
Howard Heuston Park
Valmont Bike Park
Valmont Dog Park
Noble Park is a community of single-family homes, condominiums, and Boulder townhouses situated in the northeastern area of the city. Prospective buyers will find that the home sizes in this neighborhood range from between 1,295 to 2,500 square feet and that most of the houses in this neighborhood were built between 1991 and 1998.
Although Noble Park does not have many of its own restaurants and shops, numerous options are just a quick bike ride or drive away. Speaking of driving, Noble Park is a commuter-friendly neighborhood. Residents can just hop on the Foothills Parkway, which borders this neighborhood on its west side. Or, for those who prefer to commute on two wheels, the Wonderland Creek bike path winds its way through this neighborhood and connects to Boulder's extensive network of trails.
For fun or relaxation, residents can head to this neighborhood's Christensen Park. This recently renovated park features a playground, picnic area, natural wood "kid cave," as well as walking paths. There are also several other recreational opportunities close to this neighborhood, including Howard Heuston Park, Valmont Bike Park, and—for canine lovers—the Valmont Dog Park.
Hotspots Near Noble Park
Noble Park Shopping
Noble Park Nightlife
Noble Park Restaurants
Whittier
Whittier Amenities
Lover's Hill Park
Emma Gomez Martinez Park
Greenleaf Park
Spruce Public Swimming Pool
Proximity to Whittier Elementary School and Casey Middle School
Whittier has a lot to offer residents. This community is home to numerous restaurants and shops. Plus, this artsy neighborhood is located close to Downtown and the lively Pearl Street Mall, making it ideal for anyone in search of a walkable or bikeable neighborhood. Residents can also relax in one of the neighborhood's four small parks or head to the Dairy Arts Center for entertainment. Founded in 1992, this old dairy plant is now a multi-disciplinary arts center that is home to art galleries, an art-house cinema, and theaters.
Whittier was first established in 1859, at about the same time that the City of Boulder itself was founded. So, buyers will find an interesting mix of houses to choose from in this community—everything from grand 19th-century Victorian homes to 21st-century modern luxury residences. The most affordable properties tend to be the condos located on Whittier's south side. This neighborhood is also home to Whittier Elementary School, which is the oldest continually operating school in Colorado.
Whittier Hotspots
Whittier Shopping
Market Square Shopping Center
Whittier Restaurants
Baseline
Baseline Amenities
Skunk Creek
Proximity to the University of Colorado
Arrowwood Park
Aurora 7 Park
Baseline, which is situated southeast of Downtown Boulder, is a small neighborhood of homes that were mostly built in the early 1960s. It is an excellent neighborhood for commuters who want easy access to major roads, as it is located very close to the intersection of the Foothills Parkway and the Denver Boulder Turnpike. This neighborhood is also considered very bikeable.
Although Baseline does not have restaurants of its own, there are several dining options just across Baseline Road, as well as the Sprouts Farmers Market. Plus, there are many options for dining, nightlife, and shopping located around the University of Colorado. This well-established neighborhood is partially bordered on its northeast side by the Aurora 7 Park, which features an outdoor classroom, playground, soccer fields, and walking paths. Baseline is also bordered by Arrowwood Park on its west. This small park features a playground, paved walking paths, and a creek.
Baseline Hotspots
Baseline Restaurants
Baseline Cafés
Holiday
Holiday Amenities
Community gardens
Public art projects
Free Eco Pass
Holiday Park
Wild Sage Cohousing
Bike path
This neighborhood is located in northern Boulder and is a mixed-use residential community that was built to be sustainable and affordable. To that end, Holiday was designed to be higher density than many other Boulder communities, which means its homes tend to be smaller and also more affordable. Buyers will find a good mix of housing in Holiday, including single-family homes, townhouses, studios, lofts, and apartments. Plus, at least 40% of the community was designed to be permanently affordable.
Holiday's designers also wanted to make sure that this neighborhood had broad appeal. Its narrow streets are tree-lined, and there is a bike path that connects to Boulder's extensive network of trails. Because residents are encouraged to use mass transit, Holiday provides an annual Eco Pass, which gives residents unlimited access to all local, express and regional bus and light rail services.
Holiday Hotspots
Holiday Cafés
Holiday Restaurants
Holiday Shopping
Heatherwood
Heatherwood Amenities
Proximity to Heatherwood Elementary School
Heatherwood Park
Proximity to several major employers
Surrounded by open space & greenery
Heatherwood is a community of single-family homes that is situated northwest of Boulder proper, in the Gunbarrel area. Because Gunbarrel was largely a rural and agricultural area until the mid-1960s, this neighborhood is still surrounded by wide-open spaces. This makes it perfect for those seeking a more rural atmosphere but who also want easy access to the comforts and amenities of a suburb.
For the most part, the houses in Heatherwood were built between the mid-1960s to mid-1980s, and they range in size between 1,163 and about 3,300 square feet. This neighborhood is divided into seven areas called Filings, with each having its own set of similar but slightly different covenants.
Although there aren't any eateries in Heatherwood, residents don't have to travel far to find dining options, as Gunbarrel is home to numerous restaurants and is especially known for its many breweries. Gunbarrel is also where several major employers can be found, including IBM and Celestial Seasonings.
Enjoy Boulder
Boulder, Colorado, has a lot to offer its residents, including easy access to beautiful mountains, more than 300 days of sunshine a year, and the third-most stable housing market in the United States. And while finding affordable housing in this city can be a little tricky at times, it is definitely possible, especially if buyers search in the neighborhoods that are suggested in this article.