Most Walkable Neighborhoods in Boulder, CO
Posted by Boulder Home Source on Friday, February 19, 2021 at 2:10 PM
By Boulder Home Source / February 19, 2021
Comment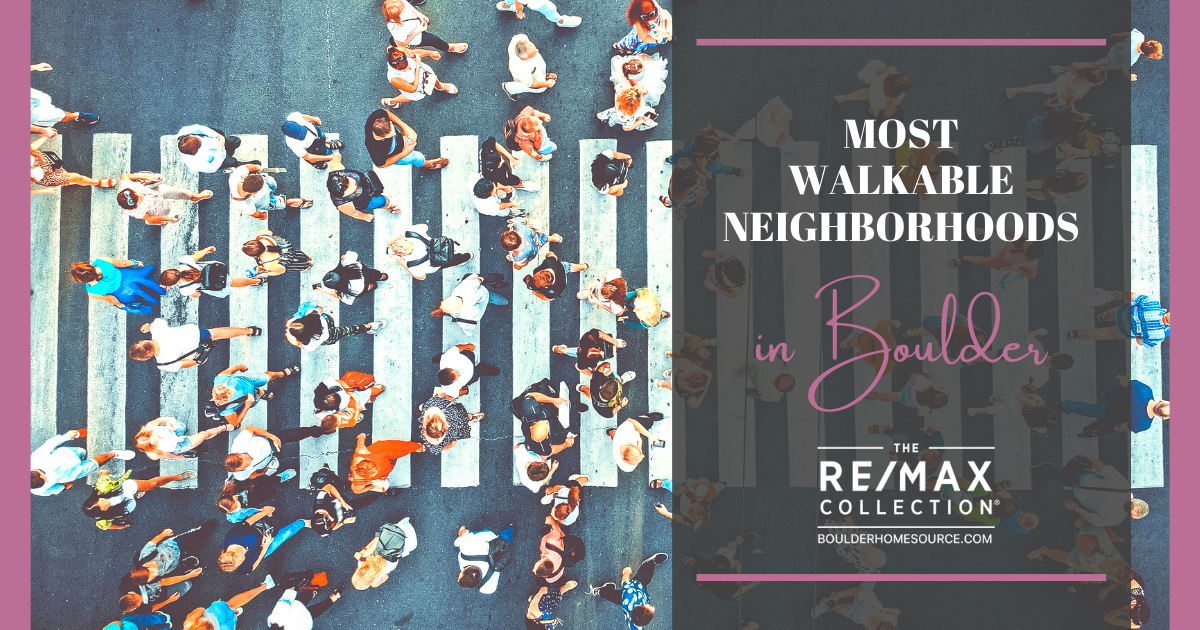 Most Walkable Neighborhoods in Boulder: Boulder, CO Community Living Guide
Boulder is located about 25 miles northwest of Denver, at the base of the Rocky Mountain foothills. With 105,673 residents, it is the most populous community in Boulder County and serves as the county seat.
The city is known for its thriving arts community and is generally recognized for offering residents high qualify of life. Boulder has taken several measures to preserve the surrounding landscape. Its residents enjoy a plethora of opportunities for outdoor recreation, and the city has ranked high for its promotion of a healthy lifestyle. Hiking, mountain biking, cross-country skiing, and water recreation are some of the more popular activities for Boulder residents.
With such a focus on health and outdoor living, it's no wonder that many people moving to Boulder view walkability as a deciding factor on which neighborhoods they live in.
Those looking for a new home may be interested in the following most walkable neighborhoods in Boulder when conducting their home search.
Whittier
Whittier Amenities
Adjacent to downtown
Art galleries
Historic homes
University nearby
The Whittier neighborhood lies adjacent to Downtown Boulder's northeast corner. It is bordered by Broadway on the west, primarily Alpine Avenue and Panorama Avenue to the north, and 28th Street to the east. The southern boundary follows Canyon Boulevard, then north on 18th Street and finally west on Spruce Street back to Broadway.
Whittier got its start in 1859 and is home to several designated historic homes, with many structures restored to their former glory.
The neighborhood is considered to be one of Boulder's most established and desirable neighborhoods. It is marked by older single-family homes and also features a revitalized retail and entertainment area—the East End of Pearl Street, known for its many artisan eateries, art galleries, and hip boutiques. Residents can also enjoy proximity to Pearl Street Mall's shops and restaurants.
Whittier is considered very pedestrian-friendly. Dining and shopping are within easy walking distance, as is downtown Boulder. The farmer's market and Spruce Street swimming pool are also within easy walking distance.
Downtown Boulder
Downtown Boulder Amenities
Parks nearby
Creek
Trails
Theater
Historic homes
Art galleries
Downtown Boulder is known for its natural beauty combined with the city's trendiest boutiques and eateries. With over 1,000 businesses, it is also teeming with entertainment, nightlife, and the arts community.
Downtown is bordered by Boulder Canyon Drive to the south, then follows a tributary of Boulder Creek for its western boundary again along the northern boundary until 6th Street. It then follows Spruce Street for the remainder of the northern boundary until 18th Street, which forms its eastern border.
Residents can choose from a number of living options, including condos and townhomes, as well as single-family homes, which range from older, historic properties to new construction homes.
The downtown district is home to the popular Pearl Street, a pedestrian-only mall overflowing with street performers, art galleries, boutiques, coffee cafés, and bistros. The Boulder Theater is host to Indie films, music concerts, performances, and other community events. It is revered for its art deco motif. Additionally, residents can enjoy hiking and biking along the Boulder Creek Path.
Downtown Boulder Hotspots
University Hill
University Hill Amenities
Trails
Theater
Historic homes
Museums
University nearby
University Hill is located just south of downtown Boulder, adjacent to the University of Colorado campus. It is bordered along the north by Arapahoe Avenue, 9th Street to the west, Aurora Avenue to the south, and Broadway to the east. The neighborhood is known for its stately trees and rolling terrain.
Known locally as "The Hill", the neighborhood's earliest large-scale development dates back to 1890. University Hill continued to grow through the boom years of the 1920s and later military presence.
Many of the neighborhood's original bungalows remain, in addition to sprawling Victorian homes. Some of the city's most striking architecture can be found in University Hill.
The neighborhood is known as an eclectic community of museums, boutiques, eateries, and opportunities for nightlife. The Fox Theatre provides an intimate venue for metal, rock, and Indie bands. The many establishments are within easy walking distance of residences. Additionally, its centralized location puts it close to all the city's major walking trails.
Mapleton Hill
Mapleton Hill Amenities
Hiking trails
Parks
Creek
Historic homes
Mapleton Hill is located just to the north of downtown Boulder. It is known for its wide, tree-lined streets featuring 100-year-old maples, as well as its historic, sprawling Victorian and Queen Anne homes dating back to the late 19th and early 20th centuries. Much of the neighborhood is a designated historic district. The neighborhood lies adjacent to the west side of Broadway and is bordered roughly by Maxwell Avenue to the north, 4th Street to the west, and Spruce Street to the south.
Although the neighborhood itself features no business district, residents live within walking distance of downtown Boulder and its many restaurants, bars, and boutiques, as well as the popular Pearl Street Mall. The neighborhood is considered to be one of the most walkable in the city.
Those seeking recreation can enjoy North Boulder Park. Additionally, the Mount Sanitas and Sanitas Valley trailheads are within walking distance of residential areas and offer a number of moderate and challenging hikes.
Goss-Grove
The Goss-Grove neighborhood is located adjacent to Downtown Boulder. Set just south of the Downtown District, the neighborhood serves as home to about 1,783 residents. It is bordered by Canyon Boulevard on the north, 28th Street to the east, Arapahoe Avenue to the south, and Broadway to the west. Those looking for single-family homes or Boulder condominiums will find them in Goss-Grove.
Goss-Grove is recognized as one of the city's most walkable communities. The neighborhood is prized for its quiet, residential streets and expansive green spaces, including Central Park. In addition to parks and green space, the neighborhood also features a walking path along Boulder Creek. Some parks feature stunning views of the Flatirons to the west.
Goss-Grove is home to about 106 coffee shops, bars, and restaurants. Residents can run their daily errands without using a vehicle, adding to the community's reputation as being walkable.
Explore Boulder's Most Walkable Neighborhoods
Dating back to 1859, when settlers first came to the area searching for gold, Boulder has a long and rich history. Today, the city is known for its citizens' quality of life, from its arts and culture offerings to its many outdoor recreational opportunities. Residents can choose from a number of options for taking in the city's scenic natural surroundings while enjoying a healthy lifestyle.
Walkable neighborhoods fit the Boulder lifestyle, which emphasizes outdoor living. Many of Boulder's residential communities offer residents multi-use trails for hiking and cycling. Others are pedestrian-friendly, providing easy access to the city's most popular business and retail districts.