Best Parks in Boulder: Boulder, CO Parks & Recreation Guide
Posted by Boulder Home Source on Monday, December 7, 2020 at 6:29 AM
By Boulder Home Source / December 7, 2020
Comment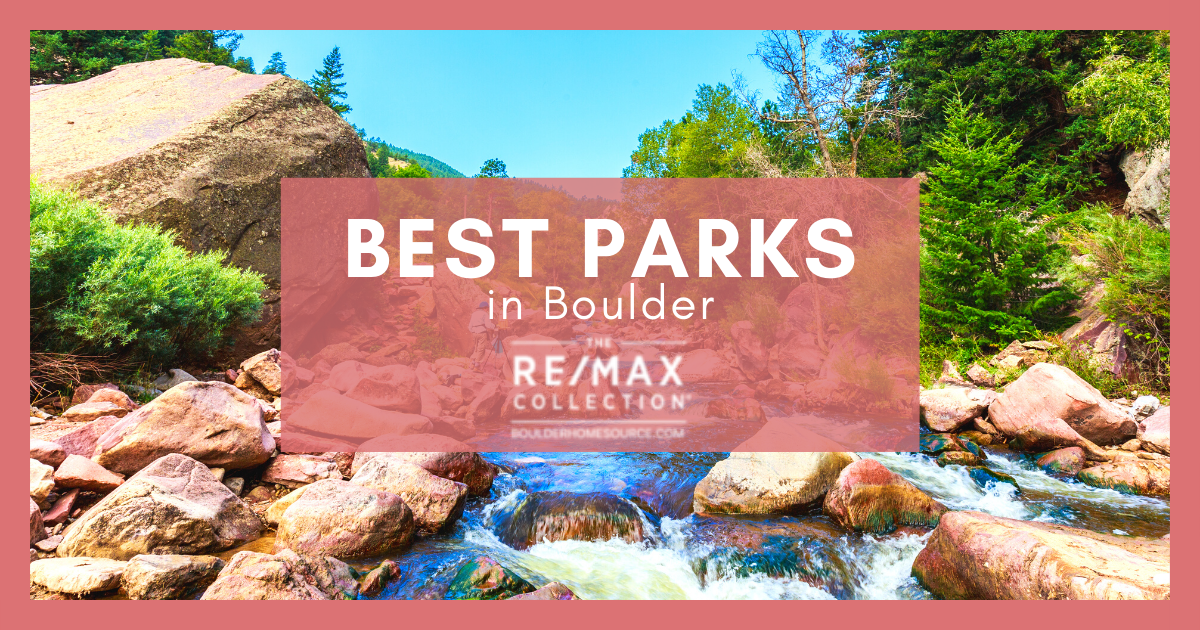 For those who enjoy outdoor activities, Colorado is a wonderful place to be. This state is home to four national parks, 42 state parks, and is known to have some of the prettiest and most diverse scenery in the United States.
One of the better-known cities in Colorado, especially for the great outdoors, is the city of Boulder. Settled in northern Colorado at the foothills of the Rocky Mountains, this nature-lovers dream is home to some amazing parks for visitors and residents to explore. Here are our top picks for the best parks in Boulder.
Chautauqua Park
Chautauqua Park Amenities
Picnic area
Playground
Tennis courts
Demonstration garden
Hiking trails
Address: Chautauqua Park, Baseline Rd & 9th St, Boulder, CO 80302
Started in 1898, Chautauqua Park in Boulder, Colorado, is a popular attraction in the city, marking a time when wildlands started to become preserved in the area.
Offering some incredible views of the Flatirons, which are rock formations in the area that were previously known as the "Chautauqua Slabs," Chautauqua Park offers many iconic sights to see. For over 40 miles of some awesome Open Space Mountain Park (OSMP) trails to walk, horseback ride, and hike, this park is a great option for everyone — including dogs (just be sure to keep them leashed)! Those interested in history can check out the Chautauqua Historic Loop, a 3.5-mile, easy-to-moderate loop that covers more than 100 years of Boulder history.
Close to the park and its trailheads, visitors may even want to stay at The Colorado Chautauqua National Historic Landmark. The mountain cabins and cottages are available to stay in nightly year-round, with 58 cottages offering studio, one-, two-, or three-bedroom configurations, each fully equipped with kitchens and screened-in front porches. The Colorado Chautauqua National Historic Landmark even offers regular events, private party rentals, dining options, and more.
Eben G. Fine Park
Eben G. Fine Park Amenities
Water access
Playground
Nature walk
Picnic tables
Address: Eben G. Fine Park, 101 Arapahoe Ave, Boulder, CO 80302
This green space park in Boulder is just a short walk from the famous Pearl Street — a famous attraction with copious stores, restaurants, breweries, and other fun places — and right before the entrance to Boulder Canyon. Named after a man who served as the Boulder Chamber of Commerce's secretary twice and who became the city's biggest promoter, eventually earning him the nickname, "Mr. Boulder," Eben G. Fine Park is one that many residents and visitors enjoy.
This tree-filled park provides shade and shelter from the sun, as well as spectacular views in the fall with colors for all to see. With many amenities available on a first-come, first-served basis, there is a lot to enjoy at Eben G. Fine Park. Some amenities for visitors to enjoy include a playground, covered and uncovered picnic areas, water access, nature walks, public restrooms, RTD access, and bike racks.
Visitors may reserve a shelter and can obtain a permit to use a grill at the park if they wish for any local gatherings. The park also has a multi-use pedestrian bridge that connects to the Red Rocks and Settler's Park Open Space and Mountain Parks area directly to the north.
Central Park
Central Park Amenities
Picnic area
Playground
Outdoor amphitheater
Walking paths
Fishing area
Address: Pearl Street Mall, 1236 Canyon Blvd, Boulder, CO 80302
Many people have probably heard of Central Park in New York City, but this Central Park, located in downtown Boulder, is a bit of a different experience! Adjacent to the site of the Boulder County Farmer's Market, Central Park gives access to Boulder Creek and offers a playground and open turf.
With an outdoor amphitheater named the Band Shell, paved walking paths, a demonstration garden, and an educational walk, there are many events and activities available to experience at Central Park. Kids can even fish at the Evert Pierson Kids' Fishing Pond. In 1949, the Boulder Fish and Game Club transformed this old University of Colorado gravel pit into the pond that remains today. The pond is for use for children ages 12 and under only, and there is a limit of three fish per day, per child. Kids interested in fishing will need to bring their own fishing pole and bait.
For a bit of a historic look into the past while at Central Park, visitors can check out the Gilbert White Memorial Flood Level Marker, an 18-foot-tall, LED-illuminated structure that shows the creek's 50-year, 100-year, and 500-year historic flood levels from the Big Thompson flood.
Settler's Park
Settler's Park Amenities
Picnic tables
Hiking trails
Also close to Pearl Street, at the junction with Canyon Boulevard, is People's Crossing. This park earned its name back in 1858, as it was said to be the location of the first permanent camp of American settlers in the Boulder area. This smaller park offers some wonderful day hikes and breathtaking views. With a network of short trails and many spurs of red rock trails, this is a park to come back to and find new areas to explore time and time again.
Though there are no public restrooms available at Settler's Park, visitors can find restrooms available a short distance away at Eben G. Fine Park. Some wildlife that inhabits this area and may be spotted include black bears, mule deer, and mountain lions.
Eldorado Canyon State Park
Eldorado Canyon State Park Amenities
Camping
Visitor Center
Walking trails
Rock climbing
Picnic area
Address: Eldorado Canyon State Park, 9 Kneale Rd, Eldorado Springs, CO 80025
Located in Eldorado Springs, Eldorado Canyon State Park spans 885 acres and is open sunrise to sunset year-round.
Visitors will always find something to do and a new adventure to try at this park. Offering activities such as biking, fishing, hiking, rock climbing, rappelling, and snowshoeing, there is something for everyone to enjoy here. With more than 500 technical rock climbing routes, "Eldo's" golden cliffs lure in climbers of all experience levels from around the world. Unlike the soft sandstone found in many areas in Arizona and Utah, climbers appreciate the rock quality here that is more reminiscent of granite. Redgarden Wall, the largest cliff in the park with a base a few thousand feet wide, offers various routes and the finest lines to try out.
Eldorado Canyon State Park even offers a Junior Ranger Program for children ages six to twelve. Every Saturday in June through August, kids can come and learn to become one with the outdoors with programs such as interactive outdoor games, learning activities, fun crafts, and a treasure hunt.
Harlow Platts Community Park
Harlow Platts Community Park Amenities
Soccer field
Playground
Volleyball court
Disc golf course
Charcoal grills
Address: South Boulder Recreation Center, 1360 Gillaspie Drive, Boulder, Colorado 80305
Harlow Platts Community Park is a popular spot to spend the day. There is no shortage of fun things to do here for people of all ages. Viele Lake sits at the center of this Boulder, Colorado, park with a paved walkway around its perimeter.
Along the western edge of the lake is a playground and inline hockey rink plus several picnic shelters. At the northern side, visitors can find four full-size tennis courts, several volleyball nets in a sand pit, and a huge disc golf course.
Wonderland Lake Park
Wonderland Lake Park Amenities
Playground
Picnic tables
Water access
Paved walking paths
Hiking trails
Address: Wonderland Lake Park, 601 Poplar Avenue, Boulder, Colorado 80304
Wonderland Lake Park lies right along the beautiful lakeside and near miles of OSMP trails. Visitors come from far and wide to explore the trails and catch glimpses of wildlife in their native habitats. There are also many paved walking paths for relaxed strolls while chatting with friends, family, and neighbors.
In the center of the park is a large playground with updated equipment, including swings and slides. Around that area are open fields with room to play sports, have picnics, and much more. When visitors interested in Boulder's water activities want to see what's biting at the lake, they can cast off from the banks to catch bluegill and bass galore.
Visit a Park in Boulder Today
Now is the time to get out and explore a park in Boulder, Colorado. No matter the weather or the season, the parks available in this city have something to offer and explore year-round. These beautiful local parks allow visitors to see some wonderful rock formations and exquisite views while engaging in fun activities. What better place to own a luxury home or visit than a city that offers some great outdoor locations and parks to go back to time and time again?