Most Popular Attractions in Boulder: Boulder, CO Fun & Attractions Guide
Posted by Boulder Home Source on Tuesday, June 21, 2022 at 8:08 AM
By Boulder Home Source / June 21, 2022
Comment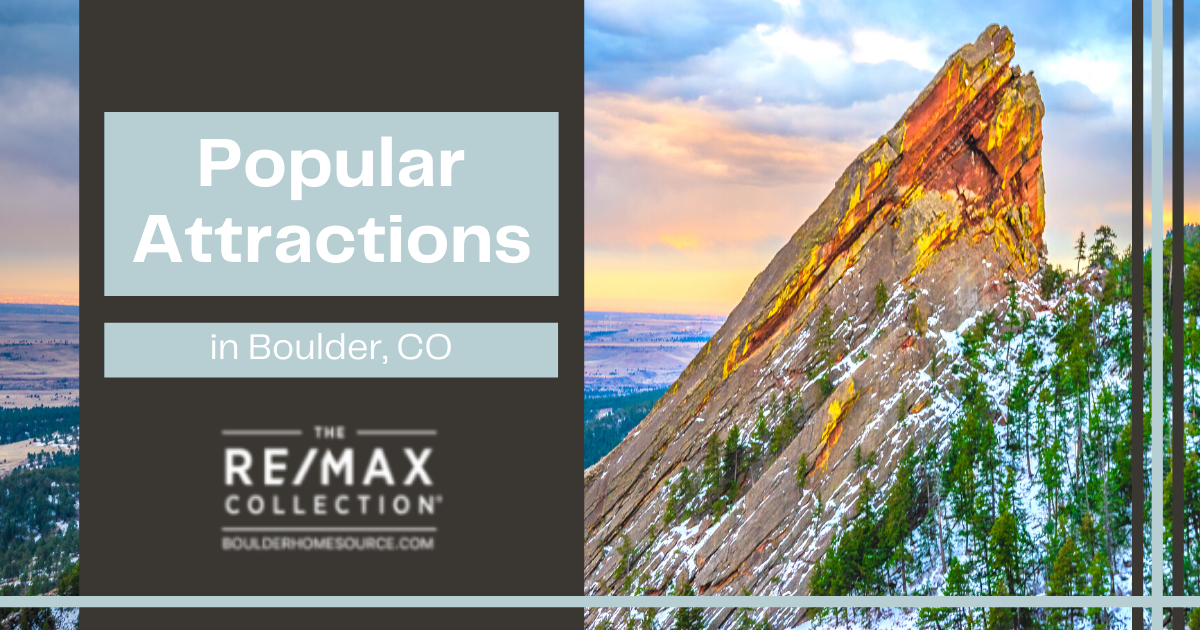 The city of Boulder is famous for being nestled at the base of the Rocky Mountains. New residents who move into one of Boulder's affordable neighborhoods or luxury home communities can enjoy beautiful views of the mountains every day of the year. However, despite its location in the mountains, there is far more to do in Boulder than simply go rock climbing and hiking. The numerous attractions available to residents in Boulder can keep individuals crossing items off their to-do list every month. From shopping and dining to Boulder's outdoor activities and gorgeous views, there is something for everyone to do in Boulder throughout the year. Sit back, relax, and take note of the following popular attractions in Boulder.
Want to Go Shopping? Don't Miss Pearl Street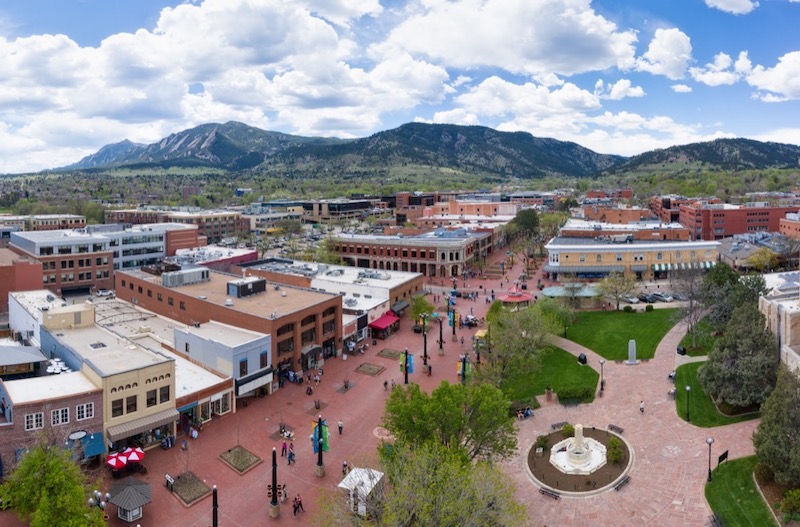 Pearl Street has been a staple in Boulder shopping for over 40 years. The street is lined with restaurants, bars, and shops, and the street is also popular with those who enjoy people-watching. Better still, most of the restaurants are farm-to-table restaurants that provide the freshest dishes with bold flavor. Pearl Street is located in the center of historic Downtown Boulder. The pedestrian walkway is clearly marked and paved with bricks. In the center of Pearl Street, four blocks are completely closed off to traffic. This allows pedestrians to safely gaze upon the local street performers. These performers always add new and exciting acts to their shows, which is fun for audiences of all ages.
The best time to visit Pearl Street on a Boulder vacation is mid-to-late April. This is due to the fact the flower beds are home to over 15,000 tulips. Mid-to-late April is when the tulip buds will be at the peak of their bloom. It is truly a beautiful sight to take in with mountains in the background.
Grab a Bite to Eat While Exploring Boulder
There's no need to visit Boulder's best attractions on an empty stomach. Keep an eye out for any of these eateries to get a taste of Boulder.
Start the Day Right with the Best Breakfast in Boulder
Snooze has been voted one of Boulder's favorite breakfast restaurants for years. Snooze takes a twist on breakfast with their unique and tasty menu.
Another local favorite: Foolish Craig's. Choose classic breakfast items from the menu, or branch out and try one of the restaurant's unique offerings, like the huevos rancheros crepe.
The Buff is a must-visit restaurant if you're looking for a filling, classic breakfast. It was founded in 1995 and has been family owned and operated since. The Buff uses many local products such as Ozo Coffee, Sherpa Chai, Polidori Sausage, and Boulder Granola. Stop by and see what the Buff is all about!
Then, Try Out the Local Favorites
Here are some of the best local restaurants here in Boulder, CO:
Flagstaff House: Take in the view from 6,000 feet at this one-of-a-kind restaurant experience. Order french-influenced New American cuisine and enjoy the top-notch service that Flagstaff House has to offer. $$$$
Jax Fish House and Oyster Bar: Dine at one of Boulder's best seafood restaurants in the heart of downtown. Jax serves upscale fresh and sustainable seafood in a vibrant, lively, and wild atmosphere. $$$
Pizzeria Locale: Craving the perfect pizza? Visit Locale on the East End of Pearl Street. This modern pizzeria will make you feel like you're eating pizza right off the streets of Napoli, Italy. Whatever you choose to order, you won't regret it. $$
Pasta Jay's: Open since 1988, Pasta Jay's is a local Italian food favorite. Relish in hearty, traditional family recipes and the rustic environment on your next outing downtown. $$
Avanti: Six delicious food options await you at Avanti on Pearl Street Mall. Diverse restaurants and menus ensure that everybody can find something that they like. After ordering food and drinks, be sure to head up to the rooftop to take in the fresh air and see spectacular views of the Flatirons.
The Post: Fill up on fried chicken and drinks at The Post in downtown Boulder. The restaurant was featured on Food Network's Diners, Drive-Ins and Dives. Guy Fieri stopped in, and so should you! $$
Rincon Argentino: Find traditional empanadas and other Argentinian meals at Rincon Argentino, located just over a mile from Pearl Street Mall. Experience the family atmosphere as you eat what feels like a homemade meal. $
The Flatirons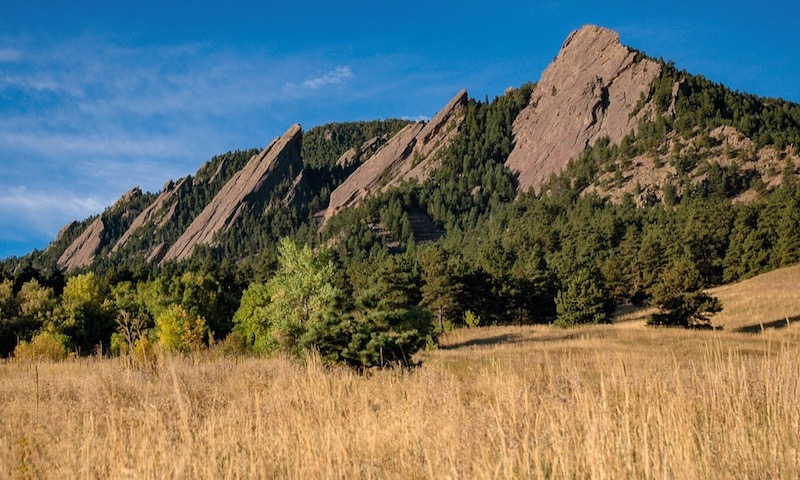 The Flatirons are an iconic Boulder landmark. One can regularly see the Flatirons on business logos and local artwork. These mountains are situated at the base of Boulder's foothills on the west side of town. The sandstone formations are reddish-brown and slightly slanted. Surrounding the Flatirons are ponderosa pines. When the sun is bright and warm, the bark gives off aromas that closely resemble ice cream and chocolate.
The best time of year to visit the Flatirons is the winter. This is especially true if residents will be hiking or rock climbing. The hike in is labor-intensive and will get one's body warmed up in no time. Furthermore, hikers do not need to worry about wearing snowshoes. Residents only need to wear a pair of sturdy hiking boots. Those who truly fall in love with the Flatirons and mountains surrounding Boulder can even look into buying a mountain cabin, so they can have the gorgeous vistas in their backyard.
Chautauqua Park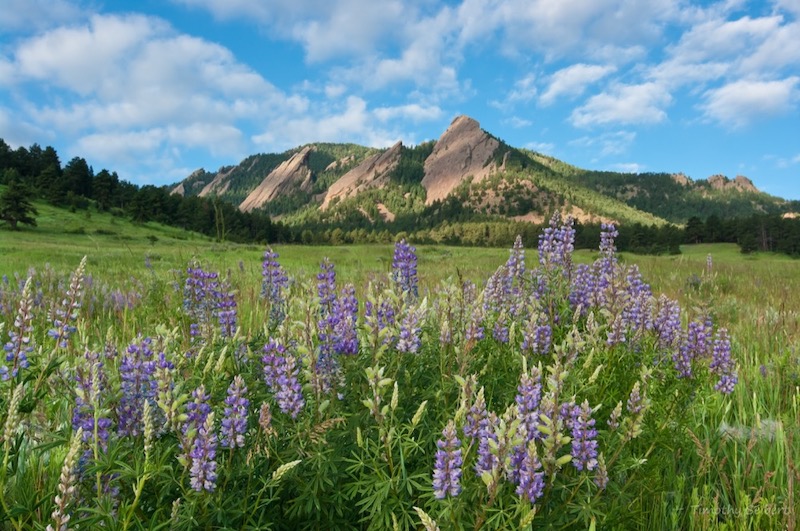 Chautauqua Park offers Boulder residents the ability to get outside and enjoy the fresh mountain air. The park itself spans over 80 acres and allows individuals to easily access some of the area's best hiking trails and rock climbing. The land that makes up Chautauqua Park today was originally purchased via a bond by the city of Boulder, which was voted on and approved by the citizens. Today, the park offers the Chautauqua Dining Hall and Auditorium, Chautauqua Ranger Cottage, one of Boulder's best hotels, a playground, tennis courts, and open turf.
Residents of all ages have the ability to have unstructured interactions with nature. Whether individuals want to simply lay out a blanket and have a picnic or begin hiking into the surrounding trails, Chautauqua Park allows residents to have the exact experience they desire. Located just south of downtown Boulder, Chautauqua Park is easily accessible. Furthermore, it is one of the stops on the annual summer Park To Park shuttle where residents can hop on and off the shuttle for free during operating hours.
Chautauqua Trail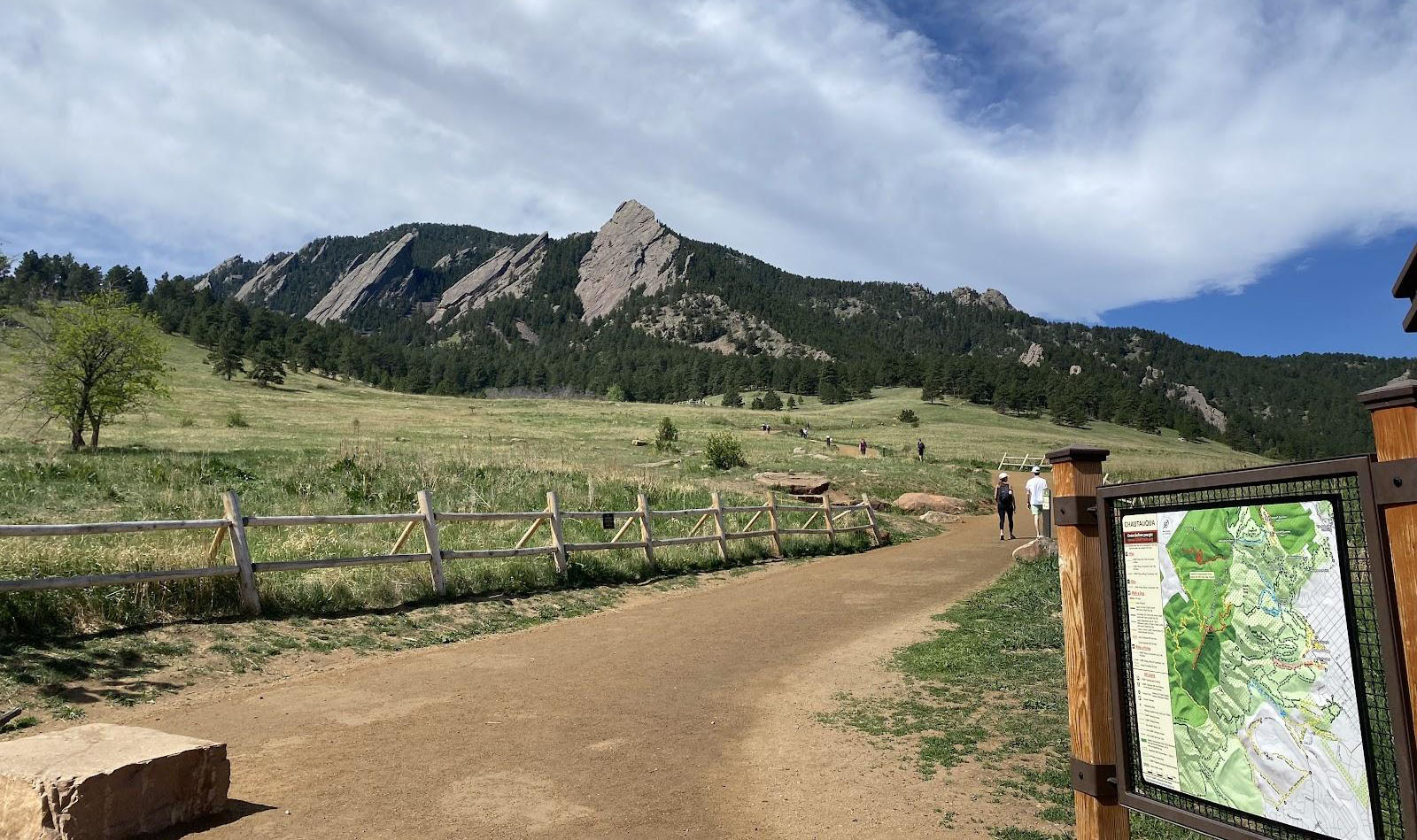 Customize your hiking experience at Chautauqua, one of Boulder's most beautiful attractions. As you make your way up you may choose from a variety of trails, long or short, challenging or relaxing, to make your hike what you want it to be. Chautauqua is a high-traffic area, so be prepared to see crowds and navigate parking.
Enchanted Mesa Trail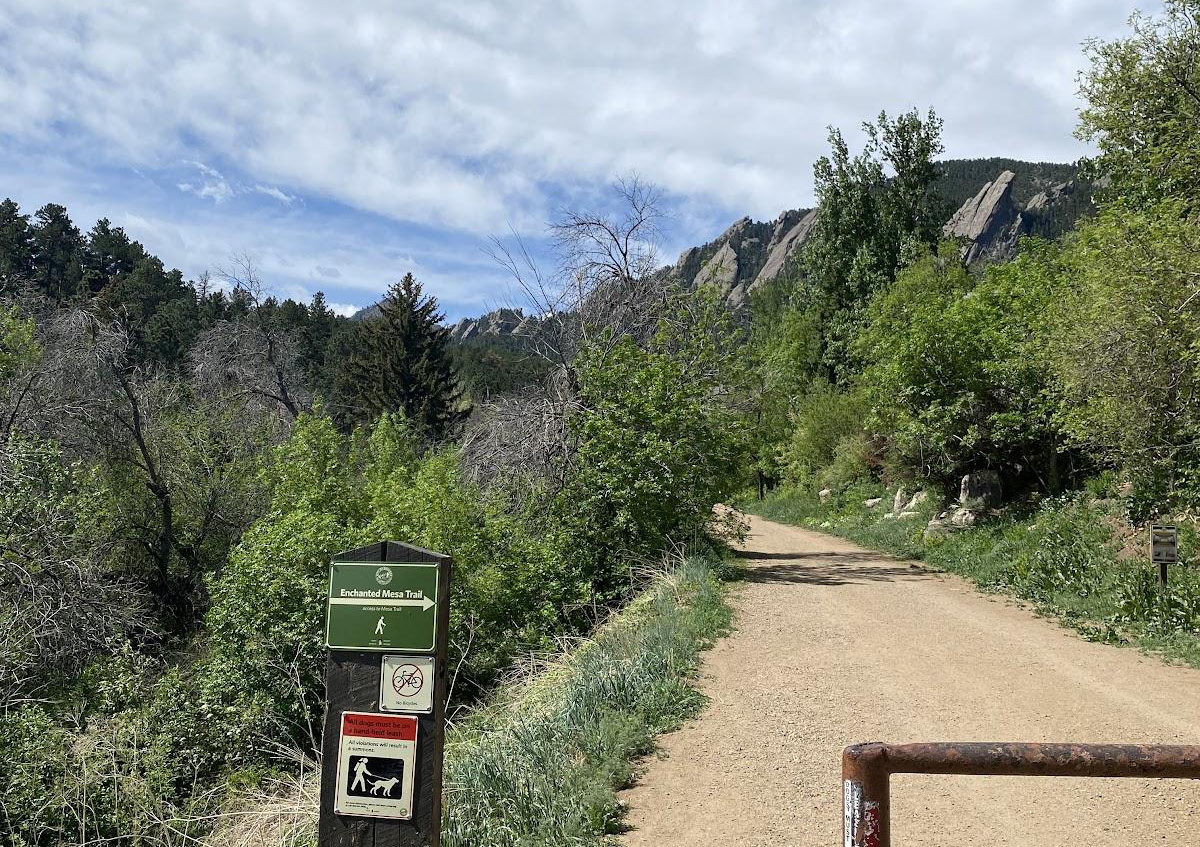 The Enchanted Mesa Trail begins right behind the Chautauqua Dining Hall. Hike up the wide curving path to find a multitude of trails to connect to. The incline is steady and the hike is considered to be fairly easy. There are shaded areas, beautiful views, and not too many people. There is parking at the trailhead, but you may also choose to find parking in the Chautauqua park.
Valmont Bike Park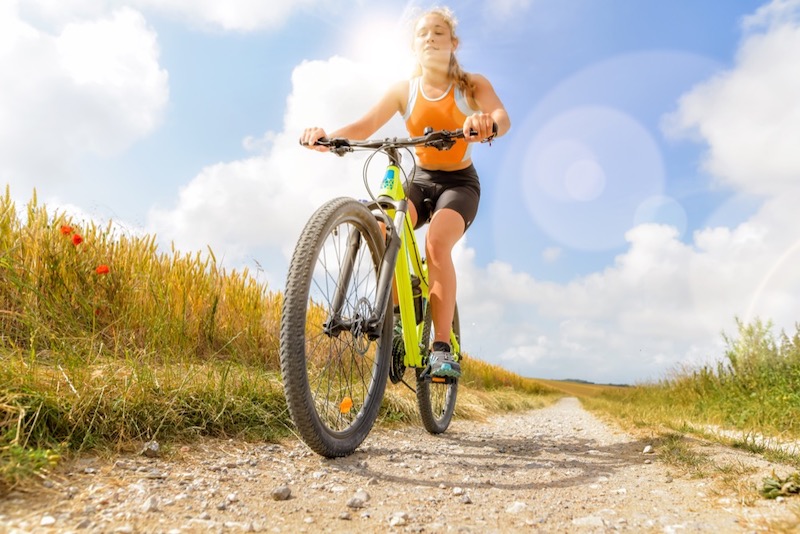 The Valmont Bike Park is open to the public 365 days a year from dawn to dusk and available for use by cyclists of all ages. While no bikes or safety equipment are available for rent at the park, nearby bike shops do offer rentals to residents for a nominal fee. The 42-acre park offers natural surface cycling terrain for training and entertainment purposes.
A variety of twists and turns make up Valmont Bike Park in addition to several jumps of various heights. Individuals can challenge themselves and their friends to take a series of jumps back to back. Riders of all skill levels can find something they enjoy at Valmont Bike Park. With 42-acres of trails and ramps, it is easy to build skills and confidence on the bike over time. Those who need to fine-tune their skills with private lessons can turn to local bike shops for assistance.
Valmont Bike Park is located off of Airport Road. Parking is readily available on-site and has enough spaces for everyone to park safely. There is enough space for individuals to load and unload their bikes from their racks without worrying about being in the way of other vehicles. Those who live close enough to ride to Valmont Bike Park will find the ride is incredibly safe due to Boulder's bike infrastructure. Just make sure to save enough energy after a day of fun at Valmont Bike Park in order to ride back home.
More Parks and Recreation in Boulder
Looking for more trails to hike, parks to visit, and outdoor recreation centers to play a game? Boulder's got you covered.
Sanitas Valley Trail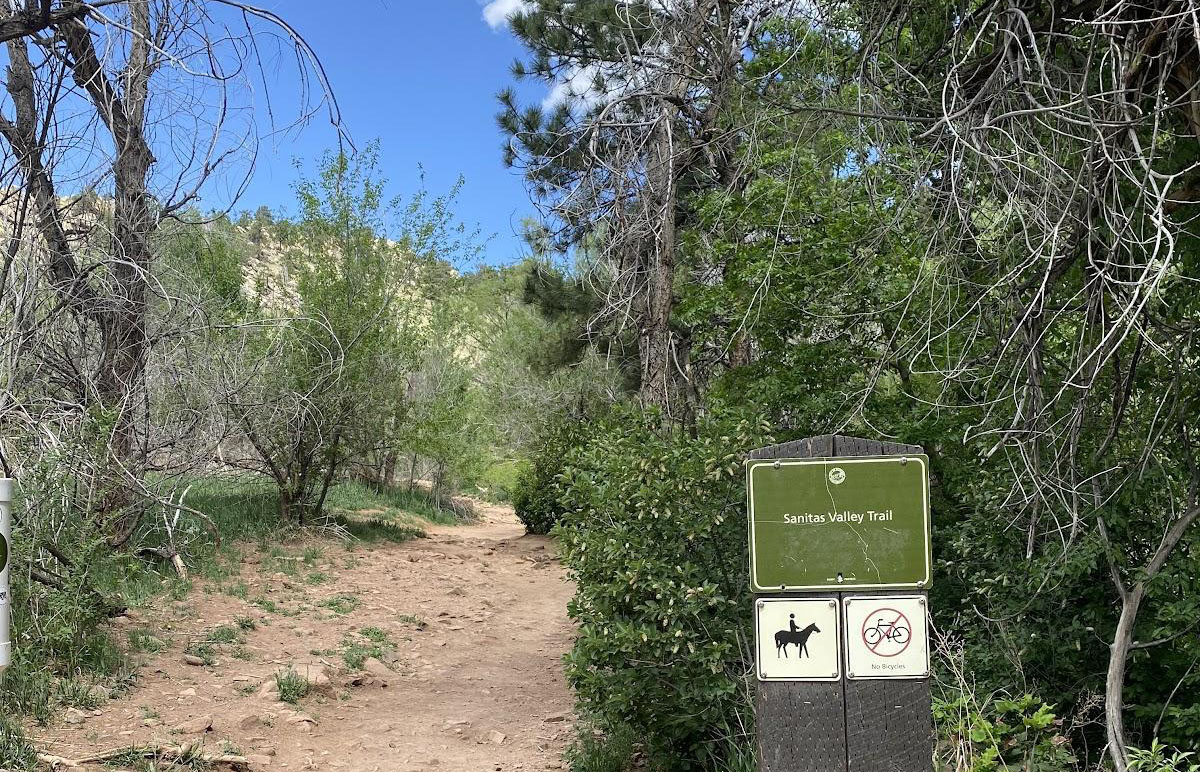 Located just a short walk from downtown Boulder, the Sanitas Valley Trail offers a challenge with incredible views as a reward. The hike is steep going up but you will have a chance to relax going downhill on your way back down. There is a small parking area at the base of the trailhead, but it does fill up quickly. Extra parking is available just up the canyon.
Flatirons Vista Trail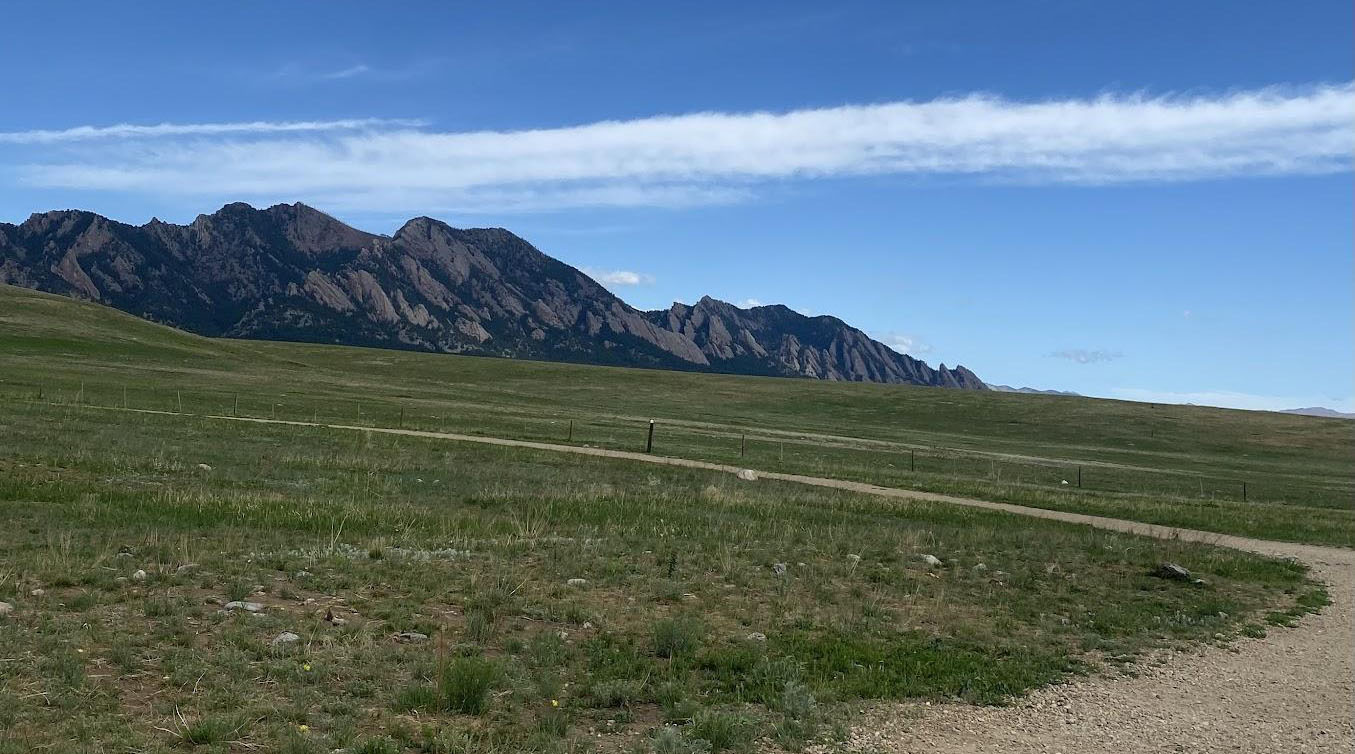 Enjoy this mellow and scenic 3.5-mile loop just south of Boulder. Expect to see many other people hiking, biking, and horseback riding. Dogs are welcome at Flatirons Vista but they must stay on a leash. There is adequate parking although a small parking fee applies in the lot at the base of the trail.
North Boulder Park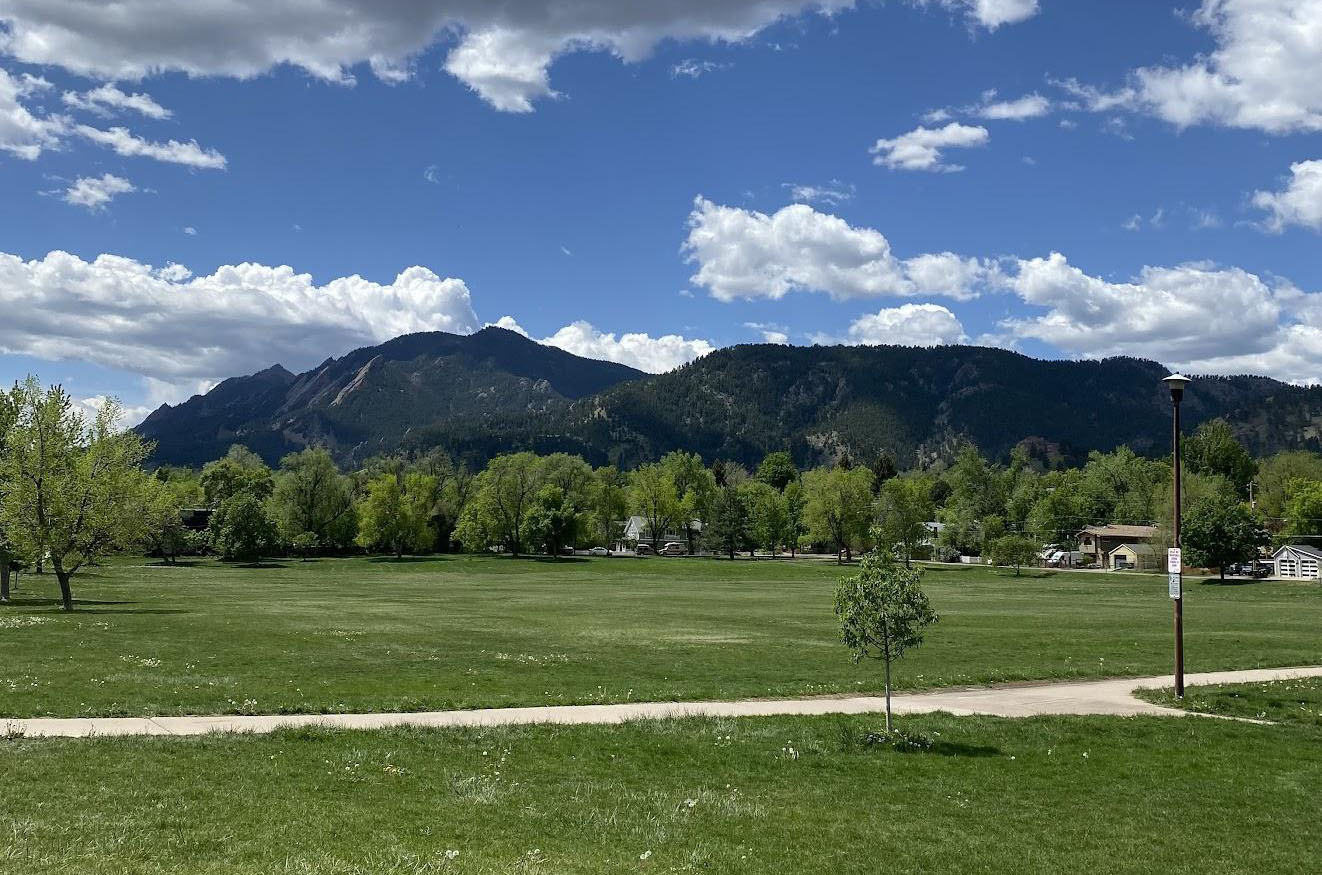 Whether you visit North Boulder Park to picnic, play baseball, play basketball, play on the playground, or just enjoy the outdoors in the grass, you will always have a perfect Flatirons view. The park is within the Newlands neighborhood and is a perfect place for all to gather.
Harlow Platts Community Park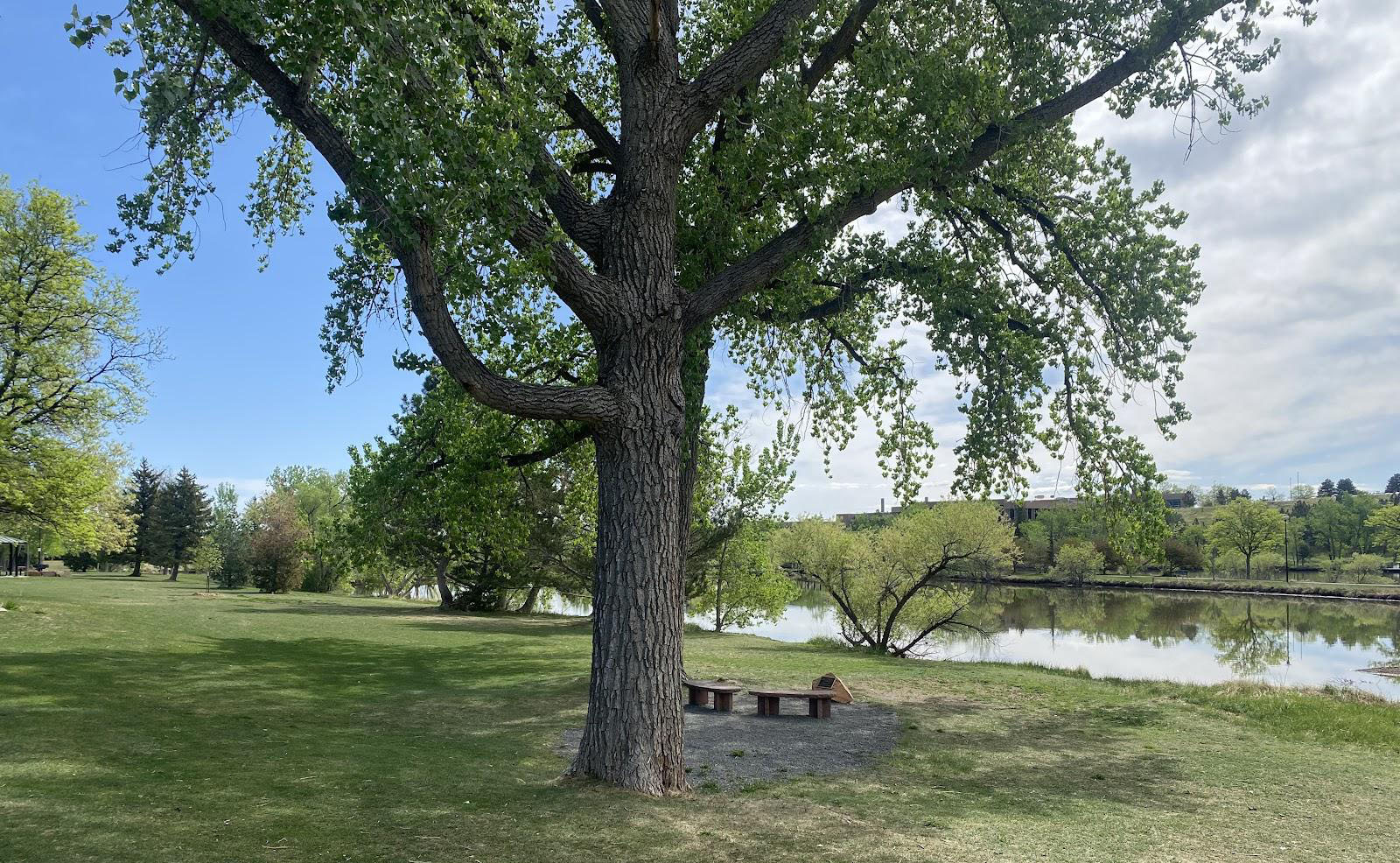 Harlow Platts Community Park, located right next to the South Boulder Recreation Center, is home to ample green space and Viele Lake. Also dispersed around the area are a playground, a disc golf course, workout stations, a park shelter, and walking trails. If you have the urge to get out on the lake, you are allowed to bring a non-motorized boat that is no longer than 14 feet.
Columbine Park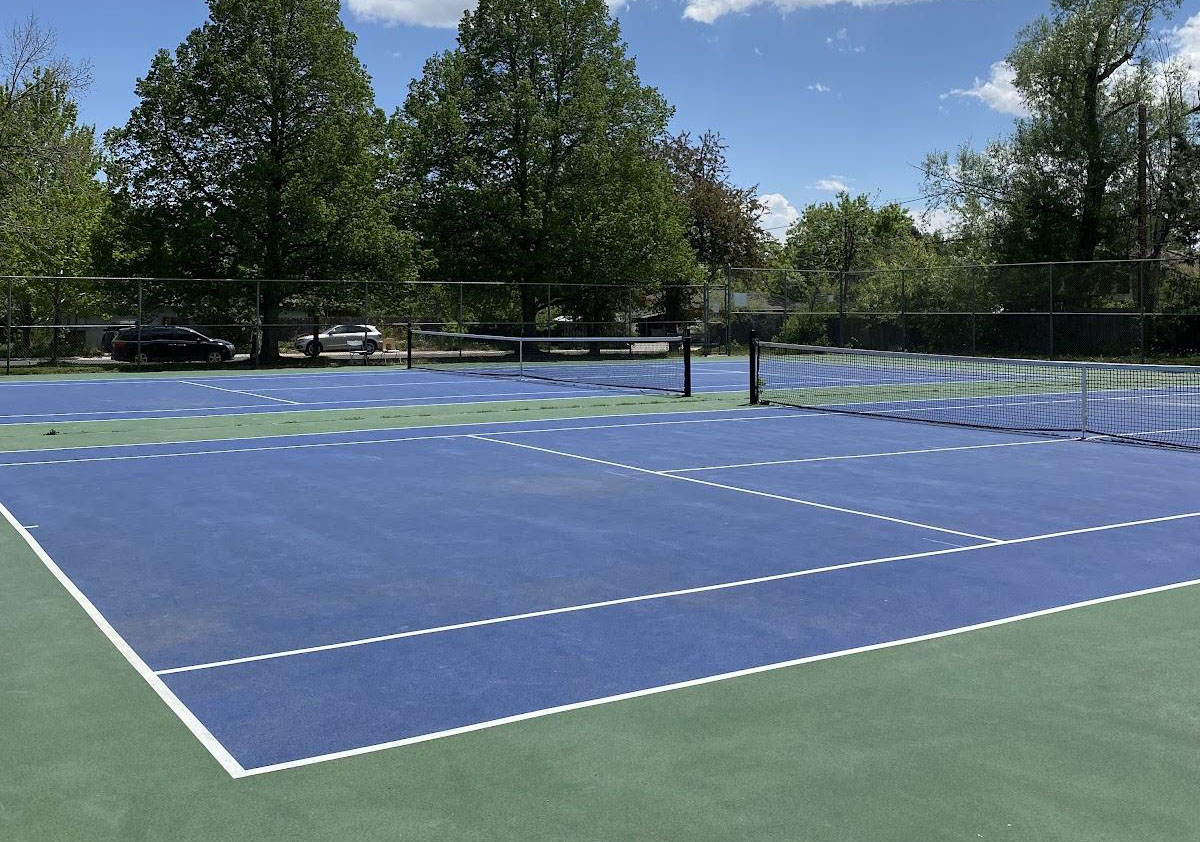 Improve your tennis game on the courts at Columbine Park. These two courts are situated in Old North Boulder. They are in good condition. Be sure to bring enough water as there are not many trees to provide shade. To play for one hour, you will need to pay a small fee of $6.00.
North Boulder Recreation Center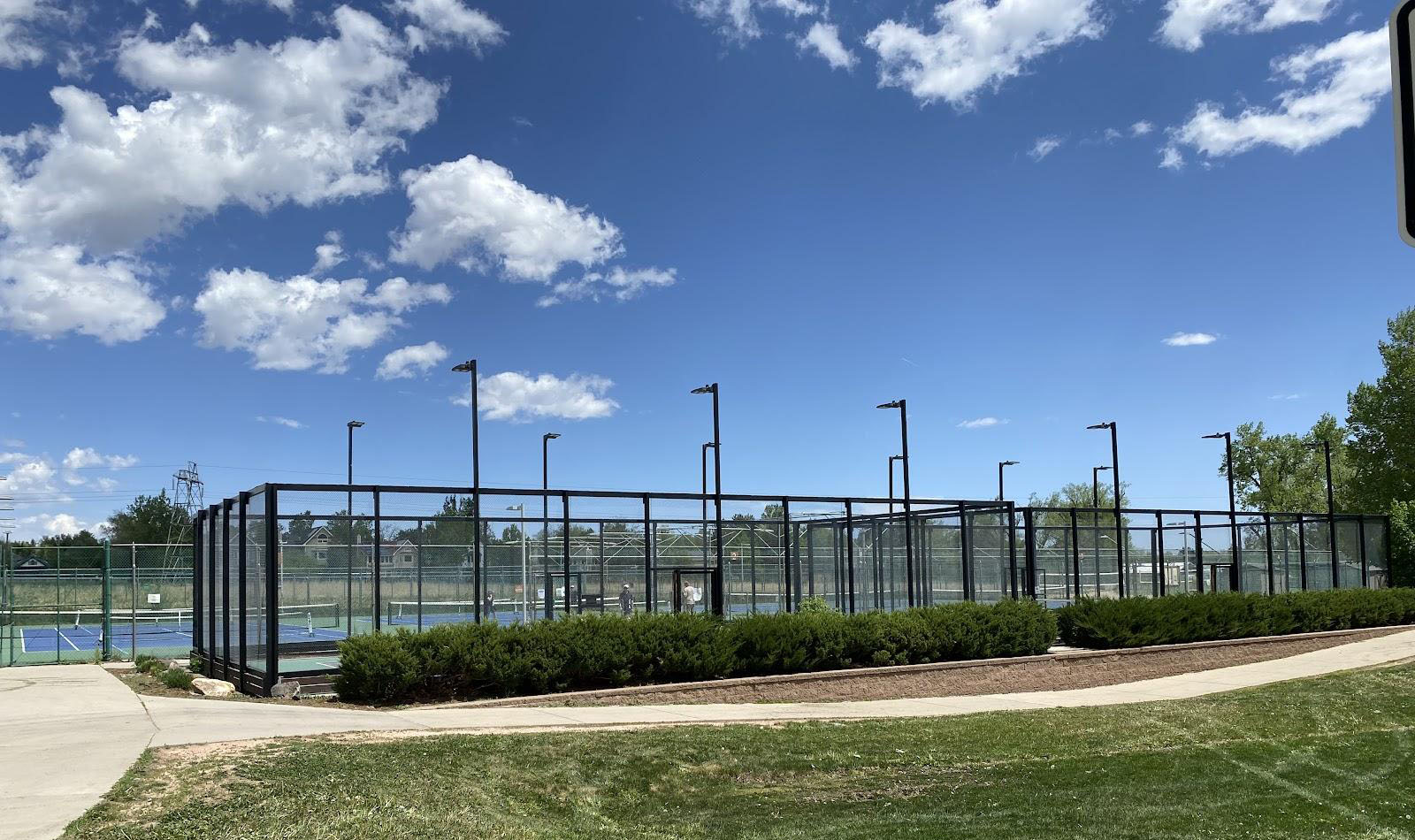 The four tennis courts at North Boulder Recreation Center are conveniently located off of Broadway near the Newlands neighborhood. These courts are not just limited to tennis; feel free to try out pickleball! The courts are also equipped with lights so if the sun goes down, you can still finish your match. To play at these courts, there is a fee of $7.50 for 1.5 hours.
South Boulder Recreation Center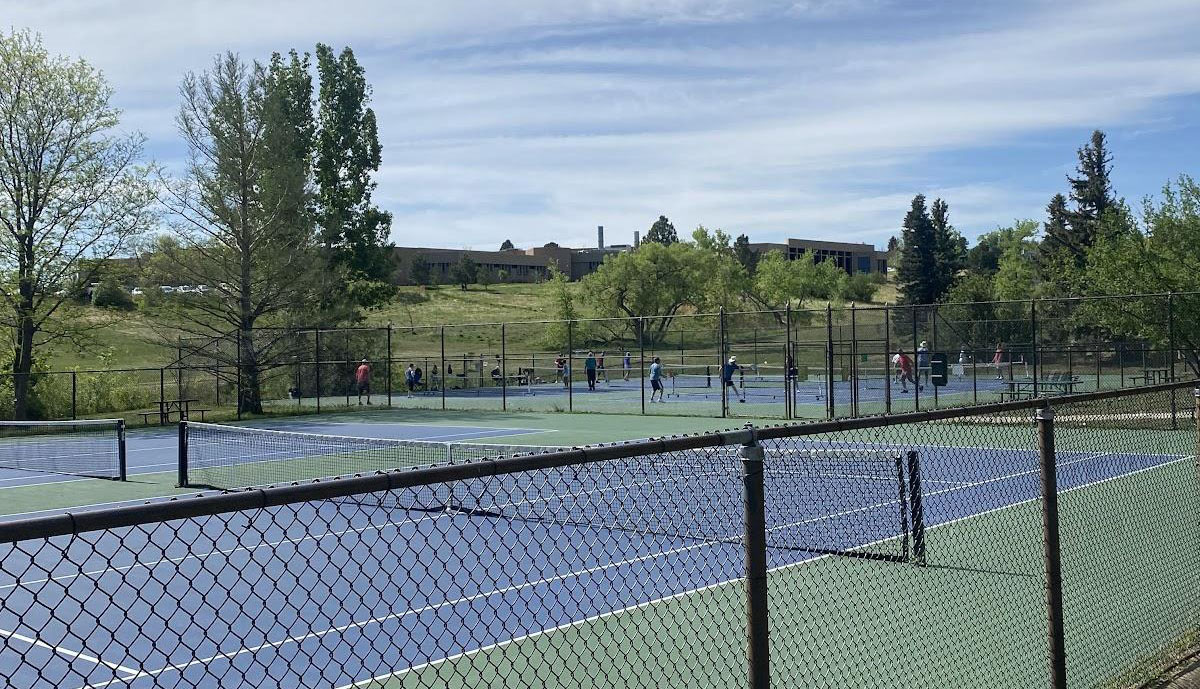 The South Boulder Recreation Center is home to four tennis courts. You will probably see pickleball players on these courts as well… maybe you'll choose to join in! The fee to play on these courts is $7.50 for 1.5 hours.
Note: these tennis courts do not have lights.
Fiske Planetarium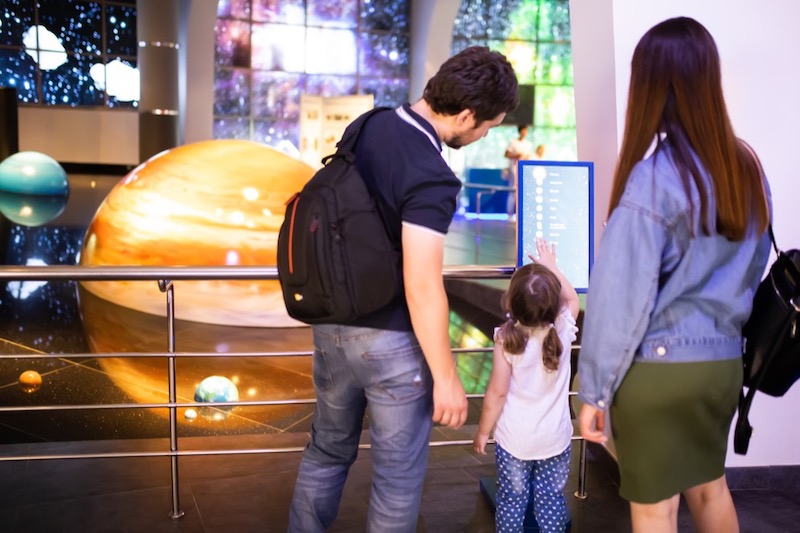 The Fiske Planetarium is an exceptional attraction to visit at any time of the year. Since the attractions of the Fiske Planetarium occur inside, it does not matter if it is the dead of winter or summer. Guests can enjoy films, live talks, laser shows, concerts, and special events at the Fiske Planetarium. Additionally, astronomical events that occur around the world are broadcasted here and are open for public attendance.
The Fiske Planetarium opened in 1975 after alumni Wallace Franz Fiske provided the University of Colorado with a generous donation. Today, the 65-foot diameter dome is the largest planetarium in the west. While the Fiske Planetarium is located on the University of Colorado campus, it is open to the public throughout the year. Exactly 206 guests can be seated at any given time and enjoy the 8K Sky-Skan projection system or the MegaStar projector, which shows the entire Milky Way.
Where to Stay in Boulder, Colorado
Several of of the best hotels in Boulder qualify as attractions all on their own, and many feature great views and convenient locations to enjoy Boulder's many popular destinations. Here are a few places on our recommendation list.
Hotel Boulderado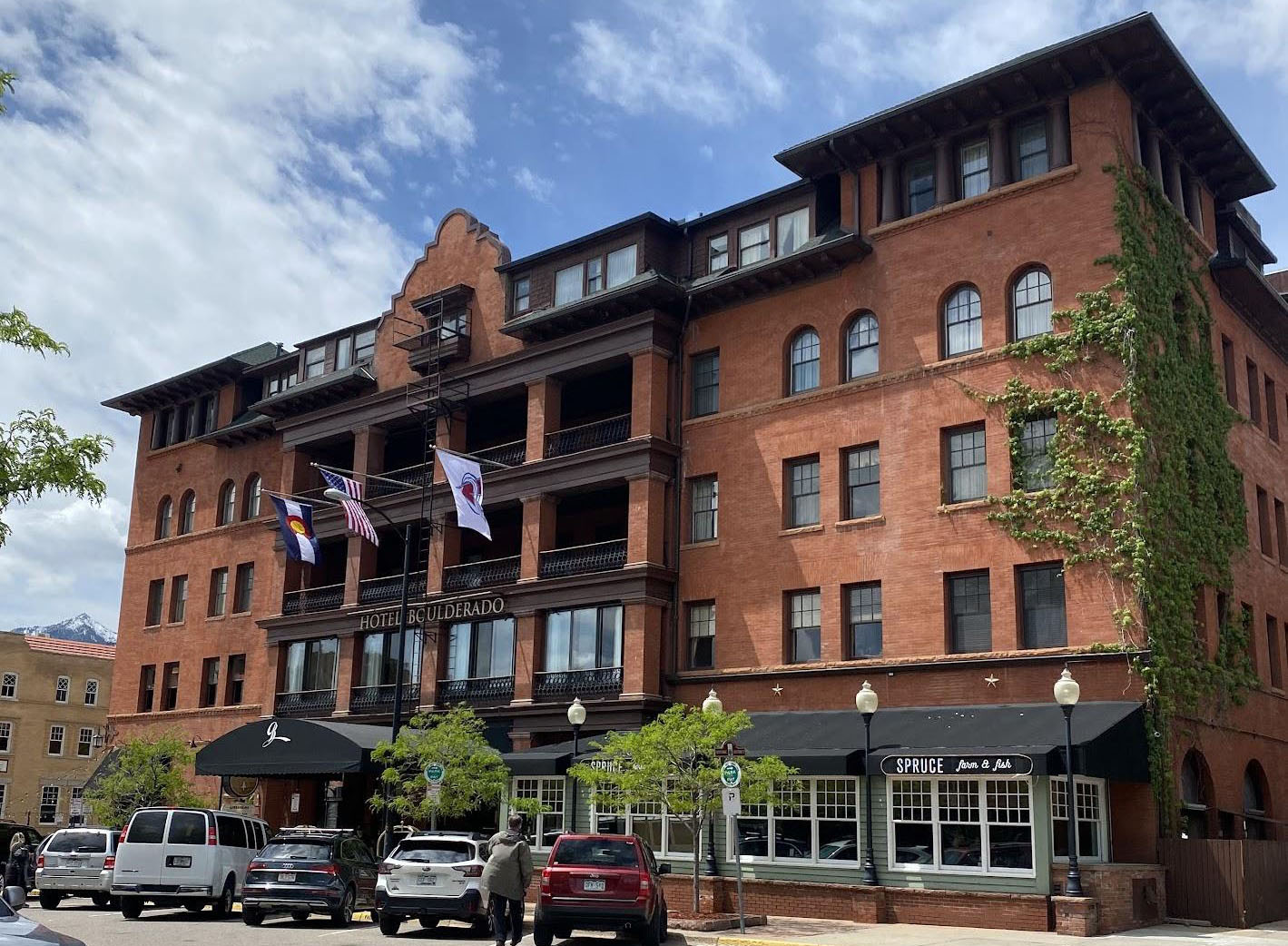 Complete your Boulder experience at Hotel Boulderado, one of the city's most famous hotels. Engross yourself in the charm of the historic rooms and enjoy the outstanding restaurants downstairs.
St. Julien Hotel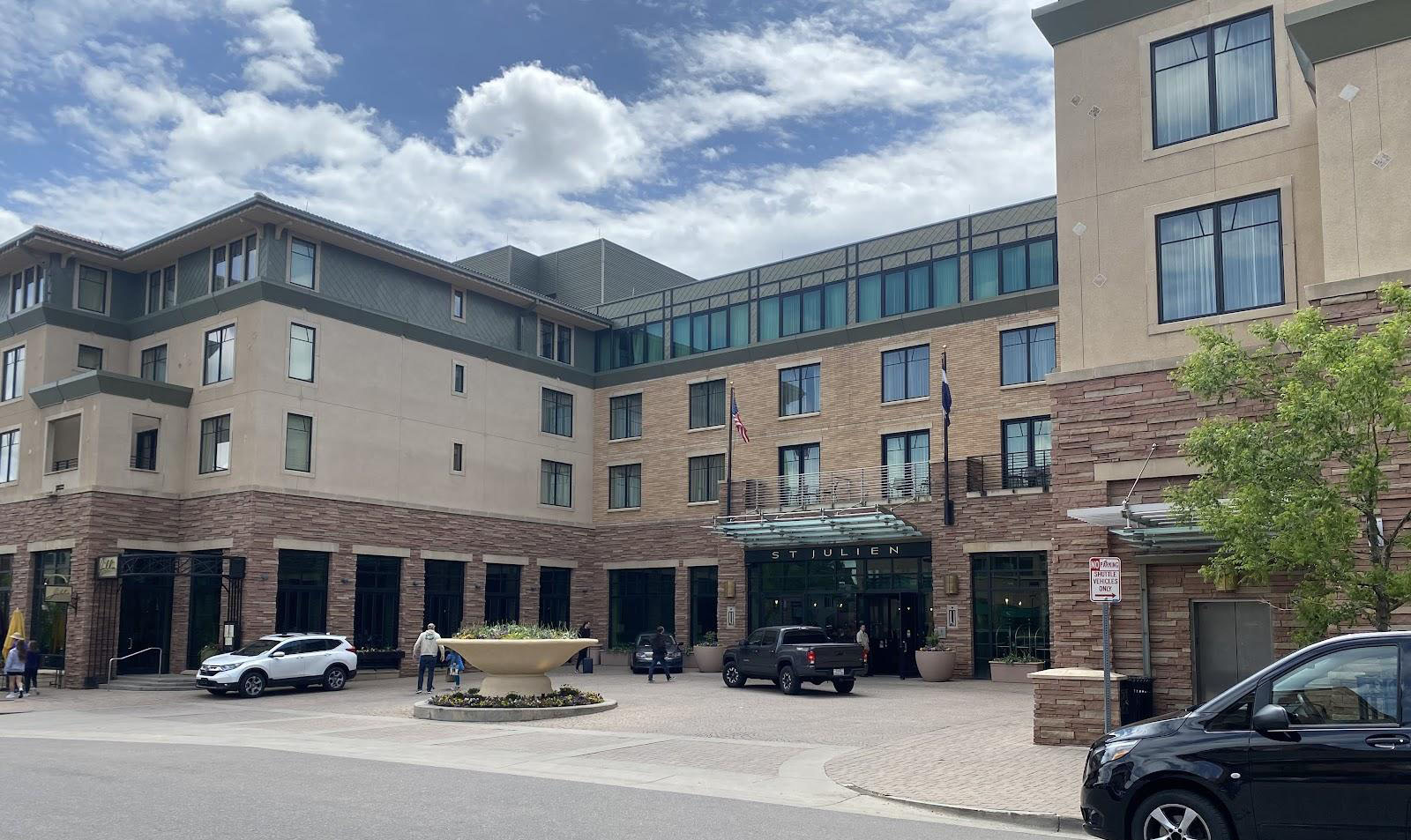 Experience luxury in the middle of the action at Boulder's St. Julien Hotel and Spa. Explore downtown and spend some time in the spa on your next vacation to Boulder. Breathtaking views of the Flatirons will top off your stay at one of the city's favorite hotels.
Boulder Marriott Hotel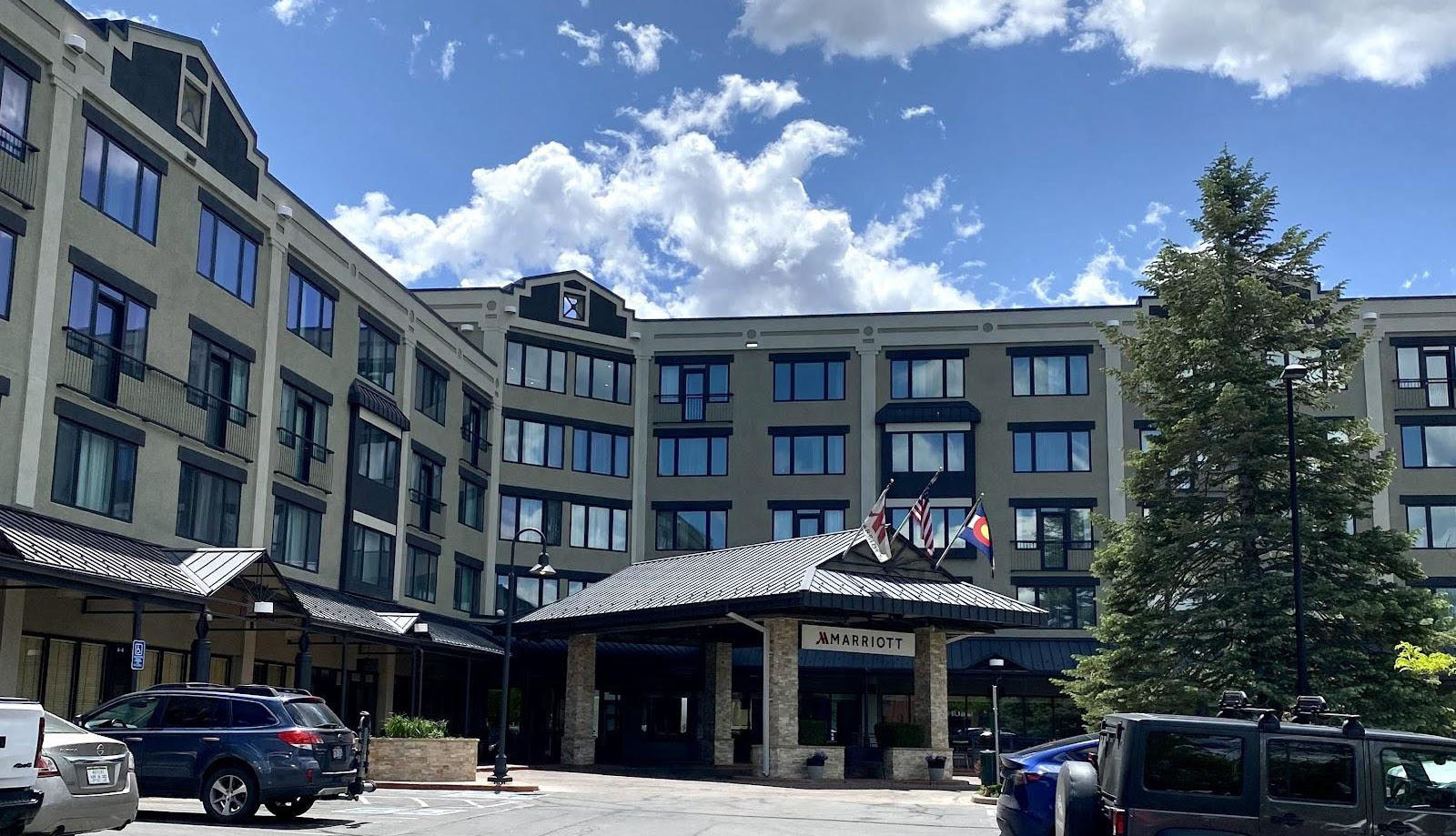 Settle in at the newly-renovated Boulder Marriott on your next trip to Boulder. Tour different areas of Boulder in this conveniently located hotel, just a mile from Pearl Street Mall.
Embassy Suites by Hilton Boulder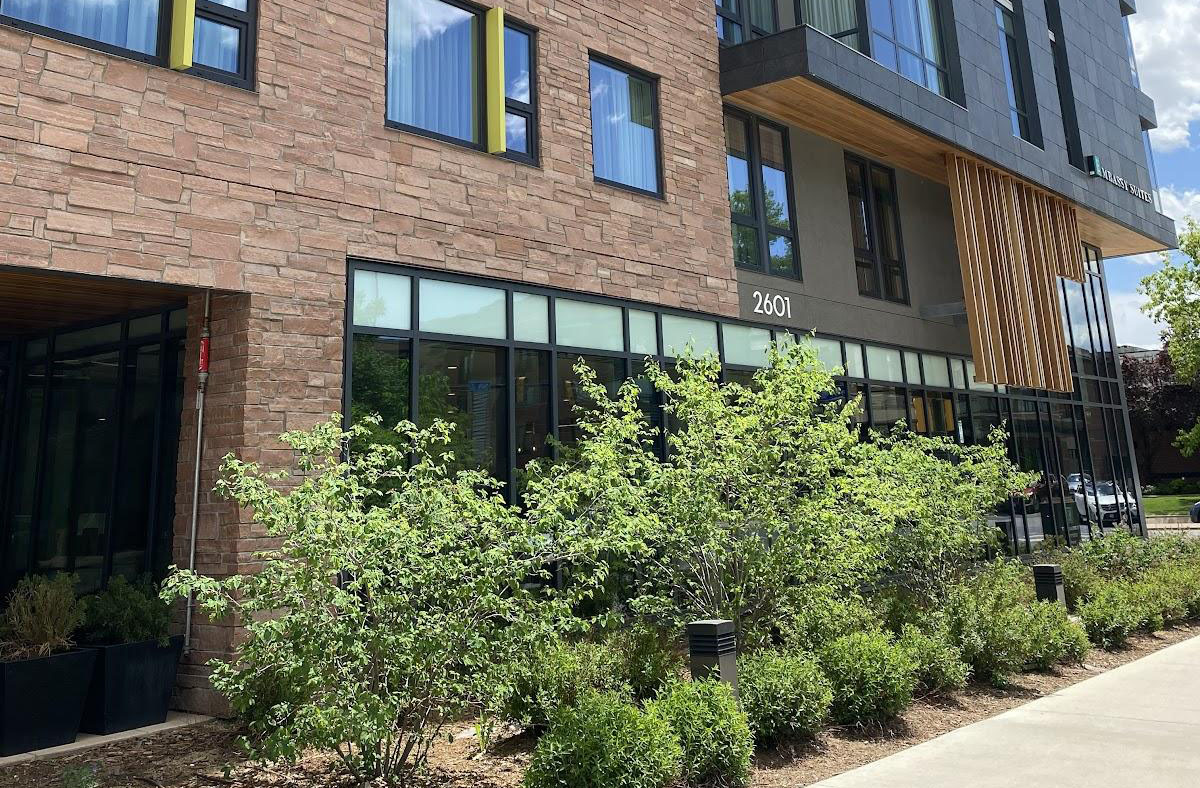 Embassy Suites by Hilton Boulder provides a clean, relaxing stay with easy access to downtown and the University of Colorado Boulder. Walk to the outdoor mall at 29th Street for some shopping or to one of Boulder's central restaurants or museums.
Great Neighborhoods to Enjoy Boulder Attractions
If you're looking for the best places to live in Boulder to enjoy these attractions on a regular basis, take a look at some of the following Boulder neighborhoods.
Mapleton Hill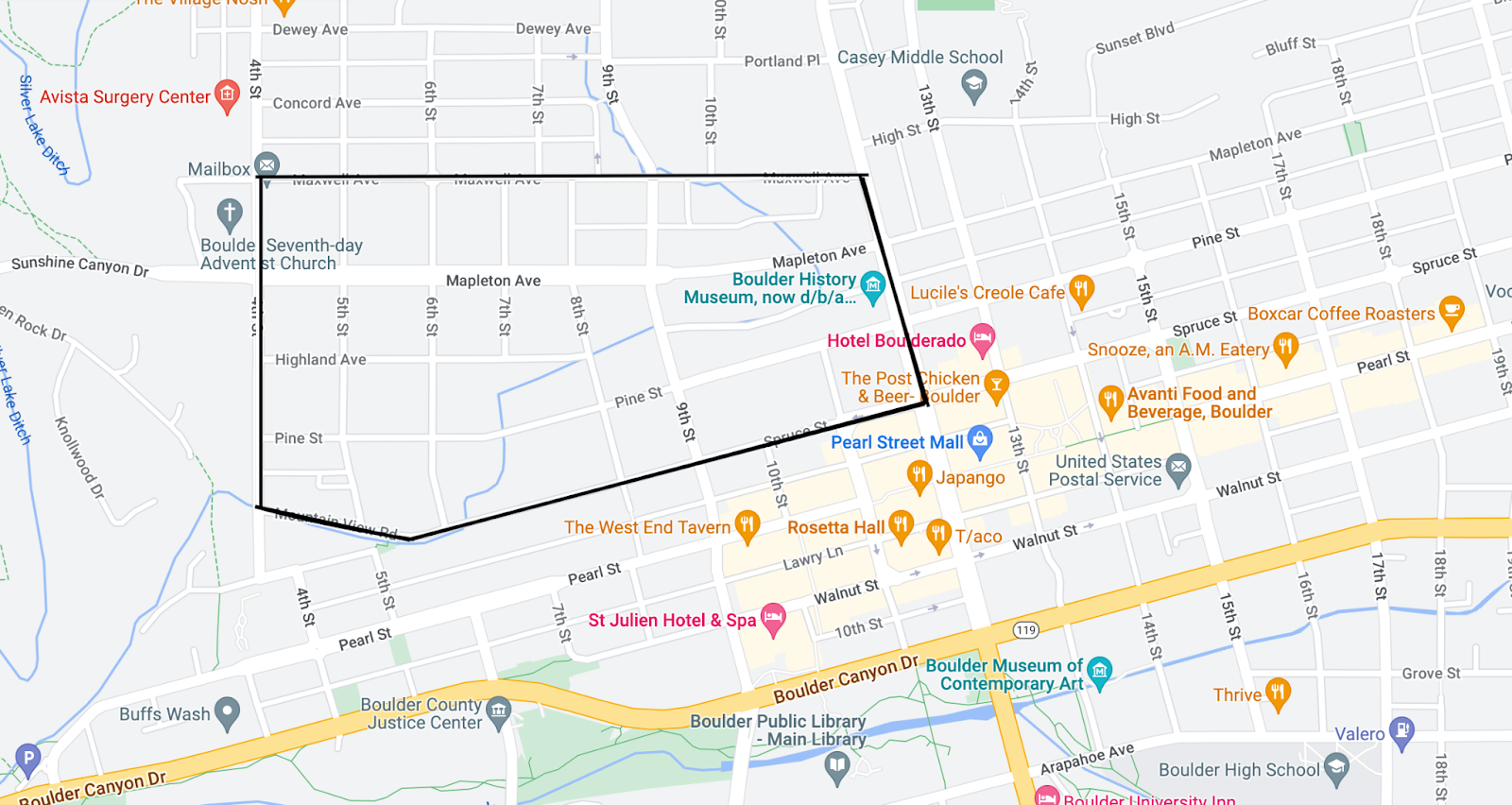 Mapleton Hill is known for its grand homes on beautiful, quiet tree-lined streets. Located just north of downtown, the Mapleton Hill neighborhood is only a short walk from some of Boulder's best shops and restaurants.
Whittier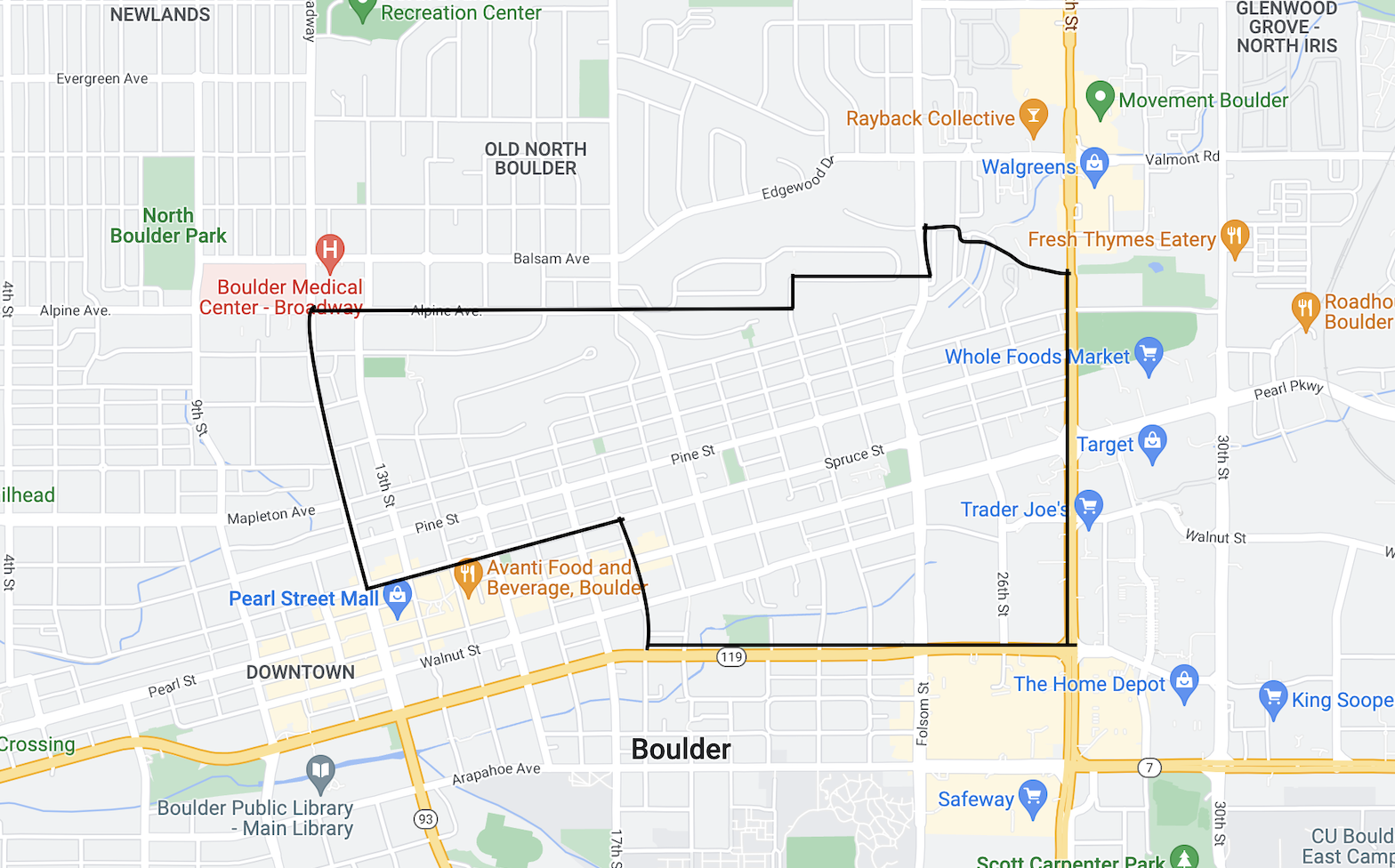 The Whittier neighborhood sits on the east side of Broadway and consists of both residential and commercial buildings. The central location makes walking to shops and restaurants convenient. Whittier boasts incredible historic architecture, though there are more modern homes scattered throughout the area.
Parkside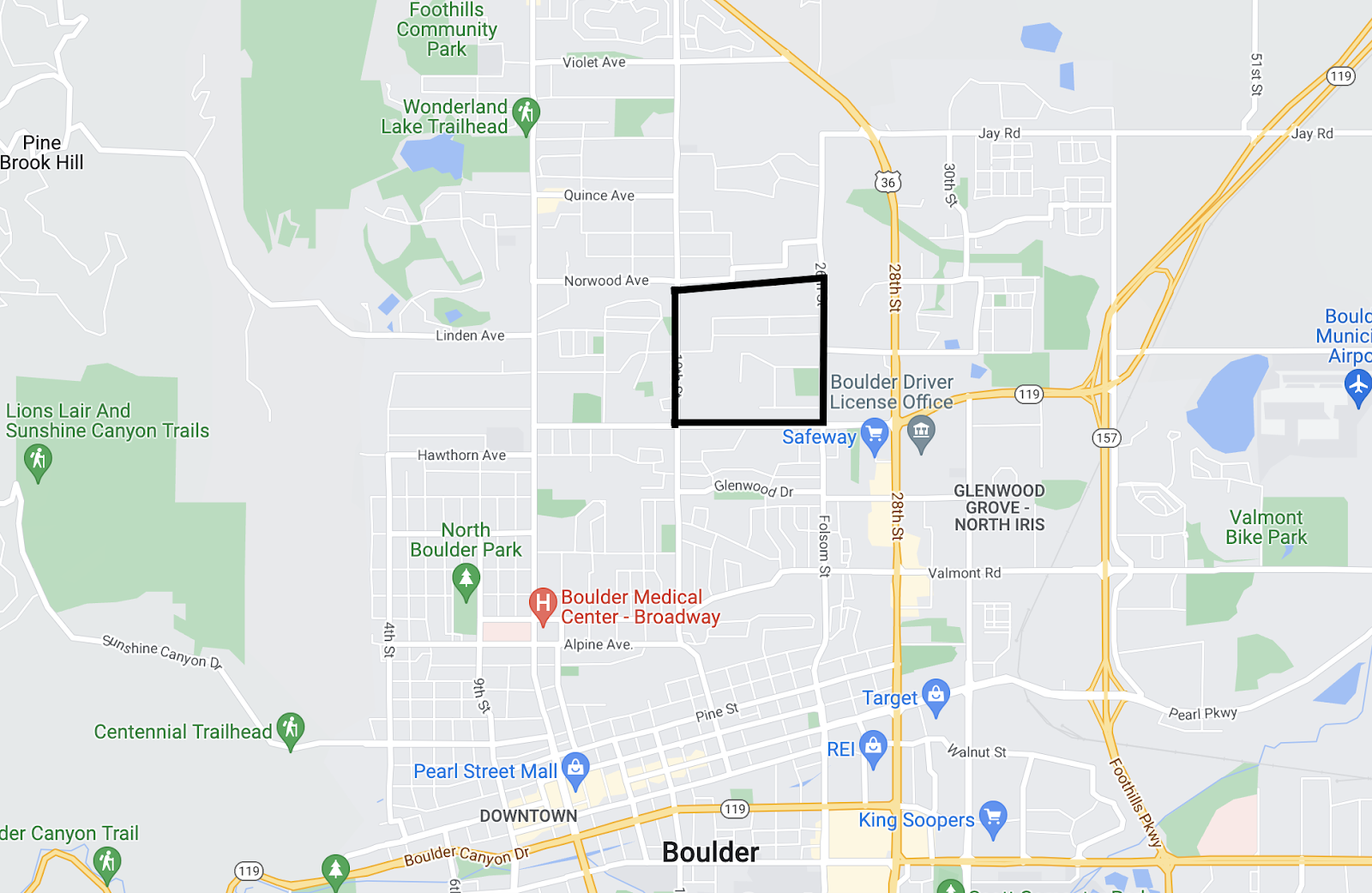 Parkside includes homes in a range of sizes and prices. Find some of Boulder's most luxurious homes on large lots on the northern side of the Parkside neighborhood. The neighborhood is a longer walk or bike from downtown, but other restaurants and shops are close by.
Newlands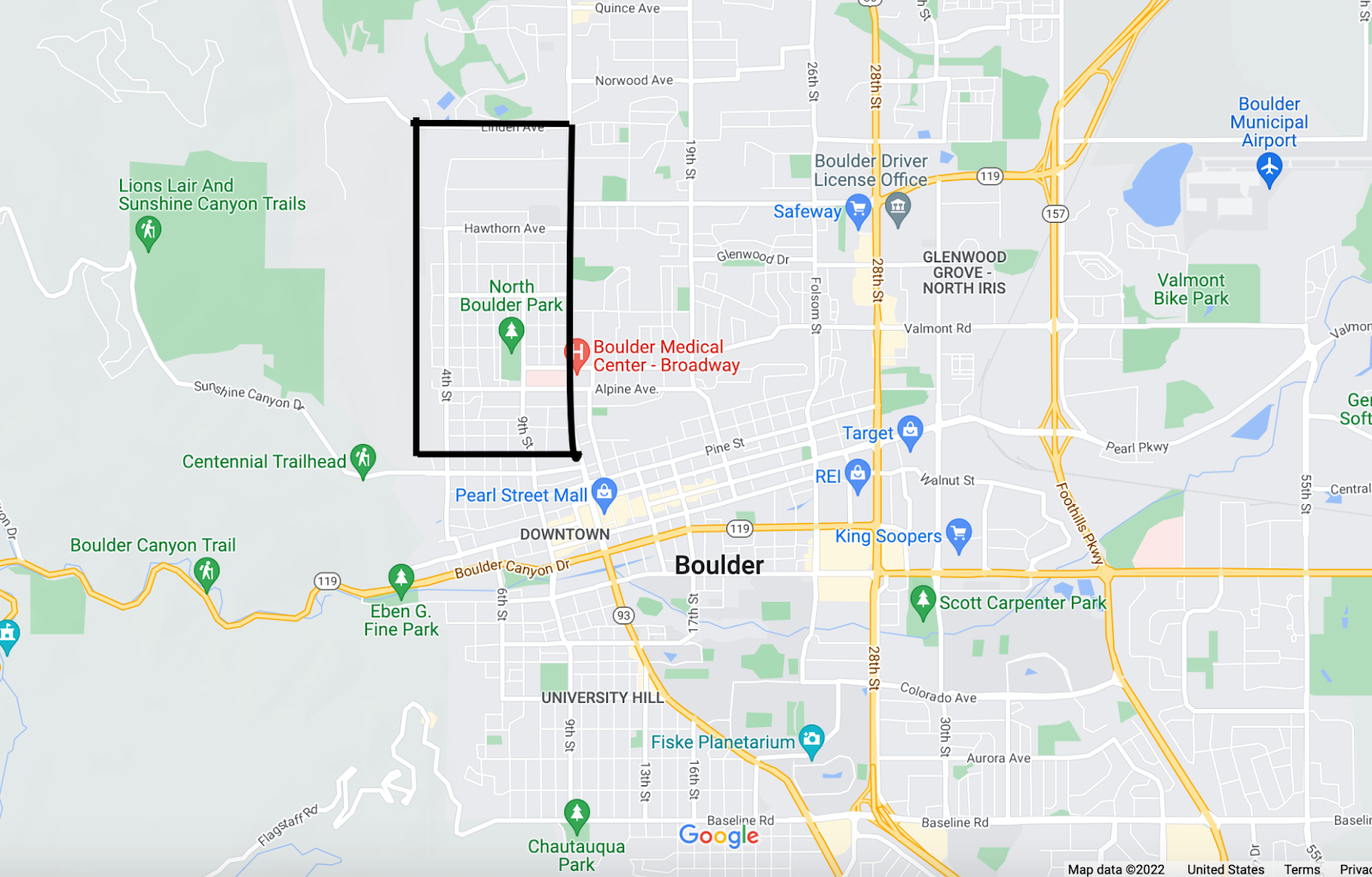 The Newlands community offers a quiet living area while still being close to downtown and also backs up to popular hiking trails on Mount Sanitas. The area comprises various types of homes, both new and old, and many homes have been rebuilt or renovated on the inside.
Table Mesa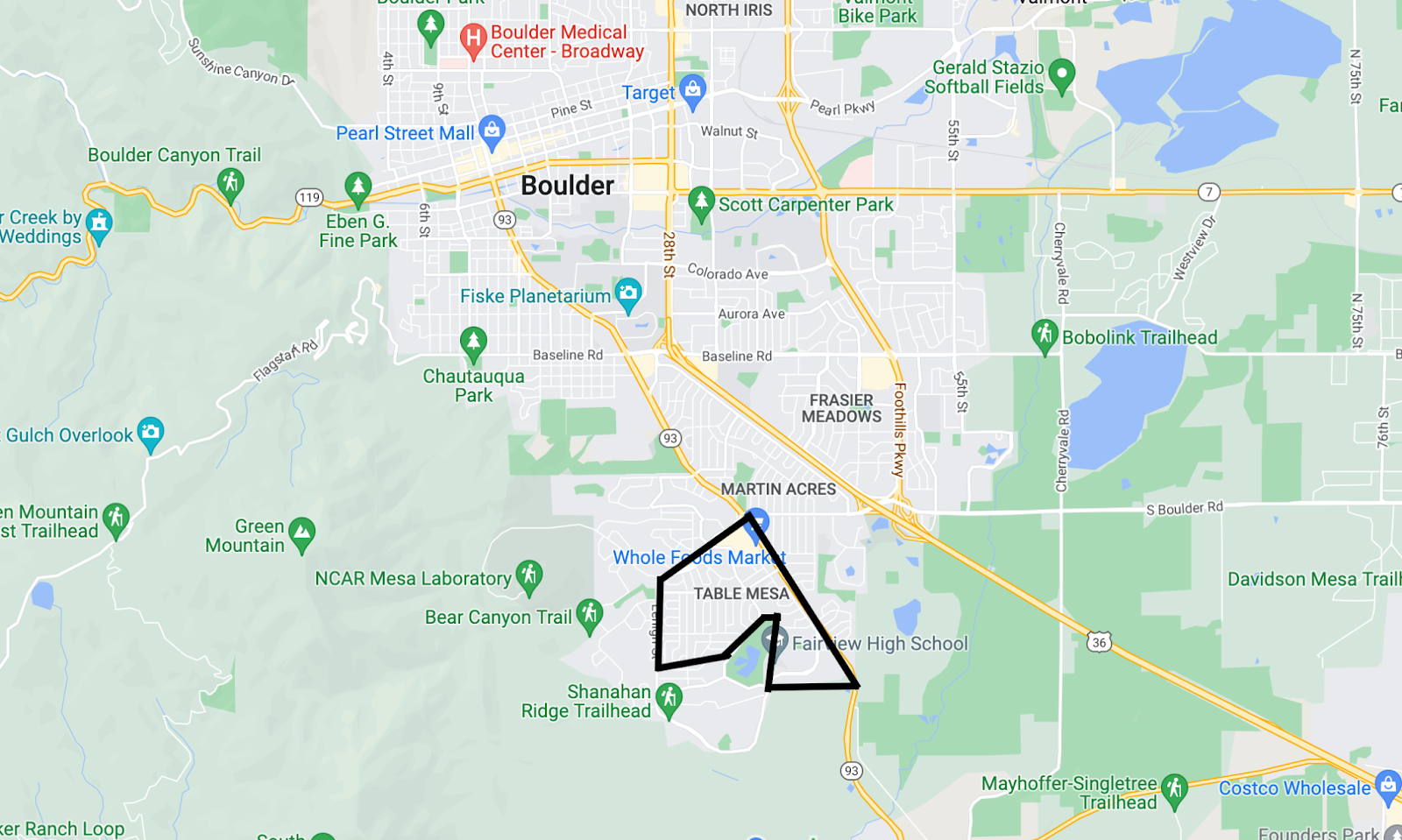 Boulder residents of all ages reside in the Table Mesa community. Find grocery stores, restaurants, and shopping all within the neighborhood. Take advantage of the easy access to transportation and gorgeous views of the mountains.
Old North Boulder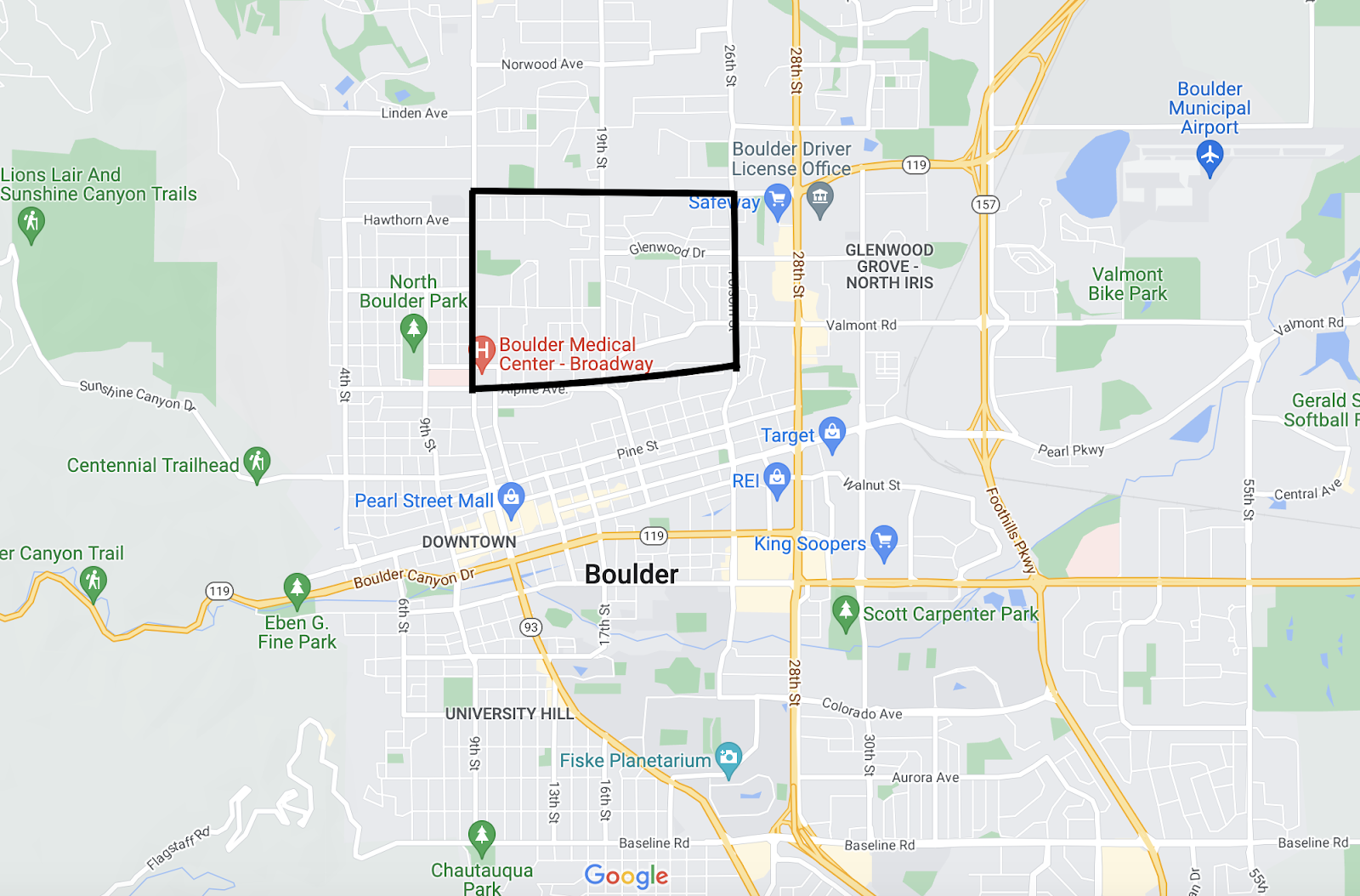 The original North Boulder is not what we know as North Boulder today. The Old North Boulder neighborhood spans from Broadway to Folsom and Alpine to Iris. Old North Boulder consists mostly of single-family homes. The neighborhood features the Ideal Broadway Shops where you will find a grocery store, restaurants, a pharmacy, and ice cream.
Pine Brook Hill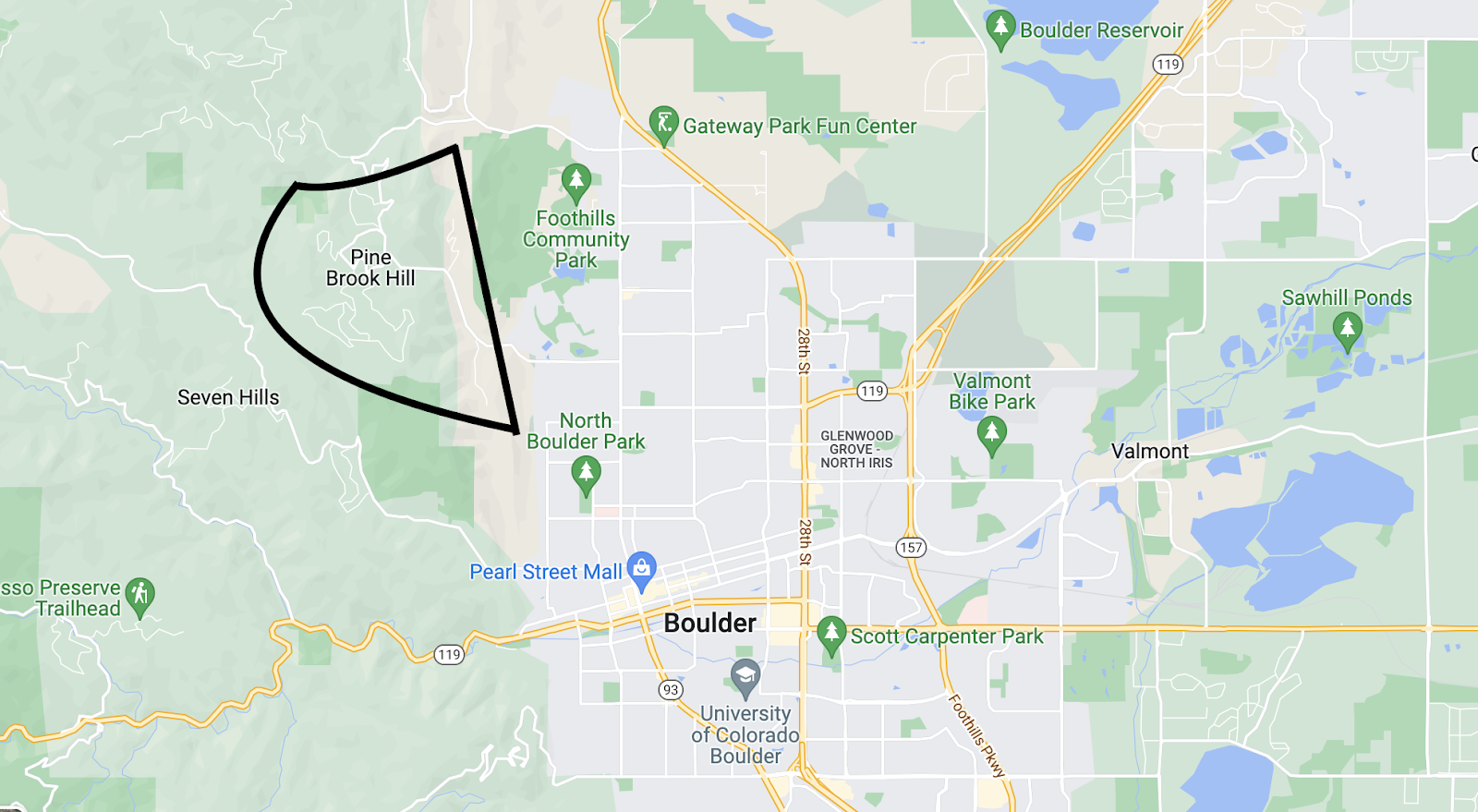 Pine Brook Hill is located west of Boulder, about five miles from downtown. Approximately 400 homes lie on the foothills of the mountains above with incredible views of the city below. Buyers looking for a more rural mountainous experience will take a liking to the Pine Brook Hills neighborhood.
Waterstone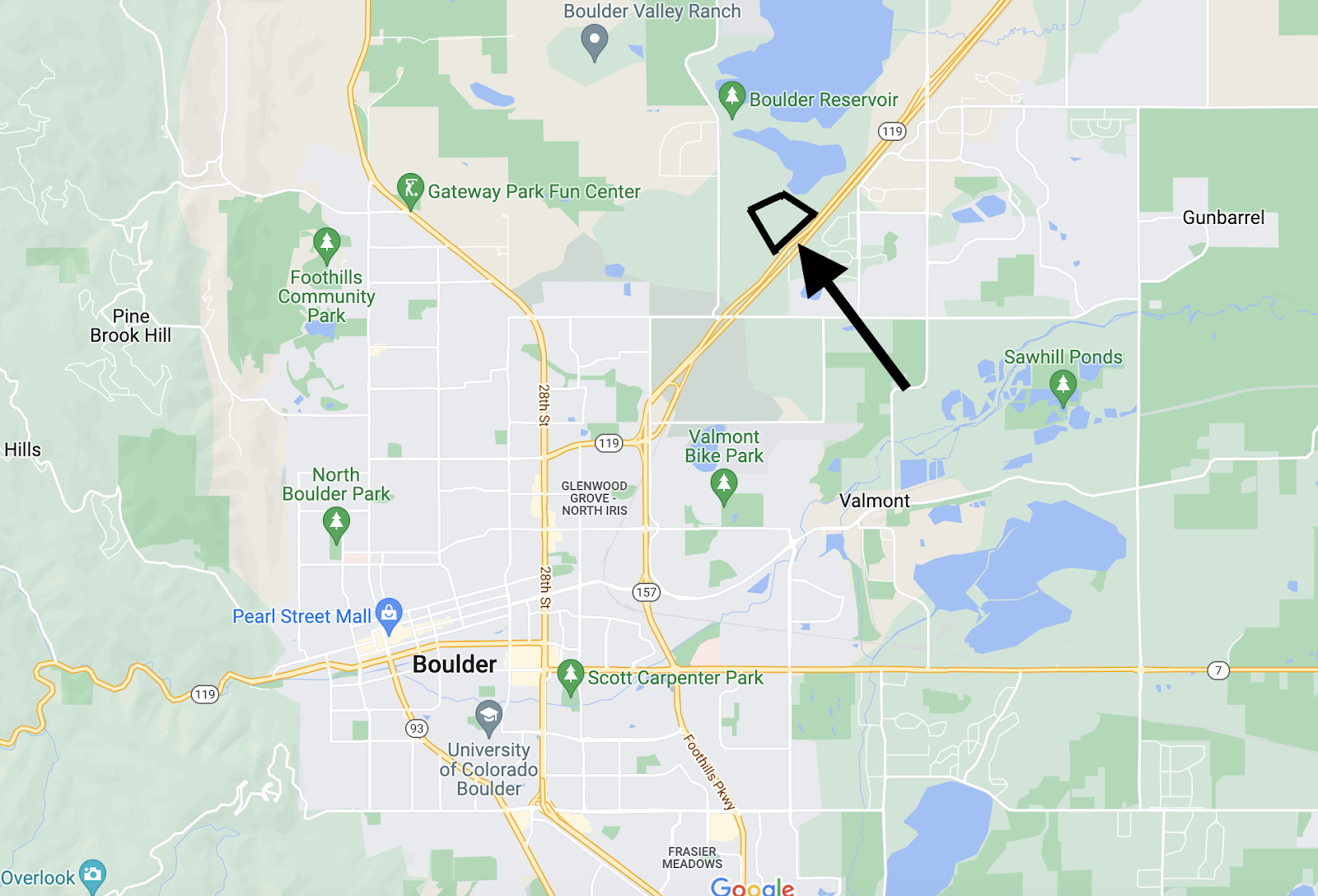 The Waterstone community is situated adjacent to the Diagonal Highway about six miles from central Boulder. Find spacious homes on large lots of land in this neighborhood of under 30 homes. Walking trails and reservoirs surround the area right down the street.
Chautauqua and Lower Chautauqua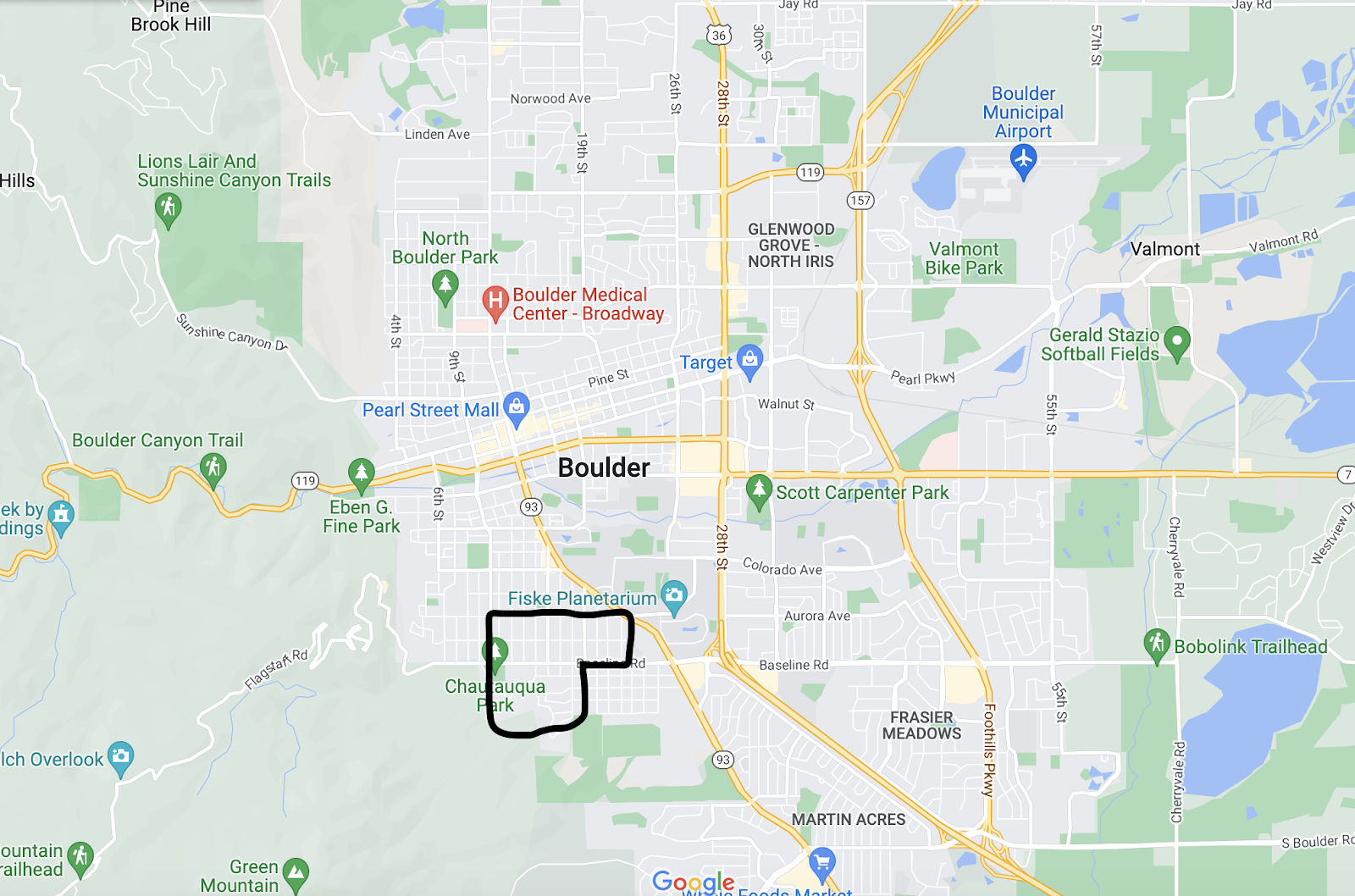 The Chautauqua community is one of the oldest neighborhoods in Boulder, made up of historic and modern single-family homes. Enjoy access to Chautauqua Park and trails right in your backyard.
Rural North Boulder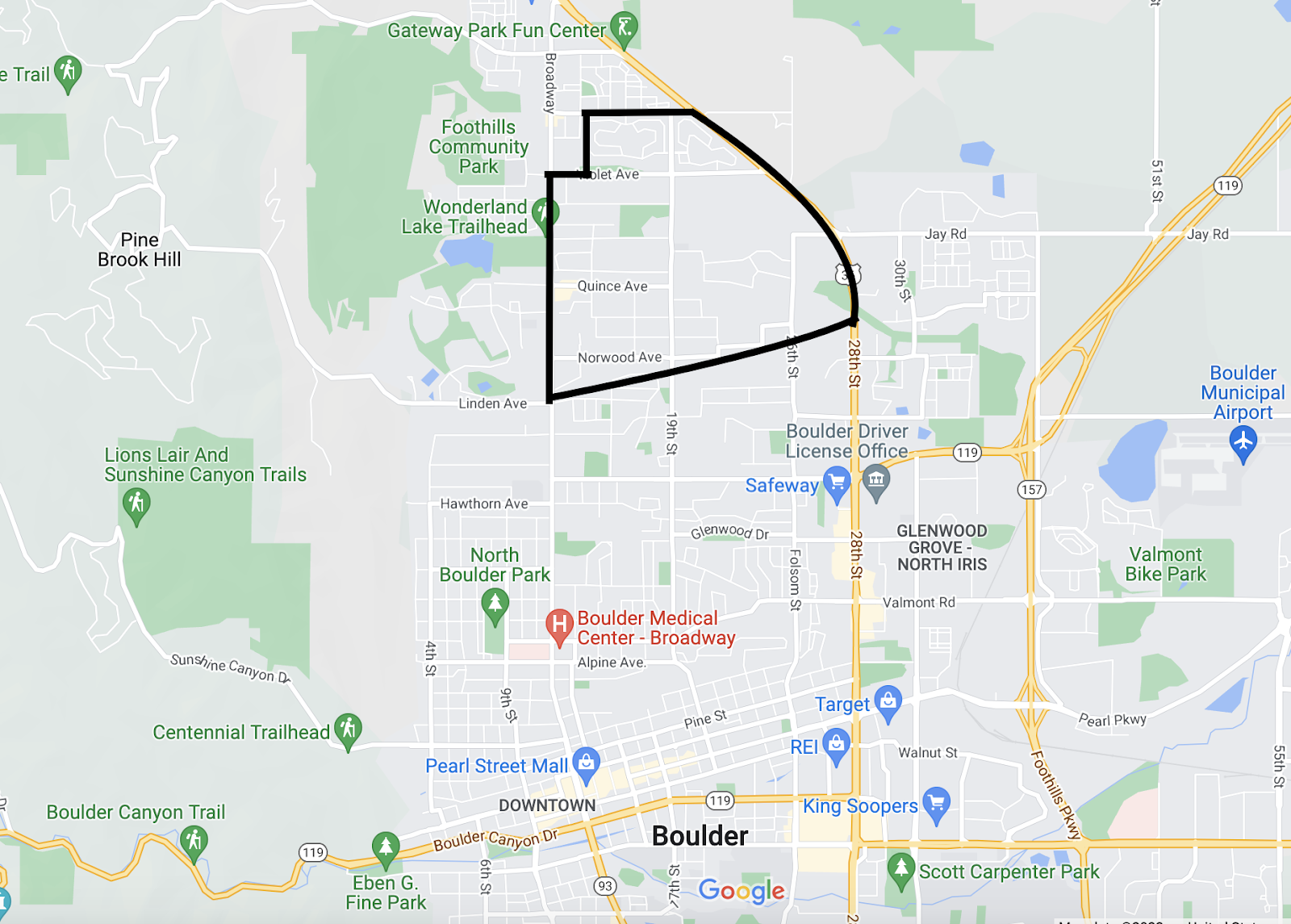 Those looking for peace away from the city center with easy access to mountains and outdoor activities will find just that in Rural North Boulder. Quiet streets and gorgeous sprawling homes welcome you to the area. Dine at many delicious restaurants and bakeries and get some grocery shopping done at the shopping center off of Broadway and Quince in the North Boulder community.
See Boulder's Most Popular Sights
While the first images that typically come to mind when one thinks of Boulder are rock climbing and hiking, those aren't the only things to do in Boulder. Residents in Boulder have access to a range of attractions and activities that can be enjoyed throughout the year. While many of these are still centered around the great outdoors and mountain air, there is something for everyone to enjoy. Better still, Boulder offers residents the ability to enjoy the beautiful Rocky Mountains in more than just one way. Grab a picnic blanket, dust off the hiking boots, or grab an exceptional meal in historic downtown. Whatever one desires to do, they can find a way to make the adventure happen when they move to Boulder, Colorado.