Your Guide to Public Transportation in Boulder, CO
Posted by Boulder Home Source on Monday, July 12, 2021 at 6:26 AM
By Boulder Home Source / July 12, 2021
Comment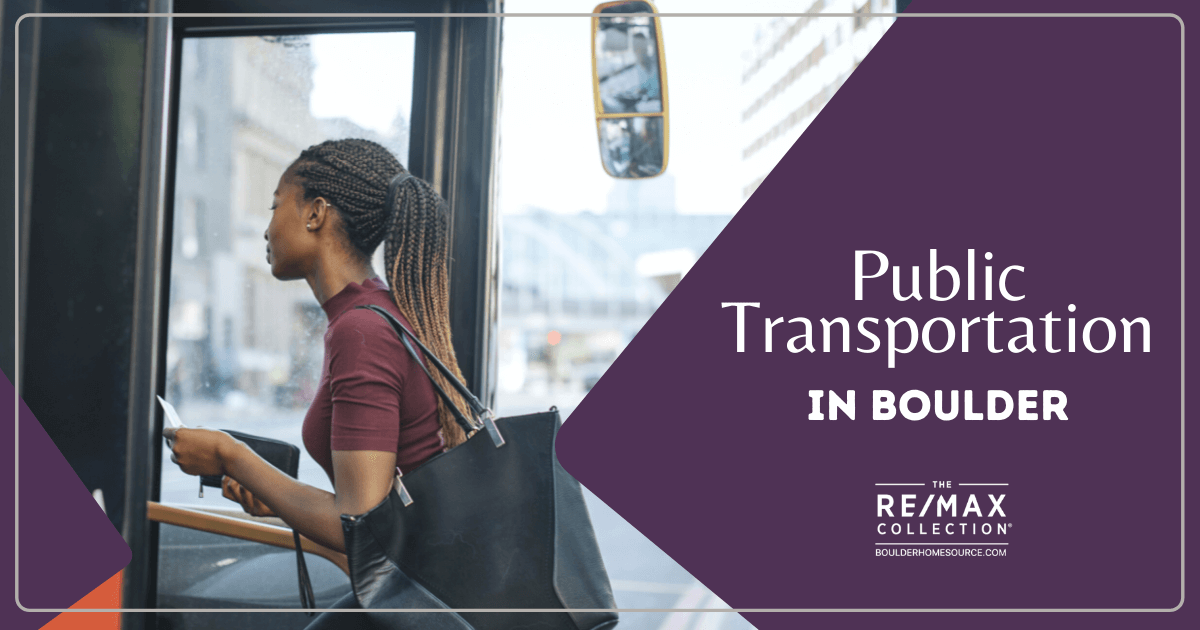 Boulder, Colorado, is the county seat and biggest city in Boulder County, with more than 105,600 people as of 2019. Located at the base of the foothills area of the Rocky Mountains, the Boulder community features natural beauty and opportunities for outdoor activities that are matched by the healthy Boulder economy. As the home of the largest University of Colorado campus, it's a great site for research and technical opportunities.
Those that work in the city typically have a good commute from Boulder's condos and other residential properties. Only about 50.9% of Boulder residents drive to work alone, and the average one-way commute in Boulder is just under 20 minutes. That's more than six minutes faster than the typical U.S. trip.
More than 10% of people in the city ride a bike to work, and another 11% walk. Around 5.6% use some kind of carpool. Compare these numbers with the 76.4% that drive to work alone in a typical community, and the 3.3% combined that walk or ride a bike. This is a community where those without cars can definitely find alternative transportation options. For the remaining 7.9% that select public transportation when they move to Boulder, read on to learn more about Boulder's public transit options.
Regional Transportation District Buses
The Regional Transportation District (RTD) serves a population of more than 3 million people over 2,342 miles. The organization manages various services, including buses, trains, shuttles, ADA paratransit vehicles, and vanpools. RTD provides connecting services through Boulder, the Broomfield community, the Denver community, and Jefferson County, as well as parts of Adams County, Arapahoe County, Douglas County, and Weld County.
The RTD rail system operates both light and commuter lines through around 50 stations in the area. The trains are designed to be a fast and comfortable way to get travelers to their destinations at a fair price. The service is separated into zones, with actual fares determined by the number of zones traveled during a trip.
Frequent commuters can save time and money by purchasing passes for multiple rides. Discounted fares are also available for qualifying riders.
RTD also provides several regional bus services for riders to consider. Several routes provide service to Denver from metro communities. Multiple routes from Brighton and one from the Longmont community reach Denver or the Denver Airport. Nederland and Longmont routes to Boulder are also available. Fares for the regional bus routes are the same as for the rail options.
Regional Transportation District Buses Ticket Costs
Local travel is defined as 1–2 zones and requires a fee of $3.
Regional travel means riding through 3 zones and costs $5.25.
Travel in the airport fare zone is $10.50.
Community Transit Network Buses
In cooperation with the RTD, the City of Boulder also operates a local bus system called the Community Transit Network. The local buses also require a $3 fee. However, in this instance, it provides a three-hour pass for unlimited rides and transfers.
Key bus routes for getting around Boulder include the HOP, SKIP, JUMP, BOUND, and DASH.
The HOP bus creates a circle through some of the business districts within the city, traveling every 15– 20 minutes.
The SKIP bus route travels from Wonderland Lake to the South Boulder neighborhood.
The JUMP bus provides service from the Central Boulder neighborhood to the Lafayette community and the Erie community.
The BOUND bus line travels from Floral Park Historic District through Glenwood Grove North Iris.
The DASH bus takes a path from Boulder to Lafayette along E South Boulder Rd.
Other notable routes cover local, regional, and seasonal routes, as well as routes serving the University of Colorado. Route 204 provides service from Wonderland Lake to South Boulder but uses 19th Street instead of Broadway like the SKIP bus. Travel from the Downtown Boulder neighborhood to the Boulder Reservoir is easy with Route 205. A 208 bus leaves downtown and takes a northern curve before turning back south toward Arapahoe Ridge. Several other routes begin and end in the same notable destinations but cover different major streets.
Community Transit Network Buses Ticket Costs
SkyRide
The RTD SkyRide buses provide service to the Denver International Airport. At $10.50 from anywhere in the region, it's possible to catch rail or bus service from locations like Boulder, Thornton, or the Denver Tech Center. Each route departs hourly during the day and evening. Using the MyRide Card will shave $0.20 off each ride, and monthly passes are available for $200.
Those with luggage will love that the SkyRide buses include over- and under-seat areas for storage. There are also under-bus storage bins for larger pieces such as bikes and skis, and bus operators are available to assist with loading and unloading.
The Boulder to Denver Airport SkyRide route begins from the downtown Boulder Station and travels along Broadway for stops at Euclid and 27th and Way. Another route begins in Arapahoe County and runs a nearly parallel course.
SkyRide Ticket Costs
$10.50 day pass
$10.30 MyRide Card
$200 monthly pass
Boulder BCycle
As mentioned above, about 10% of commuters ride a bike to work instead of driving. Boulder BCycle takes advantage of this trend by offering a bike-sharing service for Boulder residents. Potential riders start by downloading the BCycle App. The program directs them to the nearest available bike racks. From that point, they pay the rental fee, ride the bike as desired, and then return it to another bike rack.
Passes are available at various durations and can be purchased using the app or at the BCycle station. Riders can pay $2.50 per half hour on each trip, but it's also possible to purchase passes for frequent rentals. A day pass is $10 for an unlimited number of 30-minute trips. Auto-renewing monthly for $20 or annually for $150 allows an unlimited amount of hour-long trips.
BCycle also has 100 electric bicycles for those that would love a little assistance. These bikes will be available beside the normal options within the stations. Pedal-assisted bikes can ride up to 15 miles per hour or operate as normal vehicles without power.
Boulder BCycle Ticket Costs
$2.50 per half hour (pedal bikes) / $5.00 per half hour (electric bikes)
$10 day pass
$20 monthly pass
$150 annual pass
Rideshare Services
Residents can also opt for taxis or ride-sharing apps like Lyft or Uber. Taxis can be found in high-traffic areas, including airports and after special events. The flat rate for a taxi between Boulder and the Denver Airport is about $89. Boulder Ride Service provides transportation to special destinations in the region, such as Denver and ski resorts. They offer travel from downtown Boulder to downtown Denver for $125.
The ride-sharing apps Lyft and Uber remain great options for on-call travel. By simply downloading the app, riders can call a vehicle to their location and ride to their destination. Lyft rides between the City of Boulder and Denver International Airport can cost up to $77. Using an Uber to travel from Boulder Municipal Airport to the University of Colorado-Boulder may cost about $12.
Get Out and About in Boulder
Getting around the beautiful community from Boulder's townhomes without a vehicle is easy and can be cost-effective. The city is committed to creating walkable streets and green alternatives to solo driving. With a little research in advance, the public transportation system can get residents and visitors wherever they need to go.