Spring in Boulder CO-Celebrating Earth Day
Posted by Boulder Home Source on Tuesday, April 26, 2011 at 9:42 PM
By Boulder Home Source / April 26, 2011
Comment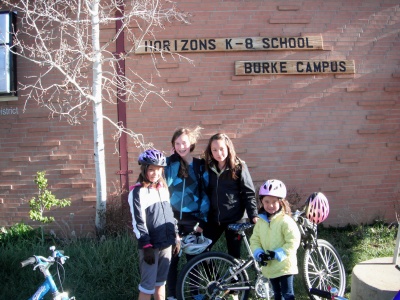 The Girls Arriving after riding seven miles to school for Earth Day in Boulder.
SPRING IN BOULDER
I'm not sure which is my favorite season here in Boulder, Colorado. Spring in Boulder usually isn't spring, it's usually winter or summer. But, this year we are actually experiencing spring; rain, just a little snow, somewhat warmer days. Mother nature is painting her canvas with beautiful color popping up everywhere. I like spring because of the opportunities to celebrate a few things that really matter such as Earth Day (go green!), Bike to School Day (see photo), Easter (an opportunity to reflect and hopefully, respirit), and Mother's Day (after all, that's why we're all here, right?). I can also tell it's spring because my wife has a pretty long list of "honey do's" including (but not limited to) tilling the garden, sprucing up the flower beds, cleaning out the garage (ugh), and getting the decks and patio cleaned and ready for upcoming outdoor enjoyment.
The soccer and baseball fields are bustling with activity, runners and bikers crowd the roads and paths, and parks are full of folks training and kiddos playing. Farmer's Market is up and running now that it's spring - awesome fresh veggies & flowers and other treats every Saturday. Some great upcoming events in Boulder include the Center for ReSource Conservation's 9th annual Earth Day 5K on May 1st, Mother's Day Title 9K Run on May 8th, and the Bolder/Boulder's 10K Memorial Day road race on May 30th. Even if you don't consider yourself a runner, these are great opportunities to walk/run and experience some of Boulder's best spring activities. Lastly, we are seeing more Open Houses, and we can feel the Boulder real estate market firing up for our busy season. Spring has sprung, so get out and enjoy some of the fabulous offerings of this special place we live called Boulder.