Superior Real Estate Strong Through June 2012
Posted by Boulder Home Source on Monday, June 11, 2012 at 5:33 PM
By Boulder Home Source / June 11, 2012
Comment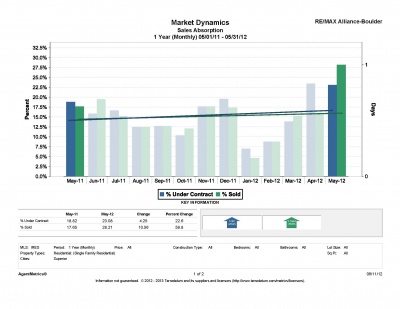 As you can see by the graph above the Absorption rate for homes in Superior, Colorado has risen from 17.5% in May of last year to 27.5% for May of this year. This is a 57% increase in just one year, which shows a substantial strengthening in the Superior market. A general rule of thumb is an absorption rate of 25% to 30% is a fairly balanced market above 30% and we are moving towards a Sellers market.
I remember last year someone asking where I would buy and I told them Rock Creek in Superior, Colorado is a very good choice. At the time it was a buyers market, but the indicators where showing that change was on the horizon.
If you are still thinking of Buying Rock Creek, Saddle Brook, and Superior as a whole is still a good choice prices have maintained fairly flat, but based on the graph above and the market pressures this may not the be the case next year. From what I see we will see upward price trending for Superior for the next few years ahead.
If you are thinking of buying a home be sure to visit us at BoulderHomeSource we are here to help and we know the market.