Swimming and Summer Fun - Boulder Colorado
Posted by Boulder Home Source on Friday, April 26, 2019 at 11:00 AM
By Boulder Home Source / April 26, 2019
1 Comment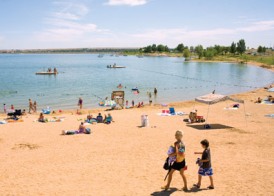 Can I just say "hurray" it is finally time for summer fun and swimming in the Front Range! I don't know about you, but to me there is nothing better than sitting poolside or at one of our state's beautiful reservoirs watching the kids play and soaking up as much vitamin D as my skin can stand! We are very fortunate to be living in the Boulder area giving us easy access to some really awesome water recreation opportunities.
From inner tubing down the Boulder Creek and boating on the Boulder Reservoir, to swim lessons and pool clubs, if it was up to me there would never be a dry moment all summer! Here is my list of the top places for swimming and summer fun around Boulder, Colorado.
The Boulder Reservoir
First on the list, especially since I already mentioned it, has to be the Boulder Reservoir. Located on 51st St off of Jay Road and the Diagonal Highway, the Boulder Reservoir sits right in between northeast Boulder and the City of Longmont. This gorgeous manmade body of water was built in the mid 50's and has since been one of Boulder's hottest outdoor recreational spots! Popular with college students, athletes, hikers and boat enthusiasts, the Boulder Reservoir is hands down the best place for "beach like" summer fun. They have convenient concessions, as well as large locker rooms and plenty of parking. The swim beach is open from 11:00am to 6:00pm Monday through Wednesday and from 10:00am to 6:00pm Thursday through Sunday. The cost is roughly $6.25 per person.
Chatfield State Park Reservoir
Staying in the same vein of "beach like" fun, two of the areas other most popular reservoirs include Chatfield State Park located in Littleton and Union Reservoir in Longmont. Both reservoirs offer a ton of park accommodations including camping, horseback riding, boating, fishing, hiking and picnicking. A bit away from Boulder, Chatfield Reservoir is an amazing place to spend a whole day or even a weekend. The water here is clear, crisp and clean; and the ground's activities are definitely worth the trip from Boulder.
Union Reservoir
Union Reservoir in Longmont is one of the area's best kept secrets. Having just found out about myself last year, this is absolutely my favorite place to bring dog and son for a fun day of frolicking in the water! They have a spectacular off leash dog beach that allows the whole family to cool off on hot days.
Scott Carpenter Pool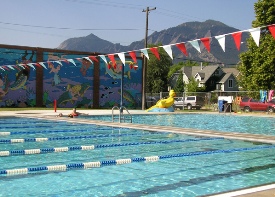 If reservoirs are not your thing, that's cool, because in Boulder and the surrounding communities there are at least 4 amazing outdoor swimming pools that are sure to impress while keeping the sand out of your eyes! The Scott Carpenter Pool is located at 1505 30th St. and is Boulder's only 50 meter pool. This pool and club is the perfect spot for local athletes and the everyday family to get their swim on. There is a fun water slide, plenty of shaded cover, a great historic park right next door.
The Spruce Pool
The Spruce Pool is located in the heart of Downtown Boulder at 2012 Spruce St. and is Boulder's premier outdoor family aquatic center. Here you will find both a leisure pool and a lap pool as well as tons of kids enjoying swimming lessons and just being happy to be out of school!
Bay Aquatic Park Pool
Two other pools worth mentioning that are just outside of the Boulder area are the Bay Aquatic Park and the Eldorado Canyon Pool. The Bay is located in Broomfield and offers an active swim park atmosphere. Here you will find several large water slides, tons of water fountains, concessions, and plenty of grass for picnicking. Every day around 1 p.m. the pool is cleared and cleaned, which helps to ensure you are swimming in the freshest chlorinated water possible.
The Eldorado Canyon Pool
The Eldorado Canyon Pool is located just outside of Eldorado State Park and offers fresh spring water swimming. Known to be a bit on the chilly side, this pool is fed with the same refreshing natural spring water that the town of Eldorado is famous for. The pool is open from 10:00 am to 6:00 pm weekly and costs $9 per adult.