Water Recreation in Boulder, CO
Posted by Boulder Home Source on Tuesday, July 13, 2021 at 10:12 AM
By Boulder Home Source / July 13, 2021
Comment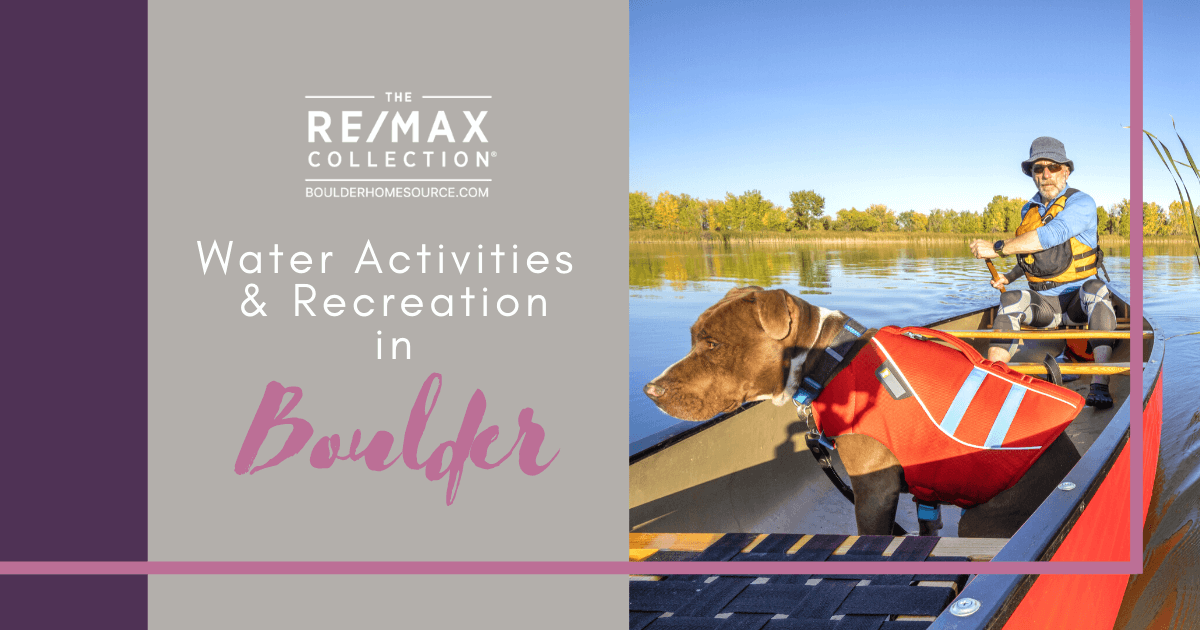 The folks that call the city of Boulder home know what a great place it is to live. Year after year, the city receives accolades as one of the top cities in the country to live. Even National Geographic dubs Boulder the Happiest City in America. Not only are the people happy and friendly, but the surroundings are beyond stunning.
What's not to love about this special place with majestic mountains, lovely parks, pristine lakes, and sparkling rivers? Nature-filled forests and fun lakes for water sports keep residents busy when they're not relaxing in luxury Boulder homes, exploring the sights and sounds of downtown Boulder, and venturing to nearby towns. With the abundance of aquatic activities available and all of the great waterparks in Boulder, it can be hard to know where to start. Read on to learn about some of the top places for water recreation in Boulder, Colorado.
Rocky Mountain Paddleboard
Guided outdoor adventures are a big part of the economy in Boulder, and paddleboarding is quickly rising in popularity. Rocky Mountain Paddleboard offers lessons, gear to rent or buy, and access to the water. This highly regarded outfitter has certified instructors that provide beginner, private, and river-navigating lessons.
Their river clinics let paddlers take their game to the next level with tips on stance, strokes, safety, and paddling techniques. Another fun adventure offered by the company includes SUP yoga, which is sure to whip anyone into shape rather quickly. Performing yoga postures on the board is not only refreshing but can help paddlers improve their balance.
Rocky Mountain Paddleboard offers gift cards that are great for any outdoor enthusiast. The on-site shop carries a large selection of boards, paddles, clothes, and everything needed to paddleboard like a pro. Lessons and clinics start at $45, with SUP yoga classes starting at $20 per session.
Union Reservoir Nature Area
The Union Reservoir Nature Area in the city of Longmont is one of the best lakes in the Boulder area. With sandy beaches and picnic spaces, this is the perfect place to gather for a day of water recreation. Popular activities include swimming, windsurfing, paddleboarding, boating, and fishing.
Visitors can fish from the bank or the piers if they want to stay on land, but the best catches come from the deeper waters. Union Reservoir is one of the best places in the state to catch big walleye or go flyfishing for those hard-fighting carps. There's also a good stock of catfish, bass, trout, and crappie in the lake.
Other amenities include playgrounds and a sand volleyball court on the beach. There's even a designated dog beach where pups can play and make new friends. Bring something to grill and hold a picnic in one of the covered shelters. Visitors will find on-site restrooms, water fountains, and a fish-cleaning station.
The River's Path - St. Vrain River Canoe Day Trips
The River's Path guides start with guests in the town of Berthoud and lead them down the gorgeous, nature-filled St. Vrain River. There are half-day and full-day experiences available. Guides take participants to places not accessible via land trips alone. Relax and soak in the scenery while keeping an eye out for coyotes, deer, minks, and bald eagles that are known to watch paddlers from the shores.
Anyone seeking a more immersive canoe journey can sign up for a weeklong journey down the Green River through Labyrinth Canyon in Utah. This 45-mile journey isn't for the faint at heart, but it surely will satisfy one's need to reconnect with the natural world. Overall, these river trips are suitable for most ages and ability levels, as guides oversee the trek carefully. Bring along towels, water, and extra clothes regardless of which trip is scheduled.
Ocean First
Ocean First is a fascinating place to take diving lessons, go swimming, and discover ways to keep our oceans a viable home for sea creatures. A perfect place for swimming and summer fun in Boulder, the facility has pools for recreational swimmers and separate pools where diving lessons and course certifications are offered. One can use their newfound skills on travel outings with Ocean First, which routinely offers group trips around the globe.
The Ocean First Educational Center and Institute is also on-site. It aims to educate the public and promote scientific research. Here, new technologies are discovered and fostered to preserve and protect the world's prized ocean resources.
Eldorado Natural Spring Water Pool
Eldorado Natural Spring Water Pool in the city of Louisville is one of the most unique water sources in the world. These peaceful artesian springs are sourced from the rain and snow from the Continental Divide. From there, these waters enter an aquifer beneath the pools and flow through a natural filtering system of clay and sandstone.
The water here is recognized as some of the purest in the world, and it has been judged as some of the best-tasting H2O that one can consume. Because of the neutral pH balance and loads of minerals, soaking in the spring water is also popular. Year-round, the water temperature remains a steady 76-degrees, making it comfortable for bathers in every season.
A top attraction in Boulder County, the springs are situated on a historic resort property that's hosted guests like Dwight and Mamie Eisenhower and famed heavyweight boxing champion Jack Dempsey. There are hundreds of state and federal parklands around the springs to explore as well.
Love Water and Nature? Consider Calling Boulder Home
Whether looking for a full-time residence or a part-time respite, Boulder, Colorado, is a great choice for homebuyers that love water recreation. Locals are treated to remarkable scenery throughout the year. Mountain springs, lush forests, plentiful hiking trails, and serene golf courses keep locals active and happy. So many natural wonders abound around the new construction homes in Boulder. Visit soon and find out why people in Boulder are some of the happiest and healthiest in America!