Boulder Neighborhood Directory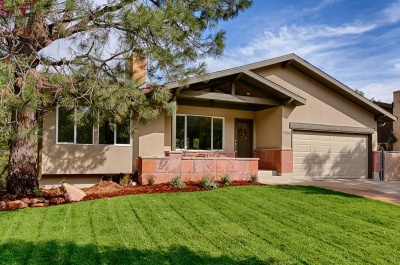 A variety of long-established, colorful neighborhoods comprises the Boulder real estate market. If you're thinking of moving to Boulder and would like to know more about its neighborhoods, feel free to browse our resources. Whether you seek a neighborhood nestled against the foothills or one with mountain views from the quiet plains, most neighborhoods found in Boulder and the surrounding areas have a special charm or beauty!
You can also view tons of Boulder community videos on our YouTube!
To view property listings in specific Boulder neighborhoods, click on the links in the sidebar! You can also view more information in our Boulder Neighborhood Guide!
North Boulder Real Estate
One of the most popular neighborhoods in Boulder, Newlands, is also one of the premier shopping destinations in Boulder...[read more]
Dakota Ridge is located off Lee Road in the far north section of Boulder, where neighborhoods like this are the fastest growing in the city...[read more]
A subdivision in North Boulder, prices in Moores vary, but real estate in Moores is generally known as one of Boulder's more opulent investments...[read more]
North Briar is a budding community of newer homes and a good place to check out the rapid growth of Boulder's northern section within the past few years...[read more]
The beautiful northwest Boulder communities of Wonderland Hills and Spring Valley are located along the famous Foothills. ..[read more]
Urban city lofts, homes, and businesses convene with Boulder charm in this new community based on easy access to everything Boulder has to offer...[read more]
Four Mile Creek real estate is characterized by quiet cul-de-sacs full of large, newer homes. A typical home here has more than 3,000 square feet...[read more]
This special community of 52 homes is only 500 yards from Boulder Reservoir, which allows waterskiing and has a great beach for summer fun...[read more]
Are you looking for a custom-built home with great views on a larger lot? If you are, Waterstone could be your nirvana...[read more]
Centrally located close to Kalmia and 19th, Melody heights offers some nice homes for under $500,000. With a remodeling trend on the upstart, Melody Heights is a great place to find a remodel or do your own.
Live. Work. Play. All in a leading-edge, sustainable and affordable community. The Holiday Neighborhood is a neoteric and "green" community offering diverse options for housing choices...[read more]
Just east of the Left Hand Valley Reservoir in the bedroom community of Niwot sits Lake Valley Golf Club, one of Boulder's renowned private golf resort neighborhoods.
Central Boulder Real Estate
The Chautauqua neighborhood is one of Boulder's most beloved and special neighborhoods and is located at the base of the Flatirons. Boulder is proud to host the Colorado Chautauqua, a National Historic Landmark, and its wonderful cultural events...[read more]
Whittier is a well-established neighborhood in central Boulder with a mix of residential and commercial properties. Close to downtown, as well as Pearl Street, residents of Whittier can walk or bike almost anywhere, with amenities just a stone's throw away...[read more]
Pearl Street is Boulder's finest commercial district, often referred to as Boulder's "Rodeo Drive." At the center of all the activity is Pearl Street Mall...[read more]
The Mapleton Hill Neighborhood deserves bragging rights as one of Boulder's most beautiful, enchanting, and classic neighborhoods...[read more]
Panorama Heights Real Estate
As the name suggests, Panorama real estate affords some of the best views of Boulder's cityscape. Homes here sit atop a bluff overlooking Boulder, with commanding views of the city below and the Front Range mountains behind it.
A centrally located neighborhood, Panorama is within walking distance of Pearl Street Mall but miles apart in terms of setting. Unlike Pearl Street, Panorama is a residential neighborhood without heavy commercial traffic. Homes here are often much bigger than the average, spreading out evenly onto the hilly terrain. Some nice view acreages are up for sale here as well. Panorama is accessed off of 19th Street.
Located along Baseline Road, west of Foothills Blvd. This neighborhood has been popular with people attending CU. Most homes were built in the late 1950s and consist of 3 bedrooms and 1.5 bathrooms at approximately 900 square feet.
A centrally-located neighborhood between Baseline and Colorado. This neighborhood is great for Students attending CU or those who wish to have quick access to Foothill and 36.
Country Club Greens
Located off of Baseline and 55th, this neighborhood offers homes built in the '60s through the '80s and, in recent years, has been popular for pop-tops with large yards and close proximity to Eisenhower Elementary.
Located alongside Flatirons Golf Course and Centennial trail, this neighborhood was developed in the late '80s and early '90s. It offers a full spectrum of homes, from townhouses to single-family.
One of Boulder's few fully-planned communities with a swimming pool and tennis courts. If you're looking for a large home of over 3500 square feet and a larger lot, this might just be your new home.
The University Hill community is a vibrant mix of young and old, popular with students at the University of Colorado and longtime residents. Various shops, restaurants, and entertainment venues blend nicely with the nearby university campus and make the area a little more self-sustaining and tightly-knit than others. University Hill's neighborhood association is one of the most active and inclusive in Boulder.
University Hill real estate combines single and multi-family homes as well as a large number of rental properties with a constant demand for housing here due to the proximity to the school; these make a good investment. Many homes here date back to the late 1950s. The neighborhood borders the campus at Fourth Street in Central Boulder and is commonly accessed from Broadway and Sixth Street.
South Boulder Real Estate
Nestled at the base of the foothills and replete with stunning mountain views, Table Mesa is a very sought-after neighborhood. Homes here are often luxury styled...[read more]
When Outside Magazine named Boulder one of the best places to live, Martin Acres was mentioned because you could find a nice home for under $300k. Things have changed slightly, but you can still find a nice 3-bedroom 2-bath or tri-level in Martin Acres from the mid-300's.
Located in southern Boulder, Martin Acres real estate is a large residential area consisting of more than 1,300 single-family homes and three apartment complexes. Most homes here were built in the 1950s and come at affordable prices not easily found elsewhere in Boulder. Because of this accessibility, the neighborhood was mentioned in an Outside Magazine article that named Boulder one of the best places to live.
Homes in Martin Acres often come in stylish single-floor rancher styles with an average of 2500 square feet. The neighborhood is accessed east of Broadway and north of Table Mesa.
Located off of Baseline and Manhattan, Keewayden is great for those wishing to commute outside of Boulder but still be in town. It is just a stone's throw away from the East Boulder Rec Center and great hiking and biking trails.
Located just below ENCAR and at the upper end of Table Mesa. This neighborhood is blessed with everything close to great schools such as Fairview High School, Bear Creek, and Mesa Elementary; hiking trails, the Mesa Trail is right out your front door; and has a community swimming pool and Tennis Courts.
Close-in-Mountains Real Estate
Knollwood
Located at the mouth of Sunshine Canyon. This small neighborhood offers country living in the city. Most lots are in the .75-acre range and sit just below the hogback. All this and only a short walk to the Pearl Street Mall with great restaurants and shops.
Seven Hills
Located 2 miles up Sunshine Canyon, Seven Hills is a great area if you want to be in the mountains, but might have to make soccer practice in 15 minutes. This area offers the best of both worlds.
Boulder Heights is only a short drive from Broadway and all the new development along North Broadway. This is a great subdivision if you want to enjoy Boulder's amenities but still live in a rural mountain setting.
Established in 1867, Jamestown is one of Colorado's original mining towns, which is still evident in the architecture and residences. Jamestown sports a fun general store popular for road riders on the weekend as a final destination. A popular mountain biking trail "Miller Rock" is also located close by. Many of our clients that have moved to Jamestown love it for its sense of community and small-town feel.
Pine Brook Hills is known for its location, which provides easy access to downtown Boulder. The entrance to this mountain community begins one mile west of North Broadway by way of Linden Drive. Views vary, from the eastern lakes and plains to the western snow-laden Continental Divide. Many homes enjoy their own unique hillside setting with a myriad of valley vistas
Located just above the Betasso Preserve, which offers Mountain Biking and Hiking. This area is only 15 minutes from Pearl Street.
The main area of focus for Gunbarrel is currently the Boulder Country Club which features an 18 hole golf course, a par three executive course, and indoor and outdoor tennis facilities. Gunbarrel just passed a new comprehensive plan for a downtown area which should bring a sense of community and additional services to the area in the near future.
Have questions about Boulder neighborhoods? We can help... get in touch now!