Louisville Neighborhood Directory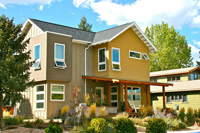 For many different reasons, Louisville, Colorado is one of the most popular cities in the area for new residents. This means that residential real estate here is booming and that home values continue to rise across the board. With over 8.6 mile square miles and 18,000 residents living here, Louisville is considered a small city, but if you have ever been here you know it has a big heart. The quality of life residents experience is the #1 reason why they say Louisville is the best place to live.
Over the last 15 years Louisville has developed into two separate parts, Old Historic Downtown and New Town. In the historic district you will find a mixture of old mining cottages and newly-built homes which give the area its unique old-time mining city vibe. Although these properties tend to sit on smaller lots, their overall property values are usually higher because of the desirable location. New Town Louisville definitely has more of a suburb feel and homes here are dispersed between park and walking trails. Furthermore, some new communities are being developed in Louisville as well. Popular Louisville, CO neighborhoods include: Old Town Louisville, Centennial Heights, Cherrywood, Coal Creek Ranch, and Steel Ranch.
Search Homes in Louisivlle Neighborhoods
List of Subdivisions in Louisville, Colorado